My First All American
Posted by Speedhorse on 04/04/2022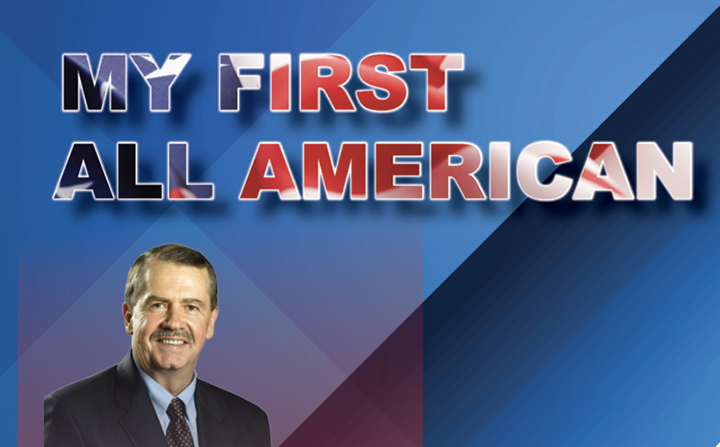 by Scott Wells
Growing up in the 1950s and '60s, before the birth of Speedhorse and the other magazines, my reading about Quarter Horses was limited to the pages of the Quarter Horse Journal. And each month when it arrived, I immediately sought out the brief but colorful stories of Nelson Nye in his column Quarter Paths. Those columns brought to life the names of horses I had only seen on pedigree pages. Exciting names like Hard Twist, Piggin String, Shue Fly and Miss Princess. Nye was a widely published author who used various styles depending on the magazine for which he was writing. It seemed to me that the short, fast-paced pieces he wrote for his Quarter Horse stories were a fitting treatment for the subject matter and the times he portrayed.
By the time I was 10, when my family moved from operating the bush track at Newkirk, Oklahoma, to pursuing the All American Futurity at Ruidoso Downs, New Mexico, I began to witness firsthand many of the racing legends whose names now appear in the earlier generations of today's Champions pedigrees. As a young adult I was even given an opportunity to write about some of those horses by my friends Walt Wiggins and Connie Golden, the successive owners of Speedhorse prior to its current owner, John Bachelor. When I retired from my career as racetrack manager at the end of 2021, I felt an immediate pang of what I can only call "uselessness anxiety." So, I called John and we discussed the possibility of my sharing some treasured memories with the readers of Speedhorse. If you like them, let us know. We hope you do.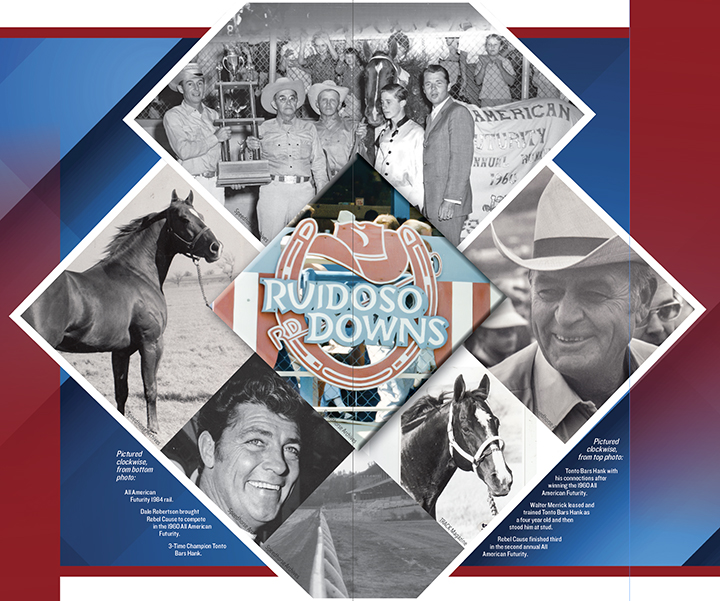 My family's trip from northern Oklahoma to Ruidoso, New Mexico, had something of a Dust Bowl appearance, our mini-caravan headed by my father and me in a struggling 1950 pickup stacked sky high with stable equipment and towing a two-horse trailer. Next came a borrowed six-horse van driven by an immigrant groom, Jimmy. It, too, had equipment stacked on top. Bringing up the rear in a steaming Mercury station wagon was my mother Coke and my two sisters, Terry and Sharon. The first long day on Route 66 ended with us unloading the horses at the county fairgrounds in Amarillo for a brief night's rest. We were loaded up and on the road the next morning long before that scorching West Texas sun appeared behind us. We began to see billboards depicting snow-covered pine trees and running horses bearing the simple slogan "Racing in the cool, cool pines." But for hours all we saw was sand and cactus. Then finally, just past Roswell, we could see snow-capped mountains in the distance. The billboards had kept their promise.
The climb up the Hondo Valley on the winding two-lane road took forever. There was not a passing lane on the entire stretch, and you could practically hear the curses coming from the drivers of the vehicles stacked up behind us. But finally, the road widened, and we rolled into view of Ruidoso Downs racetrack. It had all the trappings of a magical place, and I hadn't even seen a race there yet.

Pity the poor stall man. The sudden emergence of the All American Futurity a year earlier had made Ruidoso Downs the mecca for aspiring Quarter Horse owners and trainers and a steady flow of Texas, Kansas, Oklahoma and Colorado rigs poured into the dilapidated stable area. The poor stall man had to deal with dozens of frantic and overheated trainers, all wanting the best stabling and all willing to accept any stabling at all. I saw some trainers put two horses in the same stall. My father had to settle for four stalls in barn 17, two stalls across the river in barn four and two stalls in a saddle-horse shed on a hill just below the old Mitchell Motel. I was assigned this latter outpost, which had no plumbing. So, after cleaning the stalls out and bedding them down with grass hay, I had to dip a bucket into the fast-moving water of a nearby irrigation stream, wrestling the current for a half bucket at a time. A little black Sugar Bars filly named Sugar Horn and a Leo colt named Roleo were mine to care for until finally, a few weeks later, we were able to move them down to barn 17.
And that's where I first saw him. Tonto Bars Hank. He was stabled on the other side of barn 17. His trainer, a small elderly man named Pat Simpson, would put this big red colt on a 60-foot rope and trot him in circles, first one way, then the other, for at least a half hour each morning. Then every few days he would saddle him and send him out for a gallop. When Dad found out the colt was a two year old he told me, "Son, if there's many two year olds like him up here, we're in trouble." The truth was, there weren't many two year olds like him anywhere.
When Simpson finally sent "Hank" to the races, he won a maiden race in slow time, racing greenly. But two weeks later he broke sharply and thundered 350 yards in 17.8 seconds—at that time equaling a World Record for two-year-old colts—and the legend was born. His owners, the father and son team of C.G. and Milo Whitcomb, were Colorado ranchers who had heard about the plans for the All American Futurity and had bred their favorite mare to Tonto Bars Gill, a fast son of the popular new Thoroughbred stallion Three Bars, who had been made famous by the exploits of Josie's Bar and Bob's Folly. But when the ranching business took a downturn, the Whitcombs were forced to sell some stock. They put a price tag of $300 on the mare and her muscular young foal but there were no takers. A couple more cows had to be sold but the Whitcombs were forced to keep the mare and foal. Two years later they found themselves owners of the favorite for the upcoming Kansas Futurity, a prelude to the All American. Tonto Bars Hank finished second in his Kansas trial but came back to win the Kansas Futurity, earning a check for $9,000 which was a life saver for the Colorado ranch.
But Tonto Bars Hank was not the only brilliant colt on the grounds in 1960. The popular Western actor Dale Robertson owned a sleek brown colt named Rebel Cause, a son of another up-and-coming Thoroughbred sire of Quarter Horse runners, Top Deck, best known as the sire of the legendary Go Man Go. Rebel Cause had won all the big two-year-old races in California, setting up a West Coast/Rocky Mountain rivalry which would be repeated dozens of times in the decades to follow.
When Labor Day arrived, Dad's prediction that we might be in trouble with our little stable had proven to be accurate. We had won a single maiden race during the four-month season, with nothing to show for it but having learned the lesson that we needed better horses. I was about to see my first All American Futurity, but we would be watching as spectators, not as participants. As we drove from barn 17 toward the grandstand that day, we gave a ride to a young jockey, Curtis Perner, who would ride Tonto Bars Hank that day (and who, some 20-plus years later, would become my brother-in-law for a time). When we dropped him off near the jocks' room, Dad told him, "Go get the money, Curt. You're sure 'nuf horseback." Then after Curt had left the car, Dad told us how he'd seen him at Centennial in Denver one morning a few years before and recognized his talent. "He came out onto the track on a colt that just busted in two and bucked as hard as a horse can buck and he stayed right in the middle of him the whole time and just took off and galloped him like it was nothing. That boy is a hand."
I had never seen anything like Labor Day at Ruidoso Downs. It was standing room only and very little of that. I took up my position at the chain link fence of the old amphitheater-style saddling paddock before the horses arrived for the big race. Rebel Cause came in looking like a dark brown cheetah. He was streamlined and tight twisted, like all the Top Deck offspring. To my eye he looked to be the best of the bunch until Tonto Bars Hank came prancing into the enclosure, his muscles rippling. A man in overalls behind me said, "That sum'bitch looks like he could pull the starting gate!" After the horses were saddled, I raced over and pulled myself up onto the chain link fence behind the old winner's circle, which was then located at the finish line. I'll never forget those incredibly tense seconds as the final horses were loaded into the gate. I had never experienced anything like it before and now, 60-plus years later, having experienced it many, many times, I still regard it as one of the mostscintillating experiences of my life.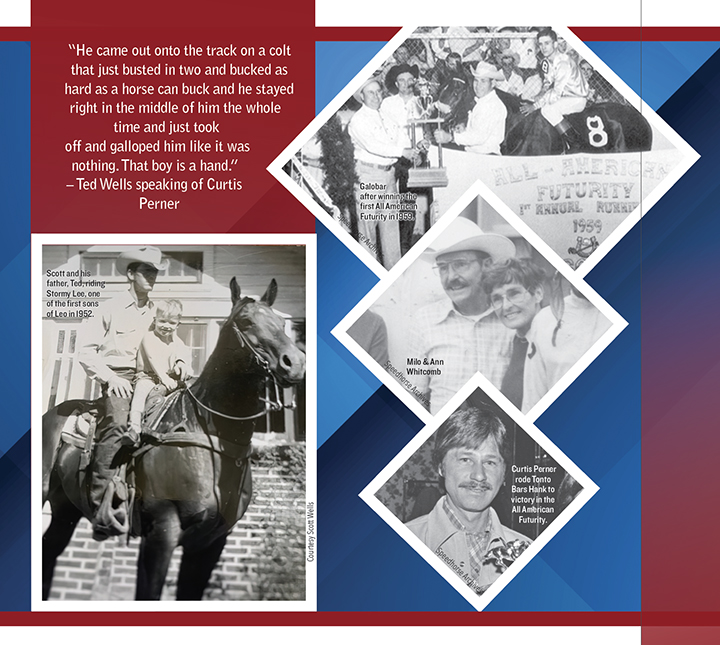 Therace remains a blur in my memory. I know Tonto Bars Hank won, though not by much. A filly named Three Deep was second, a head in front of Rebel Cause. So, there they were, descendants of the three Thoroughbred stallions who would improve the Quarter Horse breed immeasurably—Three Bars, Depth Charge and Top Deck - finishing in that order in what was instantly the most important Quarter Horse race of them all. Galobar, a daughter of Three Bars, had won the inaugural edition of the race just the year before. The die was cast.
Tonto Bars Hank was sent from Ruidoso to Albuquerque where he defeated older horses in the Stallion Stakes, setting a New Track Record. He then was sent to California where a younger trainer, Tommy Wieburg, took over training duties from old Pat Simpson, who had no desire to ply his trade in the bustle of greater Los Angeles. Tonto Bars Hank and Rebel Cause resumed their rivalry at Los Alamitos where "Hank" showed the California doubters what he was made of when he blasted 350 yards in 17.6 seconds in the Bardella Handicap, only a tenth of a second off the world record—and he was still only a two year old! Then Rebel Cause scored over Hank in the Los Ninos, intensifying the rivalry. But Tonto Bars Hank closed the season with wins in the Newport Stakes and the Kindergarten Futurity, closing the season with nine wins in 12 starts and earnings of $93,863—moving him past Go Man Go as the all-time richest Quarter Horse. He was of course recognized as Champion Two-Year-Old Colt and Champion Stallion. He spent his entire three-year-old year in California and was again voted Champion Three-Year-Old Colt. He became the first Quarter Horse to earn more than $100,000. His final earnings were $133,919.
The last time I saw Tonto Bars Hank he was at Ruidoso again in his four-year-old year. He was being trained toward a career climax by yet another man—the legendary Walter Merrick, the man who had leased Three Bars and first stood him to Quarter Horse mares. Merrick had witnessed the colt's ascension to the pinnacle of Quarter Horse racing and was no doubt hopeful that this was the perfect blend of Quarter Horse and Thoroughbred bloodlines he had sought to create. After his championship season at age three, Hank was leased by Merrick who stood him to a full book of mares, then brought him back to the races. After a couple of defeats on muddy tracks which he detested, Tonto Bars Hank was sent postward for the Lightning Bar Handicap. I was standing beside the paddock at Ruidoso Downs when Merrick led him in. He was a hulk. Bold for a twelve-year-old, I asked Mr. Merrick what he thought the horse weighed. "Thirteen and a quarter" was his quick and confident reply. I took it as gospel then and I trust that estimate to this day.
Tonto Bars Hank won the Lightning Bar that day, going out a winner, then went on to a stud career which can only be described as mediocre. But any time I see his name in a pedigree I consider it a plus and I am reminded of the power-packed two year old who was our magnificent neighbor on my first summer on the mountain.