Articles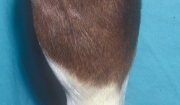 The horse has three bones in each lower leg between the knee/hock and fetlock joint. The cannon bone is the largest, and the main support for the limb. The two small splint bones, which are finger size in diameter, are long and slender and are attached to the cannon bone on each side and toward the rear.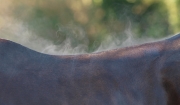 A horse demonstrating signs of heat stress – either subtle or obvious – could signal impending metabolic collapse. If any of these signs are seen, then it is necessary to stop the horse's exercise immediately and begin implementing cooling strategies, described below. If the horse's rectal temperature does not begin to return to normal within 15 minutes or so, a veterinarian should be contacted immediately.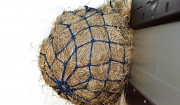 Not all horses have the luxury of spending time on green pasture, head down, grazing to their heart's content. Horses in race training are usually stabled in restrictive living arrangements with their primary forage source as hay. Yet, the healthiest strategy for equine gastrointestinal health is the ability to eat small amounts at intermittent intervals throughout the day.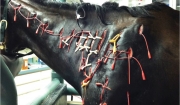 Intramuscular injections occasionally cause local abscesses if the needle or skin is dirty when the injection is given. Sometimes, abscesses occur even with very clean conditions. The worst kind of injection-induced infection is called clostridial myositis, or myonecrosis.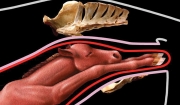 Most equine births are accomplished with no problems. The mare goes into active labor, breaks her water, lies down and almost immediately, the foal's front feet appear, followed by his nose and head. With a few forceful contractions, the mare delivers the foal and the second stage of labor is complete. Occasionally, however, there are problems that hinder the progression, resulting in a life-threatening emergency.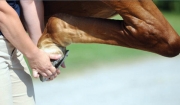 Careful observation, thorough examination, and persistence are necessary in working up many lameness problems. Some problems can be diagnosed in a few minutes from the history and clinical examination; others require diagnostic local anesthesia (nerve blocks) and several hours of evaluation to determine the source of the lameness.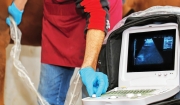 A racehorse must have "heart," both figuratively and literally. Without a good heart, even the most well-conformed, ideal-looking young racing prospect might not be a winner. The size of a young horse's heart has proven to be a reliable predictor of future performance, especially in horses that run longer distances. Quarter Horses need strong hearts, but size is just one important factor since they typically don't run very long distances.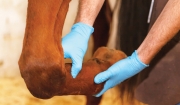 Lameness is a serious issue, particularly for an active equine athlete. Even the slightest amount of pain can impair performance, especially where seconds matter as in Quarter Horse racing. Most equine lameness in the front legs – up to 90% – is attributable to problems in the lower limb from the fetlock down. That said, a variety of injuries can occur within the knee (carpal) joints and surrounding soft tissues.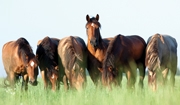 There can be various reasons why horses go "off feed," so it's important to find out what's wrong. Some horses are simply fussy eaters and it can be difficult to find ways to get them to eat enough.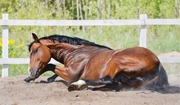 One of the more dreaded health problems faced by horse owners and trainers is colic. It is possible for equine colic to develop into a more serious crisis that requires surgery or could even be fatal.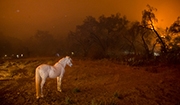 Being prepared is your best defense to safeguard your property, and your horses. This article was featured in our October 2017.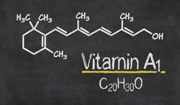 Vitamin A is just a general term for many different forms of retinol. After it's absorbed by the body, it goes through various forms as it goes from storage to distribution to target cells.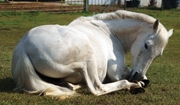 The term colic simply means abdominal pain. The pain may be caused by a digestive problem, irritation or blockage of the digestive tract, pain from some other internal organ, or uterine contractions in a foaling mare.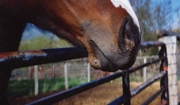 Warts and sarcoid lumps are common skin growths in horses and may be hard to differentiate because they can be similar in appearance.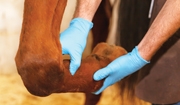 Selecting both the mare and stallion for strong conformational attributes can improve known structural deficits in either individual.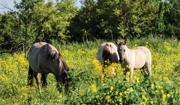 Most poisons that affect horses are found in toxic plants that contain dangerous alkaloids. Some of these are so deadly that they can kill a horse quickly even if a very small amount is ingested,.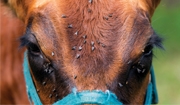 The virus is significant in that there is no vaccine and there is no cure. A horse diagnosed positive for EIAV is either euthanized or placed under extremely strict quarantine conditions at least 200 yards away from other equids for the rest of its life.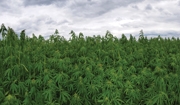 Pet owners and horsemen are using multiple products in a fast-growing market—for pain relief, calming and various medical conditions. Efficacy and safety of some of these products is questionable, however, because there has been very little research.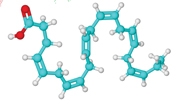 Feeding fat has become common practice for helping certain horses that need more total energy in the diet, especially horses in stressful athletic careers, young growing horses, or lactating broodmares.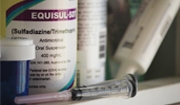 There are a few important considerations to focus on about medication storage and shelf life to ensure that you do no harm and are able to achieve successful results.