Industry newcomer Lee Jenkins sets his sights on success
Posted by Speedhorse on 05/24/2021
Lee Jenkins isn't one to sit around waiting for opportunity to fall into his lap. Instead, he sets short-term, achievable goals and then goes about fulfilling them.
His lifelong friend, Maurice Wideman of Bluffton, South Carolina, says the sky is the limit for Lee. "There aren't any limitations on him. He's a very smart guy and he loves to research. He never took a test that I know of that he didn't ace; he puts in the hard work and is open to trying new things."
Among the new things Lee has tried in the past few years is picking the brains of industry icons such as Butch Wise, Russell Harris, Buddy and Patty Newsome, John Shaw, Sylvia Shaw Pitman and others. "I guarantee he knows their life stories, from the first horse they bred and the first big race they won, before he goes to talk to them," Maurice says.
Using the words of television personality Steve Harvey, Lee says, "'When your opportunity comes, you have to be ready to receive it.' I think we have many opportunities in the future, and we'll be ready."
HIS EARLY YEARS
Officially named Leephonso, Lee was born in 1982 in Beaufort, South Carolina — only because the hospital in his parents' hometown of Hilton Head Island didn't have a prenatal department — to Levi and Marsha Jenkins, sandwiched between an older brother, Kevin, and younger sister, Marasol.
Lee started riding his father's Quarter Horses and Paints when he was just 4 or 5 years old. He lived a dozen miles or more from Maurice, so every Sunday once they got old enough, he'd meet Maurice and his cousins on horseback midway between their homes.
Later in their youth, Lee and Maurice went into business together breaking Marsh Tacky horses — colonial Spanish horses native to South Carolina, and the state's official heritage horse. "We'd bring horses to my mother's house or to Lee's father's house and it took us about a month and a half to get them where they needed to be," says Maurice. "We even trained them to shoot off of for fox hunting, which is big in this area."
In 2000, Lee graduated from Hilton Head High School, where he'd fed his love for athletic competition by participating in basketball, football, track, baseball and wrestling. Four years later, he received his bachelor of science degree in business administration from Darla Moore School of Business at the University of South Carolina.
THE NEXT STEPS
With school athletics behind him, he set about finding another outlet for his competitive nature. He found it in horses. "It was a perfect fit," Lee says, "not necessarily from the standpoint of my athletic nature, but more from an intelligence and decision-making standpoint — trying to breed and own the best horses I could."
He attended his first race in Elloree, South Carolina, in 2011. "I was just so intrigued by the beauty and power and 'incredibleness' of the horses, so I actually left the racetrack that day and went to see Corey Fields, a local racehorse breeder. I think it was just a week later that I owned my first racehorse, an American Quarter Horse named Sundashers FloJo [Sundasher – Tys Shake, Special Shake].
"I had very little knowledge of pedigrees or the industry or even where I was going to race the horse," Lee admits. "I remember riding that horse for about 35 days when I heard some guys at the local training track say they were going to send some horses to Hialeah. Once again, not knowing much about Hialeah or the industry, I said, 'Well shucks, this horse is conditioned, she feels good.' So we sent her to Hialeah!
"I'm so grateful for that experience because since then we've elevated our pedigree and our knowledge of the industry," he adds.
PEDIGREE RESEARCH
The first sire Lee started researching was Wave Carver. Bent on improving his pedigrees as a breeder and forming relationships with those in the industry, he went to visit Steve Fisch DVM, at AVS Equine in Tallahassee, Florida — the closest veterinarian and stud farm with Wave Carver bloodlines.
"I'd read an article that said Wave Carver was in Florida, so soon after, I set up an appointment to see him," Lee says. "If I remember correctly, I spent the week of my birthday in Tallahassee by myself because that's how excited I was to go and see Wave Carver.
"Dr. Fisch was very accommodating and hospitable, and we discussed all sorts of things, from pedigrees to bloodlines, nutrition to vet care, and so on. He was really my introduction to the professionalism that the horse racing industry entails, and he was a very good representation of the industry."
After that meeting, Lee returned home and started researching local individuals. He met breeder Geral Baxter, intending to buy a broodmare to breed to Wave Carver. While there, a 2-year-old filly caught his eye, so he bought Racie Rebecca (Ichie Tichie Dancer-Striking Rebecca, by Striking Distance).
"She put me on the map," Lee says. "On January 15, 2018, she won her first race — also my first win as an owner. That was also Martin Luther King Jr. Day, so it was quite symbolic in many ways. Every trainer who has ever trained her, including Mr. Tom Mosely and Mr. Trey Ellis, told me that she's the type of horse that will make a heck of a broodmare because she has a bunch of heart to go with her skill."
Of 23 outs, Racie Rebecca hit the boards 10 times. She just retired, and as of publication, is at the breeding shed of Ivory James. The sire is significant to Lee not only because of his accomplishments, but also because of his namesake, a black man who helped raise the stallion's owner, Sylvia Shaw Pitman, and her brother, John Shaw.
A ROLLER COASTER DAY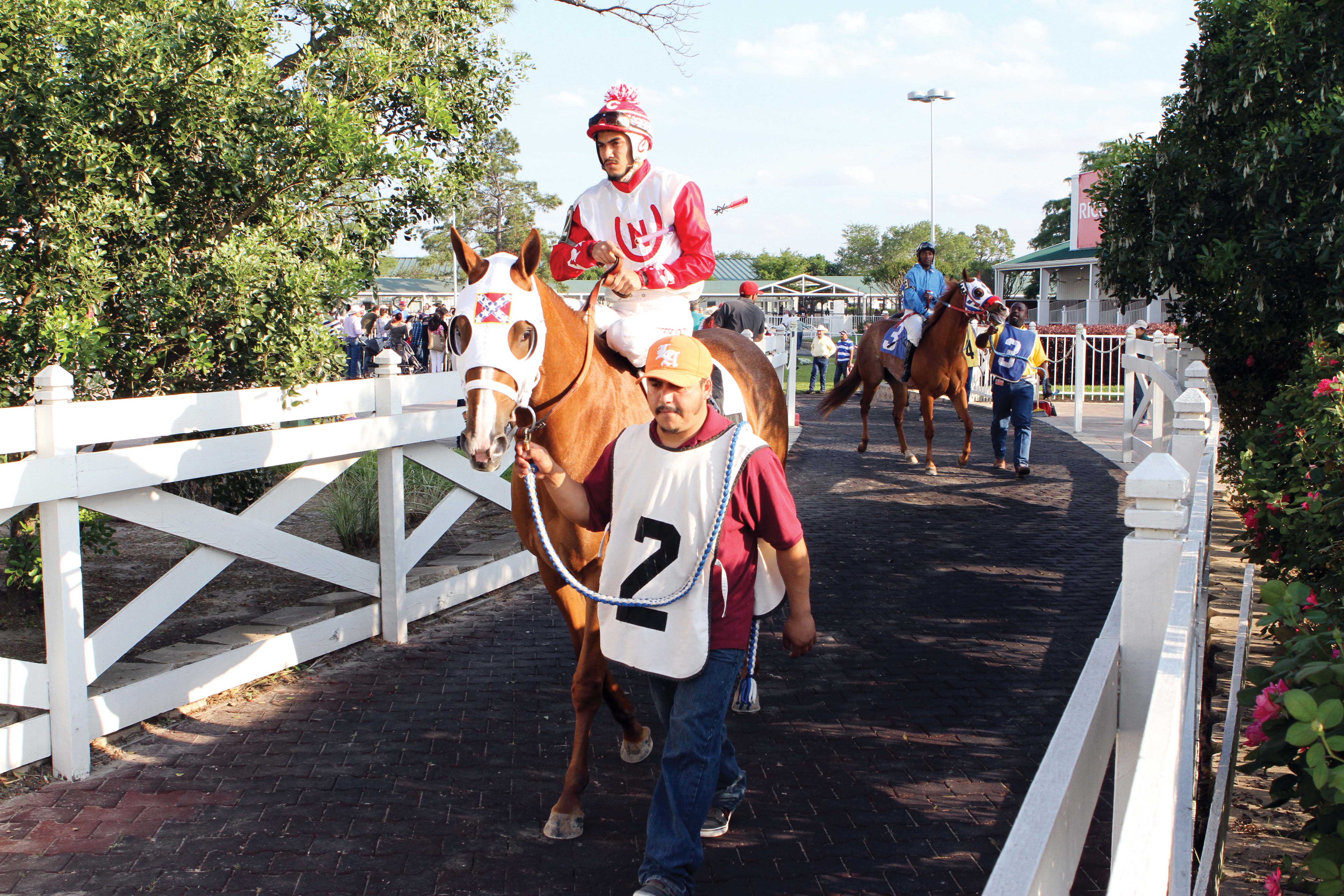 As high a high as Racie Rebecca's first win brought for Lee, the day also brought the lowest low. About 15 minutes after the mare crossed the finish line, Lee's mare Shinnie, whom he'd bought from Buddy and Patty Newsome, took a turn for the worse as the result of a systemic infection.
"Shinnie was by Valiant Hero and out of Dash Of Perry, who ran second in the All American," Lee says. "I was on Cloud 99; we'd just won our first race at a pari-mutuel track and I was ecstatic. I was on the phone with Maurice and I said, 'Hold on, it's Dr. Sabrina Jacobs and I just talked to her a while ago so this can't be good.'"
Dr. Jacobs told Lee that Shinnie had become septic and they were going to have to put her down. Lee was devastated. "I told Dr. Jacobs that she was in foal to Hes Relentless but she said the baby wasn't big enough to survive. So not only would we lose Shinnie, we'd also lose her foal.
"I told Dr. Jacobs she was such a great animal and I didn't want her to suffer, so I thought we should just bury her, but she told me Shinnie was sedated and not suffering, and suggested harvesting her ovaries and inseminating her using ICSI [intracytoplasmic sperm injection]. I'd never heard of it, but I got on the phone to stud farms of sires I was interested in, and I ended up calling probably the most influential person in Quarter Horse racing, Mr. Butch Wise. I explained what had happened and that I had already been looking at Wagon Tales, who stands at Lazy E, at some of the stallion service auctions."
Long story short, Butch came through for Lee, and from 14 eggs, eight matured and two produced Wagon Tales fillies out of Shinnie this year. "When they say to make lemonade when life gives you lemons, I'm all about lemon meringue pie, lemon bars, lemonade … ," Lee says. "You've got to make the most of whatever comes your way, and I think we did that with the help of a lot of good people."
MOVING FORWARD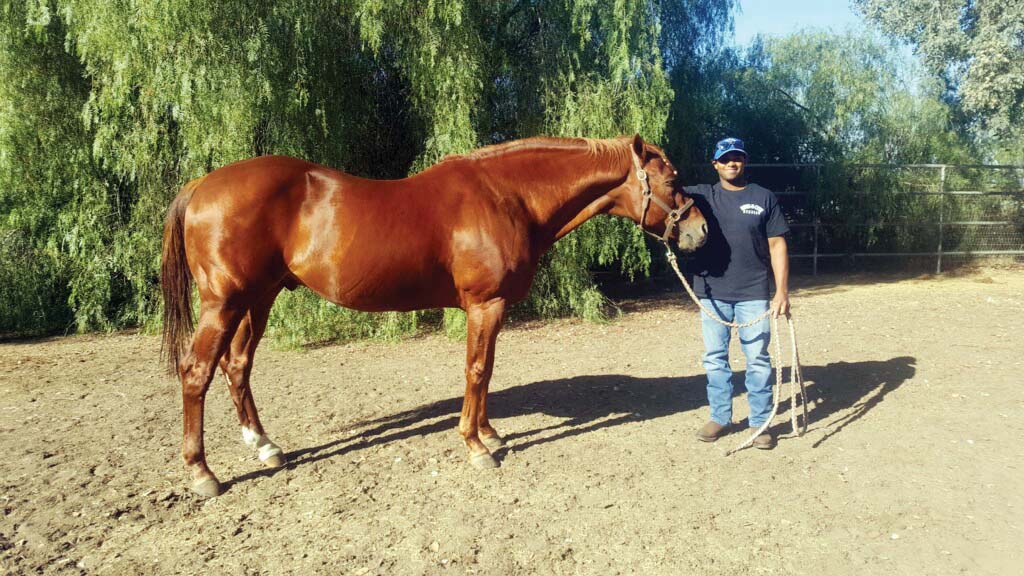 Among those good people has been Russell Harris, to whom Lee sent his next horse, Winning Hope (Strong Hope-Doing Some Winning, Runaway Winner). "Since then, Mr. Russell Harris has been the most incredible friend when it comes to the racing world," Lee says. "He has enlightened me on so many occasions and been very honest and open. He said, 'Lee, if you want to compete at the level I think you want to, you need to improve your pedigree.' That led to me acquiring Shinnie from the Newsomes."
In 2015, Lee became a member of the board of directors of the Florida Quarter Horse Racing Association, on which he served until Hialeah shuttered live Quarter Horse racing in 2017. He now serves on the AQHA Racing Committee.
Asked what he feels his greatest success has been thus far, he replies, "To me, my biggest success has been off the racetrack, forming these influential relationships that will probably last far longer than I'm in the racing industry. Everyone wants to win races, including me, but in order to feel good about winning those races, I think there's an element to people knowing you're doing it the right way. When I sit on these committees and I get to hear Mr. Johnny Trotter or Mr. Izzy Trejo or Mr. Jeff True speak about things we're doing in New Mexico to clean up horse racing; when I get a chance to listen to Miss Debbie Schauf and Miss Janet Van Bebber, I feel like my biggest success is being regarded as someone who can provide something to those committees."
Today, Lee lives just 75 steps from the barn where Whos Royal, bred by Buddy and Patty Newsome; Flyweight Carver, Lee's 2-year-old Wave Carver filly; and his two Shinnie fillies live. "I was very fortunate to be able to acquire property in Bluffton about 20 minutes from where I grew up," he says. "When I bought this home in 2011, I really bought it because it had an eight-stall barn. I cared more about that than the actual house itself!"
He loves the care-taking aspect of his operation, but due to his 48-hours-off, 24-hours-on schedule as captain with the Hilton Head Island Fire Rescue, his father comes to care for the horses when Lee can't be there. Along with Lee's father, his mother, brother and Maurice form the staunch support network that Lee refers to when he consistently says "we" in reference to his accomplishments.
"Lee is very humble and never wants to take credit for his accomplishments," says Geral Baxter, the owner and breeder from Glenville, Georgia, who sold him Racie Rebecca. "He's the kind of person you want to see more of in the business. He's honest and forthcoming, he puts the horse first and doesn't give up on one if they don't do well. He's also very determined to be successful at what he does and is always trying to do better. I'm impressed with the level of success he has achieved so quickly by forming relationships within the industry.
"To this day, if he's going to run a horse that I'm involved with, he'll call me and tell me all about it," Geral adds.
Even above the care-taking aspect of his operation, Lee loves the breeding aspect. "It's a culmination of your decisions," he says. "Why you breed a particular mare to a particular sire — and with the amount of sires readily available, it's about taking risks. I admire Nancy Yearsley for not being afraid to take those kinds of risks.
"Horse racing tends to be dominated by certain pedigrees and bloodlines but the risk takers sometimes have high rewards," Lee adds. "I've never been one to conform to what everyone else is doing; I try to make my own way through the tunnel. So the breeding is, in my opinion, how you begin to set yourself apart with the decisions you've made, and hopefully those decisions can turn into a positive reflection on you."
Maurice says, "When you're around a positive person with positive vibes, positive things come to you." That said, many more positive things are bound to come to Lee Jenkins.