Articles
7 posts tagged with "quarter-horse-racing"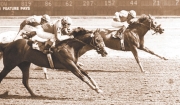 Dash Ta Fame, a son of First Down Dash out of the mare Sudden Fame, is an anomaly as a top 25 all-time leading sire of racehorse money earners of over $19 million and the all-time leading sire of barrel racing money earners of over $23 million. He is in the top 20 as a broodmare sire of racehorse money earners in excess of $20 million, and he is the broodmare sire of barrel racers earning over $12 million.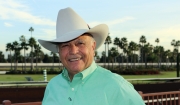 Beginning in the 1950s, in addition to rodeoing, Duayne rode, bred, trained, and bought and sold racehorses. Then, beginning around the mid-1970s, his interests evolved into administration. Since then, he's mainly worked behind the scenes to regulate and promote the sport. Although his career hasn't been all roses, it has been innovative and fulfilling. And in his nearly 65 years in the horse world, he has accomplished much.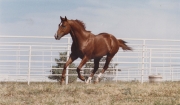 Special Effort is more than simply a confluence of his breeding, conformation and natural talent. From March 29th, when he made his racing debut, through Labor Day he earned a place among the breed's all-time great sprinters. When he enters the stud he will undoubtedly be one of the most sought-after sires ever.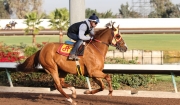 We have learned that a structure is only as strong as the foundation on which it is built. Horsemen have learned the same thing about breeding good horses. They have come to know that they have to start with a good foundation to develop their breeding program. Breeders see that foundation in the mares on the bottom line of the bracket pedigree. We call this line of mares the tail female line and every tail female line should trace to a Taproot Mare, which is the foundation of that mare family.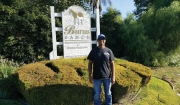 Lee Jenkins isn't one to sit around waiting for opportunity to fall into his lap. Instead, he sets short-term, achievable goals and then goes about fulfilling them.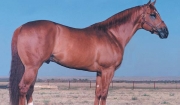 Breeding through the sire line has been a long-standing tradition that is very prominent today. Last year we looked at the status of the Three Bars sire line through Corona Cartel. This year we will look at the Top Deck sire line through Mr Jess Perry. Our look back at the life of Mr Jess Perry will give us a chance to see the backstory of how he came to form this very important branch of the Top Deck sire line.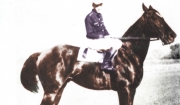 Quarter Horse racing has changed a great deal over the years. Nowadays the race tracks have starting gates for the horses to start from, the horses are handicapped by adding weight to those horses whose records indicate that they are much faster than others in the same race. The race tracks are made to be smooth, level and soft to prevent injury to the horses hooves and legs. And probably the biggest change of all is the spectator facilities.