He Looks Hot
Posted by Speedhorse on 06/07/2021
When someone builds a house, or any building, they start with a good foundation. We have learned that a structure is only as strong as the foundation on which it is built. Horsemen have learned the same thing about breeding good horses. They have come to know that they have to start with a good foundation to develop their breeding program. Breeders see that foundation in the mares on the bottom line of the bracket pedigree. We call this line of mares the tail female line and every tail female line should trace to a Taproot Mare, which is the foundation of that mare family.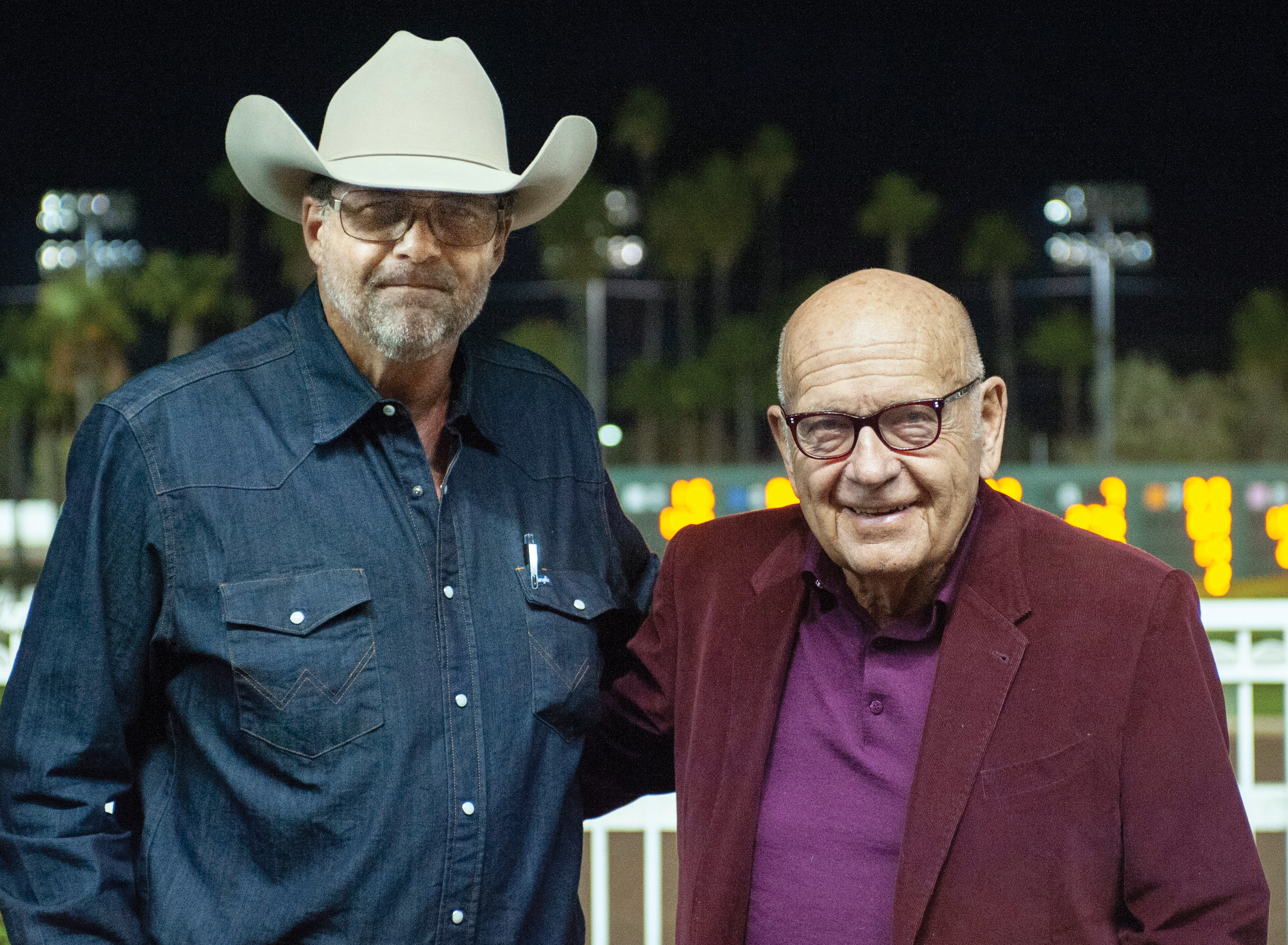 Many breeders have embraced the theory of mare families as the base or foundation of their breeding program. When you look at the pedigree history of 2019 World Champion He Looks Hot, you get an example of how owner/breeder Dr. Ed Allred has adopted and built his breeding program on good mare families.
He Looks Hot is a 2012 gelding by Walk Thru Fire and out of Look Her Over. This gelding has shown a lot of heart in defying the odds when he survived two colic surgeries during his 3-year-old year. He Looks Hot was off to a good start when he won the 2014 Los Alamitos Two Million Futurity-G1. Then, he missed his 2015 campaign with a battle against colic that took two surgeries for him to recover and survive. This series of hurdles would have forced most horses to retire or, at best, limit their future race career.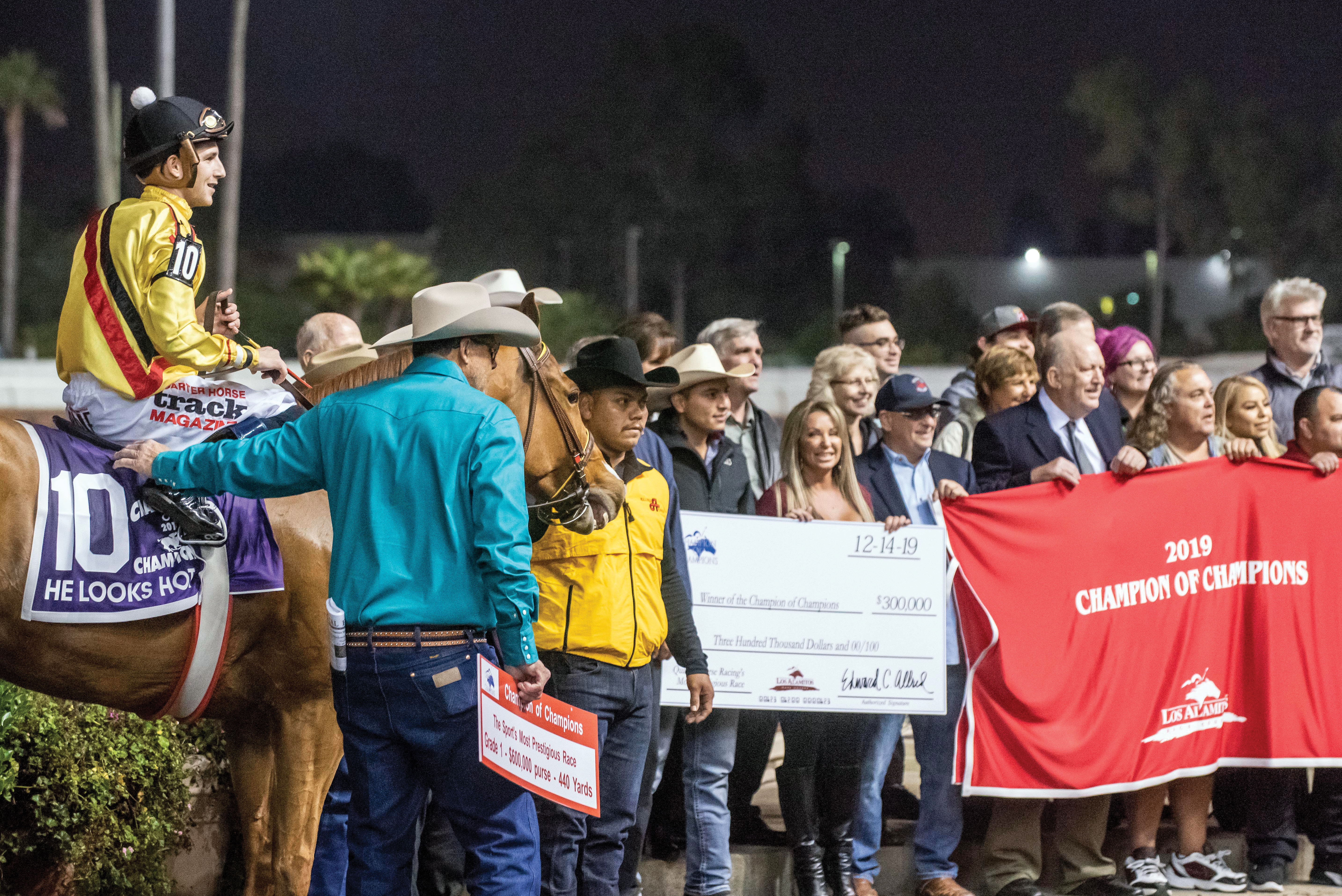 But not He Looks Hot, who came back in 2016 to win the Vessels Maturity-G1 and qualify for the Champions of Champions-G1. He made six starts with two wins and two seconds, earning $98,515. In 2017 he won another major race in the Spencer Childers California Breeders' Championship-G1, and he also qualified for the Champions of Champions-G1. He Looks Hot made nine starts with one win, two seconds and two thirds, earning $108,754. He continued racing in 2018, winning the Robert L. Boniface Los Alamitos Invitational Championship-G1 and qualified again for the Champion of Champions-G1. He made five starts with three wins in 2018, earning $99,780, and he survived a third colic surgery that year.
So, when 2019 came around, could the now seven year old continue his winning ways? He definitely answered the question with 10 starts, five wins, one second and one third, earning $420,036. He Looks Hot won the Moonist Handicap, Spencer L. Childers California Breeders' Championship-G1 for the second time, and the Champion of Champions-G1. His success on the track in 2019 earned him the titles of AQHA World Champion, Champion Aged Horse and Champion Aged Gelding. He is trained by Scott Willoughby and was ridden by Vinnie Bednar.
We are all very familiar with Dr. Allred as the owner of Los Alamitos Race Course. Dr. Allred started cultivating his racing interest in the mid 1950's at Los Alamitos, entering first as a racing enthusiast and then as an owner. He became very interested in Los Alamitos Race Course and eventually took sole ownership of this premier race track. But his Rolling A Ranch, where he breeds many fine horses including his new World Champion, will be our main focus on our look at the mare family this outstanding runner comes from.
We will start at the beginning with Dr. Allred's first runner, the gelding Beowawe, a AAA runner that was first, second or third in 14 of his 35 starts. Punch Time, who has no official race record, became Allred's first broodmare. Punch Time produced Gritch, who is the dam of 1980 Golden State Derby winner Rich Gritch.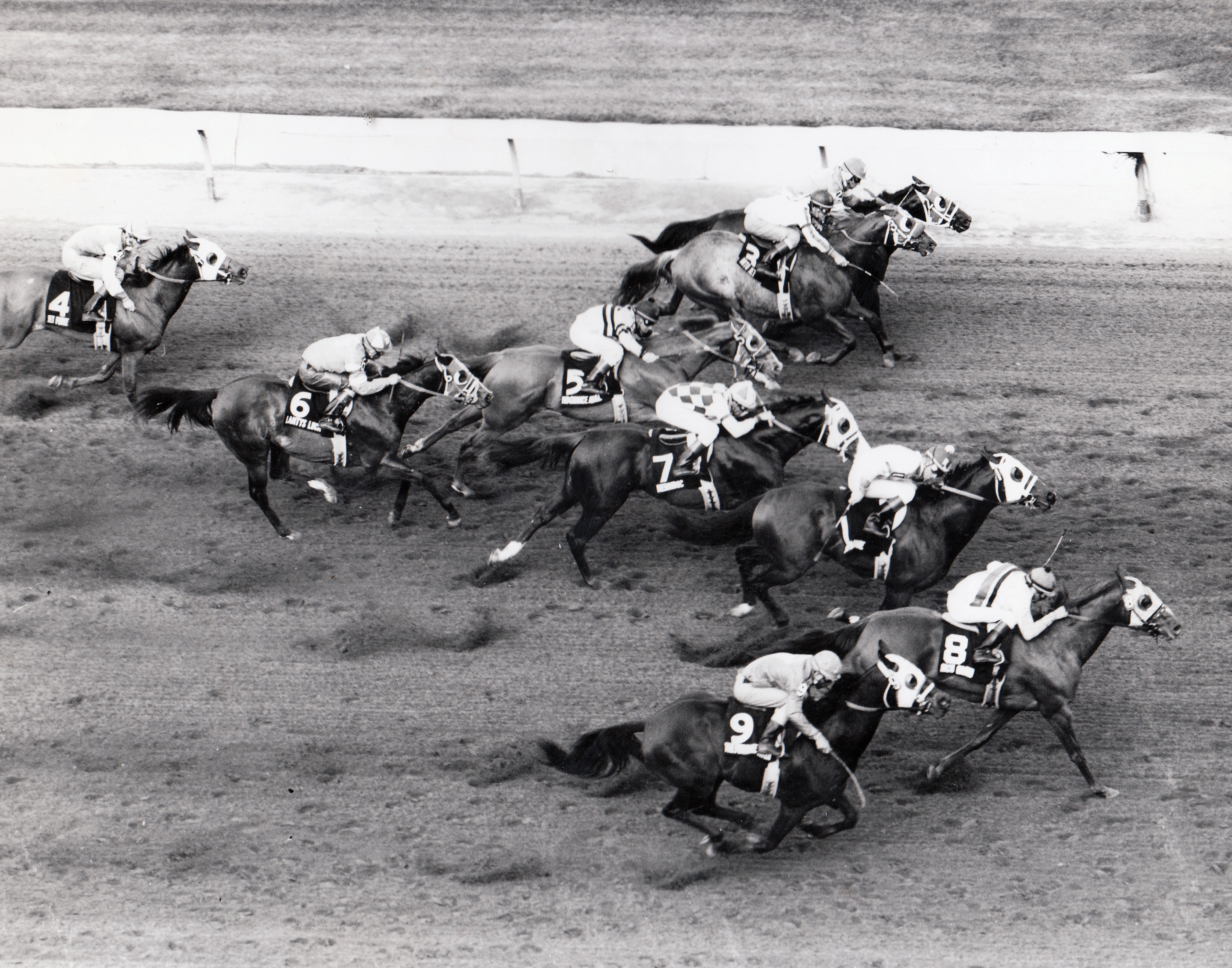 Beowawe and Punch Time are by Hard Punch by 2-time Champion Hard Twist. The dams of these two Allred owned horses were daughters of Lucky Fellow, a son of Lucky Blanton, a stallion that was noted as a rope horse sire. Dr. Allred bred Punch Time to Windy Sea TB, by Windy City II, and got Gritch. Then, he bred Gritch to Dusty Canyon TB and this is where he got Rich Gritch. Dusty Canyon later became the broodmare sire of All American Futurity-G1 winner A Classic Dash.
Charger Bar became a highlight of these early years for Dr. Allred when she won the 1973 Champions of Champions-G1. Charger Bar is by Tiny Charger and out of La Ree Bar by Rocket Bar TB. The dam of La Ree Bar is Tinky Ann by Tinky Poo. Tinky Ann is out of Annahi TB by High Step. Charger Bar was owned by the partnership of Dr. Ed Allred and Dr. Kenneth Wright, trained by Wayne Charlton (her breeder) and ridden by James Dreyer. Charger Bar won 21 stakes races earning nine championship titles, including the 1971 World Champion title. She produced 14 foals, 12 starters, 10 ROM and three stakes winners in Go Proudly, Proud Heritage and Blushing By. Go Proudly and Proud Heritage were bred by Dr. Ed Allred and Dr. Kenneth Wright.
Just like the success of Los Alamitos Race Course, Allred's Rolling A Ranch breeding program has been very successful and has grown over the years. This success has allowed Dr. Allred to become a perennial leading breeder and owner. His breeding program has produced runners that have earned over $60 million, making him the all-time leading breeder of money earners. He is also the all-time leading owner of money earners with his runners earning nearly $21 million.
Dr. Allred will readily tell you that the base of this strong breeding program is great female families. He was recently quoted explaining about how his friend and mentor Spencer Childers got him started with mare families. "Spencer is the one who taught me the importance of mares. When I started acquiring some good mares, Spencer told me to stick with these female families and never get rid of them. Like the mother of Look Her Over, who is Oh La Proud, I've had this line going back to the 1980's. I collect (Quarter Horse) female families," he said.
Spencer Childers found his success as a breeder through the mare lines he used. The greatest example of his mare lines comes through his great mare Champion Black Easter Bunny and her daughters. This philosophy made Childers a leading breeder of horses that have won in excess of $15 million and he is the owner of horses that won over $4.5 million. He bred a number of Champions, including 2004 World Champion Be A Bono. This great gelding traces through his sire's tail female line to Black Easter Bunny as well as through his dam's tail female line to Black Easter Bunny.
Our look at the pedigree of He Looks Hot will start with La Ree's Rocket, a full sister to La Ree Bar the dam of Charger Bar. La Ree's Rocket was the third foal by Rocket Bar out of Tinky Ann. Foaled in 1965, La Ree's Rocket earned four wins in 24 starts with two seconds and two thirds while earning her racing ROM and a AAA rating on the track.
Wayne Charlton is the breeder behind this family of runners. "She was a full sister to the mother of Charger Bar. I sold her (La Ree's Rocket) at Los Alamitos. When she was in a trailer, she would go so far and then she would throw a tizzy. I didn't want to haul her anymore, so I sold her. I ran a few races with her, but that is why I sold her," Charlton explained.
La Ree's Rocket then became the property of Ivan Ashment in 1973, and in 1978 she produced the next important link in our look at this family with Oh La Ree. Bred by Ashment, Oh La Ree became a stakes winner with wins in the Peninsula Handicap and Independence Day Handicap. She won nine races in 19 starts, including the two stakes wins. Oh La Ree is by Jet Spice by Jet Deck by Moon Deck. Jet Deck is out of Miss Night Bar by Barred. The dam of Jet Spice is Sugar Spice by Sugar Bars.
Oh La Ree is the dam of 12 ROM runners, including seven stakes horses and three stakes winners, including Cypress 870 Handicap and Gold Rush 870 Handicap winner Oh Le Bo and All Canadian Futurity of Alberta winner Cambrian.
In 1984, Oh La Ree was purchased by Dr. Ed Allred and he bred her to Shirley's Champion TB in 1986 and produced Oh La Proud. Shirley's Champion earned $174,087 and won four stakes races, including the Inglewood Stakes-G2 and Hollywood Express Handicap-G3. Shirley's Champion is by Noholme II and out of Nevada Marga by Have Tux. Nevada Marga is out of Marga by Hawley. Golden West Stakes winner Oh La Proud, the other stakes winner out of Oh La Ree, had four wins in 30 starts, earning $52,873.
Dr. Allred retired Oh La Proud to the broodmare band and got an explosion of runners. Oh La Proud earned her AQHA Dam of Distinction and produced 29 registered foals/starters, 22 ROM and seven stakes winners, including Paul Ford Memorial Handicap 1st Division winner and Golden State Derby-G1 third place finisher Mister Katella by Raise A Secret. Her second stakes winner, Pride Of Katella by Raise A Secret, won the California Sires' Cup Derby-RG2 and was second in the Golden State Futurity-G1.
Hawkinson is the third stakes winner out of Oh La Proud. Foaled in 1997, the son of First Down Dash won both the Los Alamitos Winter Championship-G1 and Go Man Go Handicap-G1 and earned $448,299 on the track. Hawkinson was named the 2001 Champion Aged Stallion.
Hawkinson is now a million dollar sire of over $11.8 million with 35 stakes winners and 18 Grade 1 stakes winners. Some of his stakes horses include Ruidoso Derby-G1 winner BF Farm Boss, Champion 3-Year-Old Gelding/Champion Aged Gelding Strawkins, and Los Alamitos Championship Challenge-G3 winner Spark E Boy.
The next stakes winner out of Oh La Proud is Hawkish by Dash Thru Traffic by First Down Dash. This 3/4-brother to Hawkinson is a 4-time Grade 1 winner in such races as the Ed Burke Memorial Futurity-G1. Hawkish was the 2003 Champion 2-Year-Old Colt and is also a million dollar sire of over $1.7 million. Hawkish counts among his foals Wild West Futurity and Corona Chick Handicap winner Oh La Traffic.
Our next stakes winner out of Oh La Proud is 2012 Mr Jet Moore Handicap-G3 winner Rare Walker. Flame N Flash, a full sister to Rare Walker, was the 2012 Champion 3-Year-Old Filly and winner of Mildred N. Vessels Memorial Handicap-G1 and La Primera Del Ano Derby-G3.
The seventh stakes winner produced by Oh La Proud is Look Her Over, the dam of He Looks Hot. Look Her Over won the California Breeders' 550 Sophomore Handicap and AQHA Member Plus Stakes with a second in the Mildred N. Vessels Memorial Handicap-G1. Look Her Over made 27 starts with four wins, four seconds and five thirds, earning $173,326.
The sire of Look Her Over is Check Him Out, winner of the Ed Burke Memorial Futurity-G1 and Golden State Derby-G1. Check Him Out is another million dollar sire of over $5 million. Some of Check Him Out's leading money earners include Los Alamitos Winter Derby-G1 and El Primero Del Ano Derby-G3 winner Head Turner, and Ruidoso Futurity-G1 winner Saint Shackleton.
Check Him Out is by Hennessy TB, a stakes winning son of Storm Cat. Hennessy was a major stakes winner at two, the only year he ran, winning the Hopeful Stakes-G1 and finishing second in the Breeder's Cup Juvenile-G1.
The dam of Check Him Out is Check Her Twice, winner of the Golden State Futurity-G1. She is by First Down Dash and out of the great Vessels Stallion Farm mare Fishers Favorite by Beduino TB. Through Fishers Favorite and her dam Ought To Go, we find the female family of horses like World Champion/2-Time Champion Special Leader, 2-Time Champion Your First Moon (who is the dam of 4-time Champion Moonist), 2-Time Champion Old Habits, Champion Hardly Hateful and Champion Solvency.
While Look Her Over was racing in 2008, she was bred by embryo transfer to Walk Thru Fire and produced Once Over, who was foaled in 2009. This gelding became Look Her Over's first stakes winner, winning three stakes races in 2014 including the Spencer Childers California Breeders' Championship-RG1. Once Over was the first of three stakes winners in 2014 for Look Her Over. The second stakes winner for Look Her Over is 2019 World Champion He Looks Hot, and her third stakes winner is California Breeders' Freshman Fillies winner Take A Look by Separatist.
Look Her Over not only produced three stakes winners in 2014, but she is also the dam of two stakes placed runners in Look Of A Dasher, second in the California Breeders' 550 Sophomore Stakes and a finalist in the Golden State Derby-G1, and Dashing Over, third in the California Breeders' Freshman Fillies Stakes. Both of these runners are by TR Dasher. When we look at this young mare's produce record through 2014, she had nine foals old enough to run and seven of them earned their ROM. Look Her Over, who was named the 2014 Speedhorse Broodmare of the Year, is now the dam of 21 foals, 17 starters, 16 ROM, four stakes winners and three stakes placed runners with total earnings of $2,606,228. Could Be Hotter, winner of the 2019 Mile High Derby, is her fourth stakes winner. Look Her Over's additional stakes placed runner is Good Looker, who was second in the 2016 Cypress Handicap.
WALK THRU FIRE
Walk Thru Fire was bred by a partnership between the Vessels Stallion Farm and the Allred Brothers of Arizona. Walk Thru Fire had great potential as a racehorse and was purchased by three famous horsemen as a yearling – Hall of Fame trainer D. Wayne Lukas, William Farish of Lanes End Farm and Ed Gaylord II, former owner of the Lazy E Ranch and Arena. For most of his race career, Walk Thru Fire raced for this partnership and then for his trainer, Jaime Gomez.
The racing potential of Walk Thru Fire did not materialize, and he won only two of his 21 starts. Walk Thru Fire won his trial to the 1999 Los Alamitos Two Million Futurity-G1 and an allowance race. He qualified to the Los Alamitos Two Million Futurity-G1, Golden State Futurity-G1, Primero Del Ano Derby-G2 and Vandy's Flash Handicap. The colt retired with $94,280 in earnings.
Despite his modest race record, Walk Thru Fire entered his stud career and his first crop produced 2005 Kindergarten Futurity-G1 winner Gold Nugget RD and 2005 Ed Burke Million Futurity-G1 and Golden State Futurity-G1 winner Higher Fire, who was named the 2005 Champion 2 Year Old and Champion 2-Year-Old Filly.
With the success of his first crop of runners, Walk Thru Fire was purchased by Dr. Ed Allred and Mike Abraham in 2005. He has since set the racing world on fire by siring progeny that have earned over $39 million. He is now the #1 all-time leading living sire of money earners. His runners include nine AQHA Champions that have won 17 Champion titles and include, Last To Fire, Higher Fire, Separate Fire, Jess Walking Thru, Flame N Flash, Pink Boots RM, Walk Thru Crystal, Heza Dasha Fire and now He Looks Hot. He Looks Hot is his third World Champion along with Heza Dasha Fire and Last To Fire.
First Down Dash, the sire of Walk Thru Fire, is the all-time leading sire of money earners with earnings of over $85 million. First Down Dash is by Dash For Cash and out of First Prize Rose by Gallant Jet by Jet Deck. First Prize Rose is out of Rose Bug by Lady Bug's Moon by Top Moon. Top Moon is by Moon Deck and out of Rica Bar by Barred.
Sweet Beduino is the dam of Walk Thru Fire. A look at her pedigree through the tail female line will indicate another strong female family. Sweet Beduino is stakes placed with seconds in the Santa Cruz County Futurity and Prescott Downs Futurity-G3. Sweet Beduino became the dam of 18 foals, 17 starters, 16 ROM, five stakes winners and two stakes placed runners. Her stakes winners include, A Dash Of Beduino, This Jet Is Royal, Posting The Colors, Flying With Color and One Sweet Dash. One Sweet Dash by First Down Dash is the dam of World Champion and All American Futurity-G1 winner One Dashing Eagle, who is now a million dollar sire with earnings of over $5 million. One Sweet Dash is also the dam of One Sweet Jess, winner of the Golden State Million Futurity-G1 and a million dollar sire with earnings of over $8.7 million.
Beduino TB, the sire of Sweet Beduino, is the all-time leading Thoroughbred sire of money earning Quarter Horses. His foals have earned $13,099,594 on the track. Beduino is the #2 all-time leading Thoroughbred broodmare sire of Quarter Horse money earners. His maternal grandget have earned $28,167,257. The leading money earner out of a daughter of Beduino is Dash Thru Traffic, winner of $1,056,943. Dash Thru Traffic is by First Down Dash.
Beduino is by Romany Royal, a race winner of two of 28 starts. The sire of Romany Royal is Grey Sovereign by Nasrullah. The dam of Beduino is Jo Ann Cat, who is by Rejected and out of Quick Eye by Depth Charge.
Sweet Game, the dam of Sweet Beduino, won the Sophomore Handicap and earned $48,328 with four wins in 13 starts. She is now the dam of 15 ROM, including two stakes winners and two stakes placed runners. Her stakes winners are Sweeten The Pot and Dash for Game. Sweeten The Pot is the winner of seven stakes races, including the Shue Fly Handicap-G3, Double Bid Handicap-G3 and Kaweah Bar Handicap-G3. Dash For Game is the winner of the Prescott Downs Derby.
Sweet Game is by Game Plan, winner of the Leo Handicap and Bay Meadows Futurity. Game Plan is by Easy Jet and out of Go Maggie Go by Go Man Go. Go Maggie Go is stakes placed in the Centennial Lassie QH Stakes. Go Maggie Go is out of Maggie McGowan by Three Bars TB. Maggie McGowan is out of Vandy's Candy by Vandy and Vandy's Candy is out of Candy Dee, the dam of Vancent Dee, the granddam of 1983 World Champion Dashingly.
Sweet Game is out of Sweet Feast, a 4-time stakes winner, including the Rocky Mountain QHA Derby. Sweet Feast is by Leo Feast, winner of the Blue Ribbon Downs Thanksgiving Allowance and the All Distance Champion Series #1. Leo Feast is by Feast TB by Roman by Sir Gallahad III. The dam of Leo Feast is Kay Cindy Leo, a full sister to the great Palleo Pete – the 1954 Champion 2-Year-Old Colt and Champion Stallion. Kay Cindy Leo and Palleo Pete are by Leo and out of Osage Star Lady by Osage Star.
The dam of Sweet Feast is Cherry Sweet by Custus Rastus TB. Cherry Sweet is a AA/ROM runner and is out of Cherry Chub by Chubby Chub by Chubby. The dam of Cherry Chub is Ruthie McCue by King McCue. Cherry Sweet is the dam of five ROM runners and two stakes winners, including Dixie Downs Futurity winner Cherry Zip.
THE TAPROOT OF THE FAMILY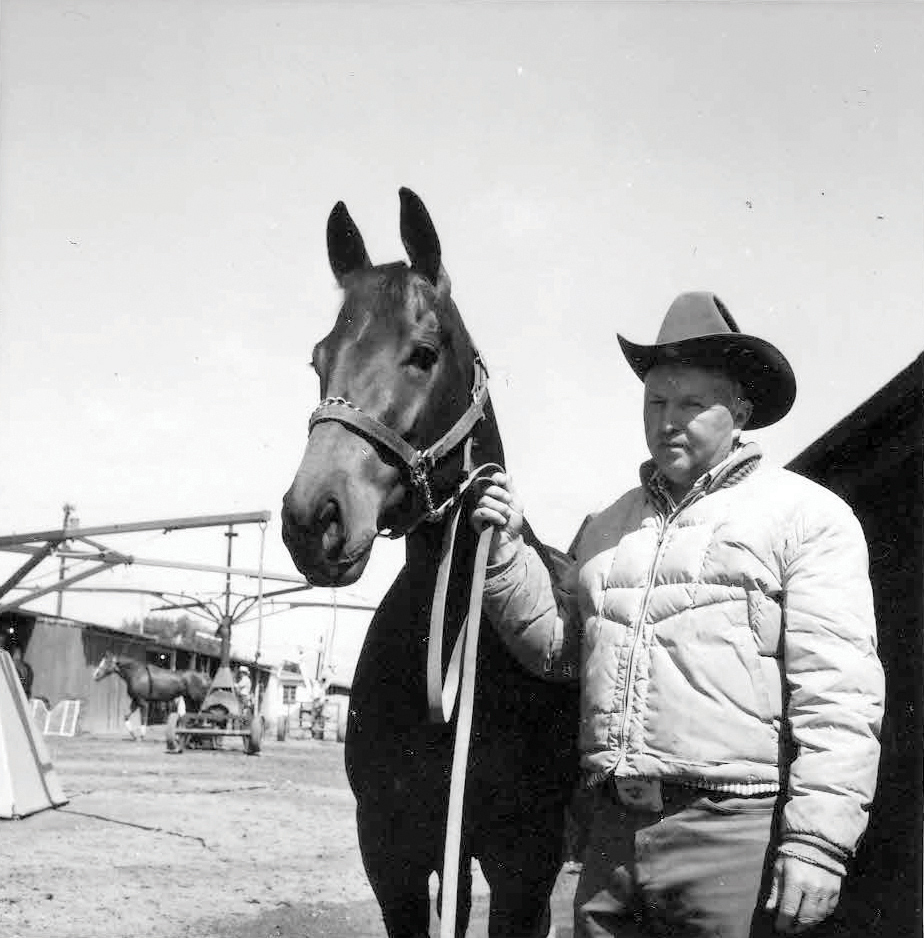 I see Annahi TB as the taproot mare for this mare line. A closer look of Annahi TB gives us some interesting information and the heart displayed by He Looks Hot during his struggle with colic and then his persistence on the track.
Wayne Charlton recalled why he bought Annahi TB. "I was just starting out and a friend of mine ran a few horses and I knew a little bit about her sire High Step," he said. "I bought her sight unseen for $125.00. Didn't even see the mare, I just bought her off the High Step breeding."
He then added, "I ran her a little bit with Quarter Horses and she had speed. I won a race with her at a little Quarter Horse show one time, but she never ran on a recognized racetrack."
Annahi TB was a 1944 chestnut mare bred by S. Grant Young. Her sire, High Step, won two races in five starts and earned a modest $1,600. High Step is by the great source of speed High Time, the winner of one race in seven starts. High Time's win came in the Hudson Stakes where he set a New Track Record at Aqueduct going five furlongs in :58 2/5. The only other time he placed in the top three in a race was a third in the Great American Stakes.
High Time proved to be a very fast horse, but couldn't carry his speed over a distance. A look at his pedigree will tell us where his speed came from. His sire is Ultimus by Commando by Domino. The dam of Ultimus is Running Stream by Domino. The dam of High Time is Noonday by Domino. This makes High Time a great source of speed with an intense inbreeding to Domino shown by a 3x3x2 breeding pattern to this stallion.
Although High Time was not a proven runner, he became noted as a sire for his outstanding 2 year olds. High Time was the leading sire, or tied as the leading sire, of two-year-old winners for four years. He was the leading sire overall of money earners in 1928 and was in the top 20 on the leading sire list 12 times in his breeding career. High Time sired 289 foals, including 37 stakes winners with 164 of his foals winners at the age of two.
The dam of High Step is High Born Lady, an imported mare with no American race record. She is by The White Knight and out of Lady Echline by Cyllene.
The dam of Annahi is Verda Ann. Foaled in 1938, Verda Ann was unplaced in two starts and is by American Smile by American Flag by Man O'War. American Flag is out of Lady Comfey, an imported mare by Roi Herode, who is the sire of The Tetrarch, another significant source of speed. The Tetrarch is found in the pedigree of Nasrullah. Lena Valenti TB, the second dam of Easy Jet, is by Gray Dream by Gino by Tetratema by The Tetrarch. The dam of Verda Ann is Anita M. by Sir Martin. Her dam is Mozel by Martinet. Anita M. was third in the Lexington Club Handicap and had 57 starts with nine wins, two seconds and eight thirds.
The next step for Charlton was to breed Annahi and he picked a stallion named Tinky Poo. He explained why he bred to this particular horse, "A friend of mine, Al Stewart, had him at that time in Brigham City, Utah. He set up a match race with him and I went out to watch it and I just liked the classy look of him. I didn't know anything about the breeding, nothing else. I just liked the look of the horse. A classy lookin' little sucker. He was a really nice looking horse."
Tinky Poo was a 'classy looking' horse that earned 25 halter points with four performance points. He was an AQHA Champion and a ROM racehorse with the old AA rating. He started in 22 races with four wins, three seconds and one third and lifetime earnings of $2,445.
Charlton took Tinky Ann, the product of Annahi and Tinky Poo, to the racetrack where she earned a racing ROM in 1955. She had two starts with one win that year. She came back at three to run five races, with one second. Her record in 1957 at the age of four was 10 starts with two wins and two thirds.
It is at this point that Tinky Ann took 1958 off to enter the broodmare band to produce her first foal. This foal was born in 1959 and named Charlie's Pride by Booger H. Charlie's Pride was a AA rated runner with 67 starts with eight wins, 11 seconds and six thirds. The highlight of his race career was a third in the Intermountain Futurity in 1961.
Tinky Ann put her produce record on hold after her first foal was born to run eight times with one win in 1959. She came back
to the track a final time in 1960 at the age of seven to run in 10 more races with one third. She earned $3,464 in her official race career.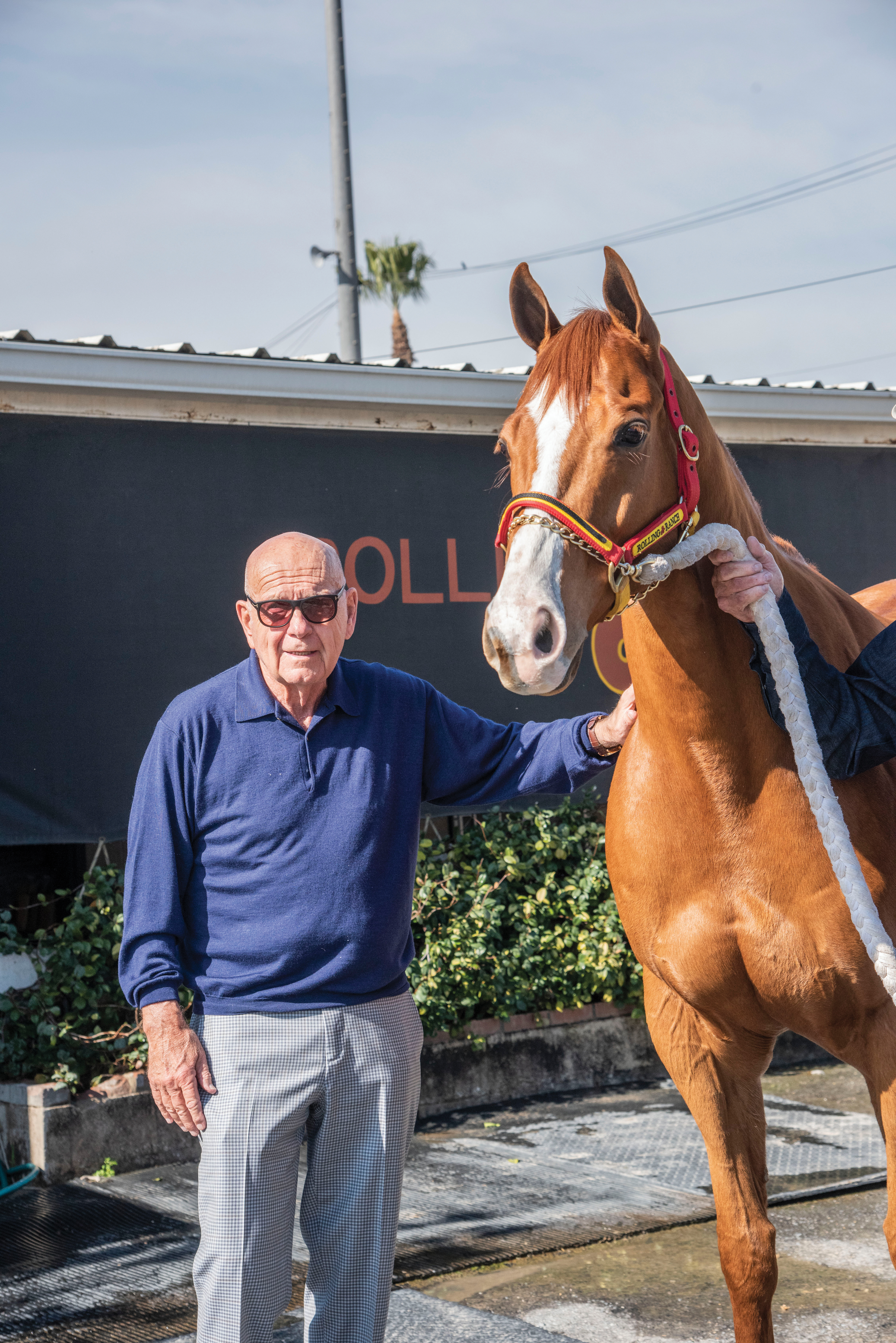 Charlton summed up her race career this way, "When she was a baby, she ran into a fence and cut her forearms pretty bad.
So she didn't really move right in the front end, but she had a lot of heart. A lot of try. She won races at Los Alamitos. I ran second in the Intermountain Futurity with her."
When Tinky Ann ended her race career, she met up with the famous Rocket Bar. "I got friendly with George Kaufman at a little Futurity out at Alvin, Nevada," Charlton explained. "When he bought Rocket Bar, he wanted me to buy a share in him, but I didn't. I just bred to him. The deal we had was I breed three mares and he would get one colt.
"That's the reason I bred to Rocket Bar and he had a lot of heart, too. In fact, I won three
Intermountain Futurities all with Rocket Bar horses."
We have just touched the surface of the Rolling A breeding program and the m
are lines that Dr. Allred has put together. These mare families
include: Jetsetting Girl, dam of horses like Golden State Derby winner Girl Secret; Separate Ways, dam of leading sire Separatist and Elans Special, the matriarch of a family of
Allred bred horses like Champion Catchmeinyourdreams; APHA World Champion Really Special; and stakes winners Gotothemountain and New Look.
Dr. Allred has moved to the top as a breeder of outstanding racehorses. He got to the top with a good foundation in his breeding program through outstanding female families. And He Looks Hot, the 2019 World Champion, is a great example of his success as a breeder. It appears the race career for He Looks Hot has ended. He was officially retired Jan. 25, 2020. This great runner will go down in history, not only for his great race record, but also for his great heart that kept him game despite some great hardships.