Hard Work, Kindness & Integrity
Posted by Speedhorse on 04/05/2021
When asked what they admire about northern Utah breeders Brad and Robin Hart, the couple's connections unanimously agree: They're hard working, kind and scrupulously honest.
"They work hard, they study their lessons and they associate themselves with people who can further their program," says Butch Wise, general manager of the Lazy E Ranch in Guthrie, Oklahoma. "Even though they're not from a hotbed of racing, they've found a way to be involved in the industry they love, and do it at a very high level."
Their Los Alamitos trainer, Jose Flores, says, "They're a united and hard-working family. From farming and ranching to racing to a sheet metal company, they earned their businesses because of all the hard work they put into them.
"They also go out of their way to help out," he continues.
"If I ask them for help with something, they're always there, and Robin always calls me before a big race to wish me luck even if their horse didn't qualify. They love the sport and the horses, and we need more people like them in the industry."
"Brad's an entrepreneur and has put together a lot of businesses," says Mac Murray of MJ Farms, who lived across the road from the Harts in Bear River City, Utah, before moving to Veguita, New Mexico, in 2000. "In one of his businesses, I think he had 130 or 140 employees and a lot of those people had been with him for years and years and years. That doesn't happen unless there's a mutual respect, you're good to your people and take care of them. And you don't do that unless you have a lot of integrity. Both in business dealings and the horse business, Brad and Robin are the kind of people who, if you agree on a deal, you don't need a contract. You shake hands and that's the deal, and if it doesn't work out, like sometimes deals don't, they're going to take care of you."
THEIR BEGINNINGS
Brad was one of four children born to James and Kathleen Hart in Ogden, Utah. He came by his horse passion through genetics. "Originally, my aunt and uncle had Diamond C Ranch in Cody, Wyoming, where they stood Easy Saint, a really well-known stallion in the Intermountain area," he says. "Then my grandfather started in, and he had Proudest Effort, This Pie Is Flying, Ima Rebel Wrangler and a lot of others, and we just followed in their footsteps."
Brad's dad and stepmother, Jacqueline Hart, also raised horses at their ranch, JJH Quarter Horses, in the 1990s to late 2000s.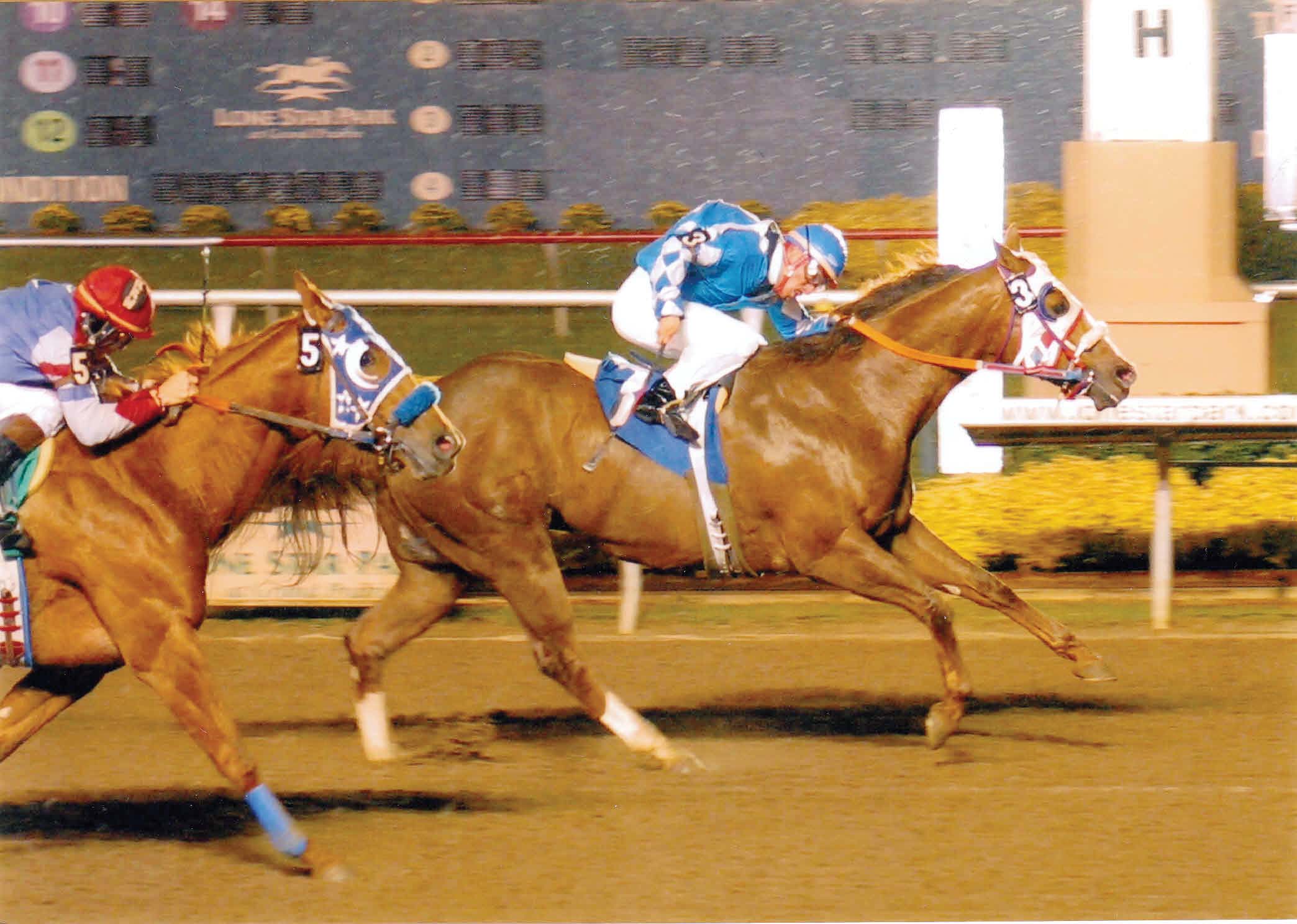 Robin is one of two daughters born to the late Charles and Sue Neal in Beckley, West Virginia. "I always loved horses," she says, "but I never had a horse of my own until I married Brad. My parents lived inside the city limits so we couldn't have them, but horses were always my favorite thing. My mother's friend went to a school back East wher
e she learned to ride, and she used to give me riding lessons and take me riding with her."
Robin's family moved to Kaysville, Utah, when she was 14, and it was there, at Davis High School, that she and Brad met. They graduated in 1979 (Brad) and 1980 (Robin) but didn't date until the year after that. They married in 1982.
Brad and Robin started their horse pursuits in the world of chariot racing, then bought and trained their first racehorse, BCR Campaign Cash, by Sir Cashanova and out of the Cherokee Arrow daughter Whisperin Campaign.
They then bought Bolt Ta Fame from his breeder, Janice Spencer DVM, (now Janice Murray of MJ Farms). Under the hand of trainer Greg Creager, the 1995 gelding won the Silver Dollar Derby Consolation at Evanston, Wyoming, then ran in the Bitterroot Derby-G3 as a 3 year old.
THEIR BUSY YEARS
While Brad still operated his sheet metal business and Robin cared for their son, Cody, now 33, and daughter, Cassidy, 25, the Harts built up their operation to breeding 12–14 mares a year and sending the bulk of their horses to big sale consignments, keeping a select few to run themselves under trainer Blane Schvaneveldt and others.
In 2003, their homebred 3-year-old gelding Coded Signature, by The Signature and out of the Casady Casanova daughter Earls Deer Eyes, won the Purgatory Cup at Dixie Downs in St. George, Utah, setting a New Track Record for 870 yards and posting a 110 speed index.

The next year's foal crop brought their all-time star, Sensual Lady, by Chicks Beduino and out of The Signature daughter Policy Signed. The filly won the Dixie Downs Futurity, her Bitterroot Quarter Horse Futurity trial and the Grade 2 final at Les Bois Park. She went on that year to win the Corona Chick Handicap-G3 at Los Alamitos and was named Idaho Champion 2-Year-Old Filly. Her sophomore year, she won her Bitterroot Derby trial and took third in the Grade 3 finals. She tallied a 14-6(3)-1-4(1) career record with earnings of $84,116 over two years on the track, earning multiple graded stakes winning status.
The Harts also partnered on Chase This Corona (Corona Cartel-Chase This Juno, Juno Dat Cash), who won his Bitterroot Futurity trial at Les Bois Park and then placed third in the PCQHRA Breeders' Futurity trials and seventh in the Grade 1 finals at Los Alamitos in 2003.
In 2005, Vandi Chick, owned by Brad and partners Fawna Knight and Ronald Skeen, won six of six freshman races including the Dixie Downs Futurity and the White Glove Delivery Futurity, also at Dixie Downs.
APPROACHING RETIREMENT
As Brad approached retirement from his sheet metal business, he and Robin pared down their operation to breeding two to three mares a year, keeping one or two to race.
In 2019, they ran 2-year-old Gentleman James, by Corona Cartel and out of Daring Diversion, by Strawfly Special, and 3-year-old Despite, by Apollitical Jess and also out of Daring Diversion. Gentleman James won $10,374 his freshman year, and Despite qualified for the Rocky Mountain Derby at Arapahoe Park in Denver, placing fifth in the blanket-finish final.
Back on the ranch, while Brad tends the cattle, the couple's daughter-in-law, Dani, helps out on the ranch each day and Robin oversees and also runs herd on Cody and Dani's two children, 5-year-old Carly and 10-month-old Cort.
Brad is also going into his third year on the AQHA Racing Committee, with whom he meets twice each year to review and make or change AQHA racing rules as needed. He also serves on a subcommittee working on breeders' awards.
FAMILY TIME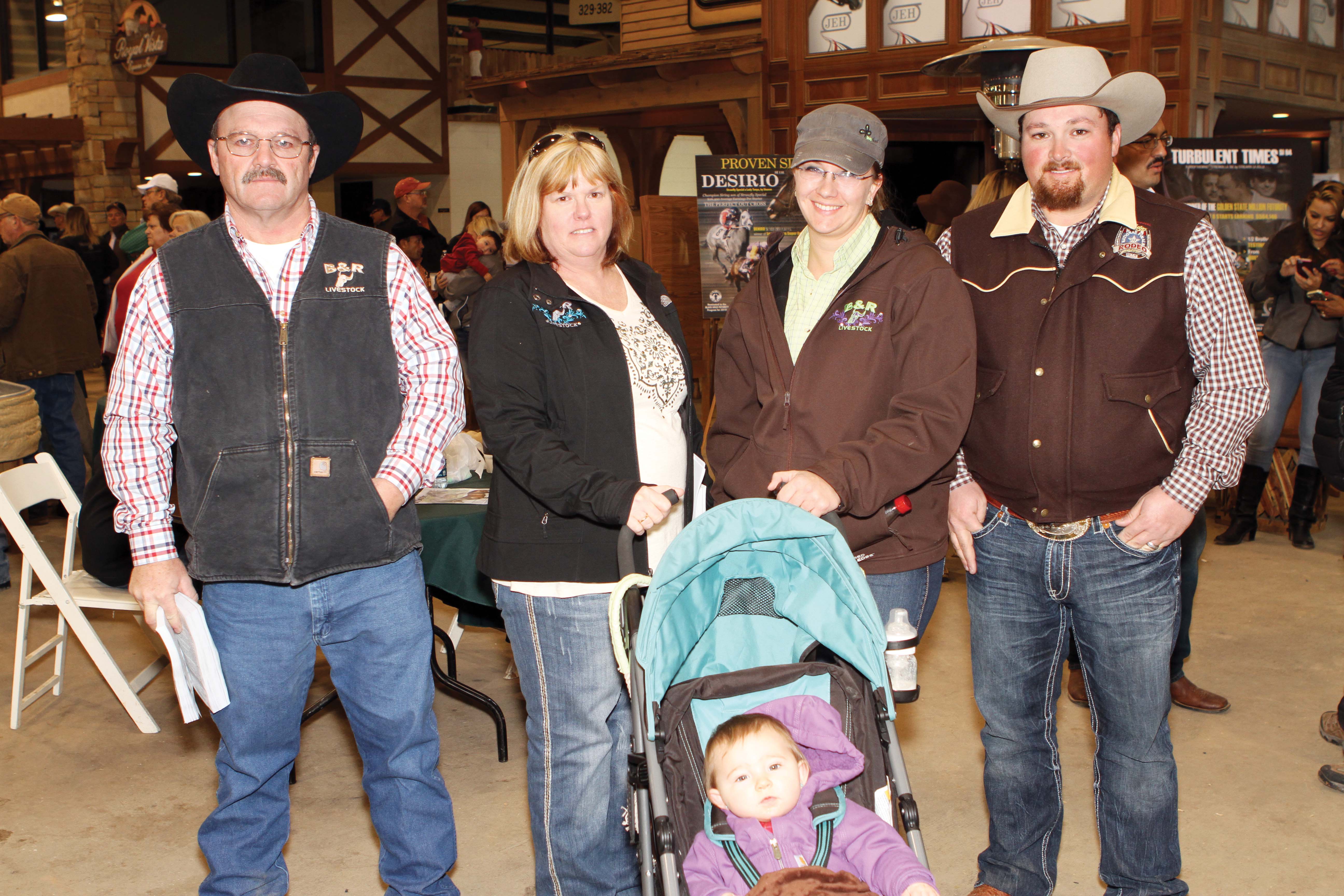 These days, Brad and Robin spend time at horse sales, cattle sales and at home, and traveling when they can. "And with our grandkids," Robin adds. "We have them here every day while Dani is working."
They continue to breed to the best stallions they can, and send their running stock to Jose at Los Alamitos and John Hammes in Colorado.
The couple complements one another perfectly: While Brad loves raising the babies and seeing them off to the track, Robin's passion is homework. "I think my favorite thing is picking the breedings and doing all the research on breedings and bloodlines," she says. "I also like going to the sales and seeing our horses looking good and selling well, and enjoying the friends we've made in the business."
"They're incredibly invested in the business, both in terms of financial investment and also in terms of their participation and involvement," says Butch Wise. "You see them in Oklahoma at the sales, you see them in California at the sales, at the races, and we saw them at the National Finals [Rodeo] the other day. They're involved in every aspect, whether it be the racing or the breeding business. They know what good livestock is and they appreciate it, and we need a lot more people like them in the industry."
Mac Murray concurs. "If we had more Brad and Robin Harts in the business, it'd be a real easy business to be in," he says.