From Humble Beginnings
Posted by s on 03/17/2022
by Diane Rice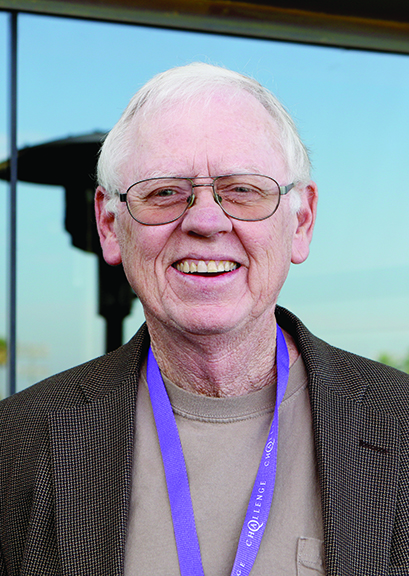 On West Street less than four miles east of Delta Downs Racetrack and four miles south of downtown Vinton, Louisiana, population 3,300, sits the newest version of Larry Findley Sr. DVM's Delta Equine Center (DEC).
The state-of-the art veterinary complex comprises two main buildings. The first houses two treatment rooms; two induction and recovery rooms; a surgical suite with monorail system to transport anesthetized horses; MRI and digital x-ray rooms; hyperbaric therapy chamber; and consultation, exam, and treatment areas in addition to 40 spacious rubber-matted concrete stalls. And Delta's small-animal wing has separate but similarly appointed facilities.
The other building houses the reproduction operation including a high-tech laboratory and facilities for semen collection, exams, palpations, ultrasound, embryo flushing and insemination in addition to a contained walker, a wash area, 12 stallion stalls and 75 mare and foaling stalls that feed into the paddock area.
But the original Delta Equine, founded by Dr. Findley in 1983, wasn't quite so "shiny." His third son, Craig, describes its original location on Crain Road north of town.
"We all grew up feeding horses on that property," Craig says of his three brothers. "We had to walk across the pasture on what were like cow trails to get from the house to the facility.
"When Dad had to do a colic surgery, I'd (or we'd—it wasn't always me) have to go to the hay barn, load two bales of alfalfa on a dolly and drag it what felt like a football field's length to get it to the breeding shed, where the breeding dummy was. Dad would literally drop the horse right there to do the colic surgery. We'd take those two bales of alfalfa and roll the horse on its back, and Dad would do all the surgical scrubbing, draping, and gowning to make it sanitary before he made his incision. Then he'd do that surgery right there."
The Road to DELTA EQUINE CENTER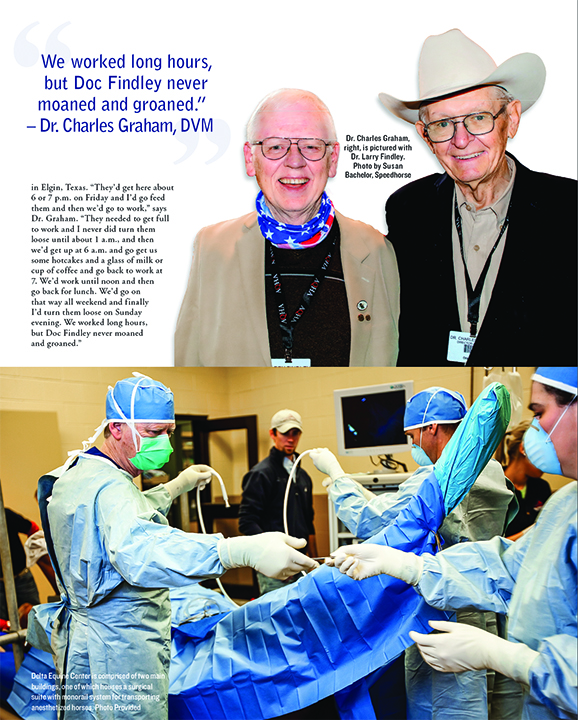 Born to Willis and Wanda Findley in Little Rock, Arkansas, in 1951, Larry Findley and his two brothers grew up around horses. "Daddy started out rodeoing and ended up roping and riding cutting horses," he says. "He made it to fifth in the non-pro at the NCHA cutting one year."
Dr. Findley followed in his dad's footsteps. "In 1969 I was roping, getting ready for the high school rodeo, and a horse came out of the stop and threw me and broke my arm," he says. "My daddy taped my arm to my side. I was riding a horse called Old Yeller, and we'd placed second in Arkansas and went on to the national finals, and with a broken arm, I split third and fourth at the National High School Finals in San Antonio."
His interest in horses and veterinary science led him from Arkansas to Louisiana. "A man named Lee Young had lived close to Daddy and they were lifelong friends," he continues. "When I graduated from Fordyce [Arkansas] High School, I worked for Mr. Lee for a couple of weeks at the racetrack. Then when my wife, Anita, and I got married in 1971, we eventually moved to Louisiana in 1972 and went to work with Lee and his wife, Shirley, at Louisiana Stud, which was in Opelousas at the time. I worked for him breaking racehorses at the racetrack and the stud farm and going to school at Louisiana State University (LSU) to establish residency."
The future Dr. Findley applied to LSU's veterinary program twice without acceptance. "I'll never forget," he says, "one morning on our way to Evangeline — Mr. Lee and I would leave at 6 a.m. and I'd ride with him — I told him I'd gotten turned down a second time and that I was thinking I'd just stay with him and become a trainer. He didn't even look at me. He was reading the commission book and driving, and he said, 'You ain't going to do that, boy. You're going to be a veterinarian,' and I said, 'Yes, sir,' and I applied the next time and got accepted to LSU's third veterinary class."
During vet school, students would spend some weekends getting experience with Charles Graham DVM, at Southwest Stallion Station in Elgin, Texas. "They'd get here about 6 or 7 p.m. on Friday and I'd go feed them and then we'd go to work," says Dr. Graham. "They needed to get full to work and I never did turn them loose until about 1 a.m., and then we'd get up at 6 a.m. and go get us some hotcakes and a glass of milk or cup of coffee and go back to work at 7. We'd work until noon and then go back for lunch. We'd go on that way all weekend and finally I'd turn them loose on Sunday evening. We worked long hours, but Doc Findley never moaned and groaned."
After a stint with Dr. Graham, Dr. Findley worked as a mobile veterinarian at the Louisiana racetracks for more than 20 years. While making the circuit, he also made good friends. "We're like brothers, to be honest," says trainer Kenneth Roberts. "Even his family means a lot to me because I've been knowing them since I think 1982 and we've been really close since then.
"He's just one of those people you believe and trust in and is one of my best friends in the horse business," Kenneth adds. "He's going to be honest with you in whatever he says. And he means a lot to everybody in our organization and in that little town. He's put a lot of people to work there."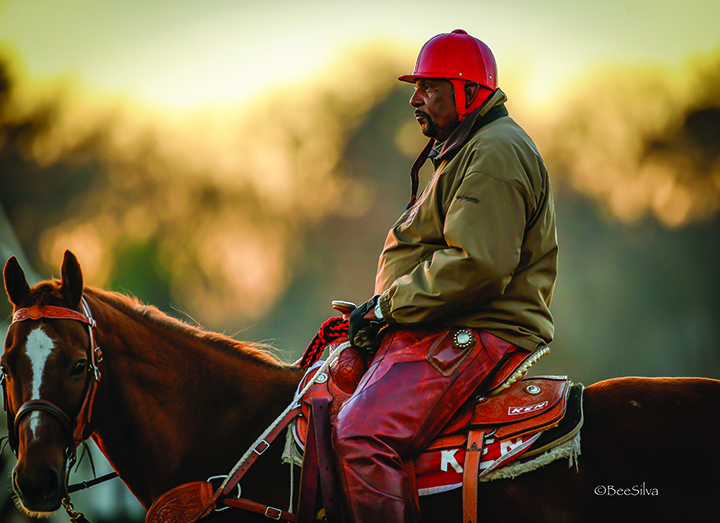 Catalyst for Change
Delta Equine's Center's original facility got hit by a tornado in 1988; then in 1996, Dr. Findley launched the remodel of his Crain Road barn area into a small animal hospital and large animal surgery suite. But in Sept. 2005, Hurricane Rita destroyed the facility. "We patched it together and that's when we started thinking about moving to our new site," he says.
The new location, south of I-10, opened in 2006. "Then, [along with COVID], we got hit by Hurricanes Laura and Delta in 2020," he says. "I'm still living in a gooseneck behind my house because it hasn't been repaired yet."
But Dr. Findley isn't one to complain. Rather, he's thankful for all that he's been blessed with, including a career that he loves, the many friends and associates he's acquired throughout the years, and the opportunity to work with three generations of family members on a daily basis. "I'd say my biggest success has been the love of my family and the blessings God has given us: Delta Equine Center and all the great friends along the way," he says.
His greatest blessing is his wife, Anita, who does DEC's revenue auditing. "She has always said that she's taken second fiddle to a horse because I was 30 minutes late to our wedding because my rope horse colicked and I wasn't going to leave him until I got him situated," Dr. Findley says. "I told her I was going to be married to her the rest of my life, but I wasn't going to lose my rope horse!"
Also working at DEC are the couple's two oldest sons, Larry Jr. and Troy, veterinarians on staff working mainly at the racetracks; their third son, Craig, who obtained his commercial builder's license at the request of his dad specifically to build the new facility and who now works as practice manager and on-site tech guru; and their youngest son, Brad, who runs the hyperbaric chamber. Their oldest grandson, Caleb, runs the breeding operation.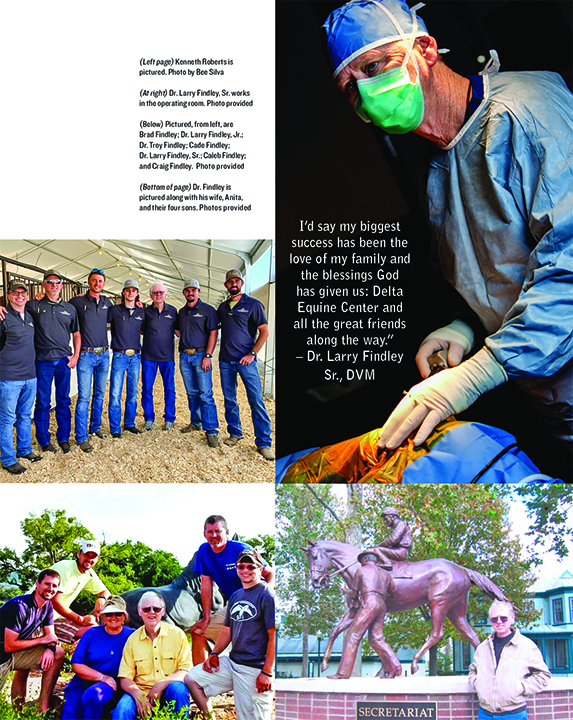 "I just love being at the facility every day," he adds. "I don't think there's anything better than going into a colic surgery with everybody expecting the worst and having the horse come out okay — the joy of that horse living, for the children and the people who own the horse. When the good Lord blesses you and everything works out great, that's a beautiful feeling."
He jokes about the finesse he's gained at palpating mares through the years. "When I graduated from veterinary school, we had our senses and an x-ray," he says. "I'd feel a mare and say, ooh, man, I feel that pregnancy, and that was such a wonderful feeling for me. Now I make a game of it; I'll call [the number of weeks] before I ever put the ultrasound in there so people can see I know what I'm doing!"
When work is done and the family wants to wind down, they get together for more family time. "My family is what I enjoy," Dr. Findley says. "When we get together, we all get together. The boys will cook, or we'll go out to eat to a place that can accommodate 45-50 people. We've got 27 grandkids and 10 great-grandkids; God has truly blessed us!"
Dr. Findley also loves watching "Deadliest Catch" on TV, and Anita is music director at their church. "She sings like an angel," Dr. Findley says. "She's been the music minister at St. Joseph's Catholic Church here for 34 years.
"We've just been very blessed," Dr. Findley concludes. "I've taken care of a lot of good horses and met a lot of good people and I've been very blessed."