Fred & Carolyn Helmuth: Wheels In The Fortune Of Racing
Posted by Speedhorse on 06/14/2021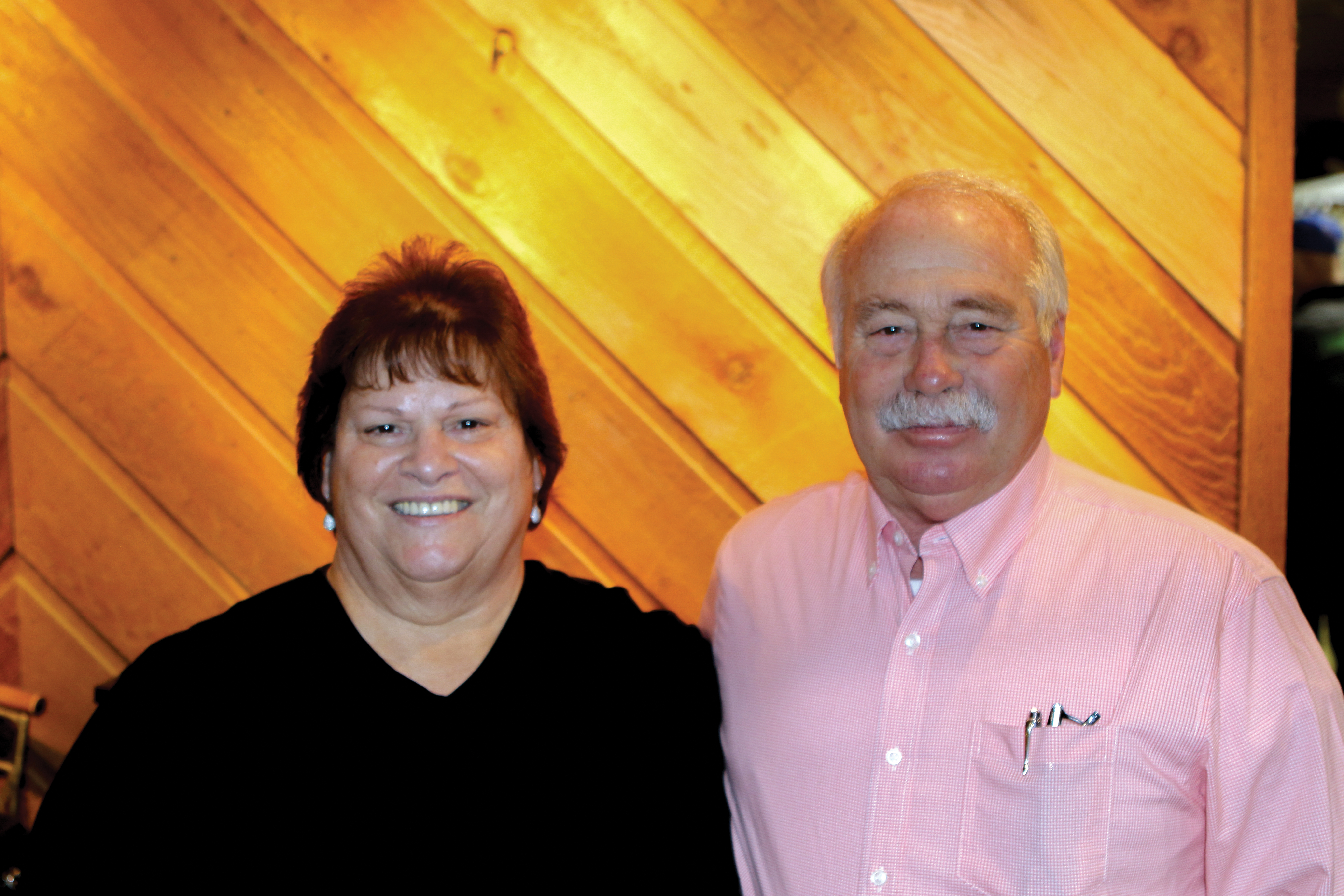 Illinois breeders/owners Fred and Carolyn Helmuth compare horse racing to a wheel. "Either you're at the top or you're at the bottom, and you always hope you won't be at the bottom very long!" says Fred.
In their 31-plus years in the industry, Fred and Carolyn have ridden that wheel up and down more than once. Yet over the years, they've bred and owned some talented runners that put their Bella Vista Farms LLC on the Quarter Horse racing map.
THEIR BEGINNINGS
Fred, one of four children of Chris and Mattie Helmuth, was born in 1953 in Arcola, Illinois. Carolyn, one of six children born to Ruben and Ada Yutzy, was born the following year in Arthur, Illinois, about 10 miles northwest of Arcola.
The two met as teens at activities their churches held jointly and after graduating from high school, they wasted no time in getting married: Fred was 19 and Carolyn 18. That was in 1972.
In 1976, Fred and his father founded Okaw Truss, a family-run company that manufactures wood, steel and timber roof and floor trusses for commercial and residential buildings. Fred and his family also operated several other companies, including CHI Overhead Door, which they sold in 2004, when Fred went into semi-retirement.
In 1979, Fred and Carolyn's daughter, Stephanie, was born, and the following year they welcomed their son, Brent, to their family.
Around 1986, the Helmuths moved from town to the country. "I decided I needed a riding horse," Fred says, "so then, of course, Carolyn needed one, too. We bought this old broke-to-death mare and found out she was racing bred by Bill Huber, father of former AQHA President Johne Dobbs.
"Then we found out that John and Sherry Havener had lived close to us and trained racehorses, so in 1988, we decided to go up and find out what it was all about," Fred adds.
"When we started out," Sherry says, "even though we're originally from about 30 miles from the Helmuths, we had moved to Kentucky to train. We came back to Pit Run Park in Gibson City, Illinois [about 70 miles north of Arcola], to meet Fred and Carolyn for a race."
When Fred told John about his "racehorse," John said, "I'm going to tell you right now, you probably don't have a racehorse."
But, Sherry says, John proceeded to tell Fred what he looked for in a racehorse.
When the Helmuths left, John told Sherry that he didn't expect to hear from them again. But a couple of months later, Fred called back and told John he'd bought himself a racehorse. "He had listened to everything John had said, went to a sale and picked out one that had breeding behind it that could run," Sherry said.
Their first stakes winner was Power Puff Derby, a 1988 mare by Divine Power and out of the Chicado Go daughter Derby Day Surprise. The mare won $5,872 in her freshman and sophomore years — enough to keep Fred and Carolyn in the game.
"She won her first out in Paducah, Kentucky, and we bought her from Charlie Mullenix, who still races horses in Indiana," Fred says. "I think I was almost as excited that night as I was when we won the Heritage (Place Futurity in 2015 with BV Midnite Express)!"
"That was exciting!" Carolyn agrees. "I don't think I was quite as excited as Fred was — he ran down the track with her!"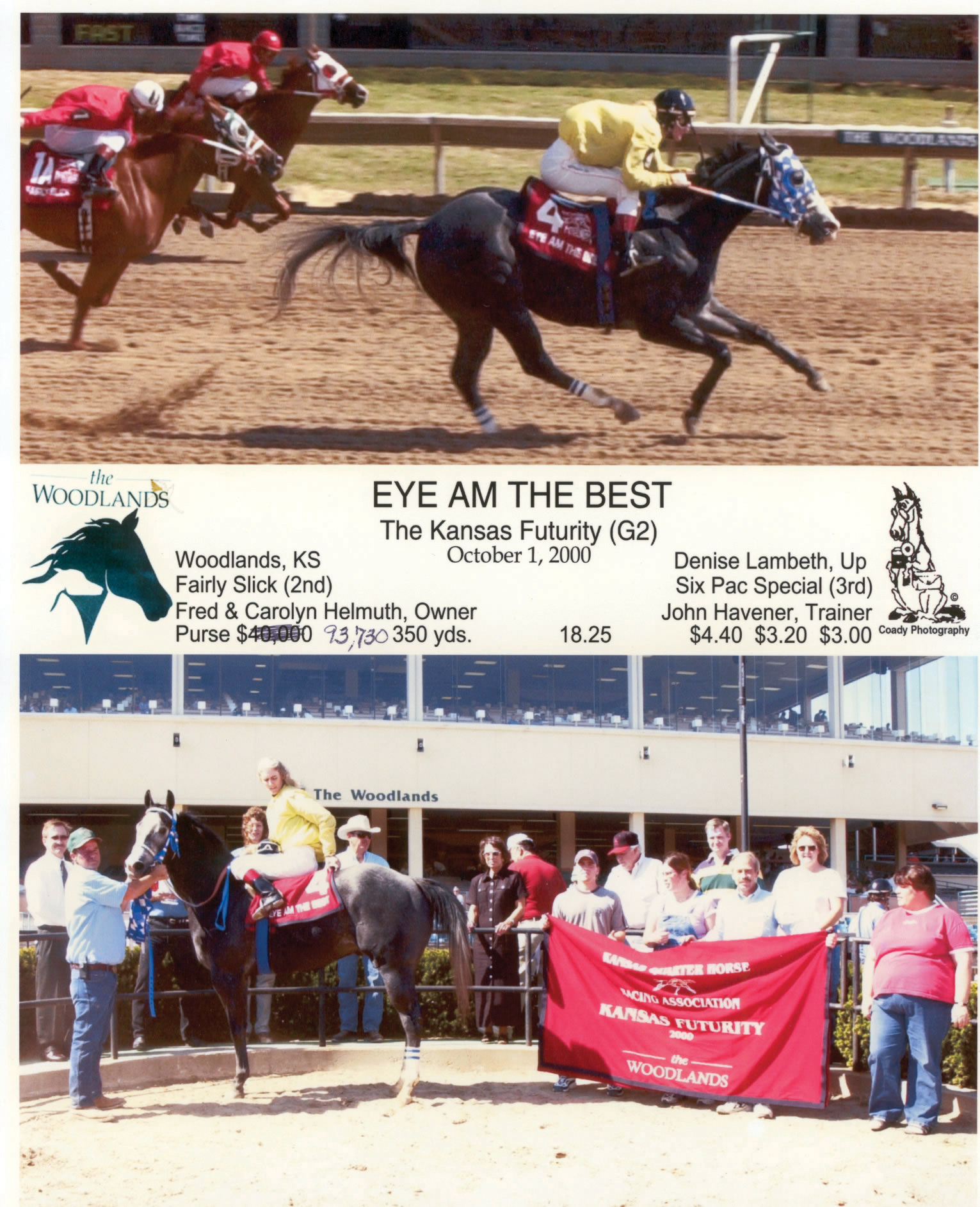 THEIR EVOLUTION
Racing first under their names and then as Bella Vista Farms, Fred and Carolyn branched out from racing to breeding. They bought a farm in Sallisaw, Oklahoma, where the Haveners had moved when it looked like Blue Grass Downs was closing. In 2010, when John and Sherry Havener retired from training, the Haveners stayed on as farm managers and the Helmuths turned to Eddie Lee "Bubba" Willis for their horses' training.
"When John and Sherry retired, my name got put into the hat for a replacement trainer," Bubba jokes. "I got the job and it's been great! I worked for my dad [Eddie Willis] forever and I'd probably still be working for him if they didn't get me started. They're the first 'big' people I've trained for."
Fred and Carolyn also continue to race at Indiana Grand Racetrack in Shelbyville, with Randy and Debbie Smith handling the training. "I really enjoy the short 2 1/2-hour trip to watch the horses race there," Fred says.
In the late 1990s, the Helmuths bought a gelding named Grahams Eye Opener (Mr Eye Opener-Angels Effort, Special Effort). "I always told Fred that a horse will live up to its name and I still believe that," Sherry says. "He didn't think that was quite the name he wanted for the horse, so he sent in for another name but he wouldn't tell anyone what it was until he got the paperwork back. The name came back and it was Eye Am The Best. John said, 'How's he going to live up to that name?' But he did. He was a really nice horse and so honest a horse."
Eye Am The Best earned multiple Graded stakes winning status and ended his four-year racing career with eight wins (including the Grade 2 Kansas Futurity), eight seconds and three thirds out of 31 starts, and earnings totaling $104,259. As a 2-year-old in 2000, he won seven of nine races, ranking fourth by wins at year's end.
When the Haveners decided to move back to Illinois in 2015, the Helmuths sold the farm and moved their horses to Lazy E Ranch. They've since bought a farm in Coleman, Oklahoma, where they keep about 90 percent of their horses, with a few remaining at Lazy E Ranch and Belle Mere Farms.
Although they downplay their success by saying they haven't won the All American yet, they've bred and owned some admirable runners. BV Midnite Express, a 2013 gelding by Freighttrain B and out of the Helmuths' good broodmare Ms Tres Seis, stands at the top of their ranking. The graded stakes winner won his trial and the finals for the Heritage Place Futurity as a 2 year old, ran second in his All American Futurity trial and won the All American Juvenile with a speed index of 106. He earned $769,319 in three years on the track, and ended 2015 ranked ninth overall by earnings.
Depending on whether you're talking to Fred or Carolyn, BV Sheslikethewind and BV Travelin Soldier follow as second and third in their all-time runner rankings.
Graded stakes winning mare BV Sheslikethewind, by Apollitical Jess and out of the Helmuths' Corona Cartel daughter Corona Cayenne, earned $194,032 as a freshman in 2019. Her wins include the Remington Park Oklahoma Bred Futurity trial and the Ruidoso Futurity trial, with a second place finish in the G1 Ruidoso Futurity finals.
BV Travelin Soldier, a Graded stakes placed colt by Corona Cartel and also out of the Helmuths' broodmare Ms Tres Seis, earned $211,282 in two years, including winning his Heritage Place Futurity trial, running second by a hair in the G1 finals, and third in his All American Futurity trial. He returned as a 3 year old to win his Heritage Place Derby trial.
Fourth on the couple's ranking of runners, although not a homebred, is Jeaniologi, by Dominyun and out of All N The Jeans, by Corona Cartel. The 2016 filly ran second in her Remington Park Oklahoma Bred Futurity trial and finished the finals in fourth, earning $93,691 in her sole year on the track. "She had a bullet work in her schooling race at Remington, then ran a 97 speed index in her first out," Fred says. "She followed that with a 98 speed index on her second out and then ran 103 in her third, but a week later, she died. I never had a horse run those kinds of times so early."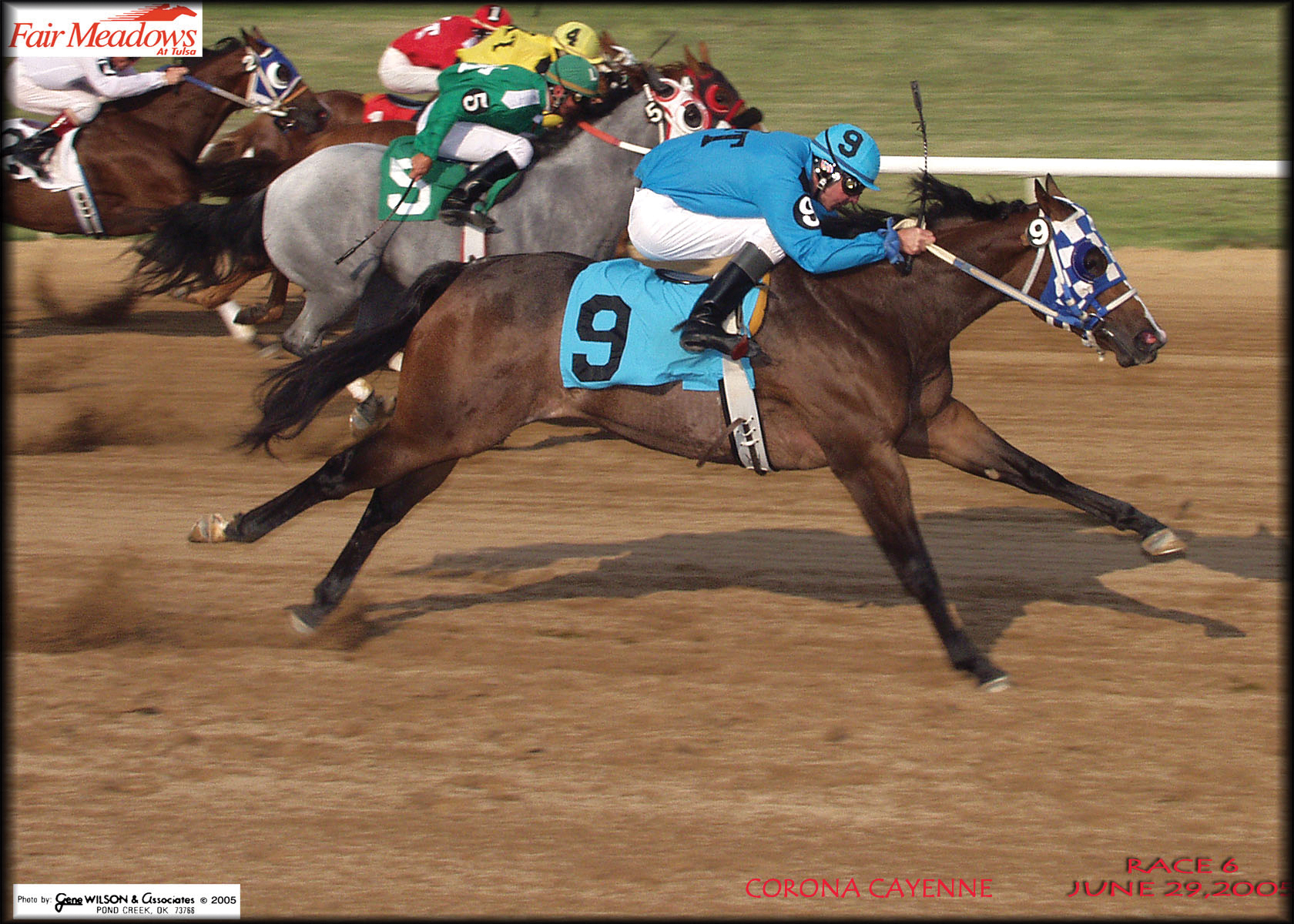 THEIR BEST BROODMARES
Along with her years of handling the office chores for the family's businesses including the horses, Carolyn's main role is choosing breedings for their mares. "She gets a feeling about it and she's usually right," says Bubba.
Their top mare — "hands-down" — says Fred, is Ms Tres Seis, a 2004 Tres Seis mare out of Ms Dash Beduino, by First Down Dash. "We were at a sale and Ms Dash Beduino wasn't in foal. She hadn't been in foal for a year or two. We walked off and talked about it, and then bought her. Within the next 15 minutes, we had three different pages to come to the information desk from people offering to buy the mare," says Fred. "If you know my wife, if someone wants to buy a horse she owns, she's not going to sell!"
Ms Dash Beduino's first baby, Eyesa First, by Eyesa Special, won $105,700, crossing the wire first in the Kansas Futurity-G2 as a freshman and second in the Kansas Derby-G3 the following year. Fred and Carolyn consider Eyesa First their third-best broodmare. She produced Graded stakes placed BV Valentine Wagon ($87,898) and BV Wagon Wheel ($36,702), both by PYC Paint Your Wagon, and stakes winner BV Comeback Kid ($86,460), by Corona Cartel. BV Valentine Wagon won the FI Lady Bug Stakes her first year out, then came back her second year to win the Prissy Gold Digger Stakes, qualify for the Remington Park Oklahoma Bred Derby, run second in the Don Steele Memorial Stakes and third in the Jack Brooks Stakes.
Ms Tres Seis was Ms Dash Beduino's second foal, and has produced foals with earnings exceeding $1 million including BV Midnite Express, BV Travelin Soldier and BV Mr Tellercartel ($71,381), who ran fifth in the Lady Bug's Moon Stakes her first year out, and then came back her sophomore year to run second in the Golden Driller Stakes and fourth in the OQHRA Fall Classic Stakes.
The Helmuths consider Corona Cayenne, bred by Robert Nunnally, as their second top producer. The Corona Cartel mare out of Streakin La Jolla daughter Party Girl Affair produced BV Never Let Go ($95,746), by Shazoom; BV Pepper Shaker ($75,076), by Royal Shake Em; and BV Sheslikethewind. BV Never Let Go won the Oklahoma Horsemen's Association Futurity in 2010; BV Pepper Shaker won his Heritage Place Futurity trial in 2013 and ran fourth in the G1 final.
WINDING DOWN
Now semi-retired, the Helmuths spend a lot of time in Sarasota, Florida, in the winter. Fred also collects antique tractors and participates in tractor pulls. "Anything that costs money, I like to do," he jokes.
But they can never stay away from home too long, as they miss spending time with their seven grandchildren, all of whom live nearby in Illinois.
Their success in horse racing and in business, says Sherry, is due in part to their upbringing in the Amish Mennonite community in the Arcola/Arthur area. "They were taught to help their neighbors, and that when you do the right thing, blessings follow."
Both the Haveners and Bubba agree that the Helmuths are "dream owners." "There are very few individuals who completely allow a trainer — or anybody who's running their business for them — to do what they want," says Sherry. "Although we would still run decisions by them, Fred and Carolyn always went along with us. And very few people handle things like Fred does; if you were in a big race and someone interfered with you and caused the outcome to change, he could just shrug it off and say, 'Things like that happen.'"
"They're very knowledgeable, but they trust me," adds Bubba. "They never second-guess me. They're really great people and they have a lot of good, well-bred mares. I wouldn't trade them for the world."