FOUNDED ON FAITH
Posted by Speedhorse on 04/04/2022
When they married 21 years ago, Carlos Lujan and his wife Brenda began attending horse races at Ruidoso for fun. It's a tradition they kept up throughout the years. "We loved the thrill of it all, from the butterflies to the adrenaline rush to standing in the winner's circles, and most of all spending time with the family during all this craziness. All glory to God," he says.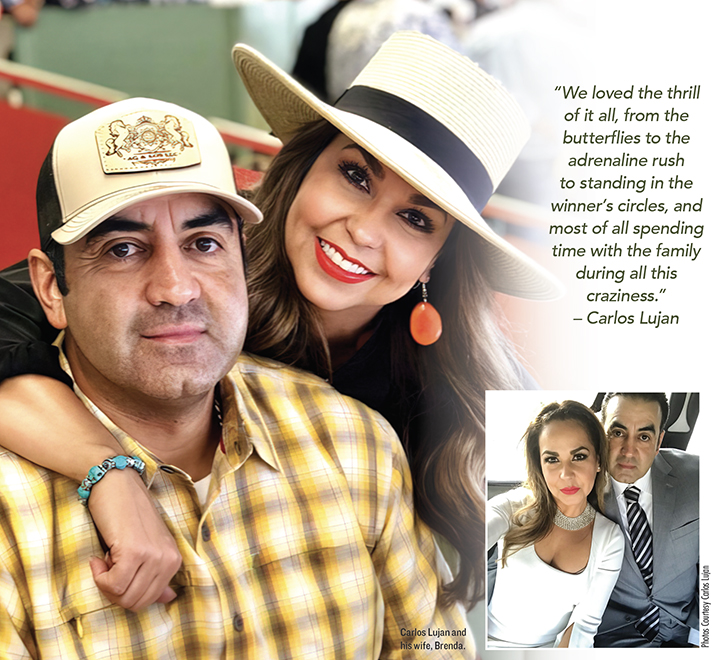 Although their horse experience consisted solely of attending the races, around 2017 they had a conversation with a gentleman seated near them, Abelardo Gallegos, of Chihuahua, Mexico. "I told him if he ever wanted to have a partner in the horse racing business to let me know," Carlos says. "So, the following year, he asked if I remembered telling him that, and I did. He asked me if I was still interested, so around 2018 we ended up being partners. Other than being at the track, that's the closest I'd ever been to horses."
But his lack of experience didn't hinder his progress. He asked questions and listened to advice and has reaped the benefit of others' experience. "Anything is possible in this life if you put your mind and your heart into it and believe in God and Jesus Christ and the Holy Spirit," he says. "We came from nothing and that means a lot to me. I wouldn't say we came from rags to riches, but we came from rags
to something!"

The Road to Racing
Carlos grew up in Andrews, Texas, about 55 miles northwest of Midland, one of three sons and two daughters of Baudelio and Flora Lujan. He studied criminal justice at a 2-year college, but before he finished, fatherhood sent him to the oilfields instead of the highway patrol career he had planned.
Two children (Carlos' oldest child Karina works as a nurse in Austin, and his son Carlos is studying computer science at college in San Marcos, Texas) and 12 years after graduating from high school, Carlos reconnected with Brenda, whom he'd met at church and dated in his youth in Andrews. The couple soon married in Las Vegas.
"We both got interested in horses together," Carlos says. "We do everything together; she's been involved in everything. She's been my backbone and she keeps me straight. A man can dream big, but you still have to keep your feet on the ground, and she keeps them there for me."
Around 2011, they got tired of working for other people, so they pulled most of the money they'd saved out of their 401(k) and started L O S (Los's Oilfield Services), LLC. "We started with four people and now have more than 100 employees," he says.
Brenda handles the horses' paperwork and serves as office manager at L O S, LLC, which also owns the couple's racehorses in partnership with Abelardo.
Since their wedding, Carlos and Brenda have added two children of their own to their family — 18- and 17-year-old sons Giovanni and Giancarlo, along with Giovanni's friend, Jonathan Aguirre, whom the family has taken under their wing. "Everywhere I go, I call Jonathan my son and treat him like my son," Carlos says. "Those youngest three are interested in the horses and help out with the ranch."

Becoming Stakes Winners
The budding partnership became stakes-winning and stakes-placed owners on the same day in May 2020, when their fillies Mystic Blues and Walking On Katella ran first and second in the Dash For Speed Stakes at Ruidoso as 4 year olds.
At two, Mystic Blues, by Walk Thru Fire and out of Shazoom daughter Queens R Blue, ran fourth in her West Texas Futurity trial, second in her Ruidoso Futurity trial and third in her trials for the Rainbow, All American and the Hobbs America futurities.
At three, she ran fifth in her trial for the West Texas Derby, second in her Ruidoso Derby trial and first in her Rainbow Derby-G1 trial, finishing the final fourth.
Her 4-year-old year, along with her Dash For Speed Stakes win, she ran fifth in the Rio Grande Handicap-G3 and fourth in the Balloon City Stakes at Albuquerque. She ended her race career in 2020 with $203,812 and ranked 81st by earnings.
Her stablemate, Walking On Katella (Walk Thru Fire-Katie Katella, Separatist), ran second in her West Texas Derby-G3 trial at Sunland Park and finished the final seventh. Her second-place Dash For Speed Stakes finish was followed by a fifth in the Ruidoso Downs Distaff Challenge Stakes at four, her final year on the track as well. She earned $78,689.
"Mystic Blues did average as a 2 year old but as a 3 year old she really came on," Carlos says. "We have her breeding with Cyber Monday this year and we're hoping they'll turn out some really good foals.
"Walking On Katella did the same as Mystic Blues as a 2 year old and then as a 3 year old she did a lot better. We plan to breed her to Cyber Monday as well."

Spreading Out Into Studs
Cyber Monday has been their standout horse so far. "That was a blessing," Carlos says. "Boy was that a blessing! At the auction when we got him, we were down to our last day. We couldn't hit a lick. We came down to the last couple of horses and ended up getting him, and he has been a blessing from day one. Now he's starting to pay us back!"
The 2018 Steve Burns-bred Favorite Cartel son out of AQHA Dam of Distinction Remember Me Rose (by Corona Cartel and out of the Zevi TB mare Im Moonlighting), earned Graded stakes winning status and $528,428 with five wins and one second
in nine starts over two years.
Cyber Monday's wins include his trial and the final for the $1,000,000 Ruidoso Futurity-G1, followed by his trial for the Rainbow Futurity-G1 (running fourth in the $1,000,000 Rainbow Futurity-G1 final behind Whistle Stop Cafe, the then-undefeated AQHA Racing World Champion and earner of more than $2 million). He also won his All American Futurity trial after stumbling out of the gate. He finished 2020 ranked 25th by wins and 13th by earnings.
At three, he ran second in his trial for the Ruidoso Derby-G1, first in his Rainbow Derby-G1 trial, fifth in the Rainbow Invitational Stakes and sixth in his trial to the All American Derby-G1.
Cyber Monday is a full sibling to Powerful Favorite ($1,095,097), Runforyourlife ($620,822) and The Revenant ($192,700).
"Cyber Monday is by a hugely popular stallion and out of a tremendous race mare that was raised here at the Lazy E for Linda Alumbaugh," Butch Wise says. "We sold her as a yearling at Blane Schvaneveldt's sale, and also had the great stallion Azoom here, whose partnership [Azoom LP] owned Remember Me Rose, so it's all interconnected.
"We had a great appreciation for Remember Me Rose; she was a tremendous race mare whose speed and soundness carried on well, and she raced everywhere," Butch adds. "Once Steve Burns and Jim Markum acquired her, she became the perfect race nick for Favorite Cartel. And hasn't that been a success story!"
"I hear wherever I go that it takes people 15 years being in the racing business to get that kind of horse and here we've been in the business three or four years and it's a true blessing," Carlos says. "I understand what they're saying now; it's an awesome ride that we're on.
"We're going to try to breed as much as we can to Cyber Monday and build our foundation around him, and then go to the Ruidoso Select Sale and the Heritage Place Sale and buy a few to see if we can hit a lick like we did with him."
Their Current Runners
This year, Carlos and Abelardo have several runners being conditioned by Albert Valles in El Paso, Texas:
AJs Little Champ (2020 colt by Apollitical Jess and out of First Down Dash daughter Little Surfer, who won the Hialeah Derby and the Lone Star Distaff Challenge Stakes) – "He's looking good; hopefully as a 2 year old, being an Apollitical Jess colt, he'll do really well," Carlos says.
Code Name Lethal (2020 colt by Tres Seis and out of Lethal Perry by Mr Jess Perry) – "He worked out at the track at Sunland Park the other day and he's looking really, really good," says Carlos.
Peligrosito Cartel (2020 colt by Krash Cartel and out of the Walk Thru Fire mare Peligrosita, bred by Abelardo F. Gallegos
in Mexico).
RL Politics (2020 colt by Apollitical Jess and out of Fast Prize Corona, by Corona Cartel, bred by Weetona Stanley).
Streakin Candy Kiss (2020 filly by Jess Good Candy, who won eight of eight outs and $2,014,703, and out of Streakin La Jolla daughter Legacys A Streakin, who won 14 of 25 outs with four seconds and two thirds).
Apollitical J Legacy (2019 colt by Apollitical Jess and out of A Delightful Legacy, by First Down Dash) – "He's a pretty good little horse," says Carlos. "He qualified for the Ruidoso Futurity last year and did okay. We still have him as a colt and we're trying to battle through that with him, but as a 3 year old, I think he's coming around." Apollitical J Legacy also ran second in his Rainbow Futurity trial and fourth in the Rainbow Juvenile Stakes, third in his All American Futurity trial and fourth in his trials for both the Golden State Million and Los Alamitos $2 Million futurities. His earnings total $47,024.
Jesses Dinero (2019 gelding by First Moonflash and out of Chicks Chamisa by Chicks A Blazin) – He ran second in his Zia Quarter Horse Futurity trial and qualified for the Grade 2 New Mexico Classic Futurity last year. So far, at three, he's run second in his Shue Fly Stakes trial and won an allowance. His earnings total $59,277.
Favorite Wild Girl (2019 filly by Favorite Cartel and out of Eyesa Blues Girl by
Mr Eye Opener) – She ran third in her
All American Futurity trial last year and third in her West Texas Derby trial this year, with earnings of $23,690.
"We're blessed to have the horses we have, and we have high hopes for all of them. I know there's plenty of competition out there but we're going to run with it," Carlos says.

Credit Where Credit Is Due
Carlos considers his biggest challenge in racing as staying afloat. "The oilfield industry is up and down, up and down, and sometimes it comes down and you worry about what's going to happen," he says. "Then it goes back up and everything is great."
When they're not working, the family likes spending time together and traveling when they can. "We like spending time at Ruidoso watching the horses race," Carlos says. "Right now, we've been busy watching our two youngest kids play basketball, and we also enjoy inviting our families over to the ranch to ride motorcycles, cook out and just spend time together."
Among the others he's spent time with and who influenced him in a positive way, Carlos names his partner, Abelardo Gallegos, and Butch Wise. "Abelardo took me under his wing and taught me how to look at horses at auction and at how they run and how they breed. And Butch Wise is a kind man and respectful. I've asked him a thousand questions and he's always been patient with me."
The admiration is mutual. "Carlos is very much a gentleman and a very kind person," Butch says. "He's the most extremely polite person you've ever met in your life and he's extremely humble. He's not only a pleasure to be around, he's also a pleasure to do business with. What he says is absolutely what he believes and if he tells you something, it's that way. It's the Code of the West and we like dealing with people like that. He's been hugely successful and we're happy for him
and for Abelardo."
His Code of the West mentality stems from the fact that in all aspects of his life, Carlos credits his Maker first. "As you mature in life, from being a young kid until now, and you look back, God was always with you and gave you all these blessings," he says. "My parents were from Mexico, and we had nothing growing up, but He blessed us with so much with the people around us, the blessings of having our own business and the horses. My greatest thing that ever happened was God. Without Him we wouldn't have anything. I wouldn't have the horses, I wouldn't have the business, I wouldn't have my wife, my kids, my family and friends. My greatest achievement is having God in my life."