Dash Ta Fame - The Crossover Connection
Posted by Speedhorse on 11/05/2021
The story of Dash Ta Fame begins with a young boy and his love of speed. This boy was enamored with speed and how fast a horse could run. It didn't matter what kind of horse he was riding, he wanted to know how fast that horse could run. The young boy was Bob Burt, who became the breeder and owner of Dash Ta Fame.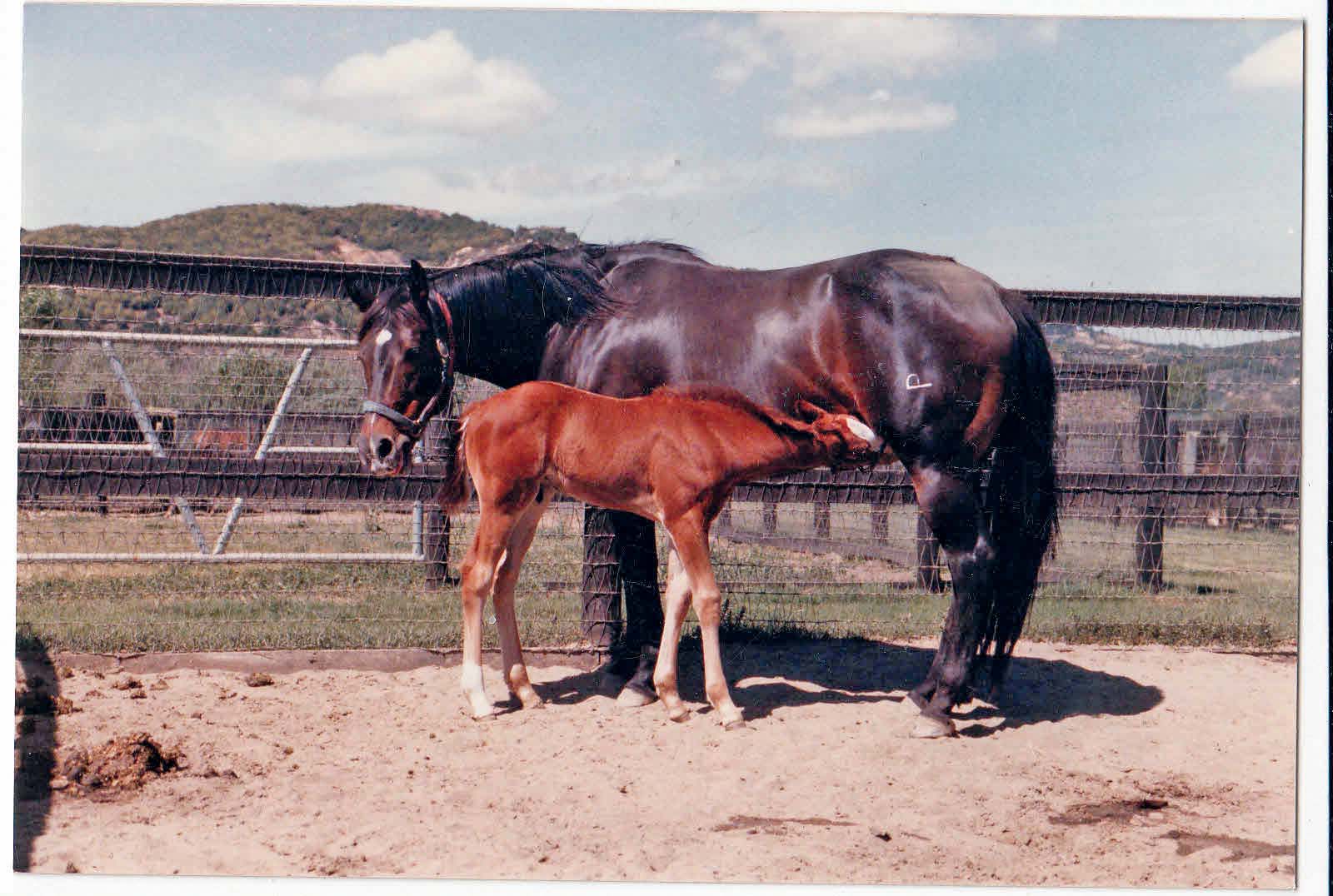 Dash Ta Fame, a son of First Down Dash out of the mare Sudden Fame, is an anomaly as a top 25 all-time leading sire of racehorse money earners of over $19 million and the all-time leading sire of barrel racing money earners of over $23 million. He is in the top 20 as a broodmare sire of racehorse money earners in excess of $20 million, and he is the broodmare sire of barrel racers earning over $12 million. This record makes him the ultimate crossover sire. Now, let's look at how it all came together for Dash Ta Fame to achieve this level of success.
Bob Burt recently talked about his love of speed and how that led him to breed Dash Ta Fame. "I have lived in Salt Lake all my life and I had relatives that lived in a little town called Ridgefield. I would go down there every summer and I liked the horses and the farm, and I had a thing about speed. I had to get on those horses and see how fast they could run. I would get on the riding horses, even the work horses, and I had several uncles, who all had horses. We weren't lacking for horses. Some a little more special than the others."
Burt continues on about how he was able to ride the horses. "I would sneak down to the pastures with a bridle and I would see who the fastest was. Nobody ever knew I knew because they would have gotten mad at me because they didn't want to run the horses, but I would run them. I would catch them in those 100-acre pastures and I would send them down the nice long sandy lane and I knew which ones were the fastest. I never told them because I would have gotten my butt kicked.
"My neighbor Ted Miller ran Thoroughbreds. I was 16 or 17, about to graduate, and I started going out to the Fairgrounds at Murray. I started galloping his horses. Then he died and I just went on from there and got a couple of horses. Some guy got me involved and I had partners running chariots in the winter. I decided then that I had the learning lessons and I needed to move up a notch, so I went to Heritage Place and bought Sudden Fame. Then, I bred her to First Down Dash, and I was lucky to be able to do that."
When I asked if Sudden Fame was his first attempt at getting a broodmare, he responded, "I had done very little before that. Maybe a couple, but not much." Then, he opened up about how he made the decision to buy a mare like Sudden Fame to hopefully improve his chances of getting a better racehorse. "We had Game Plan, the racehorse sire and son of Easy Jet, around here for a while," he said. "He was hot and in Utah, he was really hot. I had a friend and a group of us would buy four or five colts, run with the chariots and on the flat track. We would win a couple of races, but it would cost us more to get our picture taken than we won. So, one guy and I decided to go to Heritage Place to buy us a Game Plan and move up a notch. When we went to buy one there was a lot of them, but they were $30,000-$40,000 and we didn't have that kind of money, so we started looking at horses and we found one that was a nice looking horse, but he kind of looked like a Thoroughbred. I told my partner, 'We better take a look at this horse. This is a nice horse.' Well, he wasn't comfortable with my choice. So, we got some other notable horsemen to take a look at him and they said he was kind of narrow. But, I said, 'He moves like a cat and his conformation is flawless.' Well, they said, 'I don't think that I would buy that horse.' I remember vividly that horse went through the sale for $5,700. I thought we could have bought that one."
Burt continues, "Another one came into the warmup arena and he looked similar to the other one. He was sired by a Thoroughbred. So, he gets the same fella and he says that horse sires on a hit and miss basis. I said, 'Yeah, but look at that mama. He has a good mama.'"
"My partner and I passed on that one. So, I go home and look these horses up after they start running. The first one was Real Moody that ran out over $400,000 and the other one is Jettin Jim, winner of $100,000. I thought maybe I better move on, so I went into the Heritage Place Sale catalog and B. F. Phillips had several broodmares in the book and I studied it and I picked out three mares and Sudden Fame was the first one that went through and I bought her. Bubba Cascio was right there and he had By Yawl and I bred her to him. I got a filly out of that and I sold her to prove the mare. The next one out of her was the big boy Dash Ta Fame. I bred Champion Dashing Folly, the granddam of PYC Paint Your Wagon. Then, I bred Jesscuzican, the 2014 Champion Aged Stallion." Added Note: Dashing Folly is out of Hemps Folly and Jesscuzican is out of Covenant Confirmer, a daughter of Hemps Folly who was a broodmare for Burt.
Bob recalled how he got the breeding to First Down Dash and his story indicates how luck was with him. "I called them up and said, 'I would like to get a breeding contract for First Down Dash,' and they said, 'He is full. You can't get one, but you can get on a waiting list if you want.' I said, 'How many are on list?' And it was like 50 or 60. I thought, I'll never get there, but I said put me on the list. I kept reading and I saw a contract from a guy that was available. I went down to the bank and got a money order for the $1,000 booking fee and sent it in. Put what I wanted on the check and I never got it back. Come September, I get a big ole envelope with the contract for the breeding to First Down Dash."
He then added this about his continued success breeding to First Down Dash. "I bred the undefeated World Champion Dashing Folly. The same year I bred Dashing Folly, I bred Dash For A Win, who is out of Will Fame, a daughter of Sudden Fame. She sold for more money than Dashing Folly and turned out to be a pretty good runner. She set four track records, all at 250 yards. Then I sent Dash Ta Fame down the track the first time out of a starting gate and he shattered the track record. All by First Down Dash."
When the time came, Dash Ta Fame was scheduled to start in several futurities when a chip in the knee was discovered-a chip that may have taken place when he was a foal. So, it was decided to try him in a maiden race at Laurel Brown Racetrack to see if the chip would affect his running. It didn't and he set the track record earning a 109 speed index going the 300 yards in a time of :15.260. Needless to say, Dash Ta Fame continued racing, going to Los Alamitos.
Dash Ta Fame was entered in the Dash For Cash Futurity trials. He ran third behind the great Corona Chick and Holland Ease. He came back in the finals to finish second behind Corona Chick with Holland Ease finishing third. His next start was in the Golden State Futurity-G1 trials where he won his trial and the finals, with Holland Ease coming in second. He made five starts at two with three wins, a second and a third earning $174,197.
Dash Ta Fame's 3-year-old campaign started almost immediately with the El Primero Del Ano Derby-G1 trials in January. He won his heat and then the finals. He beat Holland Ease in second and 1992 Champion 3-Year-Old Gelding Femmes Frolic in third. Dash Ta Fame returned to the races in July with a third in the Governor's Cup Derby-G1 trials, but would only finish eighth in the finals. He followed that race up with a win in the Vandy's Flash Handicap-G3 and a third in the QHBC Championship Handicap-G3. He won his California Derby trial but finished fifth in the finals, which was a very interesting race in that Rare Form set a track record for the 400 yards in :19.350. Equibase shows that the top six finishers had speed indexes of over 110, with Dash Ta Fame getting a 113. He made eight starts with four wins and two thirds, earning $116,616 at the age of three. His total record stands at 13 starts, seven wins, one second, three thirds and earnings of $290,812.
When we look at the pedigree of Dash Ta Fame, we see the influence of the Phillips Ranch of Frisco, Texas. As we have reported before, B. F. Phillips Jr. entered the horse business in a big way in the 1950's and early 60's with performance horses. He owned and bred ROM performers, AQHA Champions and High Point Award winners. He had a staff that at one time was headed by the legendary Matlock Rose, and that staff included a young trainer named Bubba Cascio. Bubba rode all kinds of horses, including his great cutting mare Royal Jazzy. Bubba is the son of Jake Cascio, a successful racehorse trainer. Bubba followed in his father's footsteps and became the trainer of such runners as Rocket Wrangler and his son Dash For Cash.
Phillips transferred his interest in performance Quarter Horses to racing Quarter Horses in the mid 1960's. With this interest came a plan that brought about a partnership with the King Ranch, allowing him to utilize the speed bred Thoroughbred mares that were available through this famous ranch and their Thoroughbred racing program. His plan was to breed Quarter Horse racing stallions such as Rocket Wrangler to these mares.
Dash For Cash, by Rocket Wrangler, became a 2-time World Champion and set a New Track Record for 440 yards at Los Alamitos Race Course in the 1976 Champions of Champions in :21.17. Dash For Cash earned $507,750 winning 21 of 25 starts, including two Champion of Champions.
Dash For Cash is the sire of horses that have won over $39 million with 145 stakes winners, including 1985 World Champion Cash Rate. His daughters have produced the winners of $71 million, including 1992 Champion 3 Year Old and Champion 3-Year-Old Colt Rare Form.
Rocket Wrangler is by Rocket Bar TB by Three Bars, and he is out of Go Galla Go by Go Man Go. The dam of Dash For Cash is Find A Buyer TB by To Market by Market Wise. To Market is out of Pretty Does by Johnstown. The dam of Find A Buyer is Hide And Seek by the unraced Alibhai, who is by Hyperion. Hide And Seek's dam is Scattered by Triple Crown winner Whirlaway. The dam of Scattered is Imperatrice, who is by Caruso and out of Cinquepace by Brown Bud. Imperatrice is the dam of Somethingroyal, the dam of Triple Crown Champion Secretariat. This tells us that Dash For Cash and Secretariat came from the same female family.
First Down Dash by Dash For Cash, was bred by the partnership of A. F. Stanley Jr. and B. F. Phillips Jr. When Dash For Cash retired from racing, he was syndicated, and this brought a lot of good mares to his court. Phillips formed a number of partnerships with different people to allow him to bring others to the court of Dash For Cash who hadn't become syndicate members. This gave Phillips another way to get access to mares that he liked and thought would be a good potential cross for Dash For Cash.
I had the privilege to interview Mr. Phillips on several occasions. These conversations were most interesting, giving me some knowledge of how he approached his breeding plans. One of the things he told me was that he would see a successful runner or runners and he would study their pedigrees. By doing this, he would see something that interested him or a pattern that was successful. So, he would try it and sometimes it worked and sometimes it didn't. If it didn't, he went to something else.
One of the crosses Phillips was interested in was breeding Dash For Cash to Lady Bug's Moon mares. Lady Bug's Moon won the 1968 Kansas Futurity and 1969 Rainbow Derby and was second in the 1968 Rainbow Futurity and All American Futurity. He became a million-dollar sire with his foals earning over $4 million. His leading money earner is 1976 Blue Ribbon Futurity winner Shawne Bug. Lady Bug's Moon was a leading broodmare sire, with his grandget earning over $13 million. His leading money earner is 1982 All American Futurity winner Mr Master Bug. Lady Bug's Moon is by Top Moon and out of the great FL Lady Bug.
The Lady Bug's Moon daughters produced 1,054 ROM. A look at the runners from these mares shows that Dash For Cash sired 17 racing ROM from these starters. Among those are three stakes winners, including Champion and AQHA Dam of Distinction Dashing Phoebe who is by Dash For Cash and out of Phoebe's Moon Bug by Lady Bug's Moon.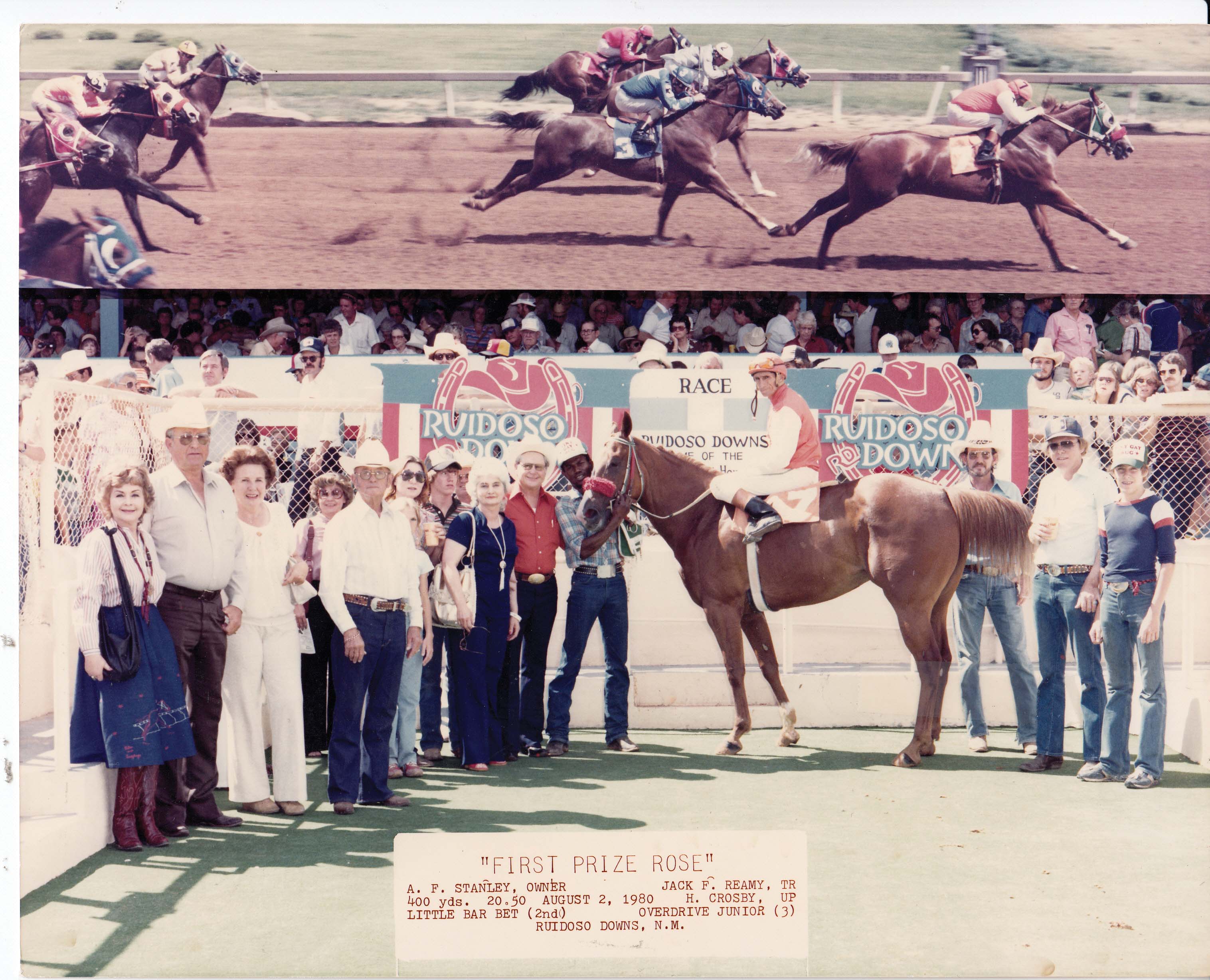 The Dash For Cash/Lady Bug's Moon mating that produced First Down Dash is a little different in that his dam is First Prize Rose by Gallant Jet by Jet Deck and First Prize Rose's dam is Rose Bug by Lady Bug's Moon. We have to add that this is a very interesting cross, as First Prize Dash is a full sibling to First Down Dash and is an AQHA Dam of Distinction. She is the dam of 30 ROM runners with four stakes winners, including First Carolina, First Prize Leeza, First Prize Robin and Fast First Prize.
The purchase of Sudden Fame by Bob Burt keeps us with a tie to a successful cross for the Phillips Ranch. First, a little bit about Sudden Fame. She was bred by Mikkelsen and Stowe of Vernon, Texas, and had eight wins from 28 starts and earnings of $21,110. She was a stakes finalist in the San Mateo Invitational Stakes, the San Mateo Sophomore Stakes and the Marco Smolich Handicap, all in 1983.
Sudden Fame produced only four foals/starters/ROM and two stakes winners with total earnings of $328,780. The first foal out of Sudden Fame was Win Fame, who was bred by Donald McMillon of Sweetwater, Texas. Win Fame put together a record of 31 starts with three wins, five seconds and five thirds winning $15,303. A multiple stakes finalist that won the 1988 Alamo City Futurity, Win Fame was purchased by Bob Burt in 1991.
Win Fame produced 10 foals with eight starters, six ROM and one stakes winner in Dash For A Win, who set four New Track Records at 250 yards. Those records were set at Remington Park, Sam Houston Race Park and Lone Star Park. She also produced two stakes placed runners, including Quick Dash Fame (second in the 2003 Dixie Downs Derby) and Win A Dash (third in the 1998 New Mexico Derby Challenge-G3).
Yawl Be Sudden was the first foal Sudden Fame produced for Burt. She was sold, won one of her 10 starts and was a stakes finalist in the 1989 QHBC Southwest Derby. Fames Last Chance, the last foal out of Sudden Fame, was a multiple stakes finalist in the 1992 Governor's Cup Futurity-RG3, and she equaled a Wyoming Downs track record going 300 yards in :15.400. Fames Last Chance is the dam of A Signature of Fame, who was second in the 2002 Desert Classic Futurity.
Tiny's Gay is the sire of Sudden Fame. He was foaled in 1972 and in 1974 was named World Champion, Champion 2-Year-Old Colt and the Champion Stallion. Tiny's Gay won his title based on his winning 12 of his 13 starts, including the Kansas Futurity, Rainbow Futurity, Bay Meadows Futurity and Tumbleweed Futurity. His only blemish was a second place finish to Easy Date in the All American Futurity-G1. He earned $444,721 and was never raced at three because he was retired due to an injury.
Tiny's Gay was destined for greatness as a sire, but fate stepped in again and he died after siring only six foal crops of 329 foals, 328 starters, 239 ROM and 16 stakes winners. His runners earned over $3.4 million. His leading money earner is 1979 Bay Meadows Futurity and 1979 Golden State Futurity winner Merridoc, an all-time leading sire of over $13.4 million. An added note: Merridoc is the broodmare sire of foals by Dash Ta Fame that have Equi-Stat barrel racing earnings of $554,235. These foals all have a breeding pattern of 3x3 to Tiny's Gay.
Tiny's Gay is the broodmare sire of 1,026 foals that included 631 starters with 448 ROM and 39 stakes winners, with total earnings over $9.7 million. His leading money earner is the 1988 World Champion, Champion 2 Year Old and Champion 2-Year-Old Colt Merganser, who won four futurities in 1988, three of them Grade 1 races, including the All American Futurity-G1.
Tiny's Gay is by 1965 Champion Stallion and 1966 Co-Champion Stallion and Aged Stallion Tiny Watch, who sired horses that won over $1.3 million on the track with 13 stakes winners. His leading earner is Tiny's Gay. The daughters of Tiny Watch produced 235 ROM with 18 stakes winners, including Watch Me Uncle, winner of three stakes races including the 1979 Graduation Handicap. Tiny Watch is by Anchor Watch TB and out of Clabber Tiny by Clabber II.
The dam of Tiny's Gay is Gays Delight, dam of 15 foals, 13 starters, 11 ROM and five stakes winners. She is the dam of Tiny's Delight, a full sister to Tiny's Gay. Tiny's Delight is the dam of AQHA Dam of Distinction Our Third Delight, dam of 12 ROM with eight stakes horses including four stakes winners. Her stakes winners include Tres Seis, who has proven to be a leading sire with his foals earning over $22 million on the track, including all-time leading money earning racing Quarter Horse and 4-time Champion Ochoa. Tres Seis is the sire of barrel racing money earners of over $1.9 million, including Suzytresseis, a National Finals Rodeo qualifier and earner of $165,634.
Gay's Delight is by Rocket Bar TB and out of Miss Ginger Gay by Palleo Pete by Leo. This is another example of the Rocket Bar nick with the Joe Reed P-3 line of mares.
Bar Dearie is the dam of Sudden Fame, who won the 1975 Zia Handicap and earned $17,526. She is the dam of 11 foals with 10 to race, nine ROM and two stakes winners, including 1985 Pacific Handicap-G3 winner Brazen Britches and 1983 Cow Capital Turf Club Futurity winner Levis N Lace. Levis N Lace is a full sister to Sudden Fame, stakes finalist Loves Policy and Fame At Last, third place finisher in the 1982 Ruidoso 550 Championship.
The sire of Bar Dearie is Lake Erie, a Thoroughbred that ran in 93 races over a seven year period. He won 26 of these starts with six second and 20 thirds, finishing third in the Stanford Stakes, Christiana Stakes and Jersey Stakes with earnings of $54,572.
Lake Erie sired 155 Thoroughbred foals with 114 starters and 91 winners. His Thoroughbred runners include Lakeside Trail, winner of the Juvenile Handicap at Albuquerque and the Laddie Stakes at Centennial Race Track. The Lake Erie starters through the AQHA records indicate that he had 33 starters with 12 ROM and two stakes winners, in Bar Dearie and Cherry Lake, a Thoroughbred mare who is the dam of World Champion Cash Rate by Dash For Cash.
It is Lake Erie that takes us back to the Phillips Ranch and here is what Burt said about Lake Erie, "One of the things about the Phillips horses was that if you got Dash For Cash around Lake Erie, you better hold on and that is why I went over there to buy that horse, not the Tiny's Gay. Yes, he was a World Champion, but it was the Lake Erie that I was interested in. Tiny's Gay was a gift."
The key to his interest in Dash For Cash and Lake Erie comes from the mare Cherry Lake, and she was the reason he was interested in breeding Sudden Fame to First Down Dash and, as he said, "That is where I started."
Cherry Lake was one of those partner mares that Phillips entered into with Raymon Wood and his wife Minnie Rae. Raymon passed away and Minnie Rae continued the partnership as a co-owner with Phillips. This mare was a stakes winner in the 1970 Governor's Speed Handicap, the Brigand Handicap and the Sunland Handicap. She became a successful producer for the partnership, producing 1985 World Champion Cash Rate and stakes winners Countin The Cash and Flow of Cash, all sired by Dash For Cash. These three runners alone earned over $1.2 million on the racetrack.
The success of Dash For Cash and Lake Erie mares is reinforced by Kid O Dash, a stakes winner by Dash For Cash, and the mare Kid O'War by Lake Erie, a multiple stakes finalist and winner of the 1991 Southern California Derby-G2. Another stakes horse out of a Lake Erie mare is War Star Wrangler, a 2-time stakes winner in the 1981 Juvenile Handicap and the Budweiser Derby-G1. This horse is by Rocket Wrangler.
The dam of Bar Dearie is Barred Girl by Mackay Boy by Top Deck TB. Barred Girl is out of Barred Hug by Barred and she is out of Hug Me Tight by Driftwood, and Hug Me Tight is out of Nugget Hug.
Dash Ta Fame became a sire that built his record into the unique form it has taken as a leading sire in both racing and barrel racing. He has sired 903 racing ROM with 90 stakes winners and 120 stakes placed runners. We see that 42 of his stakes winners are graded stakes winners. His leading winner is Gun Battle, whose stakes win came in the Zia Futurity-G1, and he was second in the All American Futurity-G1. Ongoing Ta Fame is his next leading money earner with wins in races like the Shue Fly Stakes-G1 and the Jess Burner Memorial Handicap-G1. Kendall Jackson is next on the list, winning such races as the New Mexico Championship Challenge-G1 in 2002 and 2003. Dash Ta Moon won the Lubbock Stakes-G2 and the Ruidoso Quarter Horse Sale Futurity. The fifth leading money earner is In Famous Caper, winner of the Mesilla Valley Speed Handicap-G2. These five runners represent the ability of Dash Ta Fame to cross with a variety broodmare sires, as each of these are out of a mare by a different stallion.
The phenomenal success of Dash Ta Fame to sire barrel racers makes for a curious situation. This stallion literally leads in every major category of production. He is the leading overall money earning sire with $23 million and the leading futurity and derby sire. His daughters have made him the all-time leading maternal grandsire, and it all started from such a modest beginning.
We will let Burt explain how it got started, "Terry and Nora Woods, a prominent barrel family here in Utah, bought a Dash Ta Fame out of a Hempen TB mare off the track for their daughter. They started running barrels on her and they won something like $30,000, which was pretty good."
Burt continued about his role in the next step to the making of Dash Ta Fame a barrel racing sire, "But as you know, everybody says that was just one horse and I had never seen a barrel horse in my life. I wasn't interested in them at all. I was a racehorse guy. So, then I bred a horse named Fames Fox Kirk and he got hurt. Got his foot over a gate and injured himself. It was mostly cosmetic, so I put him back together and sold him. He became famous and as far as I am concerned, he is the greatest horse Dash Ta Fame ever bred. He won $197,000 and went three years when winning $10,000 was a big deal. He was a gun."
Burt added about some of the next horses to contribute to Dash Ta Fame at the beginning, "Then there was another horse I bred named Smooth Movin Dash right after that and he won about $85,000. Then there was BF Shenanigan that Birrell Farms bred, and he was a BFA Futurity Champion. All of these big guns each won in the neighborhood of $100,000 and they were Utah bred. That is what started it. That is what got it going. It just didn't take off. It took a long time to make a great barrel sire."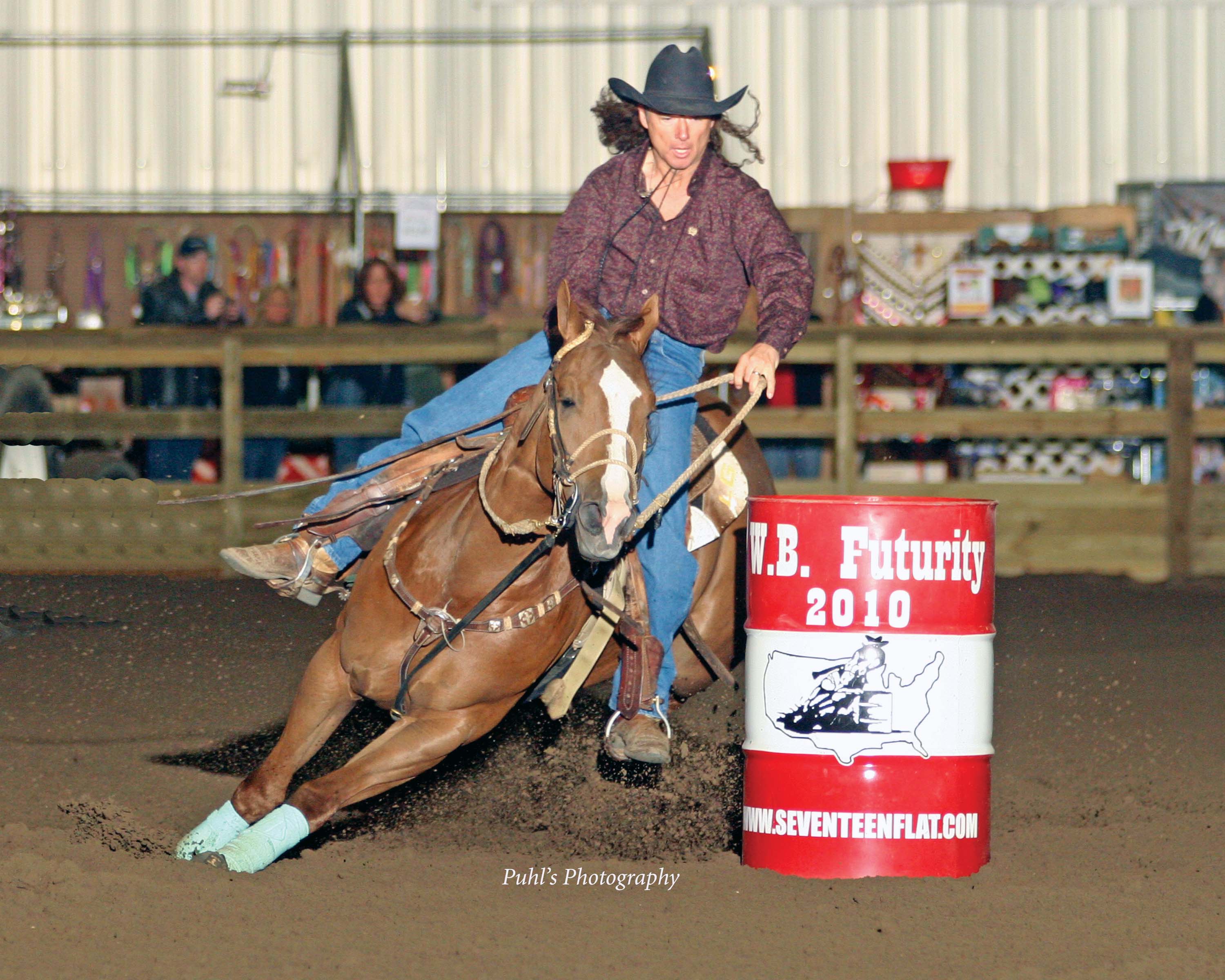 The interesting part of this early record is the ties of the family of Fames Fox Kirk and the Bob Burt breeding program. Famous Fox Kirk won the BOAH/BFA Barrel Derby Champion. Famous Fox Kirk is out of Mamma Soul Kirk by Dr Kirk and she is out of Miss Filly of Soul by Truly Truckle.
When Mamma Soul Kirk was bred to Murrtheblurr TB, she produced Misty Blurr, who became the dam of Dash Ta Fame barrel horses Sir Patrick Blurr ($129,158), Misty Blurr Ta Fame ($48,500), Soul Fame ($43,408) and Dashing Mistafier ($36,140). Sir Patrick Blurr was the 2005 BFA Super Stakes Champion.
Mistys Dash Of Fame is a daughter of Dash Ta Fame and out of Misty Blurr. Mistys Dash Of Fame is the dam of KN Fabs Gift Of Fame ($647,203), KN Fabs Mist Of Fame ($170,518), RR Mistakelly ($295,072) and Jets Heart N Soul ($191,533). KN Fabs Gift Of Fame and KN Fabs Mist Of Fame were both qualifiers to the 2019 National Finals Rodeo. RR Mistakelly was the 2017 BFA Juvenile World Champion.
Let us take a look at some totals that will show the significance of Dash Ta Fame and his influence on barrel racing. He is the sire or grandsire of 24 Barrel Futurities of America Champions in a variety of events featured through this association. His BFA money earners have earned $3,219,242, and he is the sire of 11 horses that were barrel runners for nine of the top 15 barrel racers at the 2019 National Finals Rodeo. He is the sire of 11 AQHA World Champions and Reserve World Champions that earned 14 titles in the Open and Amateur Select World Shows, and his world show qualifiers have earned $107,199.59.
Dash Ta Fame died in the summer of 2018, leaving our world physically. But he lives on through modern science with his frozen semen and Bob Burt's mare egg program. The story of this stallion is a phenomenal one and one that is still being written for this great crossover stallion.