Behind The Scenes - Duayne Didericksen
Posted by Speedhorse on 10/04/2021
Most accomplished people in the horse racing industry earn their recognition in the spotlight. They're photographed in the winner's circle and their advice, comments and photographs fill magazine articles, advertisements and covers.
But that's not necessarily true for Duayne Didericksen. Beginning in the 1950s, in addition to rodeoing, Duayne rode, bred, trained, and bought and sold racehorses. Then, beginning around the mid-1970s, his interests evolved into administration. Since then, he's mainly worked behind the scenes to regulate and promote the sport. Although his career hasn't been all roses, it has been innovative and fulfilling. And in his nearly 65 years in the horse world, he has accomplished much.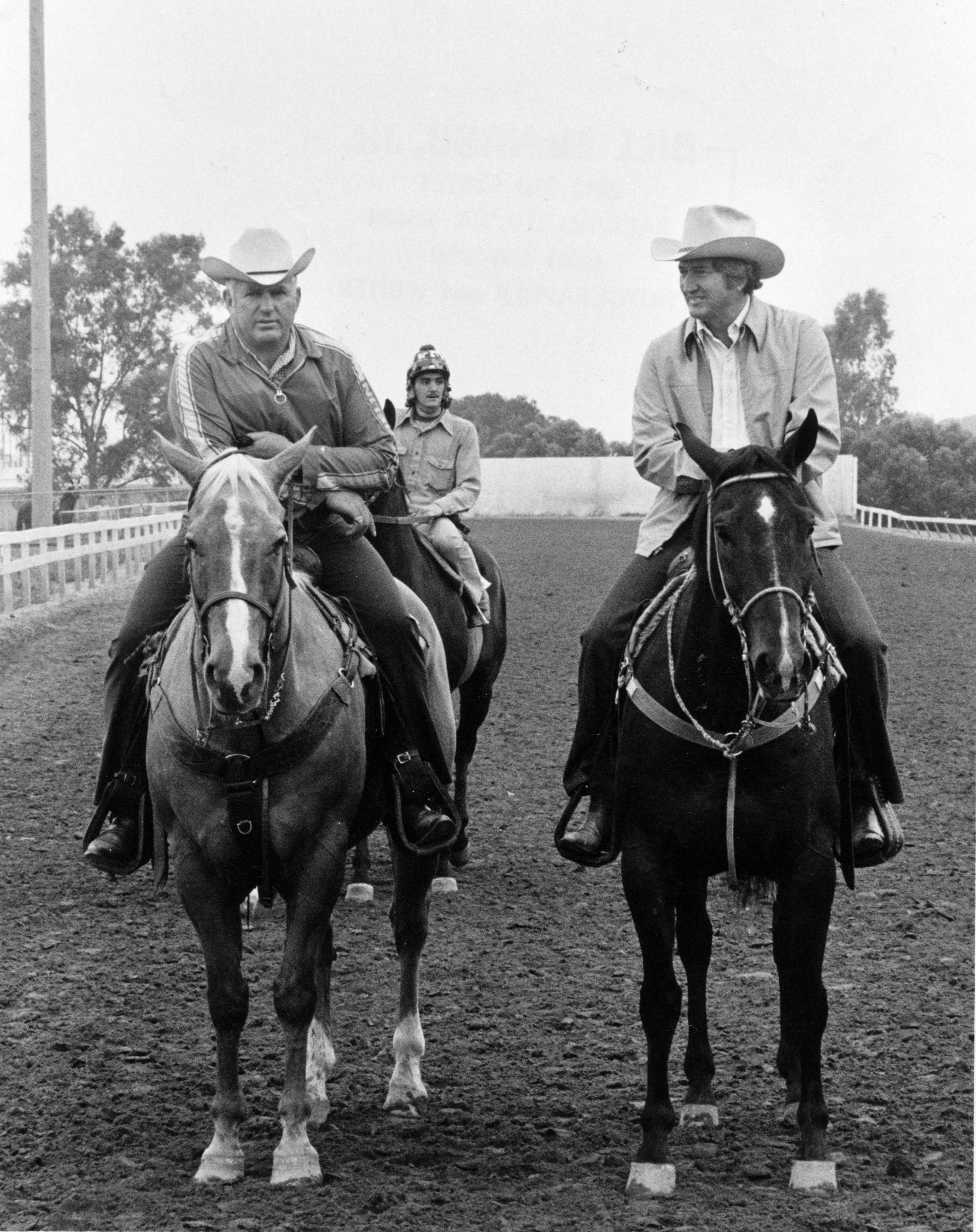 A SERENDIPITOUS MENTOR
Duayne's dad was in the lumber business and when Duayne's mom wasn't at home with Duayne and his older brother and younger sister, she ran some ladies' and babies' stores that she owned in the Preston, Idaho, area. "I was just a city boy," Duayne says, adding, "I guess I got into the horse business because my dad wouldn't give me a job."
Blane Schvaneveldt, who was also from Preston, got Duayne started in horse racing in the 1950s. "Blane was the yard man at the Cache Valley livestock auction when I was young and he said if I'd clean the sale ring, he'd give me a bottle of orange pop and let me ride the horses there," Duayne says.
Although Blane was only a few years older than Duayne, he mentored the youngster and fed his hunger for horses. "I was his oldest dependent," Duayne jokes. "Blane kind of raised me."
After Duayne learned the sale-yard ropes, he started trading horses and buying and selling livestock for a living. "I worked on the kill floor for four years to learn how to grade and buy cattle," he says.
When he was young enough and small enough, he adds, he worked as a jockey. From 1957 — the same year he married his late wife, Ida Lee Roberts — through 1962, he trained for the public. During that time, he also served as AQHA Field Representative for Idaho and Utah.
FINDING HIS STRIDE
As a relative newcomer to the racing business, it didn't take Duayne long to earn stakes-winning-owner status. His first stakes winner, Merns Question (Grey Question-Rey's Baby TB, San Luis Rey), took her title in 1962 at Montpelier, Idaho. He also won stakes with War Chic Twist (War Chic-Sal Twist, Hard Twist) in 1966, Snazzy Man (Rocket Bar-Vanneva, Vandy) in 1968, and others. In 1970, the year Les Bois Race Track opened, he won stakes at every racetrack he ran horses at.
For eight or nine years before he moved to Boise and quit training, he partnered with N.S. Howells, a veterinarian from Preston, on quite a few mares and babies.
He names Miss Chic Twist, Larkwood and Snazzy Man as his top three runners. "Miss Chic Twist was really a rank horse, but she'd give you 100 percent every time," he says. "She seldom ran less than second. Larkwood was probably my best 870 horse. And I took Snazzy Man to Denver. I was fortunate to have good horses around me. Good horses always make everyone— the owner, the trainer and the rider — look smarter!"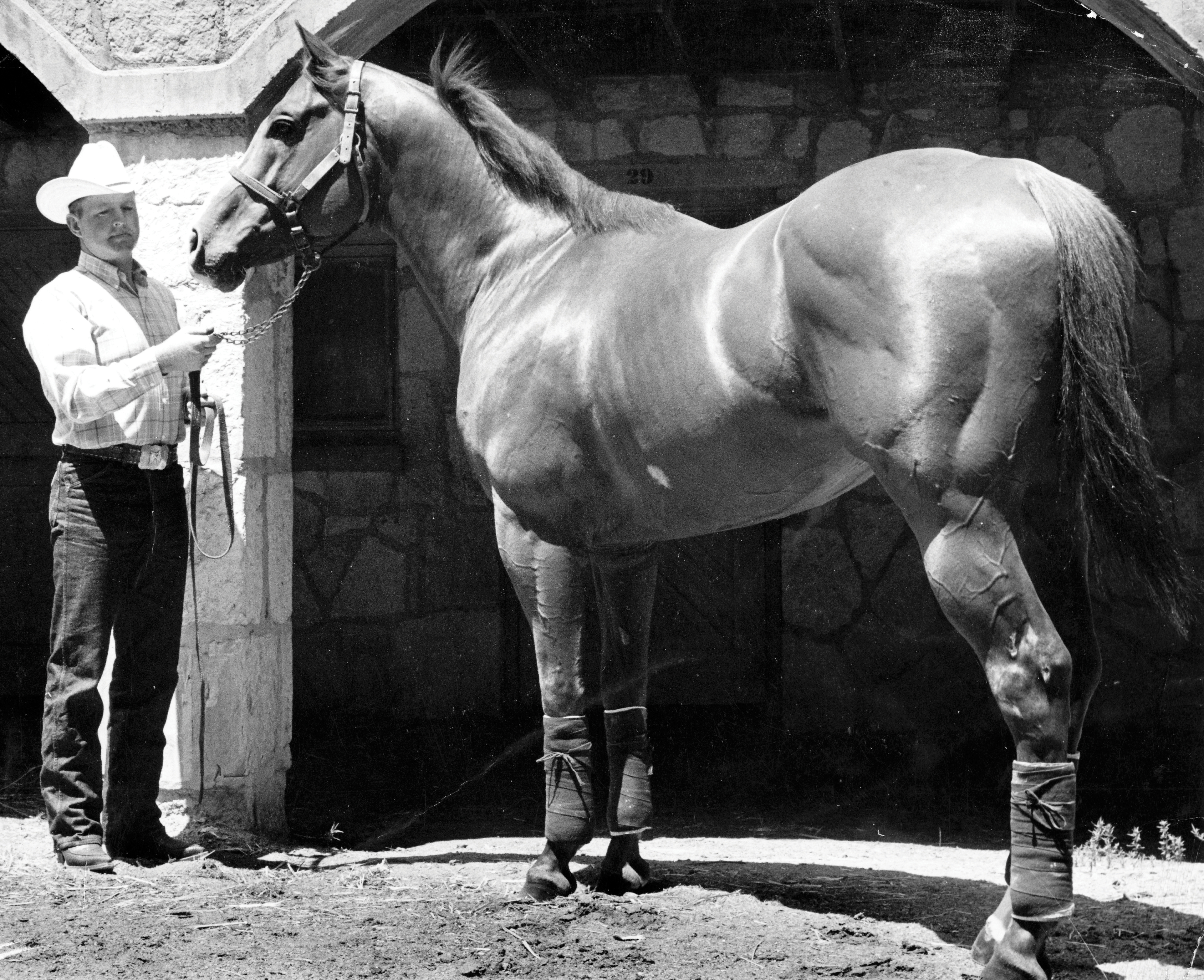 BRANCHING OUT
In 1971, he and a couple of veterinarian friends built a vet clinic and tack shop near Boise, Idaho, just north of Les Bois Park. He operated it until 1975, then sold it and moved back to Preston.
In 1974, he took a job as racing secretary on the Eastern Idaho fair circuit and in 1975 he moved to back to Boise, where he stayed on as racing secretary, director of racing and general manager of Les Bois Park through 1989, during which time the Turf Club was built there. He also served as racing secretary and state steward at Sun Downs in Kennewick, Washington, during its race seasons from 1975 through 1979.
In 1991, he went to work for the struggling Idaho Racing Commission, where he played a large part in overseeing racing regulation compliance as well as writing the rules, regulations and legislation to institute simulcasting. "Simulcasting hubbed out of Les Bois," he says. "If you were betting on a horse in Ruidoso or Oklahoma, you came through our hub here in Boise."
He also created an examination and licensure system for stewards and other racetrack officials and acted as liaison with the Idaho Legislature and local, state and federal agencies engaged in regulating horse racing, as well as regional and national associations of those agencies.
From 1994 through 2002, he served as managing partner of Les Bois Park. He then sold his interest and partially retired, but a life of leisure wasn't in his immediate future. In 2008, he revived Hialeah, which had closed in 2001, then stayed on until 2010 as horsemen's liaison, representing the interests of the Florida Quarter Horse Racing Association to horsemen, track personnel and track management.
He also acted as on-site general manager for the live race meet at Wyoming Downs Race Track in Evanston during the summers from 2007 through 2009.
"I loved running and operating the racetrack and being involved in all aspects of it," he says "— not only the backside with the horsemen and the jockeys, but with the general public, the races going forward, the mutuels, the new innovations — all of that."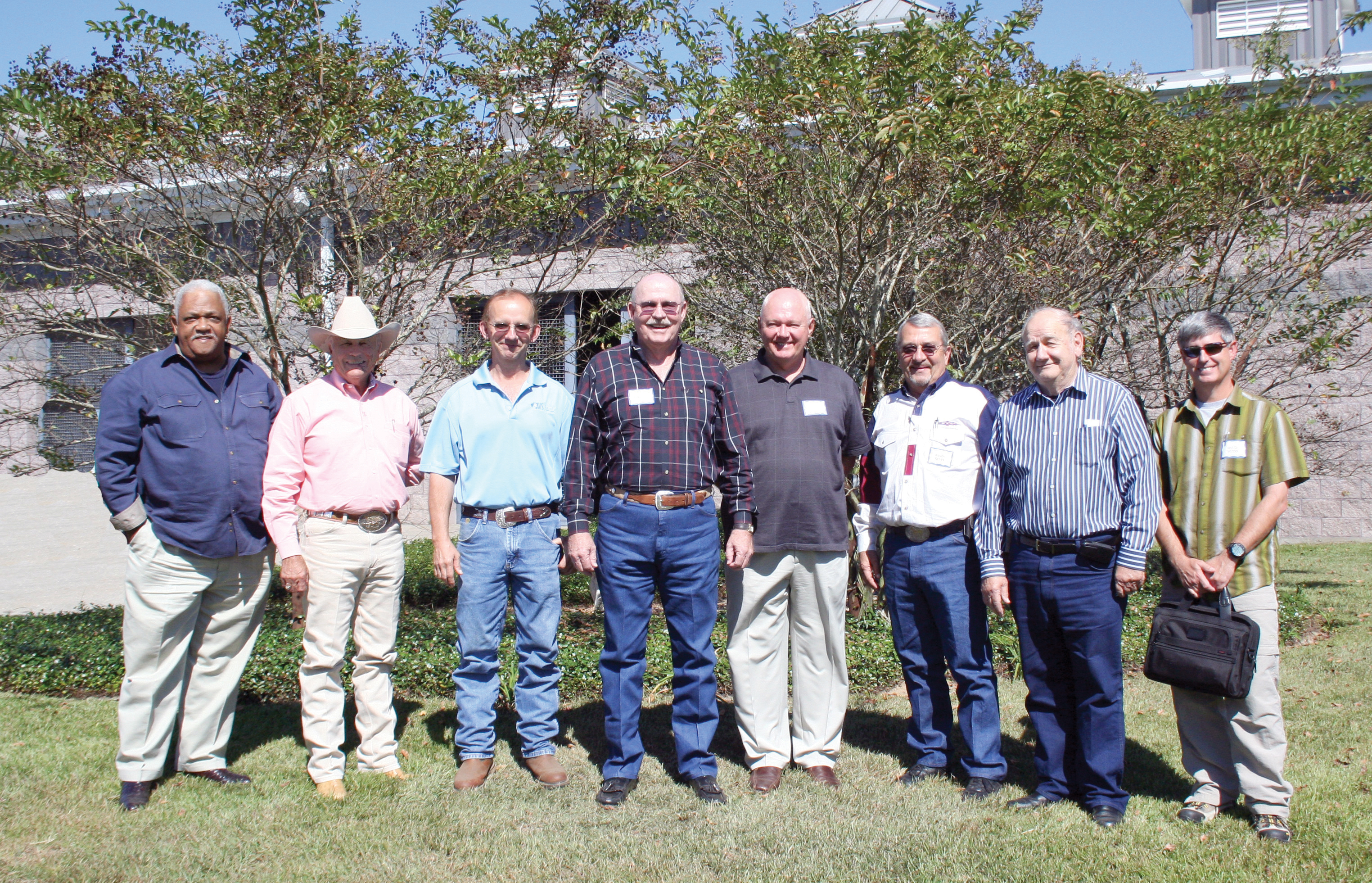 A UNIQUE PERSPECTIVE
Having been a trainer and a jockey as well as an owner, breeder, official and administrator, Duayne brings a plate full of knowledge to any table set to improve the status of Quarter Horse racing.
"We've served together on many committees," says Debbie Schauf, Executive Director of the Oklahoma Quarter Horse Racing Association since 1996. "His firsthand knowledge about all segments of the industry has been very valuable as we've evolved over the years and formulated new policies and tried to do the best we can to promote racing.
"Since he spent many years as a regulator, he understands that side of the business, where most horsemen really don't understand why we have to do some things that regulations require. Unlike the show industry where organizations make their own rules, we have to operate under state and federal rules to protect the integrity of wagering.
"When he evolved into racetrack management, he also had that viewpoint to share with horsemen who don't always understand what a racetrack has to consider toward the bottom line besides providing an opportunity for horsemen to race at
that track."
Sadly, Duayne and others' knowledge and understanding of the racing industry and their dedication to promoting it wasn't quite enough to convince voters to legalize historical horse racing in Idaho this past November. It was a bitter pill for all involved in the effort, as Treasure Valley Racing was forced to withdraw from its Les Bois lease, sounding the death knell for horse racing in Idaho.
"Statewide, it's going to be very devastating," he says. "I don't think people realize the enormity of it yet. Here in Boise alone, we impacted Ada County and this area with $50 million a year. Now, the Commission will be out of money because they won't sell enough licenses or have enough handle to keep them going. They'll have to pass the costs of the stewards and the photo finishes and the testing and all of that to the racetracks, and that's another $4,000–5,000 per day expense. The fairs can't handle that. And the worst part is that there won't be enough racehorses left to sustain racing in Idaho."
A FAMILY MAN
During their 53-year marriage, Duayne and Lee raised two boys: Rocky, who's married to Tammy and has two sons, Tyson and R.J; and Kip, who has two daughters and a son, Annie, Wyatt and Quincy, with his wife, Stephanie.
Rocky owns a roofing business. As a youngster, he roped calves and cut cows in high school rodeo and is still involved in cutting near home in Eagle, Idaho, as are his sons.
Kip is a five-time AQHA World Champion Jockey who led in money earned. He's been retired for 20 years and lives near Duayne and Rocky in Star, Idaho. In their spare time, Duayne and his sons also buy and resell foreclosure houses.
"I'd say that marrying the wife I did was my biggest and greatest accomplishment," Duayne says of Lee, who passed away in 2014. "She was the one who made the family.
"Her dad owned the Blackfoot [Idaho] sale yard and Flying U rodeo outfit," Duayne adds. "She was a rodeo queen and won the all-around in high school rodeo all three years. She also won the state all three years that she was in the cow cutting. When she graduated, we got married and then went off to the rodeo. She was involved in cutting horses and in barrel racing, and she was involved in everything we did horse-wise here. She had a better eye than me for a horse, I think. I never did tell her that, but I think she knew it," he says fondly.
"She was so good-hearted. We used to have Christmas parties every Christmas Eve with 40–70 people and I remember one of the last times, both of the boys said, 'Who's that talking to Mom?' and I said, 'I have no idea.' She was an excellent host and her door was always open."
"I admire how close Duayne is to his family," says Mark Brown, who breeds Quarter Horse runners along with his wife, Peggy, in American Falls, Idaho. "He's gotten them involved in the horse industry as well."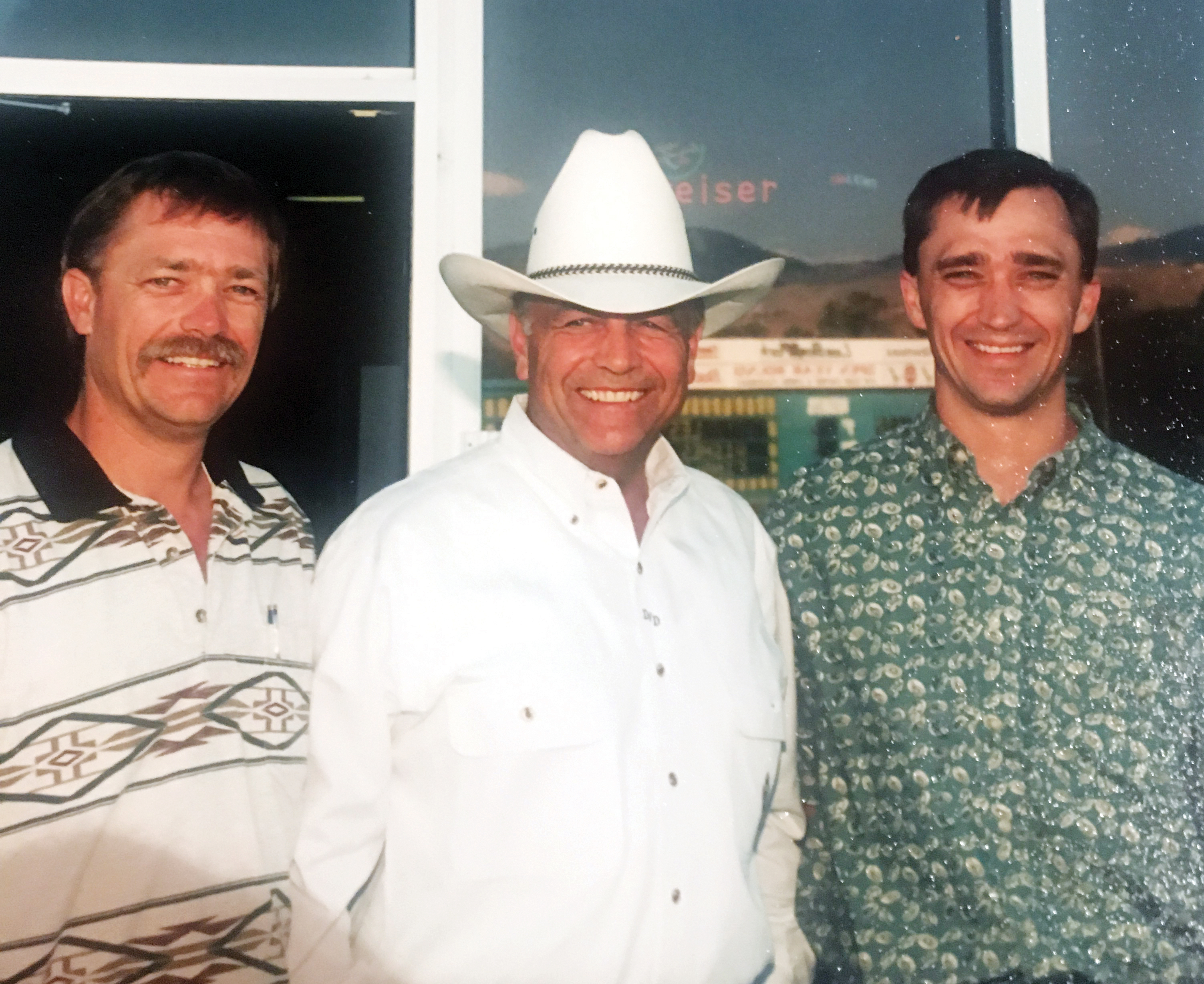 PERSONAL CHARACTER
Mark also admires Duayne's integrity. "He's a straight shooter and he's very honest," Mark says. "And he looks outside the box at what's going to be the best for whatever endeavor he's involved in — not just for himself, but for everybody involved."
"You can count on Duayne," adds Debbie. "If he says he'll help you, he will. He's very ethical in that he wants things to be done right. He's very well respected within the industry. And besides that, he's a lot of fun! He knows everybody, and he likes everybody, and everybody likes him."
"Your word and your handshake have to bind you," Duayne explains. "I did a lot of business by telephone with people I didn't know on the East Coast, just on my word. I had their trust and still do to this day, I think. And likewise, I respected people I did business with because of the way they treated me.
"I've been pretty lucky that I've been around some great horses as well as some great people and I've had some great owners as well as great partners," Duayne says.