A Brilliant Sunset
Posted by Speedhorse on 04/07/2022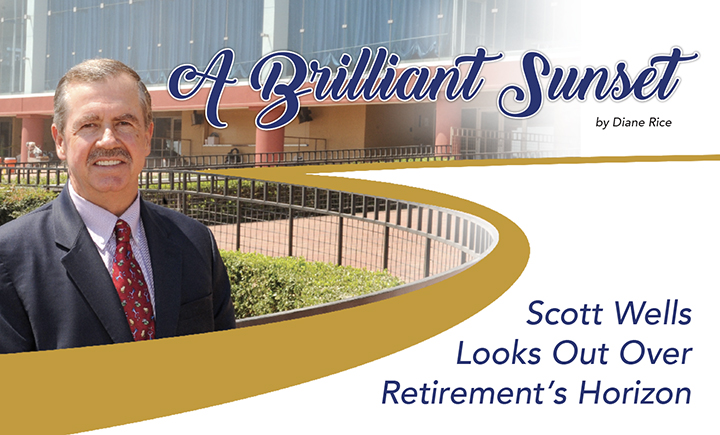 by Diane Rice
Scott Wells' lifelong immersion in a wide variety of race-industry roles uniquely prepared him for the career he left behind in December.
As retiring president and general manager of both Remington and Lone Star parks, he has created a blazing sunset of achievements. Among them are the knowledge and friendships gained as the son of a Hall of Fame trainer; his personal experience as a trainer; an equine author, journalist and photographer; a racetrack staffer; and an international racing consultant, developer and promoter.
"In the horse racing industry, you like to see individuals who have been on the backside, who know what goes on at the backside and respect those people who try to make a living there," says retired Hall of Fame jockey Jerry Burgess, who has served on the Texas Racing Commission for the past 30 years. "Scott has been there."
Scott wound up his career by presenting the final trophy for the Springboard Mile at the end of Remington Park's Thoroughbred season on December 17, 2021. As he did, true to his character, he handed his reins off to the team whose work he says has built the organization.

"Working with the team and building the team has been a big part of what we've accomplished, but that doesn't happen without the ownership sharing in the vision and making the investment," Scott says. "Global Gaming Solutions/the Chickasaw Nation spent $15 million in the first 15 months they owned Remington Park, before they made a penny of any kind of profit. Since then, they've spent several times that making it the place it is today. You don't have success without good ownership and a team that's willing to show what they can do, do it continually, and do it on a high level."
His Sunrise Years
Born in Pawhuska, Oklahoma, Scott grew up under the tutelage of his father, AQHA Hall of Fame trainer Ted Wells Jr. Ted conditioned Savannah Jr., who won the All American Futurity in 1965 when Scott was 15. Ted's father had owned the great Hall of Fame stallion Leo and as Scott grew up, he observed Ted's methods with Leo's early progeny and the Three Bars daughter Lena's Bar, who was the dam of Jet Smooth and Easy Jet (both by Jet Deck). Also, on the Wells stallion roster were Azure Te and Easy Six. "Dad was a very successful trainer and then turned to breeding," says Scott.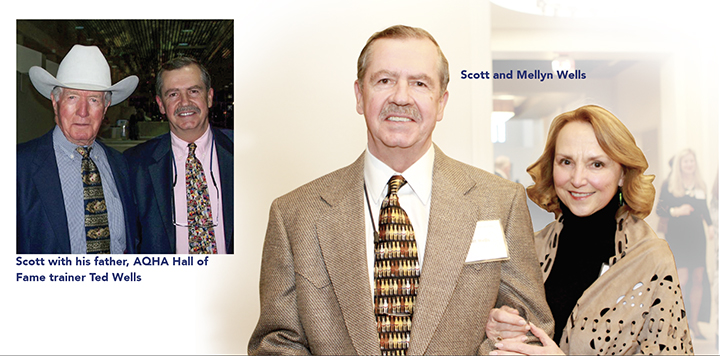 Scott met Walt Wiggins Sr. when Walt, the Speedhorse (originally Quarter Racing World) founder, traveled to Wells Ranch to photograph Azure Te and Savannah Jr. for the magazine. That led to Walt illustrating and publishing Scott's first article on conformation shortly after Scott finished high school.
"I've always had an interest in writing and Walt was a real influence on me," he says. "He had worked for various magazines and experienced all of these adventures by virtue of his being a writer."
Scott attended Texas Christian University in Fort Worth into his junior year. Then, inspired, Scott quit school and set off to Paris to write "the great American novel." While there, he realized that what he really wanted to do was train horses. "I'd gone on a one-way ticket," he says, "and was there about seven months when France devalued the U.S. dollar. Suddenly, I didn't have enough money to get home and that was a panic-stricken moment—you weren't going to get a job in France at that time. So, I sat down and wrote articles about Go Man Go and Top Deck and Three Bars and sent them to Walt. He sent me the money for them, and that's what enabled me to come back to the U.S.
"Later on, I called Walt on his deathbed and told him that story and his humor was still vibrant; he said, 'Well the verdict is still out on how that worked out for both countries!' He was a terrific jokester, and he could tell a story better than anyone."
Scott trained Thoroughbreds and Quarter Horses for 17 years beginning in 1971, assisting D. Wayne Lukas and Jack Van Berg during that time. In 1984, he won Oklahoma's first official Thoroughbred race, at Blue Ribbon Downs with Ye Song (Ye-Her Song, Military Plume).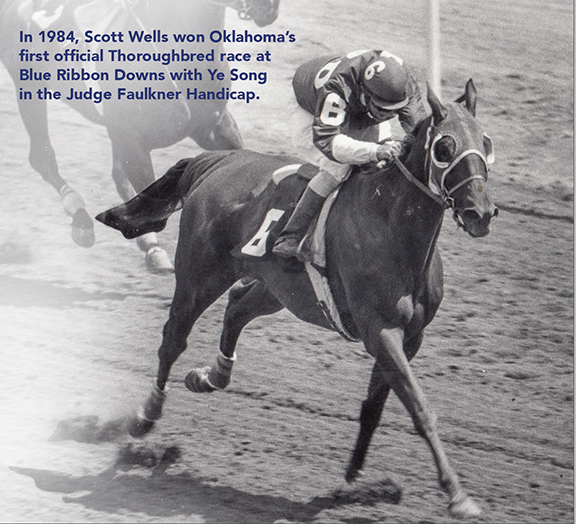 In the Quarter Horse realm, he trained Three Two Yankee (Azure Te-Missile Princess, Missile Bar), who won the Oklahoma Futurity at Raton, New Mexico, as a freshman in 1978.
Among his other trainees were Savannah Sandal (Savannah Jr-Lowood, Roman Sandal), Salty Talent (Talent Bar-Super Ro Ann, Super Charge), Azure One (Azure Te-Hayo Connie, Hijo Hayo), Fleurette (Savannah Jr-Call Me Rose, Speck Deck), Bittersweet Oh (Three Oh's-Mighty Hot, Mighty Deck) and Peach Picker (Easy Six-Little Bor-Ax, I'lldoit).
Scott's writing background led to a request from the AQHA to write a book about racing Quarter Horses. "I was still training at the time and was interested in doing it, but in making some preliminary notes, I realized that Jerry Nicodemus had ridden most of the great horses in recent times. So, I talked to Nic about writing a book about him and he was all for it."
Speedhorse illustrated and published "The Nicodemus Era," a 1500-copy limited edition, in 1983. "It was a very fun project," Scott says. "Nic had won so many big races and it was easier for me to get my arms around that than it was to tackle the whole spectrum of good horses of the time, many of whom I had never even seen."
Scott followed "The Nicodemus Era" with "What a Way to Go" in 1996, about Los Alamitos' founding and first 30 years, and "Teaching Narcissus to Swim" in 2010, a novel about an Oklahoma teenager who leaves home for Ruidoso Downs to become a professional jockey.
From High Noon to Sunset
In 1988, Remington Park opened for live racing. "As a trainer, I'd won the first Thoroughbred pari-mutuel race in Oklahoma history on the day Blue Ribbon Downs opened," he says. "I knew how meager the Oklahoma racing scene was so when I saw Remington Park, it blew my mind.
I knew Corey Johnsen, the VP of Remington Park; we'd been friends back when I was training horses in Arizona way back in the '70s. I contacted him and mentioned I'd like to try my hand in being involved in racetrack management at some point.
"The winter of 1989-90, I was training Thoroughbreds in Maryland and for three weeks in a row, the low was never warmer than 1 degree."
Scott approached Corey about working at Remington Park. Although Corey didn't have any journalism openings at the time, he referred Scott to the Daily Racing Form, who was looking for a full-time columnist. "I went out that day and watched the Frank DeFrancis Memorial Sprint Thoroughbred race at Laurel, typed a story, sent it to the editor and let him know I was looking for an opportunity to be a columnist at Remington Park," Scott says. "He liked the story and hired me. So, my first gig here was writing five columns a week for the Daily Racing Form."
As time went on, more opportunities presented themselves. "Jim Byers, the announcer at Remington Park, got a sore throat one day so they asked me to do some TV work," Scott says.
He stayed at Remington Park for three years, then R.D. Hubbard called on him for some help settling a dispute at Hollywood Park, which led to Scott moving there as assistant general manager.
He stayed from 1993 until the summer of 1994, then took on the general manager's position at Ruidoso. In 1995 he went to work for the Hubbard Museum there, where he co-founded the Ruidoso Downs Racehorse Hall of Fame.
In 1999, Lone Star Park hired Scott to reopen the national tracks of Mexico and Uruguay along with consulting for other Latin American countries.
He was in South America when Oklahoma State Question 712 passed in November 2004 allowing racetracks in the state to operate casinos. Remington Park had fallen on hard times. "It was always my favorite track," Scott says. "Among other reasons, it's the first I ever worked at in management. So, when Question 712 passed, I said to my wife, Mellyn, that Remington Park might survive after all.
"The next day, Corey Johnsen, who by then was Vice President of Racing for Magna Entertainment Corporation, asked if I'd like to come back to Remington. I started in March 2005 and have been president and general manager for 16 years."
In 2013, Scott took on those roles at Lone Star Park as well.
His Lifelong Lessons
In addition to his dad, Ted, and Ted's mentor Walter Merrick, Scott credits horsemen such as Wayne Lukas, Jack Van Berg, Jack Brooks, Blane Schvaneveldt, Johnny T.L. Jones, Don Farris, Chuck Taliaferro and Bubba Cascio for what he was able to absorb, especially in his early years of training. "They taught me so much about how to be a horseman," he says.
"Developing a young horse is something I find infinitely rewarding," he adds. "To take a young, clumsy colt or filly and have them turn into an athlete that's performing at their very best is a huge, fulfilling moment in a horse trainer's life. It's a very, very artistic and fulfilling piece of work that involves so much, so much time.
"As a track manager, it's been the same thing seeing employees, who may have been young and green and undecided about a lot of things in their life, and then turn into real professionals," he adds. "That's been really rewarding as well.
"But I have to say that as a GM, handing out trophies to winning connections—trainers and owners and jockeys who have success at your track—is what horse racing is all about," he says. "Being part of that thrill when people come into the winner's circle is something I learned about when I was just a kid, and in the past 31 years, I've been able to see lots of other people experience that thrill. It's a great sport and those special moments that I've been able to be there for are part of what makes it great."
"Scott has played a large part in making Remington Park the success it is today," says all-time leading jockey G.R. Carter, Jr. "He's the utmost professional in what he does and has represented every racetrack he's worked for with the utmost class. And everyone who gets to know him feels like they've known him their whole life."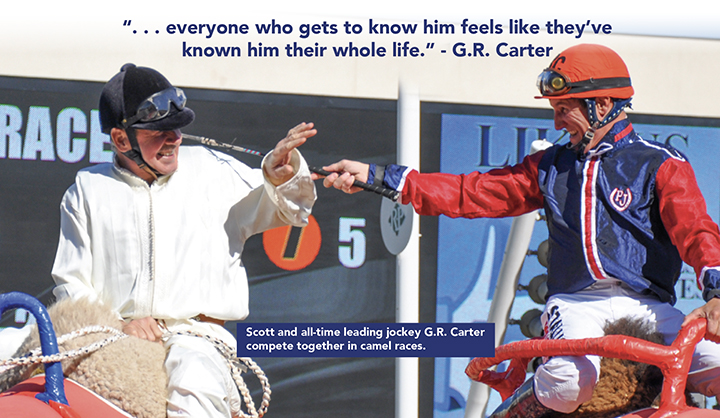 "Scott meets people with a hand out and a smile on his face and you immediately feel at ease," adds Jerry. "I admire that kind of individual."
"Running a racetrack is a three-legged stool," Scott explains, "—the racetrack owners, the horses' connections, and the regulators. Successful management has to have an understanding of all those people, and I think my varied background has enabled me to have the perspective to see all three sides on the issues that come up. If you can do that and be solution oriented, you can make progress.
And Scott has made progress. Lots of it. Being involved with the reinvigoration of Remington Park during its rebirth, through his position as president and GM, has brought Scott fulfillment and satisfaction.
"I want to emphasize that in all of this, it is not a one-man job," he adds. "It's so totally a team effort and to be truthful, the ownership of Global Gaming Solutions—and with it their willingness to clean up and invest in Remington Park—is really the key to the park's resurgence."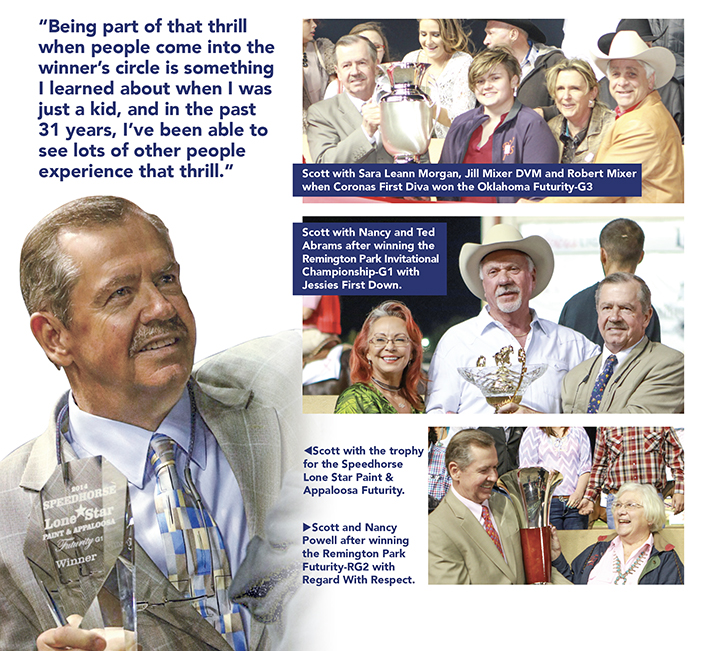 Entering His Sunset
As he prepares for his "golden years," Scott admits it'll be the first time since he was a kid that he hasn't been working, so it's going to be an adjustment. But, he says, he really enjoys nature—particularly hunting and fishing—and golf, which he and Mellyn will do a lot of, along with their 5-year-old grandson, Turner.
"One of our major forms of entertainment now is watching him progress as I decline," Scott jokes. "We're also both voracious readers and we like to see good horse races."
He also enjoys looking at and helping people acquire good horses and has already helped some friends pick out good prospects.
"I'll enjoy that, but I'm really looking forward to retirement," he says. "I've been a workaholic but I'm going to try not to be. Learning to relax a little more is one thing I can change in my future."