The Top Deck Sire Line - Mr Jess Perry
Posted by Speedhorse on 05/17/2021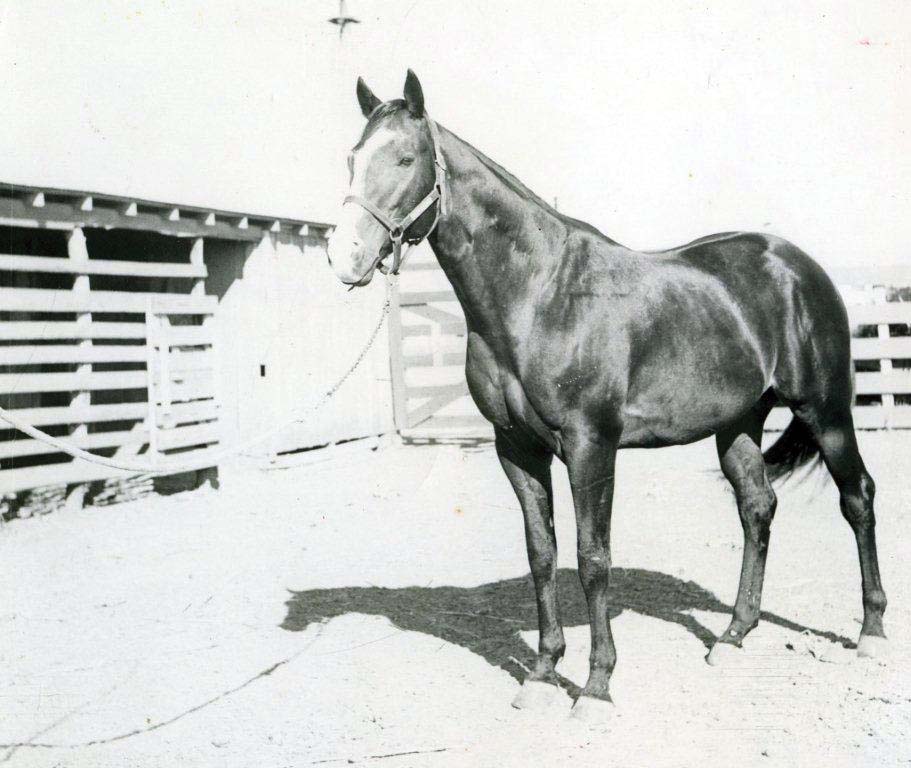 It's that time of the year when we look at the status of the sire lines that influence our industry. The stallions we pick for breeding represent a specific sire line going back through a line or branch to the original foundation sire of that line. Breeding through the sire line has been a long-standing tradition that is very prominent today. Last year we looked at the status of the Three Bars sire line through Corona Cartel. This year we will look at the Top Deck sire line through Mr Jess Perry. Our look back at the life of Mr Jess Perry will give us a chance to see the backstory of how he came to form this very important branch of the Top Deck sire line.
Top Deck is from the Darley Arabian sire line, as he was sired by Equestrian by Equipoise by Pennant by Peter Pan by Commando by Domino by Himyar by Alarm by Eclipse (1855) by Orlando by Touchstone by Camel by Whalebone by Waxy, a grandson of Eclipse (1764). Eclipse (1764) is by Marske, a great grandson of the Darley Arabian. The Eclipse born in 1855 was imported to American in 1859.
The part that makes the Top Deck sire line so interesting is that it is one of the few surviving sire lines that descends from Domino, the great source of speed. The Domino sire line has become very limited in the Thoroughbred and the racing American Quarter Horse. The Domino sire line in the Thoroughbred is primarily represented by the leading sire Holy Bull. His line lives on through his sons, including Macho Uno, Giacomo, and Flashy Bull. While Top Deck, a Thoroughbred, represents the major branch of this line in the racing American Quarter Horse.
Top Deck sired Moon Deck and he sired Jet Deck and he sired Easy Jet, who is the sire of Easy Six. Easy Six sired Streakin Six, the sire of Streakin La Jolla, the sire of Mr Jess Perry. Mr Jess Perry has risen to be the third leading sire of money earners with over $55 million in earnings. He has sired 1,408 starters that have earned 1,145 ROM with 144 stakes winners. Mr Jess Perry has established his own branch of the Top Deck sire line and now that branch of this sire line is forming its own branches.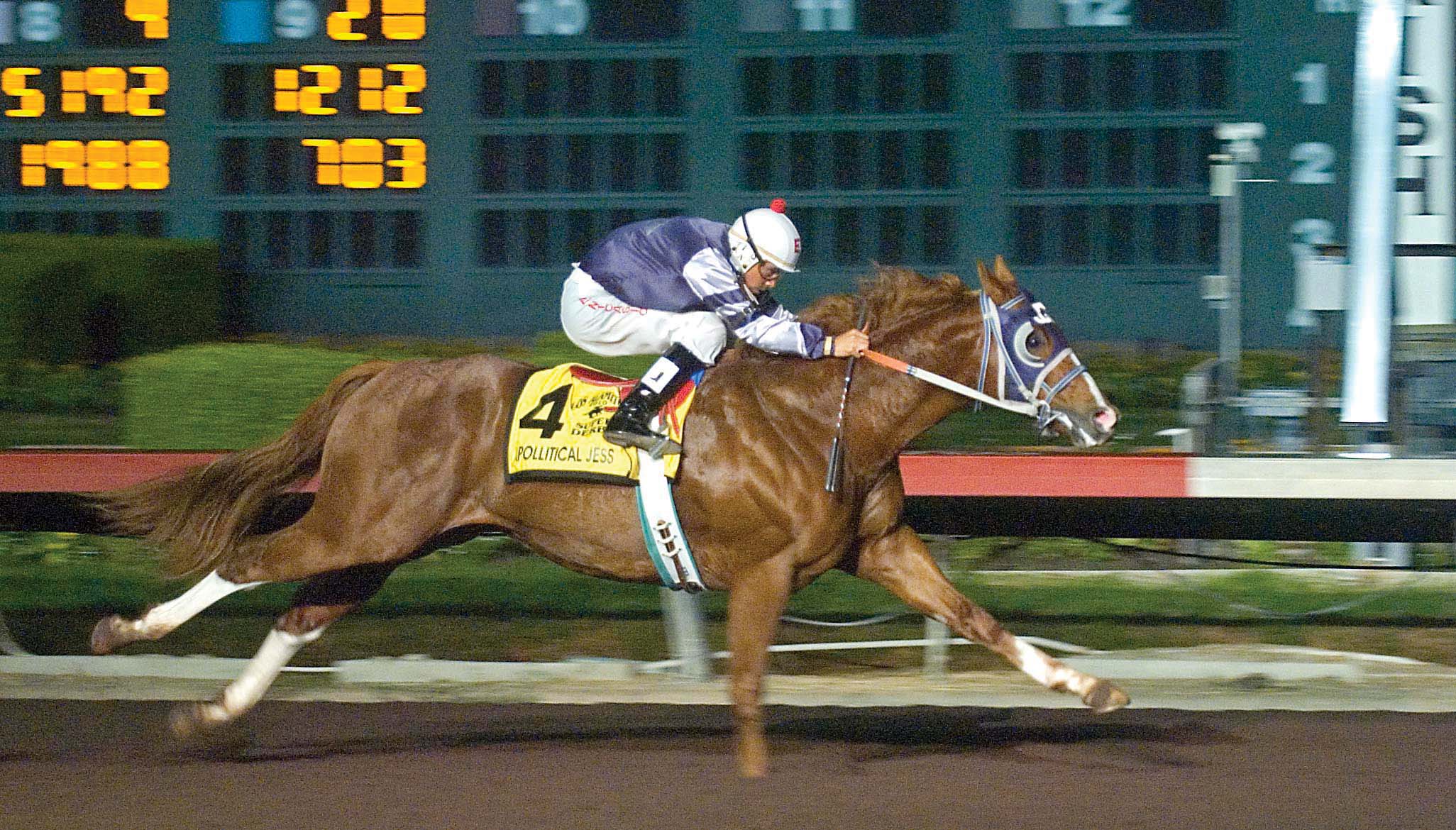 Here is an example: Mr Jess Perry is the paternal grandsire of six 2018 Champions that earned nine titles through three of his sons. We will begin with two foals sired by his son One Famous Eagle, the sire of 2018 World Champion, Champion Aged Horse and Champion Aged Gelding Bodacious Eagle; and 2018 Champion Three Year Old and Champion Three-Year-Old Gelding Hotstepper. Apollitical Jess by Mr Jess Perry is the sire of 2018 Champion Two-Year-Old Colt Flying Cowboy 123; 2018 Champion Two-Year-Old Gelding Apocalyptical Jess; and 2018 Champion Three-Year-Old Filly A Political Lady. We then add 2018 Champion Aged Mare One Sweet Racy by the Mr Jess Perry son One Sweet Jess.
The early history of Mr Jess Perry starts in Alexandria, Louisiana, with his breeder Jesse Perry and his son Leverne Perry. Many involved with racing will know the name Leverne Perry as the longtime Executive Director of the Louisiana Quarter Horse Breeders Association. Both Jesse and Leverne have passed away. We will start the story of Mr Jess Perry from Leigh Perry, the daughter of Leverne.
"My grandfather always had working cow horses, and he got into the racehorse business through my dad," Leigh began. "My dad rodeoed when he was young. He even competed at the Madison Square Garden Rodeo in New York City. One year, he made a trip to the Four Sixes with his neighbor and friend Claude Boutte. They flew to the Four Sixes and they looked at some weanlings. Dad bought a couple of weanlings and that was his start in the racehorse business.
"Dad was involved in racing for many years and my grandfather was on the sidelines doing his own thing," she continued. "One year, grandpa came to my dad and said, 'I want you to find me a race bred broodmare.' His budget was $1,000. So, Dad looked. He always studied his catalogs, and he was always studying pedigrees. He wanted something in the Three Oh's line. He was a fan of Three Oh's and he found this mare that I think was cataloged in a sale, but I don't know what year or the sale. He called the man in Texas and convinced him to sell the mare. He went there before the sale, picked her out and bought her for my grandpa. That mare was Scoopie Fein.
"He got her for the $1,000," Leigh added. "Dad later told me that he could have bought her mama for $500, but she was in her twenties and he didn't buy her." Records show that he did later buy Legs La Scoop, the dam of Scoopie Fein.
"So, he brought her home and helped grandpa pick out who he should breed her to," Leigh continued. "One year he picked Streakin La Jolla, and that foal was Mr Jess Perry.
"Mr Jess Perry was born here at this farm. Then, a year later, my grandpa passed away. Dad thought Mr Jess Perry was the nicest colt he had ever raised. So, he named him in honor of my grandfather Jesse Perry."
Leigh was not sure why Leverne sold Mr Jess Perry, but she felt that he did regret selling him. "You just never know," Leigh recalled Leverne telling her. "I could have kept him, and he could have run into a brick wall. You just don't know."
The AQHA Hall of Fame biography for Mr Jess Perry gives us another reason Leverne may have sold Mr Jess Perry and that was his position as the Executive Director of the LQHBA. Leverne had worked many years to develop the very successful racing programs for the Louisiana owners and especially the breeders. He felt it would be a conflict of interest to race the colt. So, Mr Jess Perry was sold in the 1993 LQHBA Sale for $15,500.
Elliot Clark Sr. was the buyer and then he was transferred to Cheryl Brasseaux, whose husband John was his trainer for his two-year-old campaign. In 1995, Mr Jess Perry was raced by Diedre Watson and trained by Brasseaux and Kenneth Roberts Sr. He then raced for Elliot Clark under the name Ultimate Breed Inc. in California, and he was trained by Blane Schvanevelt in 1996.
Mr Jess Perry made 21 starts with 12 wins, including five stakes wins. He was second in two starts, one of which was a stakes event. His best year was his two-year-old season with seven wins from nine starts, including the Texas Classic Futurity-G1 at Sam Houston Race Course where he set a new track record of :19.66 for the 400 yards; the Louisiana Quarter Horse Breeders Association Futurity at Delta Downs where he set a track record of :19.97 for the 400 yards; the Louisiana Champions Day Juvenile at the Fair Grounds in New Orleans; and the Louisiana Breeder's Laddie Futurity-RG3 at Delta Downs. His stakes placed second came in the Louisiana Breeder's Futurity-RG3 at Delta Downs. He was named the 1994 AQHA Champion Two Year Old and the Champion Two-Year-Old Colt.
The race record for Mr Jess Perry at three and four included 12 starts with five wins and one stakes win in the 1995 Texas Classic Derby-G1 at Trinity Meadows. He raced in good company into his three- and four-year-old years. He was fourth in the 1996 Louisiana Champions Day Classic and a finalist in the 1995 Remington Park Derby-G1, 1995 Sam Houston Derby-G1, 1996 Los Alamitos Invitational Championship-G1, 1995 Z. Wayne Griffith Director's Stakes-G3 and 1995 Champions Day Derby. He earned $687,184 in his race career.
The racing career of Mr Jess Perry, as a two year old, brought him to the attention of Dr. Glenn Blodgett, the horse manager of Burnett Ranches LLC in Guthrie, Texas. What brought the colt to his attention was his race record in Louisiana while setting a track record winning the Louisiana QHBA Futurity-G1 and then coming to Texas to challenge the Texas horses in the Texas Classic Futurity-G1 at Sam Houston Race Course. Dr. Blodgett recently said that Mr Jess Perry didn't have a lot of respect from the Texas connections. Then, he won with a new track record for the 400-yard race in a time of :19.231. This was Dr. Blodgett's early impression of Mr Jess Perry.
Mr Jess Perry retired in 1996 and he entered stud with Rick and Brad Boutte of Pleasure Time Farms in Alexandria, Louisiana. His first foals came in 1997. When these first foals made their first starts in 1999, Mr Jess Perry again drew the attention of Dr. Blodgett. What Dr. Blodgett saw was a foal crop that was making waves in Louisiana. By the time June came around, Mr Jess Perry had six stakes horses in the books. They included Hollywood Perry, who won the Mardi Gras Futurity-G3 in March where he set a track record for the 330 yards in :17.090, with Jes A Lady by Mr Jess Perry finishing second in the same race. Then came Windy Perry, who won the Louisiana Bred Lassie Futurity-G3 in April, and Jess Go Holm who was second in the Louisiana Bred Laddie Futurity-G3, also in April. In June, Streakin Snowman won the Delta Downs Louisiana Breeders' Futurity-G3, setting a track record of :17.082 for the 350-yard race. He was followed across the finish line by Mr Jess Perry son's Hollywood Perry and Jess Special.
From this first crop, Mr Jess Perry sired nine stakes horses and seven stakes winners. With four of them setting six new track records. Streakin Snowman set three track records, including his win in the Louisiana Breeders' Futurity; he set a track record in the 2000 Delta Downs Louisiana Bred Derby-G3 going the 400-yards in :19.924; and he set a track record in the LQHBA Classic Colts & Gelding Division going the 400-yards at Louisiana Downs in :19.820. Jess Special was third in the Delta Downs Louisiana Breeders' Futurity-G3 behind Streakin Snowman and Hollywood Perry. He would set a track record in 1999 winning the LQHBA Juvenile Colts & Geldings Division in :17.510 for the 350-yard race at Louisiana Downs. Bugs By Yawl didn't win a stakes in 1999, but he made up for it winning three stakes races, with his big win coming in 2002 in the Remington Park Championship-G1. He raced from 1999 to 2008 and became a track record holder in 2001 in a claiming stakes at Retama Park, going 350-yards in :17.641. Tanner Rocket was the last stakes winner from this first crop, and he got his stakes win in October 1999 when he won the Louisiana QHBA Sale Futurity-G2.
The next crop sired by Mr Jess Perry came in 1998. This crop included 12 stakes horses and nine stakes winners. The highlight of this crop included Jess Louisiana Blue, the 2002 Champion Aged Horse; and Feature Mr Jess, winner of the 2000 Rainbow Futurity-G1 and the 2001 Rainbow Derby-G1. Both of these stallions have become leading sires; with Feature Mr Jess siring foals with earnings of over $24 million and Jess Louisiana Blue foals earning over $16 million - giving Mr Jess Perry an early start as a sire of sires.
The reason that Dr. Blodgett was interested in Mr Jess Perry was a need at the Burnett Ranches for a new outcross stallion. The Burnett Ranches were founded by Samuel "Burk" Burnett is 1868. Over the years, the ranch had grown and developed into a premier livestock supplier of cattle and horses. The history of the American Quarter Horse Association goes hand in hand with the Burnett Ranches. Anne Burnett Tandy, the granddaughter of Burk Burnett, hosted the famous meeting at her home in Fort Worth in 1940 that played a key role in the formation of the American Quarter Horse Association.
When we delve into the Quarter Horse program at the Burnett Ranches, we find that speed was always a factor in the selection of horses for the ranch breeding program. It is noted in history that one of the major buyers at the famed Will and Dow Shely Dispersal in the early 1900's was the Burnett Ranches. This was the last home of the foundation sire Traveler, who had distinguished himself as a quarter running horse that became an important sire for the speed of the American Quarter Horse.
After the death of Burk Burnett, the ranch sold their stock horses and had formed a policy that they would buy horses needed for the ranch. But in the mid 1930's under the direction of George Humphreys, the ranch started breeding their ranch horses again. One of the moves was to use a stallion that Tom Burnett, son of Burk Burnett, had found in Oklahoma named Scooter, or Tom as he was sometimes known. Scooter was a racing Quarter Horse sired by Midnight, a grandson of the legendary Peter McCue, another great racing Quarter Horse and a foundation sire of the American Quarter Horse.
The next significant stallion move of Burnett Ranches was to use the Army Remount Stallions that were offered to ranchers as a way to improve the Army's horses by making the foals available to the Army. These stallions also improved the ranch horses. The three primary remount Thoroughbred stallions used by the Burnett Ranch were Buggins, King O'Neil II and Besom. These three stallions, along with Tom (Scooter), were the foundation stallions of the rejuvenated Burnett Ranch horse breeding program.
The Burnett Ranch continued to bring in both race bred stallions and mares for their breeding program. These stallions were crossed on mares by Quarter Horse stallions like Hollywood Gold and Salty Chief. One of the mares was Letty Greenock, a Thoroughbred by Greenock. When she was bred to Hollywood Gold, they got Mr Gold 95, an NCHA Bronze Award winner with earnings of over $31,000.
One of the stallions they used was Joe Hancock, another grandson of Peter McCue. Joe Hancock, raced by his owner Joe Hancock, was "open to the world" up to a half-mile. He was virtually unbeatable. When Joe Hancock couldn't be matched, he was bought by Tom Burnett and taken to his Triangle Ranch in Paducah, Texas, to be used as a breeding stallion. His foals were used by the Burnett Ranch.
The ranch used other stallion's like Top Bracket, a AAA/ROM Quarter Horse son of Top Deck. They stood Hijo The Bull, a Thoroughbred that sired Peggy Toro, the dam of the Burnett Ranch-bred Easy Six, the sire of Streakin Six, the grandsire of Mr Jess Perry.
The need for speed is apparent in the horses listed here. But then the ranch increased their interest in racing under the guidance of Jay Pumphrey, a former Burnett Ranch Trustee and former AQHA President. They became members of the Azure Te Syndicate, a stallion now in the AQHA Hall of Fame, and as we noted they bred Easy Six by Easy Jet that would retire from racing to stand in Oklahoma alongside Azure Te with Ted Wells.
The racing program eventually moved back to Texas. This move brought the leading race sires Dash For Cash, Streakin Six and Special Effort to the place that would be their final home. These three stallions have combined earnings of over $74 million. Leading this list is Dash For Cash with earnings of over $39 million. It was the popularity of Dash For Cash that prompted Dr. Blodgett to seek an outcross stallion. He saw a need for the ranch to bring in the right horse to outcross, not only the ranch mares with Dash For Cash, but for the large number of mares by this great stallion and his sons and daughters that were so prevalent in the industry.
Mr Jess Perry filled the bill as a prospective stallion for the Burnett Ranches with his race record and sire record, but the last criteria Dr. Blodgett needed to access was the pedigree of Mr Jess Perry. He was sired by Streakin La Jolla, a stallion that had a modest race record, and was out of Scoopie Fein.
Streakin La Jolla was bred by the partnership of B. F. Phillips Jr. and Delbert Smith. He was purchased by and raced by Lee Ray Hayes while being trained by Mike Lyles. He was undefeated in his eight starts, with wins in the 1988 Summer of Sound Derby and the 1988 All American Derby Consolation. He earned $56,277.
They retired Streakin La Jolla to stand at Brad and Rick Boutte's Pleasure Time Farms. He then stood at L/J Farms (now Grant Farms) and Shoestring Stud Farm (now Robicheaux Ranch). Robert and Karen Nunnally of Georgia bought Streakin La Jolla in 1999, moving him to Granada Farms at Wheelock, Texas, where he stood the rest of his life.
Streakin La Jolla put together an AQHA Hall of Fame career, with his foals earning over $25 million. This includes 906 racing ROM and 87 stakes winners. His foals include Streakin Sin Tacha, the 2002 World Champion, Aged Champion and Champion Aged Gelding as the winner of $692,842; and Charal Kid, winner of $512,719 including the 2012 Refrigerator Handicap-G1.
Streakin Six, the sire of Streakin La Jolla, was the 1979 Rainbow Futurity-G1 and 1980 New Mexico State Fair Handicap winner. He was second in the 1979 All American Futurity-G1 behind Pie In The Sky, second to Alamitos Feature in the 1980 World's Championship Classic, and third to Jamie Jay and Denim N Diamonds in the 1980 Kansas Derby-G1. He earned $473,934 from 19 starts with ten wins.
The sire record for Streakin Six shows 663 racing ROM and 75 stakes winners. His stakes winners include five AQHA Champions, including: Sixy Chick, earner of $751,284; Six Fortunes, winner of $574,788; Sir Alibi, winner of $356,193; Sterling Sport, winner of $265,292; and Dean Miracle, winner of $199,601. Foals by Streakin Six have total earnings of over $17 million.
Streakin Six is by Easy Six and was bred by the Tom L. Burnett Cattle Company in Fort Worth, Texas, and was foaled on the Ted Well's Ranch in Alex, Oklahoma. Easy Six, bred by the S. B Burnett Estate, is by Easy Jet and out of Peggy Toro by Hijo The Bull TB. He won 10 of 25 starts, winning the 1974 Sun Country Futurity and the 1975 Kansas Derby. He earned $198,740. Easy Six sired just three crops, with 180 foals, 146 starters, 122 ROM and 22 stakes winners, including Sages Belle Star, his second leading money winner and winner of the 1979 Alamo QHBA Futurity. This mare was second to Streakin Six in the 1979 Rainbow Futurity-G1. She won $250,056. Foals by Easy Six earned over $2.6 million.
The dam of Streakin Six is Miss Assured, winner of the 1964 Thanksgiving Stakes at Los Alamitos. She is by Little Request TB, who was a stakes winner in the 1952 Starlet Stakes and 1952 Haggin Stakes. He set a track record at Hollywood Park going five furlongs in :57.20. He is by Requested and out of Little Wichita by Royal Ford.
Miss Assured, out of Assured by Direct Win TB, won five races at two and set a track record for 350-yards at Sacramento. She is the dam of seven ROM, including Derussa, the dam of the two time Champion Mare Go Derussa Go. Assured is out of Sally Rand V by Joe Reed P-3.
Scoopie Fein, the dam of Mr Jess Perry, raced until she was four, with earnings of $15,807. She won six races, placing second three times and third four times. She was a stakes finalist with a fourth in the 1981 Buttons And Bows Stakes and a fifth in the 1981 El Cinco Cincuenta Handicap.
Scoopie Fein is the dam of eight foals, seven starters and six ROM, including one stakes winner and five stakes placed runners. Her stakes placed foals include: Sinn N Saint, who was second in the 1990 870 Championship at Bay Meadows; Crimson Scoop, who was second in the 1989 Valentine Futurity; Scoopie Dash, a multiple stakes placed runner including a second in the Louisiana Champions Day Derby-G2; and Scoopie Cash, who was third in the 2001 Mardi Gras Derby-G3.
Scoopie Cash is the dam of Toast My Mom, winner of $143,437 including the Louisiana Champions Day Juvenile-RG2. Scoopie Dash is the dam of Ms Scoopies Toast, a stakes placed runner with a third in the Party Girl Stakes. Ms Scoopies Toast, by Toast To Dash, is the dam of Scoopies Leaving You, a winner of $329,308 and of races like the Mr Jess Perry Stakes-RG3 at Louisiana Downs. An added note: Scoopie Dash is by Dashing Encounter by Dash For Cash and Toast To Dash, by Victory Dash, is a grandson of Dash For Cash. Annas Streakin Dash is another daughter of Scoopie Dash, and she is the dam of Dashin Brown Streak, winner of $544,748 including the 2015 Remington Park Invitational Championship.
Scoopie Fein is by Sinn Fein by Three Oh's. Sinn Fein was a stakes winner in the 1974 Jet Deck Stakes and the 1974 Kansas Futurity First Consolation. He earned $51,087, winning five of his 13 starts. Sinn Fein sired earners of over $2.4 million, with 412 starters, 238 ROM and 15 stakes winners. His leading money winner is Prissy Fein, the earner of $718,996 and the 1985 Champion Three Year Old and Champion Three-Year-Old Filly. She won such races as the 1985 Rainbow Derby-G1 and 1985 Los Alamitos Derby-G1.
Three Oh's was the 1968 All American Futurity-G1 winner. He won the Sunland Park Open To The World and the South Texas Derby as a three year old. He retired with earnings of $201,716, winning 10 of 16 starts. Three Oh's sired foals that earned over $4 million, with 428 ROM and 57 stakes winners. His leading money winner is Oh Shiney, winner of $212,213 and the 1981 Champion Aged Stallion.
Three Oh's is by Three Chicks by Three Bars. Three Chicks is out of Chicado V by Chicaro Bill. The dam of Three Oh's is Oh My Oh by Spotted Bull and Oh My Oh is out of 1953 World Champion Miss Meyers by Leo.
The dam of Sinn Fein is Vansarita Too, a daughter of Vandy and out of the great Garrettsmisspawhuska by Leo. The Vandy/Garrettsmisspawhuska cross produced three Champions, including 1960 World Champion Vandy's Flash.
Legs La Scoop was a 1966 mare that won $2,265, with most of that coming as the winner of the Midway Downs Winter Futurity. She had 21 starts with only one win, but six seconds and four thirds.
When we started our look at Mr Jess Perry and his dam, it led us to the question, "Why this mare?" Yes, she didn't cost very much, and she was a Three Oh's bred mare, but what else did Leverne Perry see. The answer to that may come to us in the produce record of Legs La Scoop. She is the dam of 11 starters, nine ROM and one stakes placed foal. Her foals earned $85,704. Her stakes placed runner is Colleen Sinn, with a third in the 1979 Early Bird Futurity. Legs La Scoop has four more stakes finalists in Much A Man, Oh Black Magic, Scoopie Fein and La Paint.
When we look at the produce record of Legs La Scoop, we find her daughter, Oh Black Magic, a finalist in the 1977 Delta Downs Silver Cup Series #1 and in the 1977 Miss Polly Stakes. She earned $13,698. When we look at her produce record, we see that she is the dam of eight starters/ROM, three stakes winners and three stakes placed runners. Her stakes winners are Oh Magic Lady, Magics Mighty Man and Oh Magic Rainbow, and her stakes placed runners are Oh Black Magic Man, Thompsons Magic and Double O Magic Lady. A seventh runner was Mighty Magic Deck, a stakes finalist. These seven foals were born between 1979 and 1986, and ran in Louisiana between 1981 and 1989 earning $610,569. Leverne Perry bought Scoopie Fein for his dad in 1989 and he certainly knew all about this mare's record as a producer. He certainly did find a bargain.
Leverne Perry's study of pedigrees plays as a factor in his selection of Scoopie Fein and we can see that in the pedigree of Legs La Scoop. She is by Scooper Chick, a son of Triple Chick who is a full brother to Three Chicks, the sire of Three Oh's, the sire of Oh Black Magic. This makes Scoopie Fein and Oh Black Magic 3/4-sisters. It is also an inbreeding pattern to the Three Bars/Chicado V cross with the full brothers Three Chicks and Triple Chick. It is also an example of "inbreeding to a superior female" in Chicado V.
MR JESS PERRY AND DASH FOR CASH
When Dr. Glenn Blodgett started looking for a new stallion for the Burnett Ranches, his key goal was to find a horse that would be free of Dash For Cash blood as an outcross. When we see that Mr Jess Perry sired nine Champions and that six of them have a cross to Dash For Cash in their dam's pedigree, we get a glimpse of how that worked out. His Champions Noconi, Fredricksburg and Fredaville are out of daughters of Dash For Cash. Then we can add the major winners First Carolina and First Prize Leesa to this list of runners out of Dash For Cash mares. The Champion A Revenant is a grandson through his maternal grandsire Mr Eye Opener by Dash For Cash. Some others out of Dash For Cash line mares include the major winners High Rate Of Return, Jess Lips and One Sweet Jess, who were out of daughters of First Down Dash by Dash For Cash. Uptown Dynasty is another major winner out of a mare by FDD Dynasty by First Down Dash by Dash For Cash. The Champions Apollitical Jess and One Famous Eagle carry Dash For Cash blood in their dam's pedigree.
We have seen that Mr Jess Perry met the criteria to be the outcross sire the Burnett Ranches was looking for. He had the race record, the pedigree and he was off to a good start as a sire. He was the outcross for the Dash For Cash bloodline and he proved to be a successful sire with other broodmare sires just as any stallion will do to earn $55 million on the race track. We see that the Top Deck sire line is alive and healthy through Mr Jess Perry and his sons as we saw in the 2018 Champions. The next step will be to keep an eye on his grandsons, as we have several of them beginning their breeding career. Who will be the next major stallion to represent the Top Deck sire line? Only time will tell.