South Dakota's Horse Racing Pioneers
Posted by Speedhorse on 04/04/2022
by Diane Rice
Because of the late John Johnson and his family's contributions to promoting the state's horse industry, the South Dakota Quarter Horse Association (SDQHA) in 2019 recognized the family with its newly adopted Legacy Award for influential race producers.
The award follows years of top trainer awards bestowed on both John and his son Bob, and which by extension also honor Bob's brother/partner Gary.
The fourth-generation ranch on which Johnson Stables sits sprang from a claim staked by Bob and Gary's great-grandfather, Andrew Sandwick, in 1894. Andrew had left his job in the gold mines of Deadwood, South Dakota, and settled along the North Grand River in northwest South Dakota, about 30 miles south of present-day Lemmon. Andrew moved his family up from Deadwood in 1896 and added acreage to the ranch through the years. However, the original homestead was flooded when the U.S. Bureau of Reclamation built the Shadehill Dam in 1951, creating the Shadehill Reservoir.
Bob and Gary's paternal grandfather, Oscar Johnson, came to the area on a cattle drive from northwest of Grand Forks, North Dakota, when he was 14 years old. While still in his teens, he guided Norwegian relatives to the area to settle, and then raised and sold horses to the army during World War II. He and his son, Andrew Johnson, later raised Thoroughbreds. Oscar's younger son John — Bob and Gary's father — was born on the ranch in 1931.
Andrew and John worked in partnership until Andrew passed away, at which time John, Bob and Gary bought out his share of the ranch and the boys registered the ranch's Rafter JJ brand. The ranch has been the family's home continuously for 128 years and remains one of the oldest one-family ranches in Perkins County.
Passing It Down

Although John attributed the family's horse expertise to his brother Andrew, when John became a jockey, it didn't take long for others to recognize his innate horse talent. They started bringing their horses to him to train, and in 1974 he was recognized as the High-Point Quarter Horse Trainer at three tracks in three states (Belle Fourche, South Dakota; Miles City, Montana; and Casper, Wyoming). In 2018 he earned AQHA's 50-year-breeder Legacy Award.
John passed his "horse sense" gene down to both Bob and Gary. Both sons rode racehorses— Gary winning his first race in 1965—until they outgrew that job, and both have also worked in all aspects of the ranch's operations at one time or another since the late 1960s. "In the early '80s, we had five studs here and 400 head of cattle at one time," Bob says. "That was a job, not an adventure!"
These days, Bob's focus is on training and the racetrack operations, while Gary concentrates on the cattle and the horse breeding and sales operations at home. "I went to the racetrack for a few years, but I didn't really like it that well, so I came home," Gary says. "I like raising colts and taking horses to the sales."
"For a long time, we had to do both jobs to make it work," Bob says. "Then I started going to the racetrack and Gary stayed on the ranch. We both broke colts for years and usually I'd leave for the racetrack in the spring and come home in the fall, so we were both here over winter to take care of the cattle and the foaling and all. It's nice being home, but economics tells me I can't [be there long-term]."
Their Influence
Now in their mid-60s, Bob and Gary have learned not only from their father and grandparents, but from industry icons such as Ed Giles, Larry Sharp and Gordon Steinmiller. "We watched them manage a lot of horses and they took good care of them," Bob says.
Care is a large part of their standard of success. "If you take good care of your horses, your horses will take good care of you," Bob says. "I like to bring out the individual horse; just like people, they're all different. Some like to train hard, and some don't. I like figuring out what makes them happy and keeps them sound."
The other part of their success is in breeding and racing horses with speed and brains. "We strive to have fast horses that can do other things," says Bob.
"I suppose in this part of the country, they were really pioneers in the racehorse industry and along with that they ranch and are good stock people with good genetics in their livestock and of course, excellent genetics in their horses," says auctioneer Lynn Weishaar of Reva, South Dakota, a former neighbor and longtime friend who's known them for decades. "They've been racehorse Trainers of the Year many, many times in South Dakota; they have their horses conditioned and ready to go when it's time to race."
According to fellow trainer Wes Giles, who won the All American Futurity last year with KJ Desparado, both Bob and Gary are "people people" who get along with most everyone. "More than anything, when they're talking to you, they're telling the truth so you can believe in what they're telling you," he says. "We used to compete against each other all the time and when we were done in the afternoon, we'd go have a drink together or have a barbecue and BS together.
"Bob has a memory like I've never seen before and can rattle off jokes for hours," Wes continues. "Gary is more of a down-to-earth guy. For instance, he was working the gates one time at Gillette, Wyoming, and he went to grab this filly for me. I was trying to tell him not to grab her until I got her turned toward the gate, but this mare ran off with him and Gary wasn't about to turn loose of her. She had him running so fast that it tore the heels right off his brand-new cowboy boots! So, the first colt that mare had we named RTR Sliding Heels."
Their Track Stars

Bob and Gary's first stakes winner was Tex O Toddy in the first running of the Colorado Breeders' Futurity at Centennial Racetrack in Denver in 1982. "That was incredible," Bob says. "I called Gary at home within 10 minutes! I'd have called sooner but I had to go find a pay phone!"
Through the years, they've raised and/or raced a long list of solid winners, including stakes-placed No Brakes Now (SI 104), who died in 2020. The Haberfelde Ranch-bred stallion by The Signature and out of Timeto Thinkrich daughter Timeto Brake ran second in the Aberdeen Derby and sired Won For Shelly (out of Count Giacomo daughter Foggiest Notion).
They also ran the Graded stakes winner Faster Than Hasta, by their stallion Hasta Be Fast (Pritzi Dash-Hasta Be Special, Special Effort) and out of Special Leader daughter Leadmetoyourladder, bred and raised by Wardell Quarter Horses.
"Faster Than Hasta has great versatility; he's been able to run any distance at some point in his career," Bob says. "He's won races from 330 to 870 yards and is a six-time qualifier to the AQHA Challenge Championships."
In the 2014 gelding's second out, he ran second in the Minnesota Stallion Breeders' Futurity trial and went on to win the final. He also won the Prairie Meadows Juvenile Challenge trial and final and was named the North Central Quarter Horse Racing Association (NCQHRA) Futurity Reserve Champion, the Minnesota Year-End Open Champion and Minnesota Year-End 2-Year-Old Open Champion.
His second year out, he won the Prairie Meadows Derby Challenge Championship and ran second in the AQHA Adequan Derby Challenge Championship-G3, also at Prairie Meadows.
At four, he won the Rocky Mountain AQHA Championship Bonus Challenge at Arapahoe, and at six he won the Covered Bridges Stakes-G3 at Prairie Meadows and ran second in the Sandia Stakes at Albuquerque. His final year on the track, he won the Energy Downs Distance Challenge and finished his track career with $245,742 and a 38-11-7-0 record.
Also, on Bob and Gary's list of top runners is Patrick Rumbo, by Easy Saint son Easy Rumbo and out of Cherrys Best Hope by Boy O Boy. The 1987 gelding earned multiple Graded stakes winner status with 17 wins, five seconds and two thirds from 30 starts, winning $154,621 in his five-year racing career. His first year out, he ran fourth, then won six in a row, finished second in the Diamond Classic Futurity-G3, then won two more.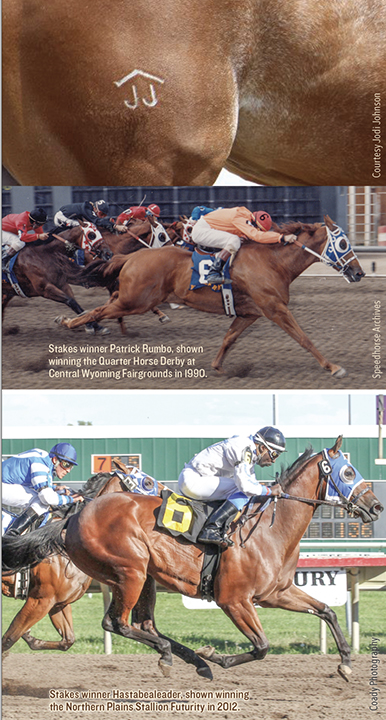 As a sophomore, he won the Canterbury Park Derby-G2 and repeated his freshman Diamond Classic win in the Grade 3 derby. At four he won the Red Earth Handicap at Remington Park, and the Canterbury Speed Handicap and Canterbury Championship-G2.
The 2010 Graded stakes placed gelding Hastabealeader (SI 112) showed his full brother Faster Than Hasta's distance versatility. "He made money at 330s and then went on to run 870," Bob says. His track career spanned eight years with 11 wins, 10 seconds and eight thirds from 41 outs. He won $119,605 taking firsts in his North Central QHRA Futurity trial, the Northern Plains Futurity and the Markel Stakes at two, then seconds in the Minnesota Stallion Breeders/North Central Derby trial, the Prairie Meadows Derby Challenge trial and the final at Fort Pierre. He also won his trial to the Les Bois Distance Challenge at 5, running second in the stakes, and was named 2016 Minnesota Year-End Distance Champion for his career efforts.
The 1973 foal Laughing Herbeta, by Laughing Boy and out of Cowgirl Shank by San Juan Bar, was Gary's training claim to fame. "That mare won nine races as a 2 year old; she won four futurities in a row. That's when [Gary] quit," Bob said, smiling. She won 13 of 46 starts with eight seconds and four thirds, and $21,430 as a multiple stakes winner.

Their Home Lives
Although Bob has some helpers in his racetrack operations, his and Gary's wives, Shilo (whom Bob met at the racetrack in Fargo, North Dakota, and married 10 years ago) and Jodi (whom Gary met at a horse sale in Mandan, North Dakota, and married 24 years ago), star in most of the supporting roles. "Shilo is on the job at the racetrack every day," Bob says. "If I have a horse to haul somewhere, she usually takes it, and she travels with me wherever I go."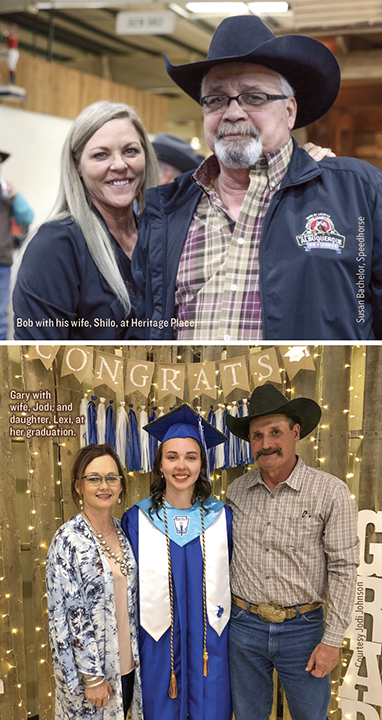 "Jodi works at a sale barn in Lemmon four days a week," Gary says, "and she helps out by keeping track of papering the colts, mare breedings, foaling mares, and the rest of the book work here at the ranch."
Gary and Jodi's daughter Lexi, 18, also worked on the ranch until she left last fall for Black Hills State University in Spearfish, South Dakota.
Although they're not actively involved in the ranch now, Bob's daughter Katelyn also attends Black Hills State University, and step-daughter Cheyann works at a college in Arizona and barrel races. Bob and Gary also have a brother, Mike, who sells used cars in Dickinson, North Dakota. "He's smart; he got a real job," Bob jokes.
When asked what they consider their biggest success, Gary sarcastically says, "Surviving on a horse ranch in the middle of nowhere! It's 90 miles to Walmart!
"We've been raising horses that have been doing really well, both racehorses and barrel horses," he adds. "We bred and raised Hastabeflicknfast (Hasta Be Fast-Flick Your Brakes, No Brakes Now) who was the AQHA Reserve World Champion Senior Barrel Horse this year, and another one that's by our stud but we didn't raise is Whatcha Lookn At (Hasta Be Fast-I Love Crafty, Crafty Ridan), who was the 2018 Women's Professional Rodeo Association (WPRA) Derby Champion."

They also raised Eyes On The Prize, the Five-State Breeders Barrel Futurity Amateur Winner in 2017.
Bob half-jokes that his biggest success is making it through the '80s. "Those were rough times," he says, then adds, "For me, winning over 1,000 races as of 2008 was kind of cool. But South Dakota has all but shut down, so this year we'll go to Miles City, Montana, in April and maybe to Gillette, Wyoming, after that."
In the meantime, they have about 25 horses in the barn headed to the racetrack, and when they're not working on the track or at the ranch, they spend their time going to horse sales.
"This is what we've done our whole lives," Bob concludes.