Remember Me Rose
Posted by Speedhorse on 05/03/2022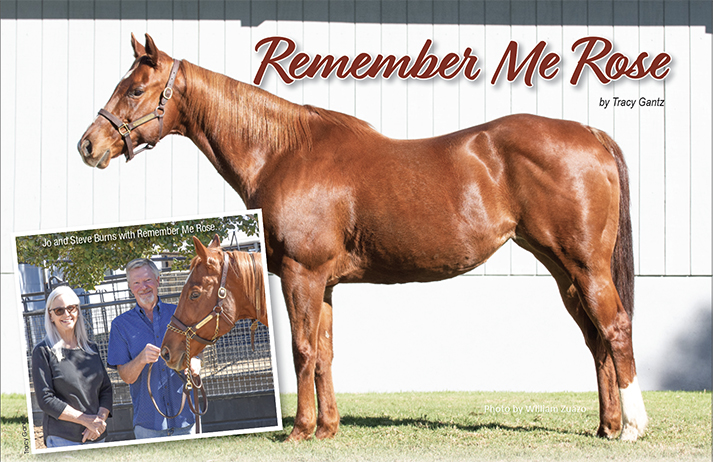 by Tracy Gantz
If Remember Me Rose had sold later in the day at the 2012 Heritage Place Fall Mixed Sale, Jo Burns believes that she and her husband, Dr. Steve Burns DVM, would have missed out on one of the greatest opportunities of their careers.
"She sold relatively early that day, and I think everybody was kind of sitting on their hands," Jo said. "That's the only reason we could afford her because we didn't sit on our hands."
The mare certainly wasn't cheap at $145,000, but if more people had been bidding, the Burnses and partner James Markum would have had to drop out when the price went beyond their budget. Instead, Remember Me Rose ended up with one of the top embryo transfer operations in the country, ensuring that her legacy as a leading producer would be even more profound.
As Remember Me Rose's progeny began winning major races—current runner Powerful Favorite alone has won seven stakes, including four Grade 1 races - her foals have become extremely popular at sales. While many breeding operations wouldn't be able to maximize the mare's ability to produce, the Burnses have often brought multiple embryos to term each year.
Their expertise, along with the large band of recipient mares they keep at Burns Ranch in Menifee, California, enabled Remember Me Rose to produce five foals in 2020, even though she didn't carry any of them herself. All are by Favorite Cartel, the sire of Powerful Favorite and one of the stallions standing at Burns Ranch.
The Burnses sent one each of the 2020 foals to 2021 yearling sales in California, New Mexico, and Oklahoma. While they hoped for good prices, the results far exceeded their wildest dreams.
So So Beautiful, a filly, sold for $520,000 at the Los Alamitos Equine Sale, the top price of the auction and more than double the second-highest price.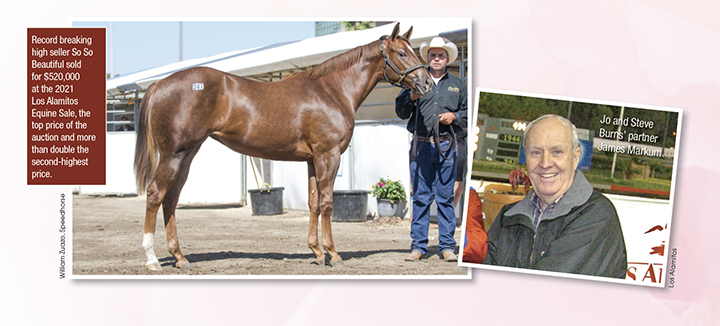 "That was a personal best," said Steve.
"That was so exciting," Jo added. "We didn't anticipate that big a number."
It was especially gratifying to top the Los Alamitos sale because the Burnses partner with Dr. Ed Allred to conduct that sale.
Reminder, another Favorite Cartel-Remember Me Rose filly, topped the Heritage Place Yearling Sale at $450,000, $190,000 above the next-highest price. Cyber Attack, a full brother, sold at the Ruidoso Select Sale for $400,000, the third-highest price.
With multiple foals in one year, placing horses in the right sale can be an art.
"The colt was a nice colt, and they seem to sell better at Ruidoso," Steve explained.
The other four are fillies, and the Burnses sent one each to Heritage Place and Ruidoso. Usually, Steve and Jo market everything they breed unless a problem arises. Fragrant Rose, one of the 2020 Favorite Cartel-Remember Me Rose fillies, developed a small injury, and so she missed the sales.
With Remember Me Rose, a foal of 2004, the Burnses decided to keep one of the 2020 fillies for their broodmare band. They selected Temple Court because she was the youngest, with an April 7 foaling date, whereas the older foals would have more time for growth and preparation before the sales.
An Oklahoma-bred daughter of Corona Cartel out of the Zevi TB mare Im Moonlighting, Remember Me Rose began her racing career in Mexico, winning her first two starts. Before the end of her 2-year-old season in 2006, she ran second in the Rainbow Futurity-G1, qualified for and ran fifth the All American Futurity-G1, and won the AQHA Juvenile Challenge Championship-G2 and Southwest Juvenile Championship. Remember Me Rose ultimately earned $820,895 and added victories in the Sunland Park Winter Futurity-G2 and Ruidoso Derby-G1.
By the time the Burnses and Markum purchased her, Remember Me Rose had produced four foals. Only two had started, and neither had yet won. The first one, Tessta Rossa, became a stakes winner in Mexico. The second one, Mr Perry Rose, won once. Jabulani, an unstarted 2 year old at sale time, ran third in the 2013 Sam Houston Derby-G3, while Remember Me Jessie, then a weanling, never raced.
Remember Me Rose was on her way to a solid producing career, but had not yet produced anything earthshattering. She continued to do well when the Burnses and Markum bred her to Walk Thru Fire, who stood at Burns Ranch, producing 2018 First Down Dash Derby winner Intense Fire. Remember To Dash, by First Down Dash, was stakes-placed.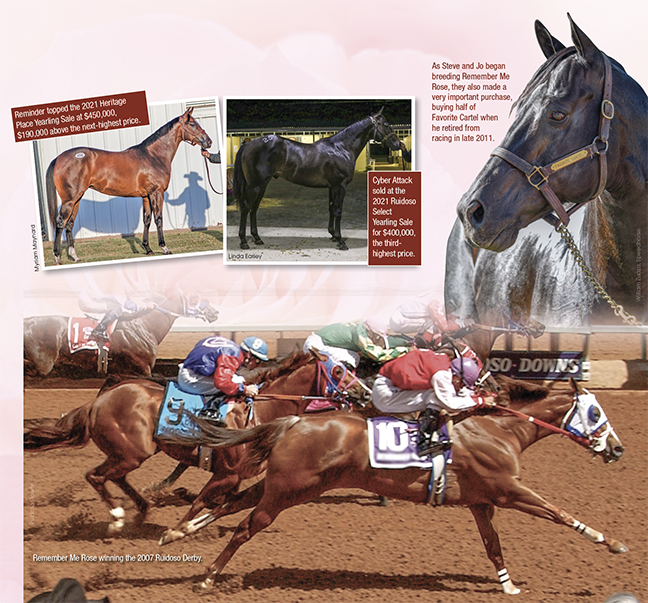 As Steve and Jo began breeding Remember Me Rose, they also made a very important purchase, buying half of Favorite Cartel when he retired from racing in late 2011. A son of Thoroughbred Horse of the Year Favorite Trick, Favorite Cartel is out of the Corona Cartel mare Shenoshercorona. Favorite Cartel was a multiple graded stakes winner and earned $607,669.
"Favorite Cartel doesn't look like he has that much Thoroughbred in him," said Jo. "He's not real big. We like that the Thoroughbred is there, but it's not overwhelming."
Favorite Cartel has developed into a sensational sire when bred to a variety of mares, but he is nicking incredibly well with Remember Me Rose.
"She's a big, pretty mare," said Steve. "She's by Corona Cartel, and he's out of a Corona Cartel mare. So that makes it a 3x2 Corona Cartel cross."
"We've noticed that cross is working for other people, too," said Jo.
"Dr. Allred has that mare Moonlight Corona, who has two Grade 1 performers by Favorite Cartel: Nomadic and Circle City," said Steve.
Moonlight Corona is also by Corona Cartel. Circle City is a multiple Grade 1 winner, and Nomadic has run second in two Grade 1 races and won two Grade 2 stakes.
Remember Me Rose produced her first foal by Favorite Cartel in 2015. Named The Revenant, he ran third in three stakes, including two Grade 2 races, and earned $192,700.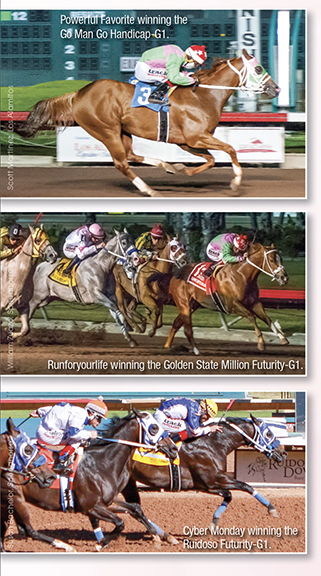 Powerful Favorite, foaled in 2016, continues to race well and has earned more than $1 million. Runforyourlife, one of three 2017 Favorite Cartel-Remember Me Rose foals, won the 2019 Golden State Million Futurity-G1. Cyber Monday, foaled in 2018, won the 2020 Ruidoso Futurity-G1 and now stands at stud at Lazy E Ranch in Oklahoma.
When one of the Favorite Cartel-Remember Me Rose foals don't make it to a sale or don't sell, the Burnses race them and Mike Casselman, Jo's brother, trains them. Go To Girl, a 2018 foal, currently runs for them and dead-heated for first in the Nov. 20 Las Chiquitas Handicap at Los Alamitos.
Markum was a partner in Remember Me Rose and is the co-breeder of Powerful Favorite. He sold his interest to the Burnses, and Steve is the sole breeder of those bred in 2017 and later. Rosenthal Ranch owns Powerful Favorite, and owner Connie Rosenthal and trainer Christopher O'Dell liked him so much that Rosenthal Ranch also bought Runforyourlife.
Those connections are also developing Bomb Cyclone, a Favorite Cartel-Remember Me Rose gelding foaled in 2019. Though he had a few gate problems early, Bomb Cyclone impressed the Burnses in winning in his racing debut last June at Ruidoso.
"He broke dead last by many," said Jo. "And then he just ran by them, like you've never seen happen in a Quarter Horse race. He has a ton of talent."
After three starts at Ruidoso, Bomb Cyclone shipped to Los Alamitos and qualified the fastest for the Los Alamitos $2 Million Futurity-G1 with an incredible 4-length victory in his trial. He won the $2,009,825 final on Dec. 12 by 1 1/2-lengths.
Though so many have run well, the Favorite Cartel-Remember Me Rose foals often don't look alike.
"Bomb Cyclone is real tall and real stretchy," said Jo.

"Powerful Favorite isn't real big," added Steve. "There's quite a bit of difference between them."
"These yearling fillies were also completely different," said Jo.
The physical differences certainly don't seem to matter when it comes to performing on the track.
Remember Me Rose's success story is by no means an anomaly, however. Burns Ranch consistently ranks among the nation's leading breeders, topping them all in 2019 and second only to Bobby Cox in 2020. Other stallions and mares have contributed substantially to Burns Ranch, which though based in Southern California, has its roots in Colorado and Texas.
Jo met Steve in Colorado when he was training horses and getting ready to attend vet school.
"I loved the racetrack, so my thought was to go to vet school and end up right back at the racetrack," Steve said. "But I got out of vet school and ended up on a breeding farm."
The racetrack's loss was the breeding industry's gain. Steve worked for Herb Graham in Texas, and Pete Parrella in California, before Steve and Jo bought Burns Ranch in Menifee. Steve's career has paralleled the development of embryo transfer, and he has been one of the pioneers in non-surgical embryo transfer.
The Burns team has long included Jose Pantoja, who is the ranch manager. Steve and Jo's adult children, Cade Burns and Kristin Eller, are now also involved. Cade is a veterinarian, and Kristin is instrumental in running the office.
Burns Ranch performs embryo transfers not only for the Burns broodmare band and many other Quarter Horse breeders, Steve's clients also include breeders of Arabians, warmbloods, and several other breeds. The ranch maintains a large band of recipient mares, who spend time with clients as they foal and raise their babies and then return to Burns Ranch after weaning, resulting in the mares producing foals every other year.
As an additional bonus, Burns Ranch provides a good second career for mares whose bloodlines might not make them valuable, especially from the Thoroughbred industry.
"It's a good life for those mares," said Jo. "They get to be moms, foal every other year, and get the best of care."
Embryo transfer enables talented race fillies to continue competing and still begin their producing careers with the help of these recipient mares. Especially with horses at Los Alamitos, which is about 65 miles west, Burns Ranch offers an easy way to pull embryos from a filly and send her back to the track without too long a disruption.
Once a mare they own retires from the track, Steve and Jo usually let her carry one or two foals herself.
"We think that's important for their fertility," said Jo.
"For some reason, if a mare has a foal, her cervix tends to function a little bit better later in life," said Steve. "The old maiden mares are the most difficult ones to be successful with."
Though most of the embryo transfers Steve performs are for clients, he also does them for the Burns Ranch broodmares. That band includes mares acquired after racing, such as Remember Me Rose, and ones they bred and raced themselves.
Tahma Hawk is a Burns homebred who is doing well as a producer. Her foals include 2020 Governor's Cup Futurity-RG1 winner Constituent, multiple graded stakes winner Oldsmobile Hill, stakes winner Stel Hawk, and five stakes-placed runners.
Stakes-placed Babe On The Fly, on the other hand, already had several foals before Steve and Jo acquired her. She has produced 2014 Ruidoso Derby-G1 and All American Gold Cup-G1 winner Rock You, 2015 Golden State Million Futurity-G1 winner Little Talks, six other stakes winners, and four stakes-placed runners.
Little Talks is by Favorite Cartel, and several of Babe On The Fly's black-type runners are by Walk Thru Fire. The latter stallion was a major sire standing at Burns Ranch, though he is now pensioned.
Fly Thru The Fire, a stakes-winning son of Walk Thru Fire and out of Babe On The Fly, stands at Burns Ranch. The Burnses tried breeding Remember Me Rose to Fly Thru The Fire for a 2022 foal, but that foal resorbed.
Such are the vagaries of embryo transfer and equine reproduction in general that there is never a guarantee. After five Remember Me Rose foals in 2020, the mare only has one 2021 foal, a Favorite Cartel filly. But she has three Favorite Cartels percolating for arrival in 2022, which could mean another banner sale year for the Burnses in 2023.