Mr Jess Jenkins Wins The All American Dream
Posted by Larry Thornton on 07/09/2020
Prior to the running of the All American Futurity, it is interesting to delve into the race records of the finalists to see how they got the opportunity to fulfill their All American Dream. This year was like every year – we saw horses coming from all backgrounds and racing experiences. We saw one trainer have two horses in the trials with both horses qualifying to the finals. Both horses were lightly raced. Then we had a horseman come into the finals with no wins after many years of trying and when the gates opened, he had two qualifiers and one of them was the betting favorite. But, it was Mr Jess Jenkins that seemed to come from nowhere to fulfill the All American Dream for his connections. He went to the post as a 13-to-1 longshot to cement his place in history by winning the 2019 All American Futurity G1.
Mr Jess Jenkins came into the All American trials with three starts, having failed to place in any of his races. He started with an eighth in his first start, a sixth in his second start and a fourth in his third start. Along the way, Mr Jess Jenkins went through a life changing event when he was gelded. The fourth start for Mr Jess Jenkins was in the first day of the All American trials, breaking his maiden and posting the third fastest time of the day in :21.751. He would be the overall sixth fastest qualifier in the finals.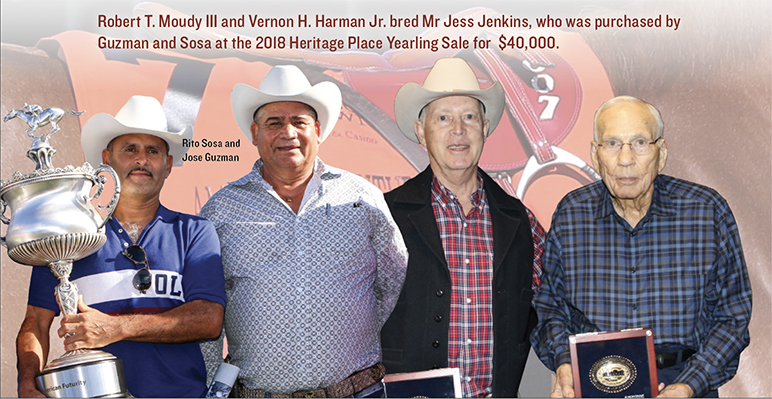 When the gates opened for the finals, it appeared that two of the most successful runners – Mister Riptide with four wins in five starts and the betting favorite, and Determined One with three wins from five starts – appeared to be on course to battle it out for first place. Then at the wire, a flying Mr Jess Jenkins earned a neck win over Mr Riptide in second and Determined One in third. Mr Jess Jenkins won the $1.5 million winner's share of the $3 million purse for owners Jose Guzman and Rito Sosa of Dallas, Texas. He was ridden by James A. Flores and trained by Marcos Carrizales. His time was :21.302.
Mr Jess Jenkins was purchased by Guzman and Sosa at the 2018 Heritage Place Yearling Sale for $40,000. They bought him from his breeder – the partnership of V. H. Harman Jr. and Robert Moudy III of Dennis, Texas.
Mr Jess Jenkins was sired by Apollitical Jess and out of the unraced mare Fetching Image by Dashing Cleat. We will take a look at the pedigree of Mr Jess Jenkins, with Robert Moudy III filling us in about the pedigree, and he will also tell us how the horse got his name.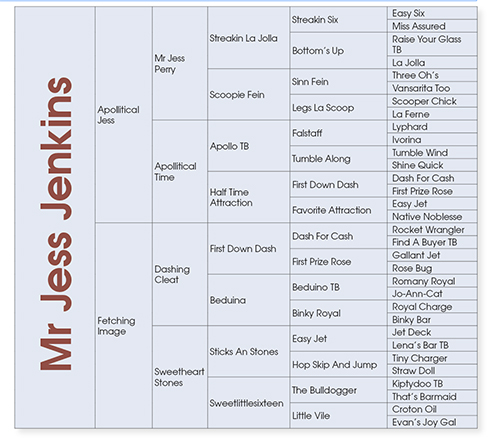 The exposure of Robert Moudy III to Quarter Horses goes back to his youth. He recalled one of his early acquaintances this way, "I was raised out at Wayside, Texas, right next to Malcolm McGee and he had a couple of horses – Sergeant and Bartender. Malcolm told me he was holding Sergeant when he covered Yeager's Lady JA and they came out with FL Lady Bug." FL Lady Bug is an AQHA Hall of Fame member and the dam of such horses as leading sire Lady Bug's Moon, who is found in the pedigrees of horses like First Down Dash.
Moudy added, "We bred one of our ranch mares to Sergeant and got a heck'va rope horse. It all goes back, and we have been in it all of our life and still got some pretty good ones."
V. H. Harman Jr. has similar Texas roots and Moudy explains how they got to know each other. "I got to know him at Happy, Texas. He was an elevator man, feedlot man and a banker. He has always been into horses. He just missed on horses like Refrigerator and some other pretty good runners. But now we are the breeders of an All American Futurity winner."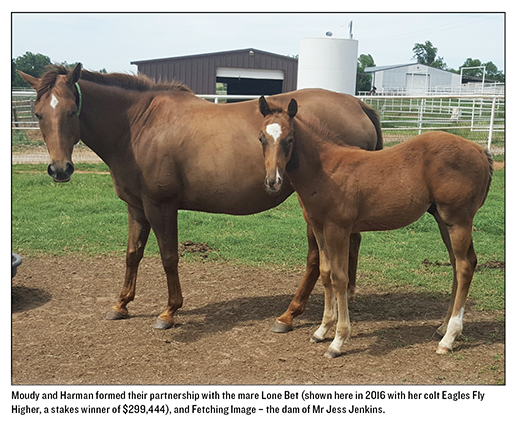 The two horsemen formed their partnership with Lone Bet, a daughter of First Down Dash, and Fetching Image, the dam of Mr Jess Jenkins. Lone Bet was raced by the partnership of James G. Markum and Robert Moudy III. Moudy bought her outright in 2012, and then formed his partnership with Harman in 2014. She then produced Eagles Fly Higher for the partnership. He is the winner of $299,444, while winning the 2018 Remington Park Juvenile Stakes and finishing second in the 2018 Texas Classic Futurity-G1, which was won by Champion Flying Cowboy 123.
Fetching Image came from the breeding program of a trainer named Marvin Gilreath and his wife Sandra. Moudy explains how it came about, "Marvin Gilreath was using my barn and my place. So we've had Fetching Image, her mama and her grandam here for a number of years. The grandam was Sweetlittlesixteen. She was a Bulldogger mare and she raised several stakes qualifiers. One of them was Sweetheart Stones, and Fletching Image was one of her babies."
He added, "Fetching Image as a young two year old was showing all kinds of promise. Marvin carried her over to Lone Star and worked her in the company of five other horses. I think one of them had run second in the Blue Ribbon Futurity, and she beats them by about a length and a half at 220 yards. So we knew we had something and doggoned if she didn't founder and that ended her racing career, so she became a broodmare.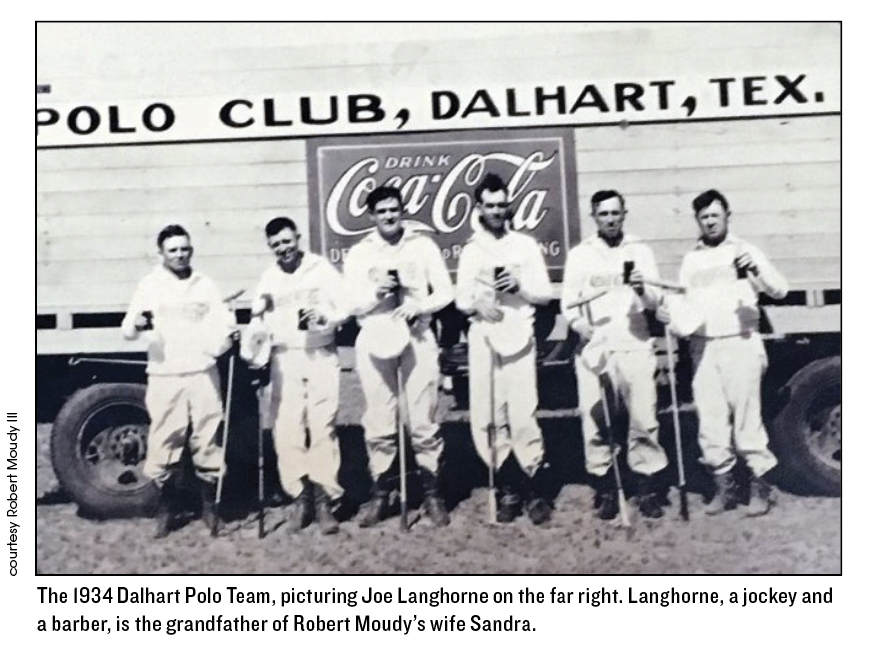 "Most of her fillies have sold to Rex Wells, a friend of mine from out at Friona, Texas," Moudy continued. "He's got one out of Fetching Image named MSG Wicked Hussy by Terribly Wicked. He matched that mare. They tell me 18 match races, and she won 15 out of 18. She didn't do much on the track, but she was a heck'va match horse. She's got a Big Daddy Cartel filly by her side that is outstanding. So, Rex is pretty high on that foal. The last baby we raised out of Fetching Image was a BV Travelin Soldier foaled in 2018, and her name is Soldier Sweetheart. He says she looks like a good one."
That brings us to the how Mr Jess Jenkins got his name, and Moudy responded this way. "Let me tell you how he got his name. Mr Jess Jenkins was a saloon keeper at Old Tascosa. And he ended up running lots of horses."
He continued explaining the family ties to Jess Jenkins. "My wife Sandy was Sandy Langhorne (before marrying Moudy) and her granddaddy was Joe Langhorne, a jockey and a barber.
"Langhorne came up from Mineral Wells headed to Clayton," he continued. "He was going to be a barber and raise his family. He gets off the train at Dalhart because the Boston Bloomers (a woman's novelty baseball team) was playing a local baseball team. I think that was in 1910, and after the game he goes into the barber shop and he asked the barber if he would sell the place. 'Sure, anything I've got is for sale.' He said, 'How much?' and the guy says, '$400.' Joe counts out $400. The barber says, 'When do you want to take over?' and Joe says, 'I'll finish that fella you're working on,' and that fella was Jess Jenkins."
The history of the man Jess Jenkins goes back to the infamous Texas town of Old Tascosa, now a ghost town in the Texas Panhandle. Jenkins was the co-owner of the infamous Dunn and Jenkins Saloon. Old Tascosa is known for its well documented history in the few years that it existed. It was a town that was considered an important cattle center for area ranchers. The town is noted for its role in the "Great Cowboy Strike" in 1883, when the local ranch hands went on strike in revolt of the absentee ranch owners for poor wages. Old Tascosa is also known to have had such residents as Billy The Kid and Pat Garrett, who was once hired to clean up Old Tascosa.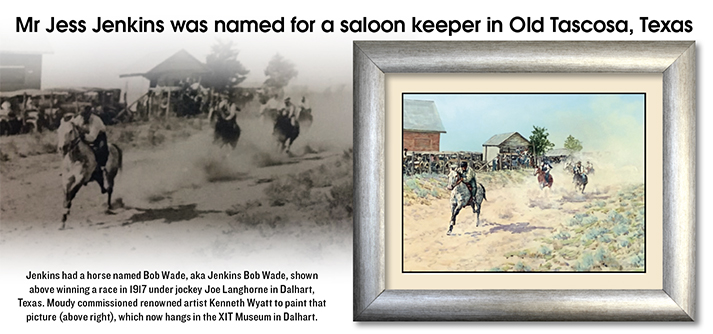 The Dunn and Jenkins Saloon was also the location of the gunfight in 1886 that saw four men killed. This gunfight was an extension of those involved in the "Great Cowboy Strike" in 1883. The four killed were Jesse Sheets, an innocent bystander, Ed King, Frank Valley and Fred Chiltern, who were the LS Ranch cowboys killed, and the two wounded were Charles Emory and L. E. Woodruff, a bar keeper for the Dunn & Jenkins Saloon. Charles Emory (wounded in the fight) and Louis Bowman were arrested for the murders.
Moudy continued, "Jess had a horse named Bob Wade and I've got a picture of ole Bob Wade and it hangs in the XIT Museum at Dalhart. I had Kenneth Wyatt commissioned to do a painting of that picture, so I have the painting of Ole Bob Wade winning a race in Dalhart in 1917. The jockey for the race was Joe Langhorne." This leads us to ask—Which Bob Wade did Jess Jenkins own?
This was an era before the AQHA, and this has led to many of the great horses having their name used many times. The original Bob Wade was a gelding that set a world record for the quarter in 21 ¼ seconds. The record was set at Butte, Montana in 1890. This record stood for many years until Dash For Cash broke it. This famous Bob Wade was a bay gelding foaled in 1886. He was registered with Jockey Club for racing purposes, and his sire was given as Roan Dick, who was foaled in 1877 and died 1904. Roan Dick was sired by Black Nick by Stewart's Telegraph, and Roan Dick was out of a mare by Greenstreet's Boanerges, a grandson of Printer, a grandson of Janus. The dam of Bob Wade is listed as Nettie Overton. She is somewhat of a mystery and we see three versions of her pedigree. She is listed by some as sired by Roan Dick, the sire of Bob Wade. Some report that she was sired by Steel Dust, and some just list her pedigree as unknown. She has also shown up as the dam of Barney Owens, the sire of Dan Tucker, the sire of Peter McCue. But many pedigrees indicate that Barney Owens was out of Dollie Overton and her pedigree is unknown. The Quarter Horse historian Helen Michaelis believed this Bob Wade was sired by Old Billy and bred by Billy Fleming, the owner of Old Billy. The Morgan supporters believed that this Bob Wade was a Morgan horse.
The key figure in all of this is Robert T. Wade of Plymouth, Illinois. He was the owner at one time of Roan Dick and Nettie Overton, and during this time he became the breeder of Bob Wade the world record holder. Thus, the bay Bob Wade got his name from his breeder and this was a very common practice to name a horse after the breeder. Example: The stallion Old Billy got his name from his longtime owner Billy Fleming.
The Roan Dick runners were well known and two of them were Nettie S, a gray mare, and Jim Miller, a chestnut gelding. Nettie S set a world record for 600 yards at Butte, Montana, going in a time of 30 ¼ seconds. Her next race was with Bob Wade where he set his world record, and she finished second by a head. Bob Wade also broke the 440-yard world record of 21 ½ seconds that had been set by his half-brother Jim Miller in 1888.
The Ole Bob Wade in the race picture is today known as Jenkins Bob Wade. He was a gray horse, and we don't have any information on his pedigree. It is believed that the man Bob Wade was the breeder of Nettie S. So, this leads us to speculate that Jenkins Bob Wade may have had ties to the man Bob Wade, as the original Bob Wade was a gelding that never sired any foals.
But when we delve into the pedigree of a horse named Little Jess foaled in 1939, we get some history on this Jenkins Bob Wade and an important mare that he was supposedly bred to. The breeder of Little Jess was J. R. Jenkins of Corona, New Mexico. Little Jess was sired by Jessie J by Jenkins Bob Wade. This horse was registered as AQHA #14,571. The breeder of Jessie J, who was foaled in 1926, is listed as Jess Jenkins of Dalhart, Texas. The AQHA Stud Book shows that the dam of Jessie J was Dottie by the Thoroughbred Antigo II. Her dam was a mare named Indian Girl, pedigree unknown. Indian Girl was a match race mare owned by Jess Jenkins.
The dam of Little Jess was a Quarter Horse mare named Useeit by Tiff, a Thoroughbred. The dam of Useeit was U Tell Em by Jenkins Bob Wade and out of the Thoroughbred mare Useeit by Bonnie Joe. This second Useeit was the dam of Black Gold, winner of the 1924 Kentucky Derby, and of Beggar Boy, and both of these colts were sired by Black Toney. Beggar Boy is best known to us as a part of the Ronald Mason breeding program, the last home of Oklahoma Star P-6. We see the blood today of Beggar Boy in the tail female line of FDD Dynasty, Apollitical Blood, and the 2019 All American Futurity qualifier De Mischievious Jess. Black Widder, a daughter of Beggar Boy, is in the tail female line of these runners. U Tell Em and her full sister Catch Me were the only Quarter Horse foals known to be out of Useeit TB, the dam of Beggar Boy and Black Gold.
This is where this gets complicated — the AQHA Registration file for Little Jess shows that the dam of U Tell Em by Jenkins Bob Wade was out of I See It. This is a 1910 mare that is a full sister to Useeit. But official AQHA records show that U Tell Um was sired by Jenkins Bob Wade and out of Useeit TB. No matter the true pedigree, we do know that Little Jess has a breeding pattern of 2 X 3 to Jenkins Bob Wade.
Little Jess was the sire of three starters, with two ROM including the AAA runner Mr Scott. This horse was the winner of 10 of his 80 starts, and a sixth place finisher in the 440 Champion Stakes at Ruidoso Downs in 1955. The daughters of Little Jess produced six starters with two ROM. His daughter Estrellita Sue is the dam of the ROM runners Bounding Sue and Parr Black. Bounding Sue was a AAA rated runner.
Joe Langhorne became a barber and a jockey as we see in the Jenkins Bob Wade photo. He was also interested in another activity that was very popular in the 1930's. Moudy explains, "Sandy's granddad messed around with Polo ponies. He sold a bunch to Will Rogers and they were dear friends." Moudy goes on to explain that Will Rogers and Joe went on hunting trips. One of those trips was to The Philmont Ranch that was donated to Boys Scouts of America. This was also where the AQHA Hall of Fame stallion Plaudit was bred.
Langhorne became a civic leader and during the depression of the 1930's when the area was being devastated, he became an integral part of the "Last Man Club." This was an organization that worked to keep the community going till after the depression.
Now that we know where Mr Jess Jenkins got his name, we can continue with his pedigree. Our look at the pedigree will begin with Sweetlittlesixteen, which is where Moudy felt it all started.
Sweetlittlesixteen was an ROM race mare with an 88 speed index. She was first, second or third in 11 of her 20 starts. She was stakes placed with a second in the 1984 American Eagle Futurity at Beulah Downs. She was also a finalist in the 1984 Midwest Futurity and in the 1984 Paducah Downs Premier Futurity.
The produce record of Sweetlittlesixteen shows that she had 14 foals, with 11 starters with 8 ROM. She was the dam of horses that earned $207,244. Her leading money earner was Blazin Stones, winner of $94,178 with 11 wins, 4 seconds and 7 thirds from 34 starts. He was stakes winner of the 1994 Trinity Meadows Derby-G3 and third in the Speedhorse Gold & Silver Cup Derby-G3. She also produced two stakes qualifiers, including Sweetsixteen N Gone, an ROM runner with a speed index of 96, who was a finalist in the 2000 Sundowner Trailer Stakes and 2000 La Villita Stakes with $14,862 in earnings.
The sire of Sweetlittlesixteen was The Bulldogger, a AAA rated runner that was a stakes winner of $194,972. He won the 1977 Golden State Derby and was second in the 1976 Sunland Futurity. He was the sire of only 63 foals, with 36 starters from four foal crops. They earned 20 ROM and $216,653. His leading money earner is Dyno Dog with winnings of $52,915 and a fourth in the 1984 Los Alamitos Juvenile Invitational Handicap-G2. He was the sire of the stakes placed runners: Bimy Bull Bars, with three thirds in stakes races including the 1987 San Jose Handicap; Torromega, with a third in the 1984 Central Wyoming Fair Futurity; and Bulldoggers Cache, a third place finisher in the Trinity Lassie Futurity.
The Bulldogger is the maternal grandsire of horses that have won $1,516,221.50 from 58 starters. This includes 44 ROM and three stakes winners. His leading money earner is the 1997 and 1998 AQHA World Champion SLM Big Daddy, who won over $1.1 million. He was also the Champion Aged Horse and Champion Aged Gelding in both of those years. He was a two-time winner of the Champion of Champions-G1, first in 1997 and then again in 1998. He won a total of 14 stakes races after starting in the claiming ranks in 1994.
The sire of The Bulldogger is Kiptydoo, an unraced Thoroughbred stallion. He is the sire of horses such as Kiptys Charger, winner of 1978 Pomona Futurity and the 1979 El Primero Del Ano Derby. One of his other runners was Kipscash, earner of $286,098 and the winner of the 1987 Go Man Go Handicap-G1.
Kiptydoo was sired by Anyoldtime, a son of Eight Thirty by Pilate. The dam of Anyoldtime is Never Again by Pharos, who is the sire of Nearco the sire of Nasrullah and the grandsire of Northern Dancer. Kiptydoo is out of Irish Kip by Royal Charger by Nearco by Pharos. Royal Charger is a 3/4-brother to Nasrullah. This gives Kiptydoo a breeding pattern of 4 X 5 to Pharos.
The dam of The Bulldogger is That's Barmaid, a winner of five races from 34 starts with $5,385 in earnings. She was a finalist in the 1964 Jack Oakie Stakes at Los Alamitos. Her produce record shows that she is the dam of 14 foals and 10 starters, with six ROM and two stakes winners. Her leading money earner is The Bulldogger and her second stakes winner is I'm Kipty, a full sister to The Bulldogger who won the 1974 St Nicholas Express 2nd Division and the Sacramento Stakes with $55,534 in earnings.
The sire of That's Barmaid is That's My Boy by Depth Charge. The dam of That's My Boy is Ada Fields by Gotch, a son of Little Joe. This is the Little Joe that sired Zantanon, the sire of King P-234. Ada Fields is out of Patty Ann by Uncle Jimmy Gray. The sire of Uncle Jimmy Gray is Bonnie Joe, the sire of Useeit.
Miss Red Bars, the dam of That's Barmaid, is an unraced mare that produced five foals and one performer in That's Barmaid. The sire of Miss Red Bars is Lluvar Ray by Rain Cloud. The dam of Lluvar Ray is Reina Rey, who is the dam of AQHA Supreme Champion Lightning Rey. The dam of Miss Red Bars was 00 Miss Bar 4 by Red Bar by Three Bars, and she is out of Miss Carnation by Daybreak.
Sweetheart Stones is the second stakes qualifier out of Sweetlittlesixteen. She had 29 starts with four wins, seven seconds and four thirds earning $21,281. She was a four time stakes qualifier with her best finish a fifth in the 1992 Lone Star Derby.
When you look at the produce for Sweetheart Stones, you see a very consistent record. She is the dam of 17 foals, 14 went to the track with all earning their ROM. Her foals earned $328,185.66. Her leading money earner is MSG On Easy Street, who won $93,440 as a finalist in the 2013 Mr Jet Moore Handicap-G3 and 2013 Brigand Stakes.
One of Sweetheart Stones' foals was Sweethearts Lady, a stakes qualifier in the 2001 Ruidoso Derby. This mare is the dam of Sunny D, winner of the 2010 Bill Hedge Memorial Stakes. Sweethearts Quicksix is another ROM earning daughter of Sweetheart Stones. Sweethearts Quicksix is the dam of Snow Burn, winner of the 2008 AQHA Distaff Challenge Championship-G1, and Heroes Heart, winner of the 2012 AQHA Juvenile Challenge Championship-G2 and 2012 Prairie Meadows Juvenile Championship Challenge.
Sticks An Stones, the sire of Sweetheart Stones, was well raced at two and three with 25 starts, eight firsts, six seconds and one third, earning $155,540. He was stakes placed from 13 starts at two with a second in the 1985 Cypress Handicap-G3 and a third in the 1985 Dash For Cash Futurity-G1. He made 12 starts at three with a stakes win in the 1986 TQHA Texas Classic Derby-G3 and a second in the 1986 Vandy's Flash Handicap-G3.
Sticks An Stones had 285 starters with 185 ROM with 10 stakes winners and 13 stakes placed runners earning $2,531,006.50. His leading money earner is Marked Stones with earnings of $173,534 winning the 1995 Speedhorse Gold & Silver Cup Derby-G2, 1995 Longhorn Derby and 1996 Trinity Meadows Sprint Challenge. Sticky N Picky, winner of $117,391, was the winner of the 1994 First Down Dash Handicap and 1994 Bobby Doyle Handicap. The daughters of Sticks An Stones have produced foals that have earned $2,849,061.66 from 207 starters with 146 ROM and 10 stakes winners. As a broodmare sire, the leading money earner of Sticks An Stones is Executive Looks with of $277,891 winning the 2008 Manor Downs Futurity-G1, 2009 Classic Chevrolet Heartbeat of America Handicap-G3 and 2009 La Villita Stakes.
The sire of Sticks An Stones is the legendary Easy Jet, a son of Jet Deck and the great mare Lena's Bar by Three Bars. Hop Skip And Jump, the dam of Sticks An Stones, is a stakes winner of the Leo Handicap and $53,479 in earnings. She is the dam of Hippity, winner of the 1983 Jack Robinson Invitational Handicap. Hop Skip And Jump is also the dam of Skip Chaser, the dam of Tihswa who won the Marco Smolich Handicap. Tihswa is the dam of Outlasting, the dam of Last Shall Be First, who is the dam of Last To Fire, the 2013 AQHA Racing World Champion, Champion Aged Horse and Champion Aged Gelding. This makes Hop Skip N Jump the fifth dam of Last To Fire in the tail female line.
Fetching Image, one of two non-starters out of Sweetheart Stones, is the dam of 10 foals, nine starters, seven ROM and two stakes winners. Mr Jess Jenkins has now made her a million dollar producer of $1,607,059. Her other stakes winner is MSG Image Of Sixes, winner of the 2015 Selma Stakes with $33,684 in earnings. MSG Wicked Hussy, the match race daughter of Fetching Image, officially has earnings of $13,546 and was a finalist in the 2016 Ruidoso Derby Challenge.
Dashing Cleat, the sire of Fetching Image, was a stakes placed runner that earned a speed index of 111 with earnings of $77,872. He was second as a two year old in the 1991 QHBC Juvenile Classic-G1, 1991 Cowboy Classic Futurity and 1991 Mid-Summer Sizzler, with a third in the Twaynas Dash For Cash Futurity-G3. At three, he was a finalist in the 1992 Gold Rush 870 Derby-G3 and California Sires Cup Derby-RG3.
Dashing Cleat may have had a modest race record, but he became a million dollar sire with earnings of $5,253,714 from 259 ROM, with 26 stakes winners and 16 stakes placed runners. His leading money earner is LDS Dash For Dylan, winner of $417,402 winning such stakes as the 2005 AQHA Derby Challenge Championship-G1, 2005 Northwest Derby Challenge-G3, 2005 Old Habits Handicap, 2005 Z. Wayne Griffin Director's Stakes Division 1, 2006 Northwest Championship Challenge-G2 and the 2007 Northwest Championship Challenge-G2. Monday Dash, a winner of $55,838, is another of Dashing Cleat's stakes winners in the 1997 Oklahoma Derby-G2. The maternal grandsire record for Dashing Cleat shows that his daughters have produced the earners of $4,459,571.87 with 162 ROM runners, 13 stakes winners and 13 stakes placed runners. He counts among his runners in this division Riden With The King with earnings of $89,966.
Dashing Cleat is by First Down Dash, the all-time leading sire of money earners with over $85 million. He is by Dash For Cash and is out of First Prize Rose by Gallant Jet. The dam of Dashing Cleat is Beduina, a race winner of $4,103 and a stakes finalist in the 1985 Dash For Destiny Futurity. She is the dam of Abadasher, winner of $100,291 including the 1993 Town Policy Handicap-G3 and 1992 QHBC Freshman Classic-G3.
Beduina is a daughter of Beduino, the all-time leading Thoroughbred sire of Quarter Horse money earners with $13,099,594. His leading money earner is Strawberry Silk, winner of the 1989 All American Futurity. Beduino is by Romany Royal and is out of Jo-Ann-Cat by Rejected. The dam of Jo-Ann-Cat is Quick Eye by Depth Charge. The dam of Beduina is Binky Royal, a stakes winner in the 1970 Malad City Futurity. The sire of Binky Royal is Royal Charge by Depth Charge. This gives Beduina a breeding pattern of 4 X 3 to Depth Charge. Her dam is Binky Bar, who is by Sugar Mint and out of Dexter's Fancy.
Mr Jess Jenkins gave Apollitical Jess his second consecutive All American Futurity winner. Apollitical Jess, the 2010 AQHA Racing World Champion, set the Quarter Horse racing world on fire in 2018 with his foals earning a record amount of $8,081,679. His leading money winner for the year was Apocalyptical Jess, his first All American Futurity winner. Apollitical Jess has total earnings of $30,024,262, and he is on a roll to repeat as the leading sire of money earners in 2019.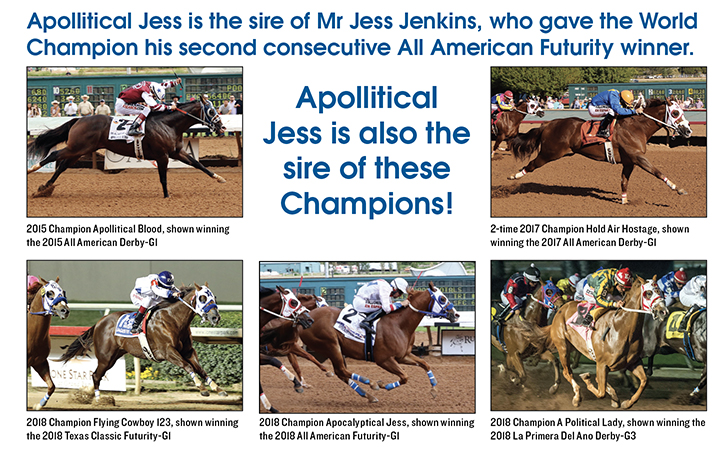 Apollitical Jess is by Mr Jess Perry, the #3 all-time leading sire of money earners with $56,267,528. Apollitical Jess is one of Mr Jess Perry's leading money earners with $1,399,831 winning the 2010 Los Alamitos Super Derby-G1, where he set a track record for 400 yards at Los Alamitos going :19.133, and the Champion of Champions-G1, where he set another Los Alamitos track record of :20.939 for 440 yards.
The dam of Apollitical Jess is Apollitical Time, the 2005 AQHA Champion Three-Year-Old Filly, 2006 AQHA Champion Aged Horse and 2006 AQHA Racing Champion Aged Mare. She was also the 2010 AQHA Champion Broodmare the Year when her son won the World Champion title. Apollitical Time is by Apollo TB and out of Half Time Attraction, a daughter of First Down Dash. Half Time Attraction is out of Favorite Attraction by Easy Jet, and Favorite Attraction is out of Native Noblesse by Raise Your Glass TB.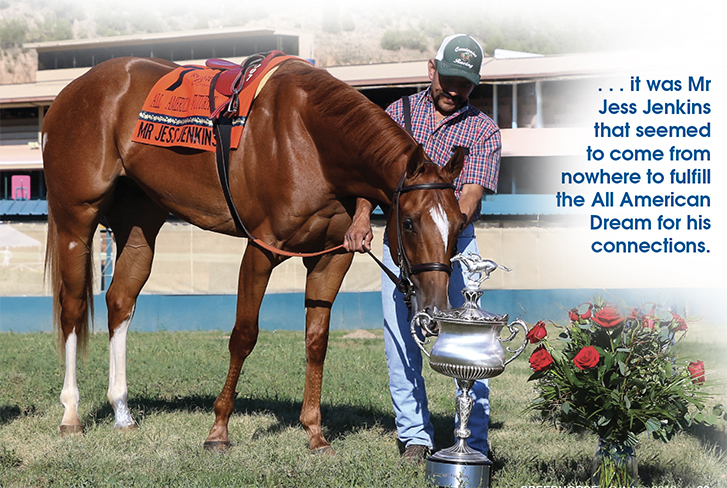 When I asked Moudy why they bred to Apollitical Jess, he responded that he always liked Mr Jess Perry and he especially liked the speed of Apollitical Jess, and he thought Apollitical Jess put more leg under his runners. He also liked Apollo TB in the pedigree of Apollitical Jess as a factor in his decision to breed to Apollitical Jess.
THE BREEDING PATTERN
The breeding pattern we see in the pedigree of Mr Jess Jenkins is "returning the blood," which we see so often in our runners today. This time, we see the linebreeding set up by the crossing of Half Time Attraction who is by First Down Dash and out of Favorite Attraction by Easy Jet. Then we drop down and we get the First Down Dash/Easy Jet blood through Dashing Cleat by First Down Dash and Sweetheart Stones by Sticks An Stones by Easy Jet. This linebreeding pattern is then outcrossed on Mr Jess Perry, the sire Apollitical Jess.
Moudy, however, had some bad news. "We had to put Fetching Image down last year," he stated. "She was at the Dunn Ranch. I had Fetching Image and Lone Bet at the Dunn Ranch and both mares were bred to Apollitical Jess." At the end of our conversation, Moudy expressed his appreciation for the Dunn Ranch and their support during this great loss.
The loss of Fetching Image is the sad news, but at the same time we are just now seeing that Mr Jess Jenkins is beginning his winning ways as a runner. At the same time, the Harman/Moudy partnership has Lone Bet at the Dunn Ranch with her Apollitical Jess foal, and she is rebred to this great stallion. Maybe they will have another run at the All American Dream down the road. Nobody wants to stop with just one win!