Mikel Donahue
Posted by Speedhorse on 05/03/2022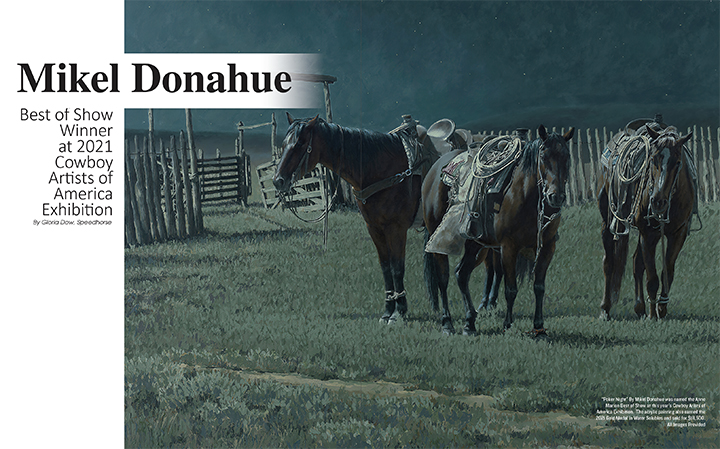 By Gloria Dow, Speedhorse
Founded in 1965, the Cowboy Artists of America (CA) is an organization dedicated to authentically preserving the culture of Western life in fine art and portraying the lifestyles of the cowboy and the American West, as it was then and as it is now. The CA is one of the most influential artists' groups in American history. The 55th Annual Cowboy Artists of America Exhibition & Sale was held Nov. 5-6 at the Will Rogers Memorial Center in Fort Worth, Texas. Total sales topped $1.2 million, with 72% of the exhibited works sold. Proceeds from the sale and exhibition help fund the Joe Beeler Foundation, which supports the CA in educational efforts through workshops, scholarships and other ventures.
This year's event, presented by the Fort Worth Stock Show & Rodeo, honored longtime CA benefactor Anne W. Marion. Premier artist Mikel Donahue's Poker Night, an acrylic painting that earned this year's Gold Medal in Water Solubles, also won the Anne Marion Best of Show Award and sold for $18,500. His Burning Daylight work won the Gold Medal in Mixed Media.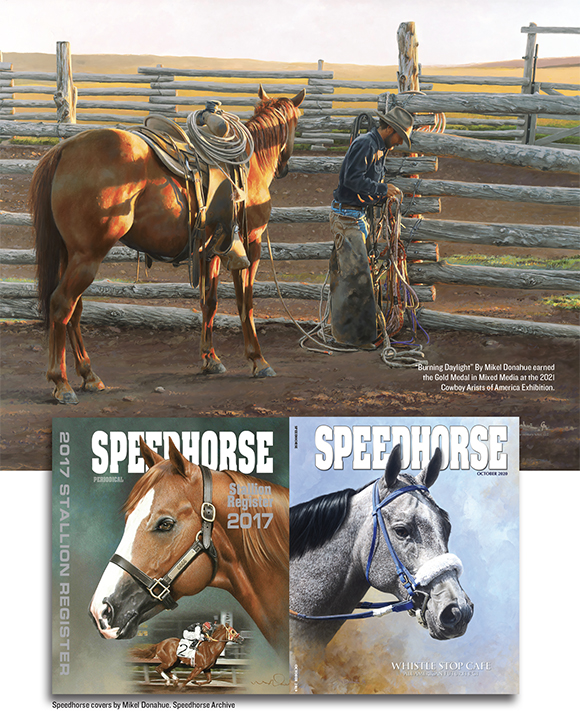 Donahue presented a total of five pieces of art at the event, the two mentioned above as well as The Hired Hand Colt, The Bolter and Moving Along.
Mikel was inducted as a member of the Cowboy Artists of America in 2016, and the CA has given him the recognition he so rightly deserves. He has won a medal or medals every year at their annual exhibition. "I've always admired the CA as the epitome of what western art is. It's a very selective and diverse group of members, but we all have the same mind-set about the culture of the west," he said.
As a child, Mikel loved to draw horses. After graduating from Will Rogers High School in Tulsa, Oklahoma, Mikel earned a Bachelor of Fine Arts degree from the University of Tulsa. He then went to work for Ad Inc. and became a multiple award-winning designer there. "In school, I was trying to figure out what I wanted to do. I thought, 'Well, I like to eat,' so I decided I needed to have a real job and I focused on commercial design. I spent 30 years working, all the while doing my own art."
Mikel exhibited his work at many top art shows, and he finally made the move and quit his job when his wife Christie emboldened him to become a full-time artist. "Christie really encouraged me. She said, 'This is your dream - do it.' She kind of hit the go button."
Mikel has been a full-time artist ever since but admits he has had some ups and downs over the years. "In the beginning, I attended some big shows and got a lot of exposure and sold a lot of my art. Then, there were times when I couldn't give it away!"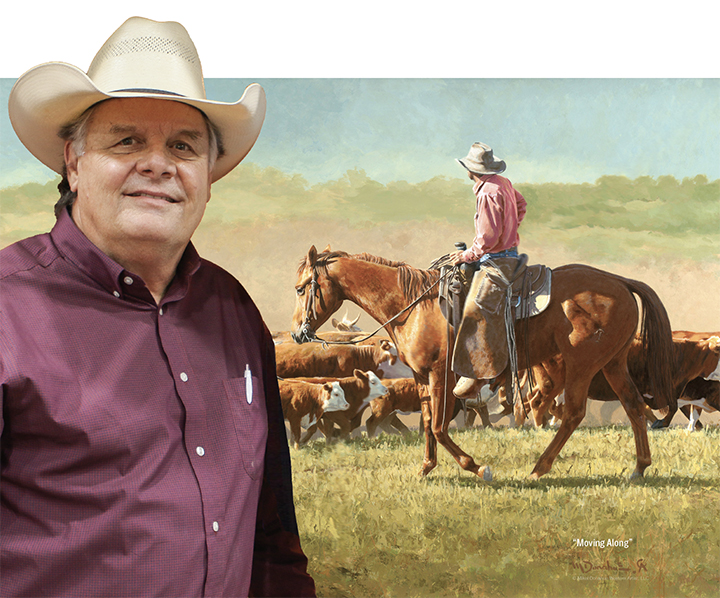 When it comes to his art, Mikel believes it is important to be able to paint things he can relate to - real people, real places. "It's very important to me to be honest about who they are.
"I've been able to paint some really important racehorses," he added. Horses like Corona Cartel, Valiant Hero, One Famous Eagle, Ochoa, Noconi, Mr Jess Perry, and many others, giving him even more exposure. "It's been a great opportunity for me to paint these horses. The best part is getting to know the people behind the horse. It's incredible."
When asked about who has influenced him in his art, Mikel said, "There are three people, all very different, and all ex-CA members. Bill Owens, James Reynolds and Gordon Snidow - their work makes great use of color and light. Bill's work is traditional, he is a realist, and he likes to paint action. James' work is kind of loose, almost impressionistic. Gordon is also a realist and he was an illustrator for years. His colors are intense and vibrant, and his use of light grabs you."
Mikel's work was featured on the cover of Speedhorse in our October 2020 issue of All American Futurity winner Whistle Stop Cafe, as well as on the cover of our 2017 Stallion Register featuring One Famous Eagle.
Among his many other accolades, Mikel was awarded Best of Show at the Working Ranch Cowboys Association Art Show & Sale in 2006 and 2009, was the featured artist at the America's Horse Art Show and Sale at the American Quarter Horse Museum in 2009, won the Artists' Choice Award at the Buffalo Bill Art Show in 2009, was awarded the prestigious Premier Platinum Award and the William E. Weiss Purchase Award at the Buffalo Bill Art Show and Sale in 2010, received the Academy of Western Artists' Will Rogers Award for Artist of the Year in 2011, won the CA's Gold Medal for Drawing and Mixed Media in 2019, was in the Society of Animal Artists select traveling exhibition Art and the Animal 2019-2020, and has been featured in the American Quarter Horse Racing Journal, Art of the West, American Art Collector, Southwest Art, Western Horseman and American Cowboy publications.
Congratulations,
Mikel, on your latest award-winning achievement.