Martha Claussen, You Know You're There
Posted by Diane Rice on 08/06/2020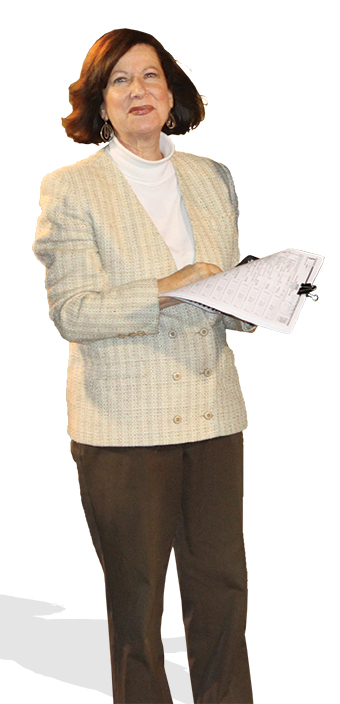 How do you know you've attained success in the horse racing industry? Have you purchased your first-ever race horse after months or years of planning? Have you paid a certain self-determined (spendy!) dollar amount at a big yearling sale for a youngster destined for the track? Have you purchased an established runner? Has a horse you rode, trained, bred or owned won a race? Or better yet, a stakes race?
From various perspectives, all of these might be considered indicators of racing success. Yet, there's another event that's considered by many as the bellwether of success in racing.
"I remember going to the races once when we first started running and looking at Martha Claussen in the winner's circle interviewing connections," says owner Rogelio Marquez, Jr. of Rosenberg, Texas. "I thought, One day I'm going to get interviewed by her! It took about a year to win a race and actually get that interview.
"Having Martha come up to you in the winner's circle and congratulate you and give you an interview is such a special experience," he adds. "You know you've done something right in Quarter Horse racing when that happens!"
Her Passion Takes Root
Martha Claussen was born and raised in Buffalo, New York. Her parents had no interest in horses, nor did her sister or two brothers. But the seeds of Martha's horse passion were planted at an early age and that passion continues to burn.
Her introduction to horses and riding came at the summer camp in the Adirondack Mountains that she attended for eight weeks at age nine. "They had sailing and archery and crafts and camping, but the only thing I was hooked on from day one was riding horses," she says. "Every day, day in and day out, I just wanted to go to the stables and ride. The camp director would say, 'Don't you want to try something different?' and I'd say, 'No.'
"One time, they made me do sailing and I found it very boring," Martha adds. "I didn't like archery and I had no aptitude for crafts. But there was nothing about the horses that I didn't like, whether it was mucking stalls, feeding them, grooming them — even their smell and the smell of grass on their muzzles. I remember it like it was yesterday!"
She continued riding for the next decade at the Saddle and Bridle Club near her home, where she progressed to showing in English and equitation. Then, during high school, she and a group of friends would drive five minutes across the Peace Bridge on Sunday afternoons to watch Thoroughbred horse racing at Fort Erie in Ontario, Canada. "I absolutely fell in love with horse racing," she says. "I always loved it; I adored the beauty and athleticism of racehorses."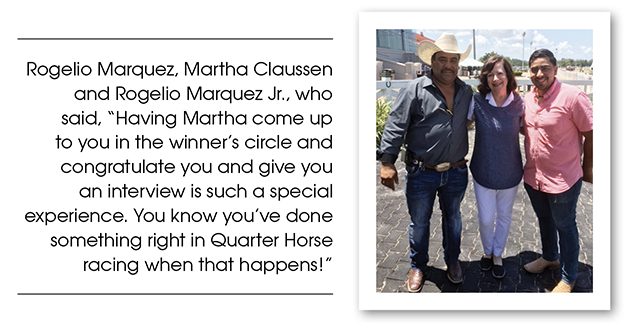 She continued to nurture her passion for horse racing as she attended college at the University of Miami in Florida, a half-hour drive from Hialeah Park.
Her Professional Path
Martha's post-college career included sports marketing with International Management Group (IMG), where she managed the Houston-based Virginia Slims tennis tournament for over 10 years.
When tobacco became controversial and the tournament was faced with having to find a new sponsor due to the young and impressionable age of players in that era, IMG offered Martha another position — in Cleveland. She had done some cross-promotions with Sam Houston Race Park during her stint with IMG, so, because of her love for horses and racing, she explored the opportunities there. She joined Sam Houston Race Park in 1997 as publicity director.
She stayed on in that capacity until 2007, then continued as a freelance marketing and publicity consultant while taking on other clients in the horse industry.
"That was a great 10 years," she says. "We did both Quarter Horse and Thoroughbred racing. The interesting thing, though, was that when I began working at Sam Houston, I'd never seen a Quarter Horse race."
She recalls overhearing some people talking at a Thoroughbred race years before. "Quarter Horses? If you blink, you'll miss them," Martha heard one person say.
"With 16-, 20-, and 24-second races, I guess you could look at it that way," she says. "But from the first time I saw a Quarter Horses race, I never, ever, ever thought about it that way again because they're so powerful and incredibly athletic. I was just drawn to them. I thought, What a terrible way to dismiss a breed. And that fueled my interest in Quarter Horse racing."

Horses — and People
Beyond the horses' speed, power and beauty, Martha says, "What I really, really, really love about Quarter Horse racing is the people. I've met so many incredible people since I've been doing publicity and writing and handicapping for Quarter Horses. I've made enduring friendships.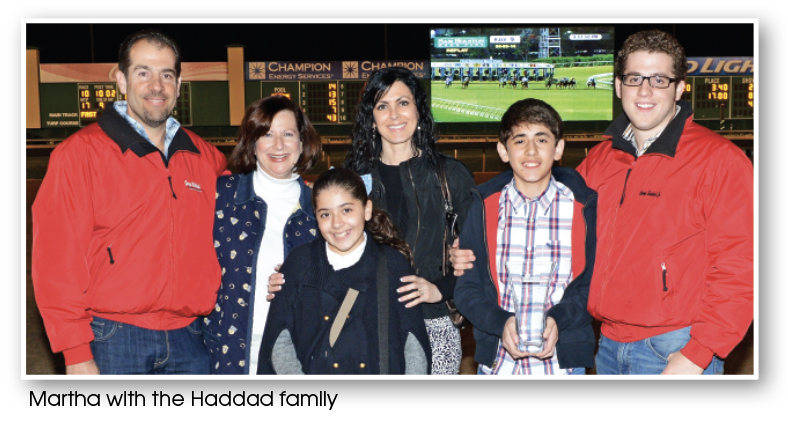 "The passion they have when they breed a horse and when they own a horse and when they purchase a horse at a yearling sale and see them win a futurity — there's no way to describe that," she adds. "I've seen so many people for whom it's been the thrill of a lifetime and something they share with their families. I've seen so many memories of a lifetime with so many different people while I've been in the industry. I see it year after year, and it's never ordinary because everybody feels it so strongly and with such passion. It's something I enjoy and I marvel at.
"I've had incredible memories covering Thoroughbred champions, too, but for some reason, for me, the people in Quarter Horse racing are just so thrilled when they have a big victory, and the stories behind them have been very, very inspiring for me."
Her love and enthusiasm for the sport and the people involved in it have had a tremendous impact on the industry. "Martha is so beneficial for the racing industry," says Matt Crawford, with whom Martha worked at Sam Houston and who is now director of racing at Canterbury Park in Minnesota. "She's just so pleasant and personable with everybody; it's easy for her to get a good interview."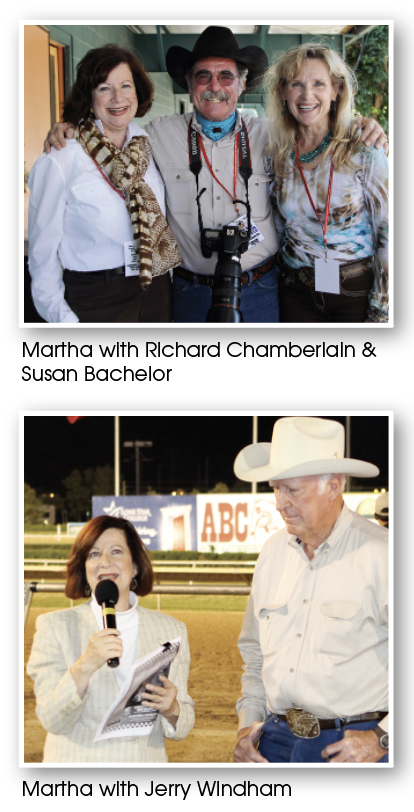 "As an owner, knowing that we need more people to come into the sport to keep it alive, her job is one of, if not the, most important," Rogelio adds. "She's basically advertising for Quarter Horse racing. That's what we need to help the sport expand, to get younger fans and eventual owners and trainers into it. I don't think most people realize how big a role she plays in promoting Quarter Horse racing."
Indeed, Martha has served as a racing ambassador all along. From 2010–2017, she coordinated the Q-Racing Aces, a fan education initiative created by the American Quarter Horse Association. She also makes appearances at Delta Downs (Vinton, Louisiana), Fair Grounds (New Orleans), Indiana Grand (Shelbyville), Louisiana Downs (Bossier City), Zia Park (Hobbs, New Mexico) and Evangeline Downs (Opelousas, Louisiana). And in addition to handling social media for the Louisiana Quarter Horse Breeders Association (LQHBA), she also writes monthly features called the LQHBA Insider about notable people and events.
Her Other Life
When Martha isn't in the winner's circle congratulating and interviewing connections or on the road promoting horse racing, you'll likely find her on the tennis court. She captains a women's team — which recently beat out 10 teams to win the division and move up in the league. "I play three times a week and am a very, very, very enthusiastic player," she says. "I love my tennis friends and I love the competition."
On the court, she excels at analyzing a situation and capitalizing on her strengths and her opponents' weaknesses. "I play doubles, so the whole thing for me is to figure out what your opponent doesn't like and give them lots of that," she says.
At home, Martha and Don, her husband of 35 years, enjoy their Weimaraner, Bo. "Animals just restore your belief in good things," she says. "They give you such tremendous comfort."
They also have a daughter, Lindsay, 33, who lives in Dallas and uses her communication skills to excel in her career in technology sales.
Martha loves what she does and has dedicated herself to promoting horse racing by revealing the fascinating stories of the horses and their connections, always with passion and in a positive light. "It just moves me," she says. "I love being part of somebody's story, somebody's horse of a lifetime. They're moments I'll never forget."
They're also moments the people Martha interviews and writes about will never forget.