Legends - Special Effort
Posted by Speedhorse on 09/03/2021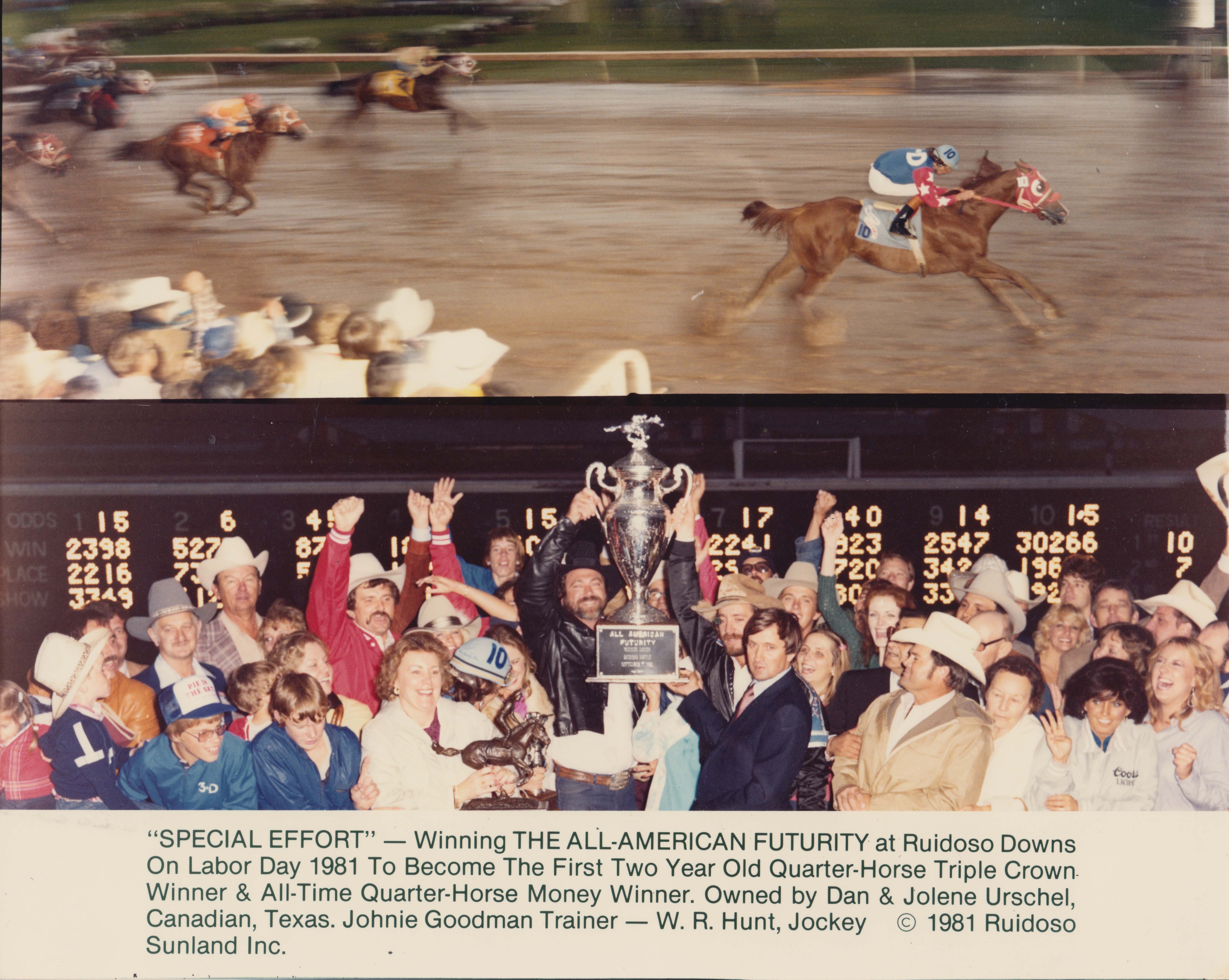 *from our September 2011 Speedhorse issue
Special Effort is more than simply a confluence of his breeding, conformation, and natural talent.
From March 29th, when he made his racing debut, through Labor Day he earned a place among the breed's all-time great sprinters. When he enters the stud he will undoubtedly be one of the most sought-after sires ever. That's why we are discussing him in this stallion issue.
Like many great runners, including two-time World Champion Dash For Cash, Special Effort made his first trip to the post on the windy, west Texas plains near Lubbock.
It was a maiden event that was billed as the sixth race on the afternoon's card and attracted five aspiring juveniles.
But it wasn't a race as the chestnut son of Raise Your Glass and the Double Devil mare Go Effortlessly toyed with his rivals to win by a length and a half.
Special Effort had shown he was a runner and he was given a breather until he made the trip across the eastern New Mexico plains and up the foothills to Ruidoso for the Summer Season.
As it would turn out, he was the summer season at Mountain Track.
The Johnie Goodman trained colt set the tone for his summer campaign in his first Ruidoso start in the Kansas Futurity trials. He proceeded to open up two lengths by the gap in the 350-yard contest and increased his advantage to 4 3/4 lengths at the wire with the fastest qualifying mark of:17.90.
There is a man named Dan Urschel from Canadian, Texas who has an attraction to fast horses and is not afraid to back his attraction with good ole American greenbacks.
Urschel was very attracted to this colt with this sizzling speed and paid $1 million for him, making him the highest-priced Quarter Horse in training ever. Now Special Effort had something to live up to... namely, a reputation.
He silenced any unbelievers in the Kansas Futurity as he overcame perhaps his slowest start to win by a quickly increasing length over Bat Roulucks.
Special Effort's next engagement was the Rainbow Futurity trials and everyone was a believer by now, as evidenced by his 1-9 favoritism.
Of course, he didn't disappoint his backers.
Special Effort dismantled his competition by an easy 2 3/4 lengths and returned for a true show of force in the Rainbow Futurity time trials.
Special Effort was quickly making owners of other two-year-olds wish their runners were born in a different year, as he set the fastest qualifying time to the Rainbow Futurity with a:20.02 clocking for the 400 yards over a sloppy racing surface.
In the Rainbow Futurity, it was the same story as he conquered by a length and a half the highly regarded Winkum.
Now Special Effort's sights were set firmly on the All American Futurity and his bid to become the first horse to win the big three futurities at the mountain track, what the Ruidoso management likes to call the Triple Crown.
He was making his seventh career start and his first trip over 440 yards in the first round of the All American Futurity trials. On a track listed as good Special Effort pulled away to win by the unheard-of margin of 5 3/4 lengths.
Special Effort wasn't about to break his string of fastest qualifying times to every futurity he entered. He breezed to a:21.78 time in his All American Futurity time trial.
By this time any discussion concerning Quarter Horse racing had the words 'Special Effort' uttered.
As his popularity rose so did his value and he was reincorporated into a $15 million breeding package. Within days after he was packaged into 150 breeding shares at $100,000 each, a share sold for $151,000 at public auction.
It was Labor Day and the time for Special Effort's big dance. Although it was raining it wouldn't dare dampen Special Effort's date with destiny.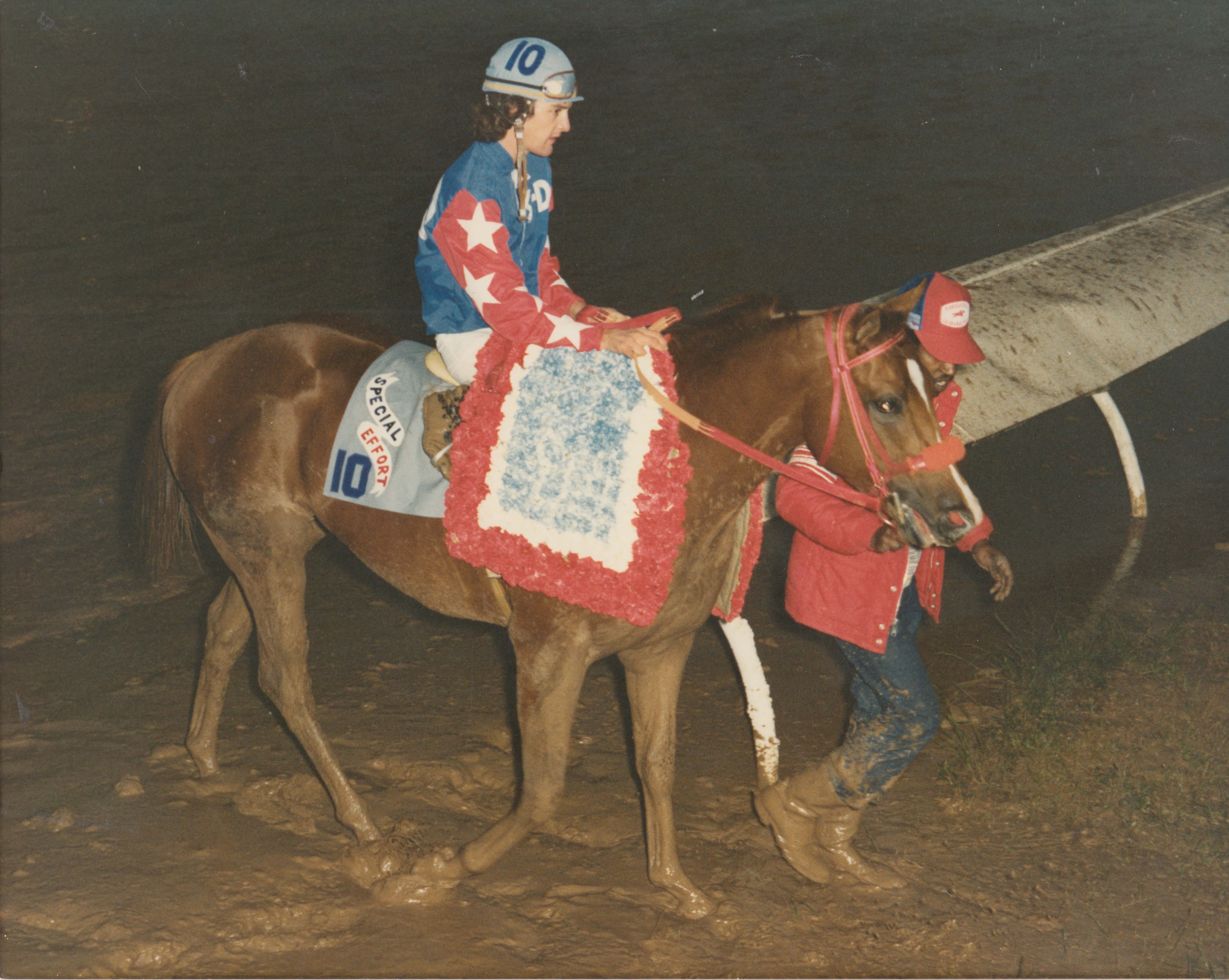 In one of the most impressive races ever by an American Quarter Horse, Special Effort utterly demolished his rivals to win by four lengths and become the second Quarter Horse millionaire and the richest member of his breed with $1,126,723.
Special Effort is sired by the highly successful sire and now extremely fashionable sire, after Special Effort's juvenile campaign, Raise Your Glass, and out of Go Effortlessly.
Go Effortlessly provides a very interesting aspect of Special Effort's pedigree as she is bred 3x2 to the Thoroughbred sire Spotted Bull.
A stakes-placed runner who earned a 98 speed index with six wins, Go Effortlessly gets a shot of Spotted Bull through her sire's dam and her second cross comes through her dam Hijo Beauty. A full sister to the top sprinter and influential sire Hijo The Bull, Hijo Beauty is an own daughter of Spotted Bull.
Before we discuss the individuals that carry Spotted Bull's blood let's devote some space to Spotted Bull.
Foaled in 1946, Spotted Bull posted four wins as a three-year-old against Thoroughbred competition while earning $12,850 and gaining his stakes-placed credentials with a third-place finish in the Will Rogers Handicap. The extremely quick Spotted Bull faced Quarter Horse competition twice and garnered a win and a second as a four-year-old.
In the stud Spotted Bull sired 38 Quarter Horse sires and an incredible 30 register of merit. He accounted for eight stakes winners and seven stakes-placed performers, so half of his register of merit earned their black type. This is a statistic of immense proportions.
Spotted Bull's high percentage of stakes performers becomes even more impressive when the quality of these runners is examined.
Spotted Bull sired Champion Gelding Arizona, Champion Two-Year-Old Colt Panama Ace (who was second in the All American Futurity), Champion Three-Year-Old Filly Table Tennis along with stakes winners Johnny Bull, Raza, and Spotted Lady.
The Spotted Bull daughters have proven to be exceptional producers.
The Spotted Bull daughter Table Tennis produced Champion Two-Year-Old Filly Rapid Volley. Shawne (TB) is the granddam of major stakes performer Shawne Bug. Raza is the dam of top 870-yard runner Bull Rastus. Oh My Oh is the dam of All American Futurity winner and all-time leading sire Three Oh's. Bella St. Mary is the dam of leading sire St. Bar and Los Alamitos Futurity runner-up Lightning Belle. Ariel Beauty produced the dams of Bay Meadows Futurity runner up and All American Futurity fastest qualifier Coca's Kid and the sire of 1981 stakes winner Ponti Bar, while Little Bor Ax (TB) is the dam of stakes placed Bo Rax and the sire Moon Spot It.
Spotted Bull was sired by the important sire Bull Dog and out of a female family that has proven its class by producing top stakes runners from Spotted Bull's time until today.
Bull Dog, a son of *Teddy and the all-time great broodmare Plucky Leige, is a full brother to the top sire Sir Gallahad III. The brothers Bull Dog and Sir Gallahad III were imported to this country from France after World War I and are credited with helping build American Thoroughbred racing between the two World Wars.
Sir Gallahad III was the leading sire of winners four times, leading broodmare sire 12 times, and the sire of Triple Crown winner Gallant Fox.
Sir Gallahad III also sired Breeder's Futurity winner Roman, who gained Quarter Horse notoriety as the maternal great grandsire of former leading money earner Easy Date.
Bull Dog was the sire of Bull Lea, who was the leading sire of winners five times and the sire of Triple Crown winner Citation.
Bull Dog and Sir Gallahad III both exhibited Quarter Horse type conformation with ample bone, girth, and hip along with a sloping shoulder. Perhaps their sole deviation from Quarter Horse type build was a slightly long back.
Therefore, Spotted Bull was sired by a proven sire of sires which carried the desired conformation.
Spotted Bull also hailed from a producing female family.
Spotted Beauty, the dam of Spotted Bull, was an own daughter of Man O War and out of the Stephan The Great Mare, Silver Beauty.
Spotted Beauty's first foal, Royal Blood, showed his dam's class by winning four stakes and placing in such important fixtures as the Cowdin Stakes, Fall Highweight Handicap, Juvenile Stakes and the Arlington Futurity.
Spotted Beauty also produced the stakes placed Ruling Beauty and Tillman, both by the cover of leading sire *Nasrullah.
Spotted Beauty was a full sister to Selima and Matron Stakes winner War Beauty, who was a leading member of her division as a two-year-old in 1939.
There is Quarter Horse type Thoroughbred breeding in Spotted Bull's third dam, Jeanne Bowdre. She was a daughter of Luke Mcluke, who is also the maternal grandsire of Three Bars.
As mentioned earlier this female family has provided consistent production over the past four decades.
Hot Gossip, a half-sister to Spotted Bull, is the dam of the mare Gurkas Band (winner of one stakes and $268,000), stakes winner Cut The Talk, and stakes winner Golden Gossip.
Also hailing from this female family is $111,000 stakes winner Foggy Note, Hill Prince Handicap winner Forward Charger, $103,000 stakes winner Breaker Breaker, Hollywood Oaks winner Hooplah, King George Stakes winner Auction Ring, $286,000 stakes winner Alias Smith, Vanity Handicap winner Afifa, Graduation Stakes winner Wild Violet, 1981 Belmont Stakes runner-up and Everglades Stakes winner Highland Blade, Santa Margarita Handicap-G1 runner-up Penny Flight, Kentucky Derby and Preakness runner-up No Le Heace and Futurity Stakes winner Soy Numero Uno.
Special Effort's dam, Go Effortlessly, is sired by Double Devil, a stakes-placed half-brother to leading sire St. Bar and Los Alamitos Futurity runner-up Lightning Belle.
Bella St. Mary, the dam of Double Devil, St. Bar, and Lightning Belle, was second in the Ruidoso Derby and was a half-sister to Co-Champion Three Year Old Filly Dolly's Ace.
Bella St. Mary was an own daughter of Spotted Bull while Dolly's Ace was sired by Bob Shade (TB).
St. Bar's runners include the amazing Champion Mare Little Blue Sheep, Champion and 1981 Go Man Go and HQHRA Championship winner Vespero, and Kansas Futurity winner Miss Angel Eyes. St. Bar is the maternal grandsire of Skoal Dash For Cash Futurity runner-up Baby Hold On.
Go Effortlessly is out of Hijo Beauty, a full sister to Hijo The Bull.
In addition, to Go Effortlessly, Hijo Beauty is the dam of Rocky Mountain Futurity runner-up Hijo Wind (TB) and the dam of stakes placed Racing Bit.
Stakes winner Hijo The Bull, a son of Spotted Bull, established track records at Turf Paradise for both five and a half and six furlongs. The full brother to Hijo Beauty sired 14 register of merit from 18 Quarter Horse starters with three stakes winners and a pair of stakes placed performers.
Hijo The Bull is the sire of Sunland Fall Futurity winner Peggy Toro, the dam of the ill-fated impressive young sire Easy Six.
Hijo Beauty is also a full sister to Arizona Downs, two and a half furlong track record holder Bull Lanty and a half-sister to Lanty Girl (TB).
Lanty Girl was one of the top broodmares in California. She is the dam of Kindergarten and Golden State Futurity winner Lanty's Jet (the dam of stakes winner Lanty's Luck) and Jet Deck Stakes winner Lanty's Easy Jet.
Raise Your Glass, the sire of Special Effort has firmly established himself as one of the leading Thoroughbred sires in Quarter racing. The Raise A Native son had reached that position before Special Effort started and now that position is further justified.
The reason that he was so highly regarded pre-Special Effort was that he was the answer to the trivia question, who is the only sire of more than one All American Derby winner?
Raise Your Glass sired 1978 All American Derby winner Medley Glass and 1980 All American Derby winner Native Gambler. The McDermott Ranch stallion has also sired Firecracker Futurity winner Payable Kat, Alamo QHBA Derby winner Ima Gates Gal, Southwest Louisiana Thoroughbred Futurity winner A Toast To Junius, and Kentucky Futurity winner Crystal Glass.
Raise A Native, the sire of Raise Your Glass, was named Champion Two-Year-Old Colt after winning his four career starts. A son of the leading sire Native Dancer and the Case Ace mare Raise You, Raise A Native has sired over 60 stakes winners with earnings of over $10 million.

Raise A Native is also a renowned sire of sires. Exclusive Native is the sire of triple crown winner Affirmed, Mr. Prospector is the sire of Champion It's In The Air and Raise A Cup is the sire of the sensational 1981 two-year-old filly Before Dawn, winner of four stakes before running second against colts in the Champagne Stakes.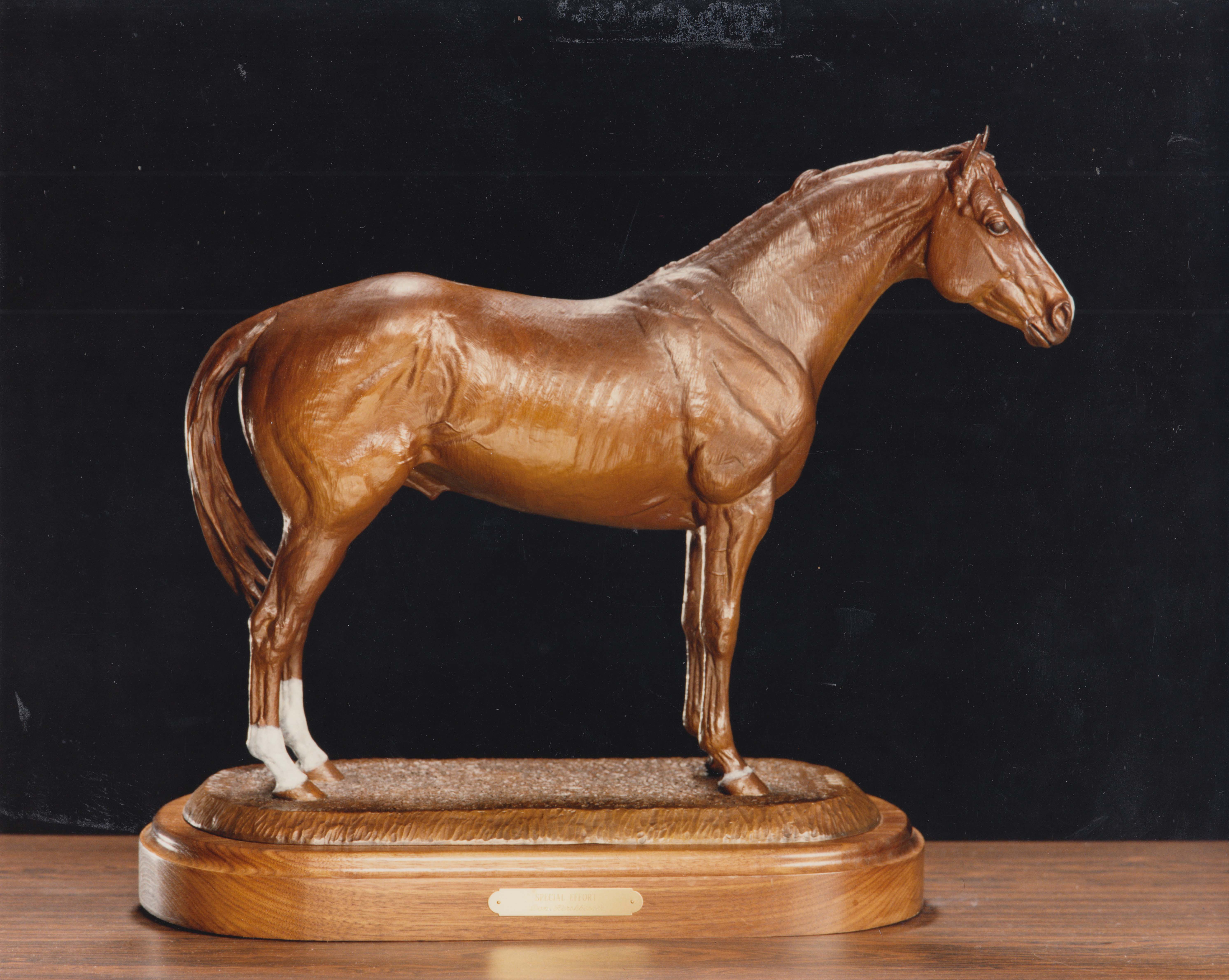 Champagne Woman, the dam of Raise Your Glass, won 10 races including five stakes events. The Barbizon daughter is also the dam of Debutante Stakes winner Excitable Lady by Wajima and Excitable Miss. A daughter of Gallant Man, Excitable Miss set the five furlong track record at Gulfstream and was second in the Debutante Stakes. She is the dam of stakes winners Syncopating Lady and Gallant Lt.
As previously mentioned, Spotted Bull was sired by Bull Dog and out of a Man 'O War mare. With Special Effort being sired by Raise Your Glass he gets additional doses of both horses through his sire.
Raise Your Glass is bred 5x6 to Man 'O War. Barbizon, the maternal grandsire of Raise Your Glass is bred 3x3 to Polynesian. Both of his grandsires, Native Dancer and Barbizon, are sons of Polynesian.
Special Effort is a special effort. He is one of those rarest individuals that has enough raw speed to achieve immortality.
Special Effort also has the breeding, which makes him a virtual outcross for the majority of today's Quarter Horse broodmares.