Cavenaugh Quarter Horses
Posted by Speedhorse on 04/04/2022
by Andrew Hanna, Speedhorse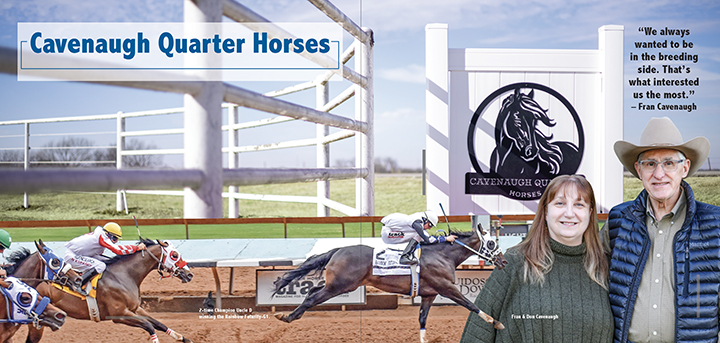 Several days before future Champion Uncle D went to post for the 2019 Rainbow Futurity, his owner Fran Cavenaugh of Cavenaugh Quarter Horses saw what she believed was an auspicious sign. "I was heading to Ruidoso," she remembers, "and it was a rainy day, but the clouds were starting to clear up. And as I was driving through my hometown, I looked up and saw a double rainbow. I thought that was kind of cool, so I called our assistant trainer, Renee Wilson, and said, 'Hey, Renee, tell Clint [Cavenaugh Quarter Horses' trainer Clinton Crawford] that I just saw a double rainbow, so maybe that will bring us some good luck in the Rainbow.'"
When the day of the Grade 1 Rainbow Futurity arrived, Uncle D broke alertly and charged into the lead. As his eight opponents strained behind him, the colt drew away and won by 1 1/4-lengths. Fran was dumbstruck. "All the time that he was running," she says, "I didn't say a word. I just stood silent."
As fate would have it, another one of her runners, Why, had annexed the $100,000 Rainbow Juvenile Stakes earlier that day as a 23-1 longshot. To add to the significance of the achievement, Fran and her husband Don had won both events with the same owner/trainer/jockey combination – an accomplishment not replicated before or since. For the Cavenaughs, however, Uncle D's and Why's victories were only the first part of what promises to be a triumphant story of sustained success.
When Fran and Don Cavenaugh decided to get involved in Quarter Horse racing four years ago, they had virtually no experience with the sport. "Both of us always had Quarter Horses – on and off – all of our lives," Fran recalls. "We had been to a few Thoroughbred meets, but I don't know if we'd ever really gone to a Quarter Horse meet."
According to Fran, she and Don were first encouraged to look into Quarter Horse racing by an acquaintance. "My husband had a friend who said, 'Hey, I'm going to go down to this Quarter Horse sale. Why don't you go with me?'"
Even before being invited to their first Quarter Horse sale, the Cavenaughs had been on the lookout for new opportunities. The two own and manage Cavenaugh Auto Group, which includes several car dealerships located across Arkansas. Additionally, both are hard-working individuals who are active in their community. Aside from her position as the CFO of Cavenaugh Auto Group, Fran is also a third-term Representative in the Arkansas House.
After decades in the car business, however, both were eager to broaden their horizons. "We are looking to slow down in the car dealership," Fran says, "and let our children take over the day-to-day management of it. We were looking for something that we might do as a 'retirement.'
"He [Don] decided to go down to the sale," Fran remembers. "He came back and said, 'I bought three racehorses.'" Soon after purchasing their first runners, the two started researching Quarter Horse trainers. Eventually, they settled on Clinton Crawford, one of the nation's leading conditioners. "We took those horses to him," Fran says, "and that's kind of how it started."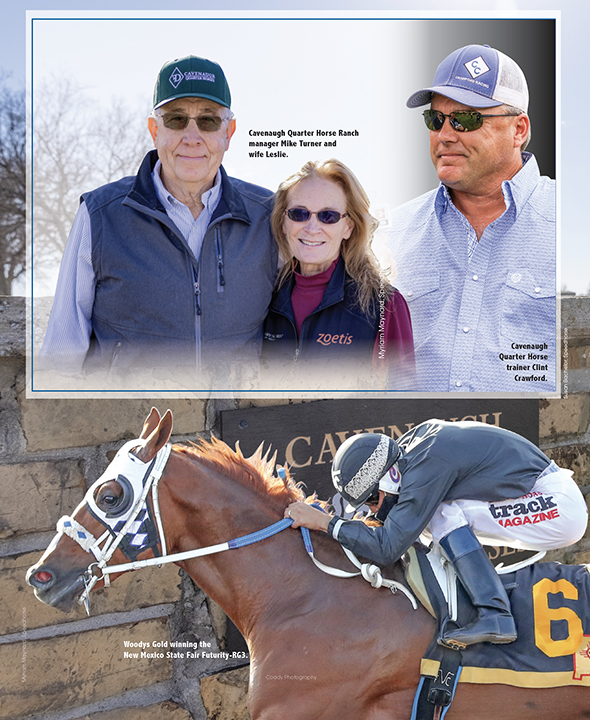 Although the Cavenaughs first made a name for themselves as racehorse owners, they are primarily concerned with the breeding aspect of the sport. "We always wanted to be in the breeding side. That's what interested us the most," Fran asserts. "We enjoy racing – and we'll always be involved in racing – but our long-term goal is to be a breeder." This October, the two emerged on the national breeding scene after acquiring James Ranch and subsequently renaming it "Cavenaugh Quarter Horses." Located in Wayne, Oklahoma, the ranch is a sprawling facility that was previously owned by David James. James Ranch stood a number of racing stallions, including 2021 leading sire Apollitical Jess.
For Fran and Don, their purchase of James Ranch was the culmination of an exhaustive search. "To be honest, we didn't know if we wanted that to be in Louisiana, Oklahoma, or New Mexico. So, we did research and decided that Oklahoma probably fit our operation better than the other locations," Fran confides. When they approached David James, they learned that his property met almost all of their criteria. "Just speaking with [David] James," Fran recalls, "we realized that the James Ranch was going to become available." In addition, she says, "We were familiar with James Ranch because David had actually kept some yearlings for us."
Ultimately, their previous knowledge of the facility turned out to be the deciding factor in their choice to buy it. "We knew that the way David had taken the time to lay the ranch out – to set it up – would fit our breeding operation the way that we wanted. The ranch is very centrally located, which makes for better ease of operation. Once it became available, we decided that it was the place we wanted."
The Cavenaugh's chose veteran horseman Mike Turner to manage their new ranch.
Just three months after establishing their breeding operation, the Cavenaughs have already outlined their top priorities. While Cavenaugh Quarter Horses endeavors to produce swift racehorses, they are also committed to increasing their runners' durability. "What I would like to do in the long-term – and I don't see this as a short-term venture – is that we're able to improve the breed," Fran asserts. "And that's one thing that we try to do when we're looking at breeding our mares. We're trying to find a way to breed soundness back into the horses – not only speed, but we really want to have good bone, good conformation, and good structure. My theory is that the better the horse is structurally, the more ability they'll have to go down the track."
Furthermore, the Cavenaughs are particularly interested in producing horses whose futures extend beyond their time on the racetrack. "We are also looking to breed horses who don't just have one career. We want to breed horses that can have a secondary career in the performance arena. We breed to make sure that these animals have longevity after racing," Fran says.
"We believe the horse's well-being is most important, and because of this we never use any performance-enhancing drugs on our horses. We want the horse's natural talent and ability to shine through."
The Cavenaughs' dedication to their runners' health and soundness has paid immense dividends. Their leading money earner, Uncle D, racked up $689,165 in earnings and was named the 2019 AQHA Champion Two Year Old and Champion Two-Year-Old Colt. As much as they enjoyed campaigning Uncle D, however, Fran and Don are especially proud of one of their more unlikely stars, a gelding named Woodys Gold. Fran remembers, "He was a very late baby, he's half-Thoroughbred, and he had minor OCD [a developmental disease that impacts the bone and cartilage around a horse's joints]. Once we saw Woody, I fell in love with him… so we purchased him for $10,000 – which was an absolute steal."
Woodys Gold quickly rewarded the Cavenaughs for their confidence in him. As a two year old, he placed second in both the Mountain Top New Mexico Bred Futurity-RG2 and the Zia Futurity-RG1 before winning the New Mexico State Fair Futurity-RG3. After qualifying for multiple graded stakes races in 2021, he closed out his three-year-old campaign with a courageous win in the New Mexico Classic Derby-RG2. "He's still solid, so we'll race him some in 2022," Fran says. "He loves to run, so we're going to let Woody tell us when he's done running. Woody has a permanent home with us." Afterwards, Fran confides, "There is a chance that we will take him into performance for ourselves and have someone ride him in the performance arena."
Whatever Woodys Gold's future may hold, Fran says, "He is the most fun we've had with a racehorse. I tell this story," she admits, "because it shows that you don't have to spend huge amounts of dollars to get a horse that can win and produce."
Despite entering the breeding business very recently, Cavenaugh Quarter Horses already boasts an impressive stallion roster. Although their top money earner Uncle D will continue to stand at Lazy E Ranch, the Cavenaughs have relocated their other three studs – Good Candy P, Ryder Rite, and A Sweet Jess – to their new property.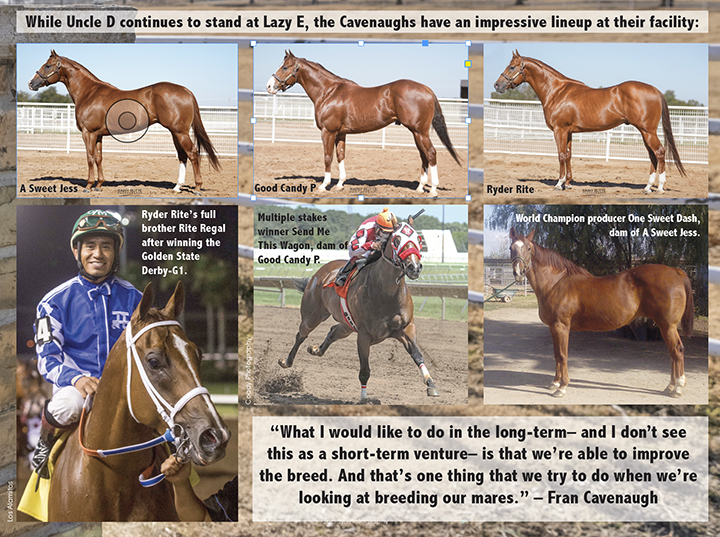 All three stallions possess excellent bloodlines. "We went into this operation with a set goal of genetics that we wanted – a set goal of individuals that we were looking for – and that's why we purchased them," Fran says.
For example, Good Candy P's pedigree is filled with accomplished runners. His dam Send Me This Wagon is a multiple stakes winner who racked up ten wins and $179,310. On a similar note, the stallion's second dam Jess Send Candy produced undefeated 2-time Champion Jess Good Candy, earner ofover $2,000,000.
Good Candy P, a wire-to-wire winner and Ruidoso Futurity-G1 qualifier, was retired to stud with $58,891 in career earnings after his sophomore campaign.
Ryder Rite's stallion prospects are equally bright. His full brother Rite Regal had lifetime earnings totaling $415,123. Ryder Rite's sire Favorite Cartel is currently one of the nation's leading sires with progeny earnings of over $29.6 million.
Sadly, Ryder Rite never made it to the racetrack as a result of an injury when he was a yearling. Fran laments, "He lost the sight in his left eye."
After determining that it was unsafe to race Ryder Rite, the Cavenaughs realized that his pedigree made him an ideal stud candidate. "We have a few of his babies on the ground right now, and they look good. Because his conformation is so great and he has such a great mind, he makes an excellent stud."
The third stallion who stands at Cavenaugh Quarter Horses, A Sweet Jess, captured his All American Futurity trial. His sire Apollitical Jess is one of the most successful studs in history. On the bottom side of his pedigree, his dam One Sweet Dash earned $81,937 and also has proven to be an outstanding broodmare with World Champion One Dashing Eagle among her most accomplished progeny.
Furthermore, Cavenaugh Quarter Horses owns a number of promising broodmares. For instance, one of their mares Why, by First Down Dash, is currently in foal to Corona Cartel and A Sweet Jess. As mentioned previously, Why won the Rainbow Juvenile and earned $74,327.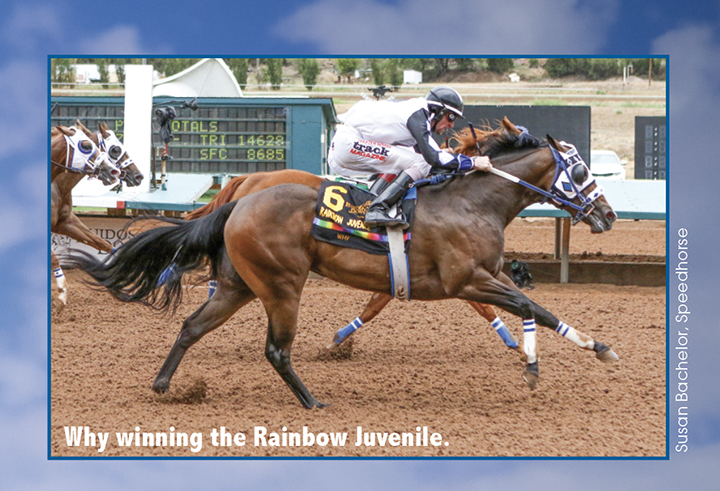 While the Cavenaughs have high expectations for Why, she isn't the only broodmare who holds a special place in their hearts. "We purchased Weetonas Lafawn as a two year old coming off the track." Weetonas Lafawn had won three consecutive events – including the Remington Park Juvenile Stakes – before abruptly tailing off. Upon closer inspection, her handlers discovered that she had incurred a potentially career ending injury. "The real issue was that she had a chip in her knee," Fran explains.
As it transpired, however, Weetonas Lafawn wasn't finished with racing. "[When] we purchased her," Fran says, "our trainer said, 'You know, I think we can fix that chip pretty easily, and I think she could come back as a three year old.'" After hearing Clinton Crawford's diagnosis, the Cavenaughs sent her away to receive the medical care she needed. On April 21, 2018, six months after the filly's last start, they entered Weetonas Lafawn into the Mr Master Bug Stakes. "It was a nasty, rainy day at Remington Park," Fran reminisces, "and this was one of our first real races. We were in the paddock and I remember the announcer speaking about the horses. When he said that Weetonas Lafawn was making her appearance, he made the comment that she had lost her form (because she had won the Remington Park Juvenile as a two year old and really had not done much after that)."
But to the surprise of almost everyone present, the filly proceeded to thunder to a stunning 3/4-length win. Fran was ecstatic. "She just showed them," she fondly remembers, "that her form was back." That night, Fran says, she also learned a valuable lesson about the importance of understanding each of her racehorses as an individual. "It just shows that sometimes the horse is telling you what they need," she explains. "She [Weetonas Lafawn] needed time off to heal, but – once she got her time off to heal – she came back. In my heart, I knew that she had never lost her form or her desire to win. She just had something that she had to overcome."
"And she proved that she did."