An Eye For Speed - Lance Robinson
Posted by Speedhorse on 12/29/2021
An Eye For Speed
Lance Robinson's talent for judging form and function has yielded scores of barrel and flat-track winners
by Diane Rice
Lance Robinson's partner in McColee Land & Livestock, Keith Nellesen of Mapleton, Utah, isn't sure of the source of Lance's talent for seeing a horse's athleticism. "I don't know if it's a gift or if it's something he's learned over a million hours in the saddle," says Keith, "but he can just tell what a horse will do."
It's a skill that has taken Lance and various partners — and also horses solely owned by Lance and his wife, Marla — to the top ranks of rodeo, Thoroughbred racing, Quarter Horse racing and barrel racing.
"In the horse world, there isn't much that Lance hasn't personally done," Keith says. And he's succeeded in all aspects due to his sixth sense about horses and what Keith describes as an incredible work ethic.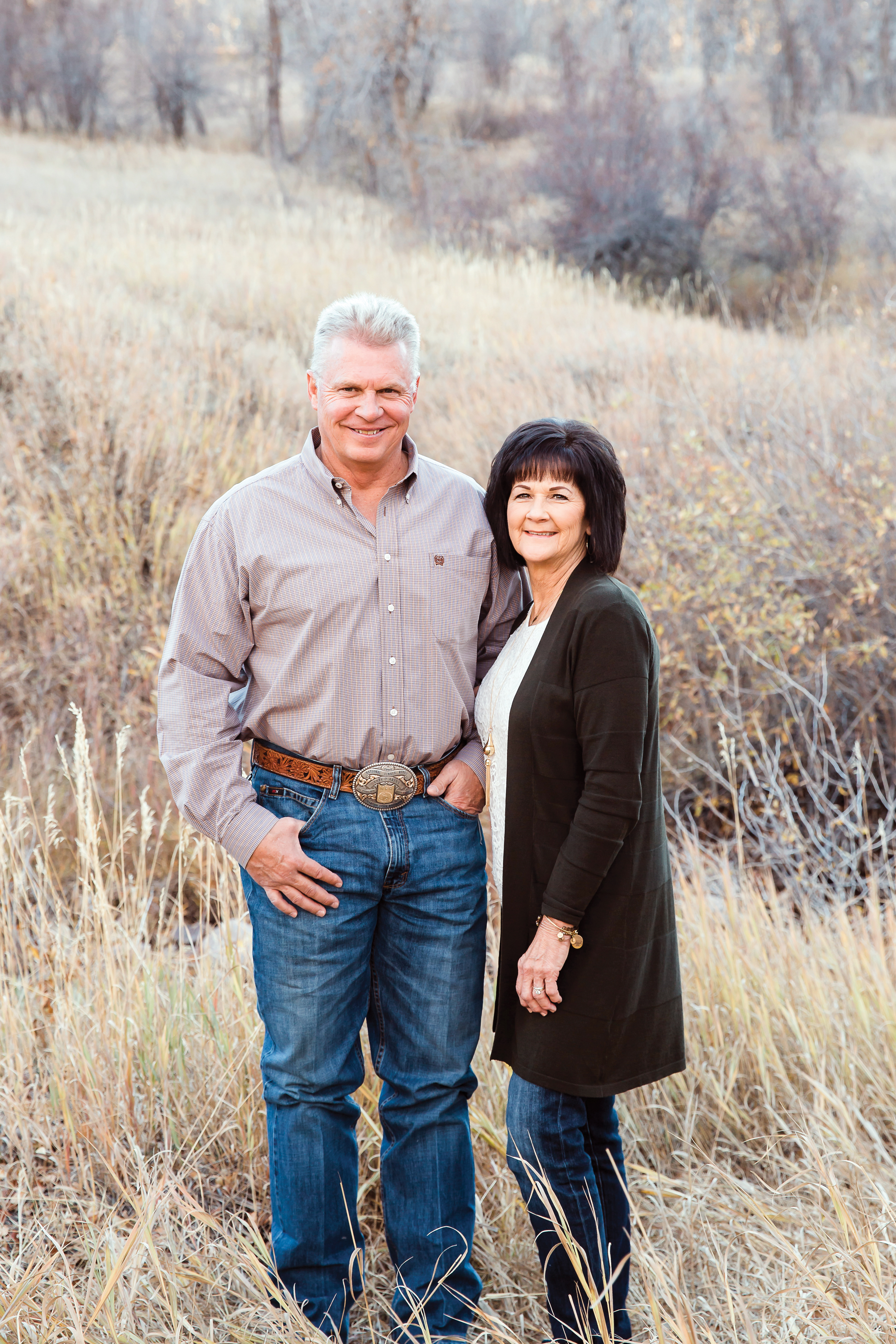 From Cattle to Horses
Lance entered the world one of four boys and two girls born to the late Rick and Gwen Robinson, dairy farmers in Farmington, Utah. "We had farm horses," he says, "but there wasn't a lot of quality."
Although a couple of his brothers have competed in rodeo, Lance is the only one of his siblings who has taken horses to the professional level.
Because of the cattle industry, he adds, breeding was something he grew up with and developed an interest in. He started roping in high school, and from there through college and beyond, he won several national championships. "I learned about horses from the seat of my pants," he says, "and I think that built a lot of confidence in what to look for in horses."
After graduating from Davis High School in Kaysville, Utah, Lance attended Ricks College in Rexburg, Idaho, then graduated from Weber State University in Ogden, Utah, after serving a two-year mission in Kentucky, the heart of Thoroughbred country, for the Church of Jesus Christ of Latter-Day Saints.
"I went to Kentucky kicking and screaming, thinking, 'Why didn't you send me to Texas or somewhere there was rodeo?' I didn't know my mission was going to lead me to a career!" he says.
After his mission, he got involved in the Thoroughbred business with Dr. Jerry Bailey of Gulf Coast Farms. "He was one of the leading pinhookers in the Thoroughbred industry and he and I became partners in breeding and pinhooking," Lance says.
Lance and Dr. Bailey attended pretty much every major Thoroughbred sale in the country for a number of years. It was during this time that he honed his ability to judge a horse by how its conformation related to its intended purpose. "That was a great education," he says.
But that education had begun years before, when he started taking rodeo seriously. "Clark Brown in Nebraska trained rope horses and he's probably the first guy who helped me get interested in learning conformation," Lance says.
It wasn't just his passion for conformatio
n that led Lance to success in the equine industry. "Lance works harder than anybody I know," Keith says. "There's nobody who gets as much out of 24 hours as he does. Lance will hop in the truck and haul our 15-horse trailer all the way to Oklahoma without stopping except at Albuquerque to get gas and water, then he'll take six hours, load back up and drive home. He says he trained for this his whole life in rodeoing. He just has this ultimate can-do attitude.
"He's also an eternal optimist," Keith adds. "I think all great athletes have to be because they can't dwell on the missed yesterday; they have to believe in the next time. And also, Lance married the perfect woman for him."
Return to Utah
In his early 20s, after he'd returned home from his mission, Lance connected with Marla King, whom he'd known from high school. The couple married in 1980.
Although Marla's dad had a horse that he used once a year for deer hunting, neither Marla nor any of her four brothers and sisters had any equine interest. But when she married Lance, she married horses as well. "It was a whole different life than what I was used to," she says. "That was interesting to me, and the rodeo part was fun and exciting. I jumped in with both feet!
"Lance had a mare and a stud that he'd bought in Kentucky, and it started from there," adds Marla, who works side by side with Lance in every facet of their business, from feeding to foaling, breeding to bookwork, at their Fairholme Farms in Spanish Fork, Utah.
Lance's Thoroughbred accomplishments, operating as Gulf Coast Farms, included breeding Cowtown Cat (Distorted Humor-Tom's Cat, Storm Cat), a 2007 Kentucky Derby contender whose earnings exceeded half a million dollars.
The Bailey/Robinson pinhooking partnership also sold the 2003 Thoroughbred Henny Hughes as a 2 year old for $4.3 million. "That was a highlight in our horse business because of the price we got for him, and he went on to become a successful race horse and stallion," Lance says.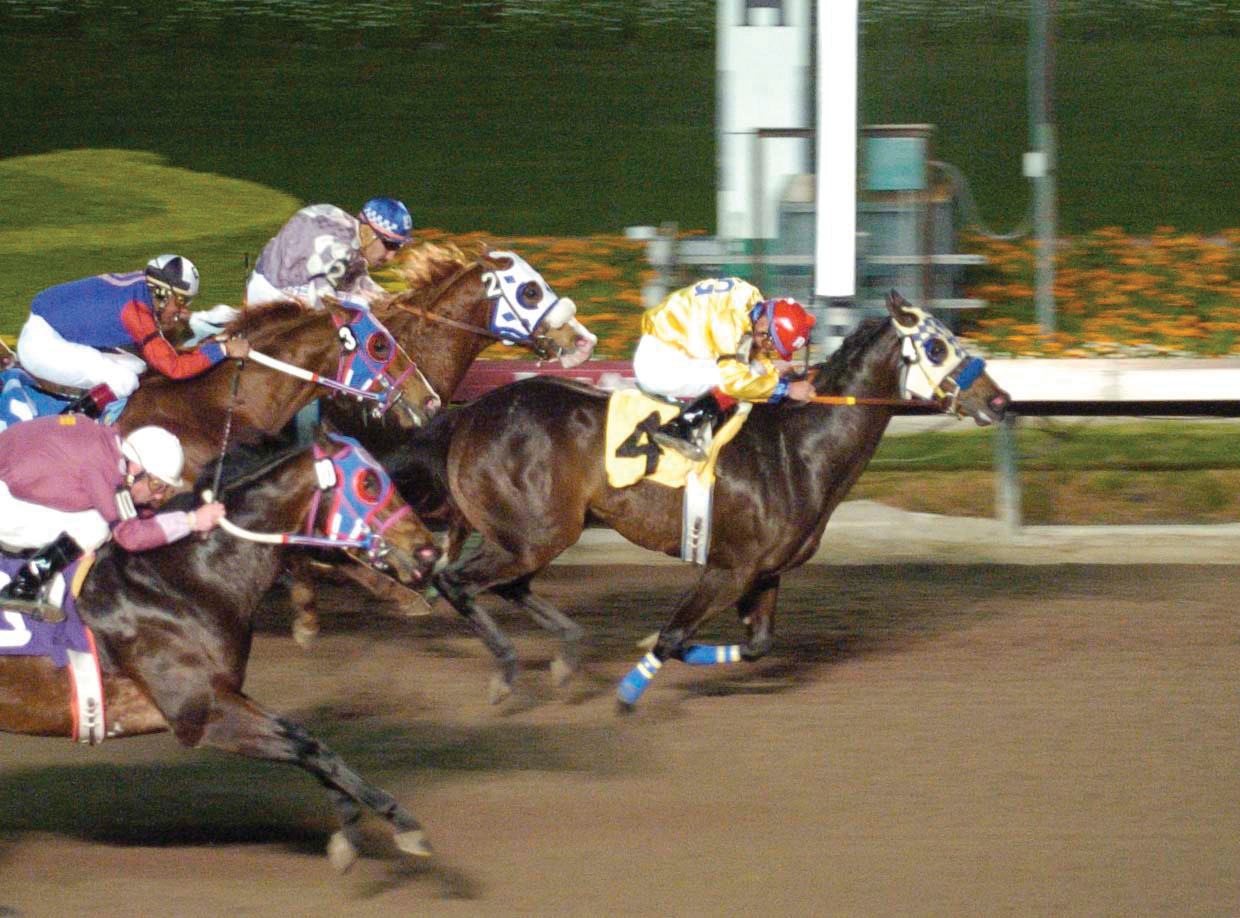 The Switch to QHs
Lance adds that he and Marla always wanted to make a living in Utah. "We did Thoroughbreds from here, with horses in Florida for training," he says. Added to the geography, the uncertainty of Thoroughbreds led Lance — and his partners, who included Max Anderson (Stone Canyon Quarter Horses) and Keith Nellesen (McColee Land and Livestock) — to consider Quarter Horses.
"Thoroughbreds were fun, but when it came to the economic return, there were so many variables," Keith says. "The biggest issue was that you only got one shot. You had a mare, and if a colt came out crooked, that was that. When Lance told me he'd gotten involved in Quarter Horses, and about the idea of embryo transfer, that was a whole different gig."
Around 2010, Lance made the switch. One of Lance and Max Anderson's early purchases was 2018 AQHA Dam of Distinction Jess Sass Me, by Mr Jess Perry and out of Sassy Smith, by Corona Cartel. The 2004 mare produced Sass Me Blue, by Valiant Hero, and Jess Walking Thru, by Walk Thru Fire, in 2012, both of whom became Champions.
Jess Walking Thru ended 2014 as Champion 2-Year-Old Filly, having won the Dash For Cash Futurity and run third in the Los Alamitos $2 Million Futurity, then qualified for the Rainbow Derby. She earned $447,266 in two years with an 11-4-0-2 race record.
Sass Me Blue emulated her half-sister's status, ending 2016 as Champion Aged Mare. She earned $296,378 in four years, winning her trials for the All American and the Los Alamitos $2 Million futurities, placing second in the Golden State Derby, the Los Alamitos Super Derby and the Southern California Derby. As a 4 year old, she won the Mildred N. Vessels Memorial Handicap.
Around the same time, Lance and Marla owned Allamericandreamgirl, a 2002 Strawfly Special mare out of Dashing Phoebe, by Dash For Cash. She produced the 2010 Champion 2-Year-Old Colt American Runaway, by Ocean Runaway. American Runaway won the Ruidoso Futurity-G1 and ran second in the Grade 1 Rainbow and Texas Classic futurities and earned $686,355 in two years.
Keith's vision for McColee Land and Livestock was to start out with one mare. They purchased Lucas Racing-bred Little Surfer (First Down Dash-Runaway Wave, Runaway Winner), in 2010. She'd earned $102,749, including a 2009 Hialeah Derby win, then went on to produce Rip Tide, by Corona Cartel, in 2013. The colt sold for $300,000.
Little Surfer also produced Uncle D, by Corona Cartel, for McColee in 2017. Uncle D earned $682,965 his freshman year, including wins in the Rainbow Futurity-G1 and the All American Juvenile Stakes, and finished the year sixth by earnings with the Champion 2 Year Old and Champion 2-Year-Old Colt titles under his girth.
McColee's success led to another mare: Executive Looks (Executive Menace-Sticky N Picky, Sticks An Stones) in 2011. In three years on the track, the 2006 mare earned $277,891 and a 33-8-8-5 record. Her wins include the Manor Downs Futurity-G1, the La Villita Stakes at Sam Houston and the Classic Chevrolet Heartbeat of America Handicap-G3 at Lone Star Park, and she also qualified for the Dash For Cash Futurity-G1 along with several other graded stakes.
In 2015, Executive Looks produced the Corona Cartel colt KVN Corona, who won the Ed Burke Million Futurity, the PCQHRA Breeders Futurity-G2, and qualified for the Los Alamitos $2 Million Futurity his freshman year. He went on in 2018 to win the El Primero Del Ano Derby-G3 and qualify for the Ruidoso Derby-G1. He finished both years as Champion in his age group, winning $868,077 with a 77 percent win and 85 percent win/place record. He now stands at the Lazy E Ranch in Guthrie, Oklahoma.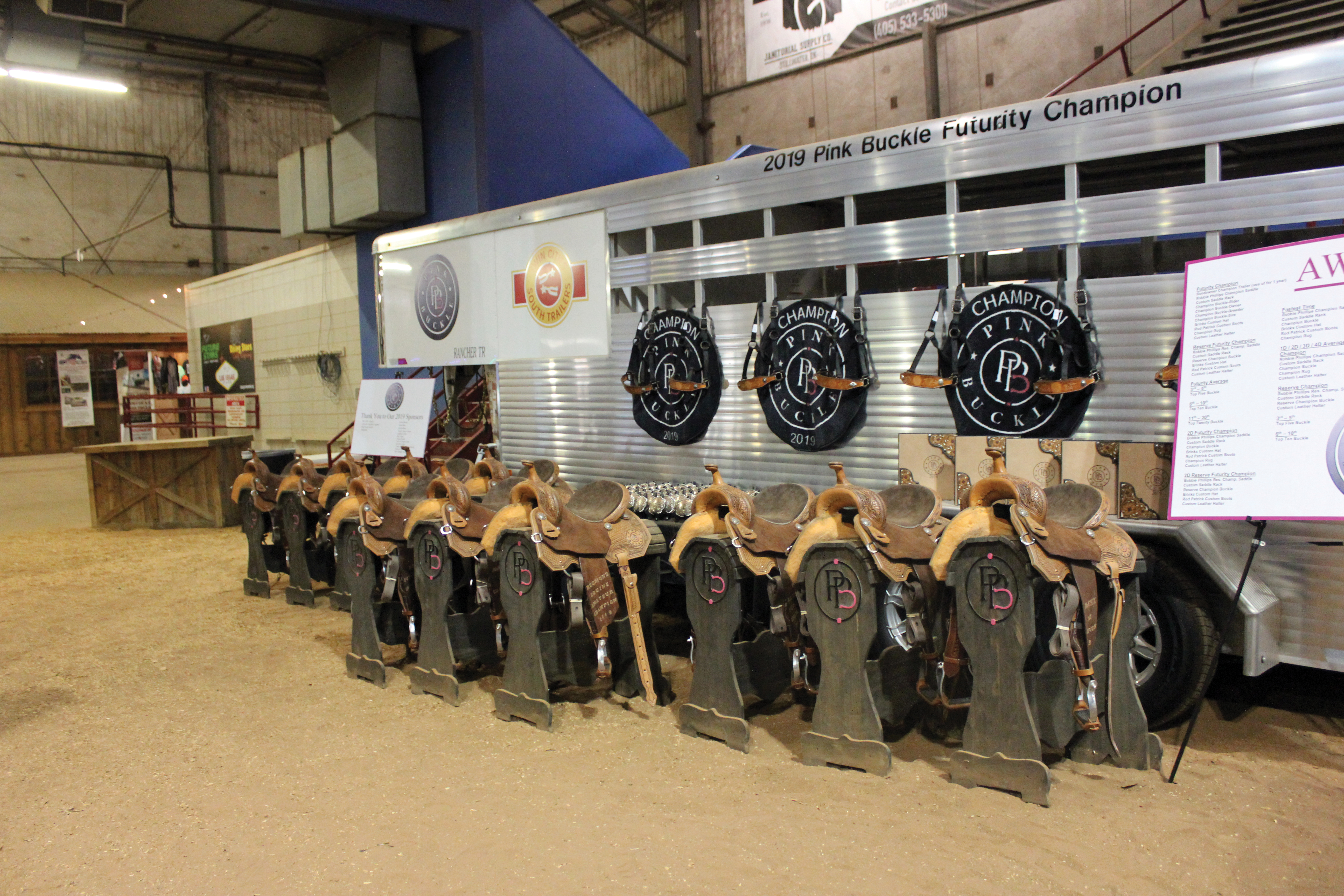 The Pink Buckle
Lance's lifelong love for rodeo led him to launch the Pink Buckle barrel racing stallion incentive and regional event series in 2018. "There are a lot of barrel races around here and we have some barrel horses," Marla says. "Lance and Chad Beus started talking about how they could put on the biggest barrel race, and the Pink Buckle came to be." Lance's son Trevor is also involved in the Pink Buckle.
Limited to the offspring of 50 enrolled stallions, the Pink Buckle Barrel Futurity and Open 4-D guarantees a $2 million purse, plus a $100,000 Futurity Sale Graduate incentive, and is set to run Oct. 6–11 at the Lazy E Arena.
The Pink Buckle's success led to the launch of the Ruby Buckle in 2019, which allows entry by progeny of 100 stallions in addition to the Pink Buckle's 50 stallions and touts a $1.6 million payout.
"I think it's a game changer," says Keith. "It's going to allow so many people the opportunity to go and win the biggest check they've ever won.
"What's interesting is that last year, we had a little gelding we raised, Boots N Boardroom, who went to the Pink Buckle. He hadn't had the best 5-year-old year, and he didn't even come close to sniffing the money in the first or second rounds — I mean, he's running in the 4D, maybe the high 3 — and he won a $22,000 check for winning the 4D average. Just imagine if this was someone whose biggest check was 125 bucks in the 4D! It's a moment that they're never going to forget, and it's going to be amazing because hundreds, maybe thousands, of people are going to have that kind of memory because of Lance and Chad, who were willing to take the blows and get this going."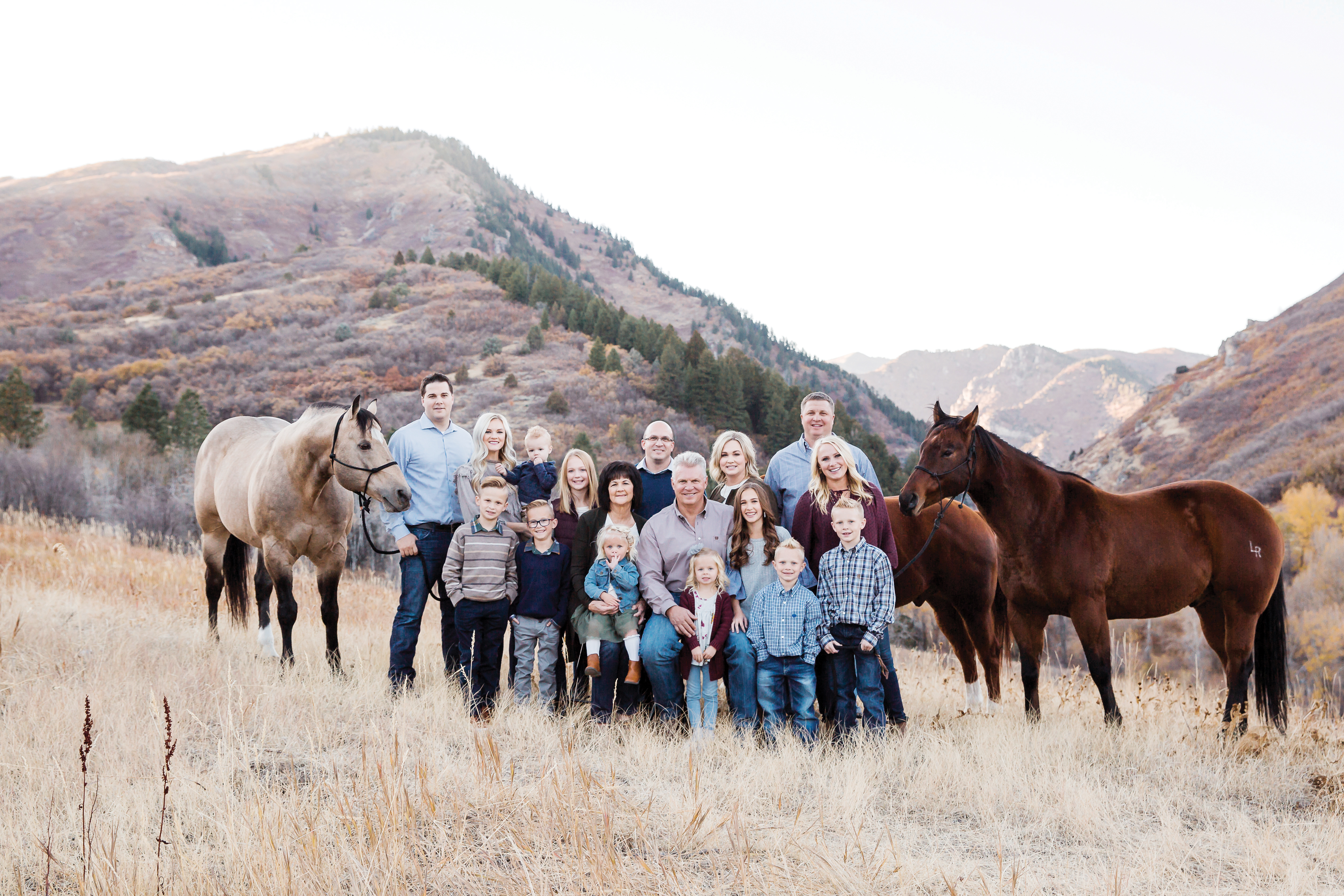 Life After Hours
Throughout the past 40 years, Lance and Marla have welcomed three children to their family: Brooke, 39; Clint, 37; and Trevor, 31. Clint lives on Fairholme Farm and along with his work there, carries on his dad's love for rodeo: roping calves, bull dogging and team roping. The couple has nine grandchildren, whom they love spending time with.
"We don't really have any hobbies," Marla says. "Lance loves to rope, so if he gets away from the [breeding side of the] horses, he gets to go to the rodeo arena. We're all-in for the horses."
"The real off-time for me is the grandkids," says Lance. "We spend a lot of time with them. Clint has two sons, 6 and 9, who are involved in horses, and I look forward to the days when we can go with them to the rodeos and help them get going. I like to take them on vacations, too."
By passing on the skills learned through a lifetime in the equine world, Lance and Marla hope to enjoy their life's work for many years to come.