A Perfect Foundation - Jeff Adams built his breeding operation from the bottom side
Posted by Speedhorse on 07/05/2021
A full-page Appaloosa Journal ad provided the push that Jeff Adams needed to get back into Appaloosa racing in the early 2000s: Wagon Wheel Ranch in Utah was dispersing its herd.
"The ad got me thinking about how much fun I'd had with racing as a kid, so I called and told the ranch manager, Jeannie Hullinger, that I wanted one mare — the best mare she had," says the Durant, Oklahoma breeder/owner of top-tier Appaloosa runners.
The ranch manager told Jeff that the horse he wanted was Perfect Intention (Easily Smashed QH-Caesaduino, Beduino TB). "She's the mother, grandmother or great-grandmother of everything I've raised," Jeff says.
Although the mare that founded the bottom side of Jeff's outstanding breeding program earned just $11,708 in her own race career, she made her mark as an outstanding dam. Her 13 foals included nine race starters that earned a total of $478,504.50, with three earning stakes-winning status, four stakes placed, and nine earning registers of merit. She died in the fall of 2019, leaving a legacy as the all-time leading producer of Appaloosa racehorses.
HIS OWN FOUNDATION
Jeff inherited his horse passion from his father, Phil, a blacksmith whose book included the Appaloosa World and National shows for years. Jeff was the oldest of seven children born to Phil and Connie Adams, and grew up about halfway between Decatur, Indiana, and Convoy, Ohio, just inside the Ohio state line, about 140 miles north of Cincinnati.
"We started out showing Appaloosa horses and I showed until I was about 13, then sold Pepsi T, the horse I'd won so much on, and we got into racehorses," he says. Along with running his own horses, he earned his gas money during high school by galloping racehorses for others.
His first racehorse was the Appaloosa Whats Up Ghost (Ghost Of Comanche–Dina Doolin, Bill Doolin), whom he bought when he was 17. "That was amazing!" Jeff says of his first stakes winner. "You're a kid and you think you're invincible anyways, and then you have a horse that's hard for anybody to outrun. He set the bar pretty high for everything after that."
Before Jeff bought Whats Up Ghost, the 1968 Appaloosa gelding had earned the ApHC's 1970 Champion 2-Year-Old Sprint Gelding title and the Champion 4-And-Older Gelding titles in 1972, '74 and '76. In 1988, he was inducted into the Appaloosa Horse Club (ApHC) Racing Hall of Fame.
Jeff continued in racing until he was 21, then got back into showing pleasure horses when he moved to California for about four years. His last show horse, Shes Good Looking, won the 2004 ApHC World Championship and a Bronze Medallion in Performance along with two Year-End Top Tens and a Superior Event title, all in Senior Western Pleasure.
By then he'd moved to Oklahoma (in 1984). "I met someone and moved here," he says. "Thank goodness, because I love it here!"
It was around 2001 that he made that serendipitous call to Wagon Wheel Ranch that secured Perfect Intention and launched him back into the racing industry to become a four-time ApHC Leading Owner and seventh on the All-Time Leading Owners' List by money earned.
THE FRIENDS HE'S MADE
Of all of racing's many facets — breeding, raising and breaking babies, awards, etc. — it's the fun he finds and the friendships he's made through racing that Jeff loves. "Truthfully, I consider my biggest success to be the friends I've made," he says.
He also values the positive attitude he's managed to keep throughout his racing career. "I don't care who you are, you're never going to win every race," he adds. "I told my trainer, Dee Keener, that when the day comes that this isn't fun for me anymore, I'll quit. I don't ever want to be angry after a race. I go to the races for a one-day mini-vacation to watch my horses and I leave it right there."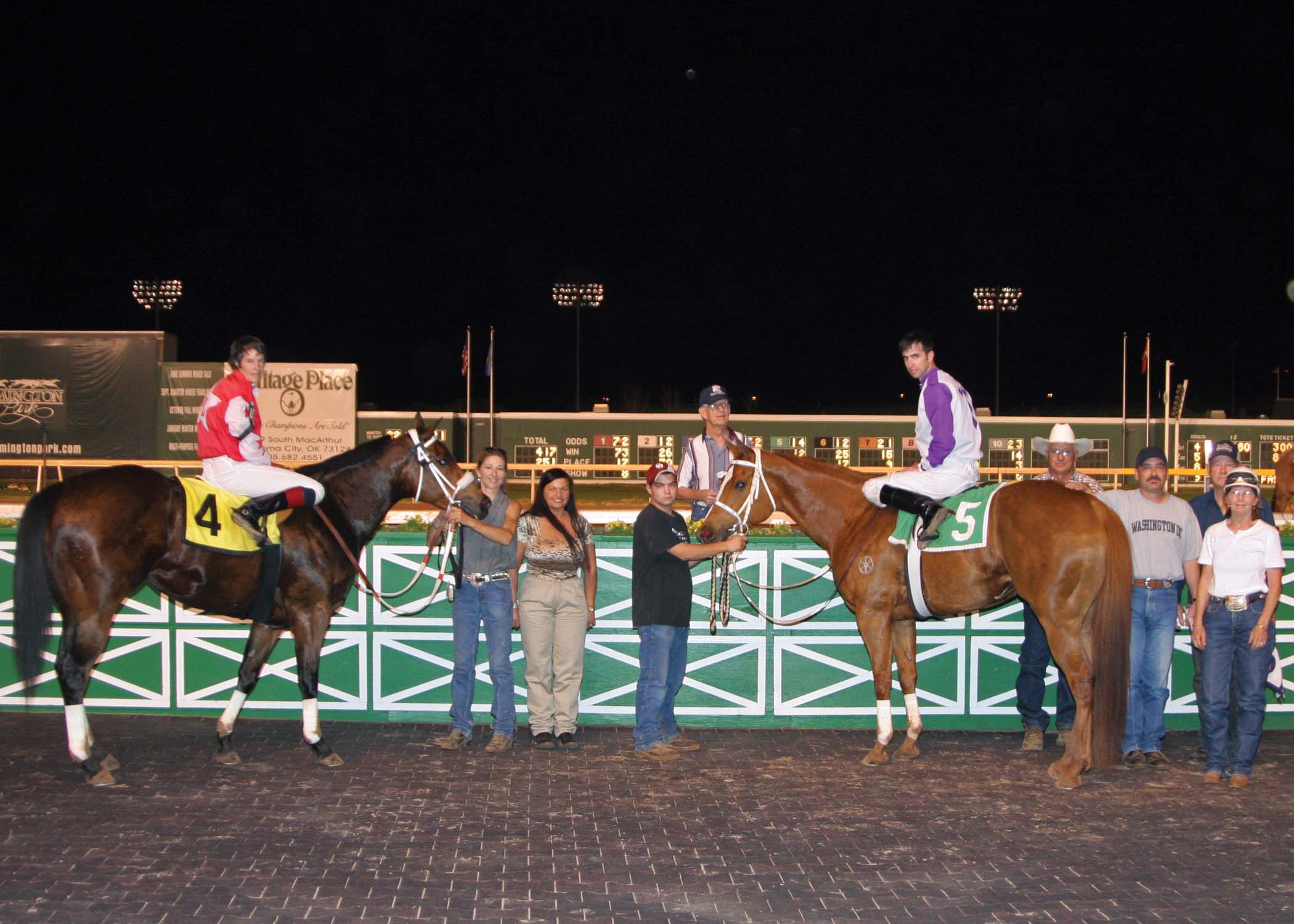 THE RIVALRY
Of the horses he's bought to prove as potential broodmares, You R My Sunshine and R Girls Night Out top his list of greats, and frequently ran as rivals. "When I first got back into racing and had bought Perfect Intention, I had several people call and tell me about her [Corona Cartel] filly, You R My Sunshine. They said, 'Jeff, she's got a filly that hasn't run yet and is working like anybody's business.'"
Jeff called trainer John Diediker, who owned the Wagon Wheel Ranch-bred filly in partnership and asked if she was for sale. Jeff says John told him he wanted $60,000 for her before she'd ever run. "Jeff thought I was crazy," John says.
But the filly started winning futurities and when John's partner sold his share in 2004, Jeff bought it. They ran her another two years, then John sold Jeff his half as well.
During her racing career (2003–2008), You R My Sunshine earned $159,171 and amassed stats of 40-19-5-9 — an 82.5% in-the-money record. Her wins included the Oklahoma Appaloosa Triple Crown in 2004 and Bronze Medallions as the 2-Year-Old Filly (along with the 2-Year-Old Supreme Champion title), 3-Year-Old Filly and 4 & Older Mare three years running. She also won three South-Central Regional Championships and Horse of the Year titles in 2005 and 2006. She ranked 11th on the top earners' list as well as being the top-earning Appaloosa mare of all time. Unfortunately, she died in June 2014 without the opportunity to pass on her epic speed to her offspring. That year, she was inducted into the ApHC Racing Hall of Fame.
In 2005, Jeff bought R Girls Night Out, who became You R My Sunshine's constant rival. Of 39 starts, the 2000 filly won nine and took 12 seconds and two thirds, earning $98,040 through 2007 and winning two Bronze Medallions as aged mare, in 2005 and 2006.
"I had more fun with those two," Jeff says of You R My Sunshine and R Girls Night Out. "They had two different trainers and every time R Girls Night Out would get outrun, Judy [Seely] would cry. I just loved that mare and she ran second most of the time to Sunshine. The very last race of one season, R Girls Night Out outran Sunshine and walking to the winner's circle, I told Judy, 'Well one thing about it is, you don't have to cry today!'"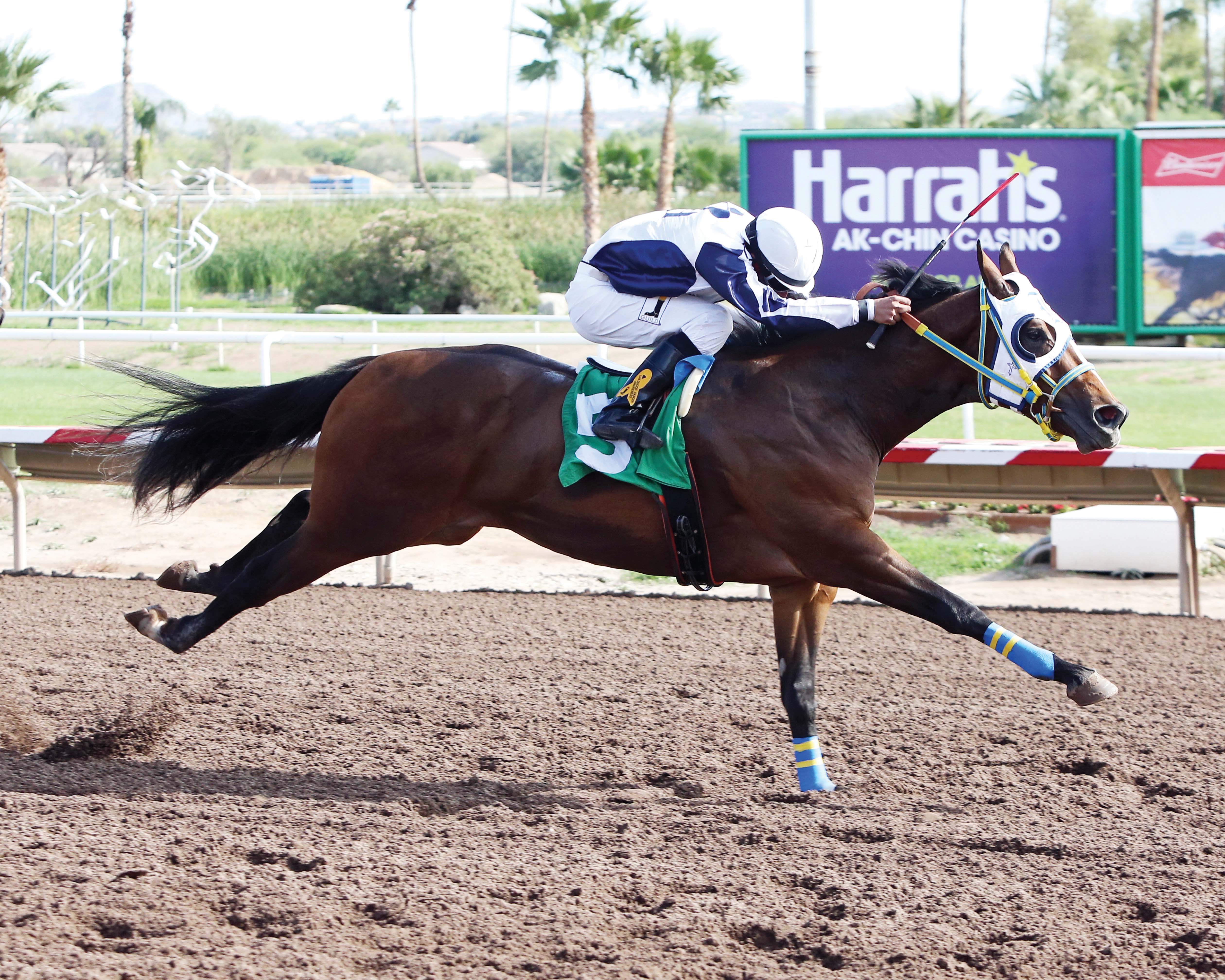 HOMEBRED HUSTLERS
One of Jeff's earliest homebred runners was Jess Streakin, a 2004 Perfect Intention baby by Feature Mr Jess. "It was kind of weird because I expected her to be a great, great mare but as a 2 year old, she was just Okay," he says. "As a 3 year old, she won her first out at Remington and then didn't run very well, so I decided to breed her to PYC Paint Your Wagon. It was late in the year and she didn't settle, so I just brought her home."
In late August, Judy's husband, Dub Seely, called Jeff and suggested they try her again. They put her back into training, and she won five of six races — two of them major stakes — and broke a Blue Ribbon Downs track record that had stood for about 20 years. She also won two Bronze Medallions (as 3-Year-Old Filly and Aged Mare), was named 2007 South-Central Regional Champion, Champion 3-Year-Old Filly and 2007 Horse of the Year, and will be inducted into the ApHC Racing Hall of Fame for 2019 as the dam of five medallion-earning foals that have earned a total of nine medallions. Six of her foals earned a combined $226,604 on the track.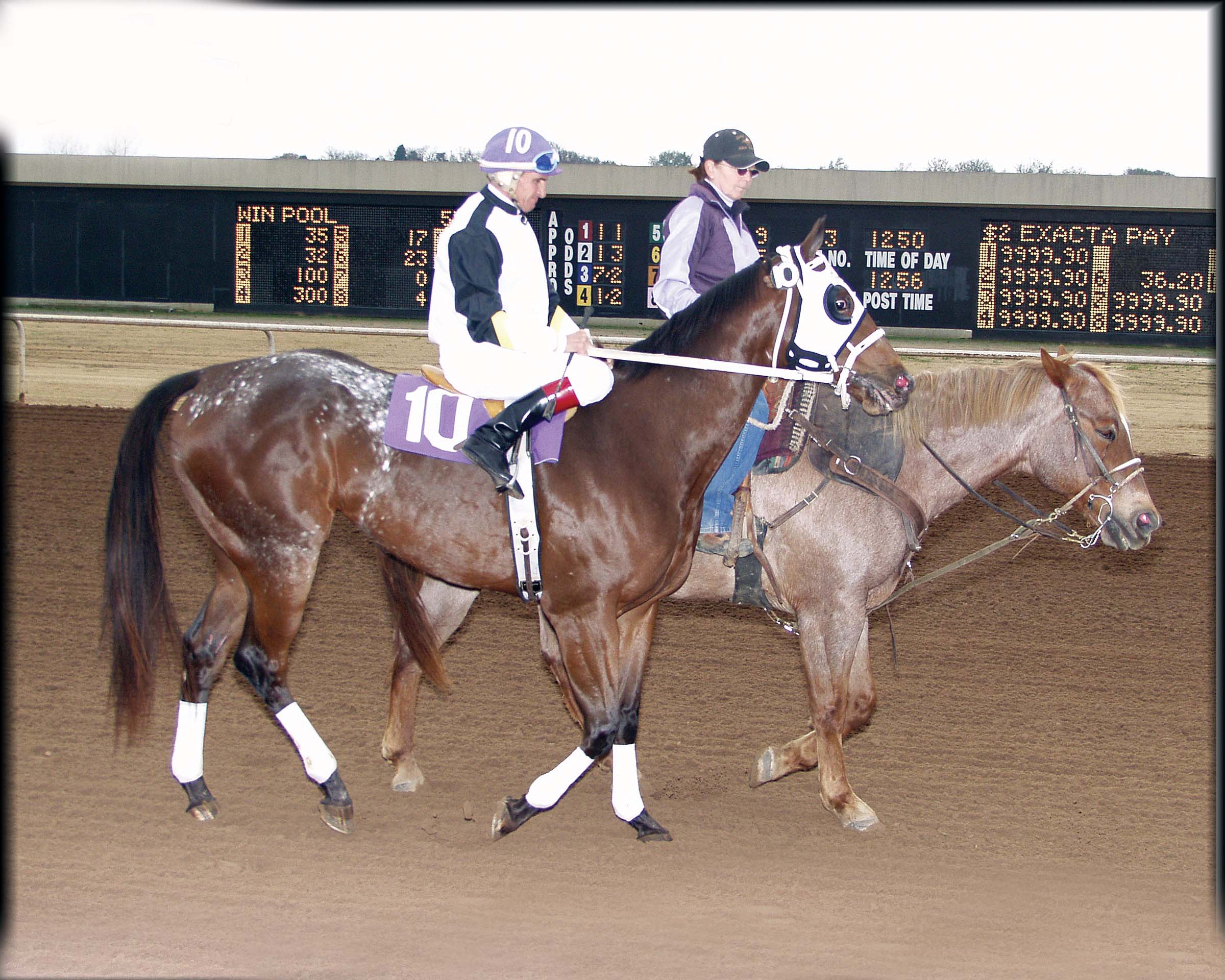 Jeff's next most successful homebreds were Jess Streakin's 2014 filly Jess Cuz, and 2015 gelding D Railed, both by Freighttrain B.
Jess Cuz earned Bronze Medallions at 2, 3 and 4 years old, was named Champion 2 Year Old, 3 Year Old and 4 & Older Mare, plus the 2017 South-Central Regional Champion. She earned $83,422 with a 20-4-7-1 record.
D Railed earned titles as the 2018 Champion 3-Year-Old Gelding and 2019 Champion 4 & Older Gelding, 2018 and 2019 South-Central Regional Champion, 2019 Horse of the Year, and two Bronze Medallions (as 3-Year-Old Gelding and as Aged Gelding) with a 21-8-4-1 record and $78,551 in earnings.
The list goes on (and on!): His homebred Bronze Medallion winners — several of which were owned and bred in partnership with John Diediker — include ApHC Hall of Famer R Ms Kitty, Paint This Kitty, Turnin Tricks, R Debutant, Train Trax, Catch This Kitty, Kiss Me Bye, R Sassy Corona, Circle The Wagon, Big Brown, Kitty Express, Naughty At Night, Sexy Senorita and Train Wreck.
HIS HOME SWEET HOME
Along with his racing operation, Jeff breeds French bulldogs and miniature golden doodles, and also helps a local veterinarian, Boyd Mills, at Durant Animal Hospital.
Since moving to Oklahoma, Jeff has incorporated everything he loves on his 70 acres. "I don't have to go anywhere to enjoy myself," he says. "My friends are like, 'You've never been on a cruise or done this or that,' but that's not really what I care about. There may come a day when I'm old and feeble and think, Shoot, I should've done this or that, but I don't really think so."
He admits he's his own boss for a reason. "I do everything here on the farm myself; I don't have any help, just because I'm too dang particular and nobody could do it to suit me!" he says. "I'm a micromanager; I'll own it."
Nearing official "retirement age," Jeff doesn't know how long he'll remain in the racing industry, but, he says, "I do know that when I quit, I want to go out with a bang, and so I'm trying to breed horses as well as I can and hopefully get some very, very nice horses. You just never know what tomorrow's going to bring, so you'd better do your best at whatever you do."
"Jeff is dedicated and wants to breed the very best," John Diediker adds. "He doesn't want to go to the racetrack with something that's just average. He took over where Gene Miles and those big breeders were years ago; Appaloosa racing kind of went downhill after those "big boys" got out of it, but Jeff has picked it back up again and will be on top for years to come. If anyone outruns him, they're going to have to really breed well because he's breeding the best he can."
"It's very tough to win races now," Jeff explains. "You've got a gate full of horses and everyone is wanting the exact same thing, so you'd better have bred that baby as well as you could have, and then you still just have to hope for the best. I'm very blessed to have had it happen for me."