Town Policy, A Tribute
Posted by Ty Wyant & Nancy Welch on 08/05/2020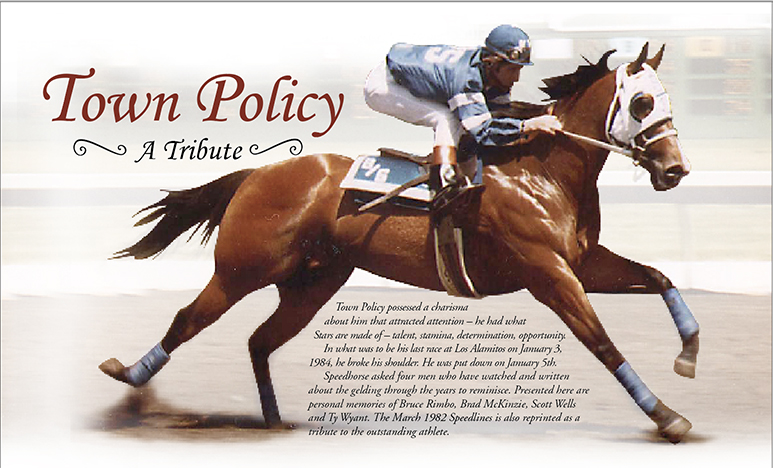 Legends surpass the bounds of man. They do things that defy categories. In Quarter Horse racing we have these handy categories in which to classify horses. We have speed indexes and registers of merit. We have champions and non-winners of two. We have stakes winners and claimers.
We also are very fortunate to have Town Policy.
Sure he fits into a lot of descriptions, but he surpasses them all. He has done so much for so long that we have a tendency to take him for granted. Yet he will be discussed a half century from now even though he is a gelding, therefore not having any progeny to help transmit his fame into the future.
Town Policy is legend.
The legend of Town Policy was not just built on the race track. His legacy is built on the intrigue created by Mexican horse thieves and the fact they were never prosecuted.
This odyssey began in October 1977 at a compact ranch in Stanton, California, which has since been torn down. It was in an area suited for an industrial complex instead of pasture.
Town Policy Was On Top
He was wrapping up his championship 2-year-old season that saw him win the Kindergarten Futurity, Pomona Futurity, Fresno Futurity, Bardella Stakes and run second in the All American Futurity.
That dark October night, Town Policy was led from his stall and whisked away. The next morning, trainer Blane Schvaneveldt received a call at the airport as he was about to board his plane to Oklahoma City. Town Policy was gone.
It is important to know the relationship of the Town Policy clan. When Schvaneveldt first moved a string of horses from Idaho to Los Alamitos, they were mainly owned by Ivan Ashment, the owner of Town Policy. Schvaneveldt and Ashment have been very close for many years. Their relationship is beyond that of a trainer and owner.
After Town Policy disappeared, the rumors flew as fast as he did down the race track. The common theme was that he was taken to Mexico to match race for "mucho pesos."
After five frustrating months, a tip through a Texas agricultural officer led to the gelding. There were rumors that a cattle prod was used to get information on the horse's whereabouts. The rumors may or may not be true, but they certainly helped build the scenario.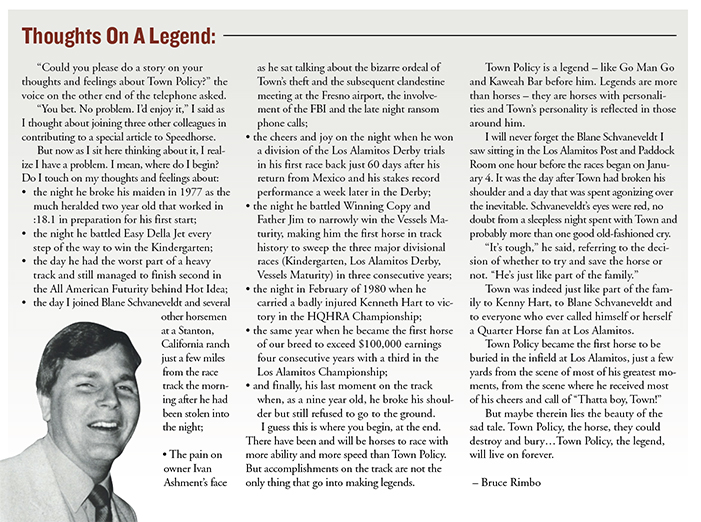 Several months later, his owner said that his first thought upon seeing Town Policy tied near a Mexican corral was that he looked like he was dead.

Legends can't die. They come back bigger than life to win the Los Alamitos Derby in record time to a standing ovation from thousands of normally staid racing fans. These people usually are more worried about the exacta in the next race, but they dearly love Town Policy; they are part of his extended family.
The family takes care of Town, and Town takes care of the family. On a chilled February night Town took care of the family. In particular, a very close member of the family, jockey Kenny Hart.
A month before the race Hart was in a horrendous spill. He suffered broken ribs, a bruised spleen and bedded down for a good part of a week in the local hospital.
But Hart was slated to ride Town Policy in the $100,000 HQHRA Championship. It was his first mount since the spill.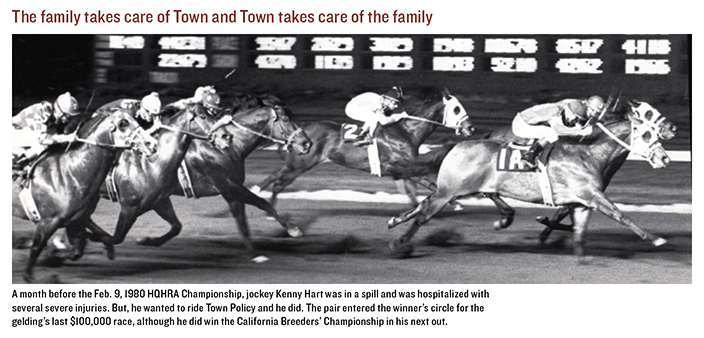 When Hart came out of the jock's room to get on the then 5-year-old Town Policy, he could barely stand up straight from the pain in his ribs. But he got on his horse.
Legends can't lose. Town Policy carried Hart down the inside of the Los Alamitos straightaway and wouldn't let entry-mate Stoa Minga pass. In the winner's circle, Hart tried to smile through the pain.
That is the last $100,000 race Town Policy has won. Town took care of his family.
And his genetic family has helped get Town Policy to his legendary status.
He is sired by one of the fastest grass horses ever in California. His female family sports inbreeding to the grand Thoroughbred sire of Quarter running horses, Three Bars.
Today's breeder puts great emphasis on a horse's female family. So, a real legend must have a female family. Town Policy has it. His second dam is an all-time great champion mare, and he is a brother to a pair of stakes-placed competitors.

The most visible aspect of Town Policy's breeding comes through his dam, Camptown Girl. It is through her that he gets his double dose of Three Bars blood.
Camptown Girl is bred 2x3 to Three Bars and she gets each dose of Three Bars blood through a champion son.
Camptown Girl's sire, Breeze Bar, was the 1961 Champion Stallion and co-held the world record for 400 yards. Miss Louton, the dam of Camptown Girl, was a two time running champion and was sired by the 1952 Champion 3-Year-Old Colt Tonto Bars Gill.
This is Three Bars blood through some of the finest members of the Three Bars family.
Three Bars was the first major Thoroughbred breeding influence in Quarter Horse racing after the inception of the AQHA. His breeding influence will always be felt in the industry.
Three Bars' sire record is awesome. He has sired 14 Champions, over 65 stakes winners and is the former leading sire of money earners with earners of over $3.1 million, all before the influx of big purses in Quarter Horse racing.
The Three Bars influence was shown in 1962 when 15 of the top 50 money earners were by Three Bars - that is 30 percent of the top 50 horses in training that year.
Three Bars rose from an unheralded beginning to the top of Quarter Horse racing. Several times he sold for less than $300 as a youngster. Then after he earned $20,000 and became stakes placed as an older horse, he achieved greater value. But still, Sid Vail paid only $10,000 for the horse in 1945 and later that was his stud fee. That was long before $10,000 breeding fees became commonplace in Quarter Horse racing.
The Three Bars sired running Champions read like a Hall Of Fame. They include the incredibly fast Pokey Bar, Bunny's Bar Maid, Triple Lady, Bardella, and the aforementioned Breeze Bar and Tonto Bars Gill.
Three Bars' daughters produced the likes of Easy Jet, Go Josie Go, Anna Dial and Duplicate Copy.
The Three Bars influence was not just felt through the racing end of the Quarter Horse industry. His sons like Sugar Bars and his grandson Doc Bar have been major factors in the show and performance world.
It is now 15 years after his death and it can be safely said that virtually every Quarter Horse owner and breeder owns a horse with Three Bars blood in it somewhere.
One of the great Three Bars' bred mares was Miss Louton, the second dam of Town Policy.
By Three Bars Champion son Tonto Bars Gill, Miss Louton was the 1958 Champion 2-Year-Old Filly, the 1959 Champion 3-Year-Old Mare and the 1959 Champion Mare. She raced through her 5-year-old season and won or placed in 24 stakes events. That sounds like her grandson Town Policy, who has won or placed in 23 added-money events at last count.
An interesting comparison is that Miss Louton earned over $74,000 and Town Policy has banked over $830,000. That is over a 10-time increase in earnings, and the two raced only two decades apart.
When Town Policy won the 1977 Kindergarten he earned over $115,000, while Miss Louton received a check for $1,687 when she ran second in the 1958 Kindergarten. Today, horses get more for placing in claiming races than Miss Louton got for placing in a major stakes for juveniles.
Like Town Policy, Miss Louton quickly moved into the stakes ranks as a 2 year old. She ran fifth in the Kansas Futurity when it was held at La Mesa Park, and then came back to post wins in the Nursery Handicap, Ruidoso Futurity, RMQHA Futurity and the C.T. Guseman Memorial.
Miss Louton then won seven stakes as a 3 year old, five stakes as a 4 year old, and posted her last stakes win as a 5 year old. Town Policy also posted stakes wins in each year from his 2-year-old through his 5-year-old seasons.
After winning 25 races, Miss Louton was retired and produced nine winners. Those nine winners included three stakes winners and a pair of stakes-placed competitors.
The leading money earner produced by Miss Louton was Louton's Angel, an Azure Te filly that won 10 of 21 outs while earning over $78,000. Her biggest payday came with a win in the Rainbow Futurity Consolation.
Miss Louton produced two stakes winners from the cover of Breeze Bar, Town Policy's dam Camptown Girl and Beulah Park Jet Straw Stakes winner First Monday.
Camptown Girl posted five wins, two seconds and three thirds from 23 starts while banking over $10,000. She gained her stakes wins in the Gem State Futurity and Bonneville Futurity.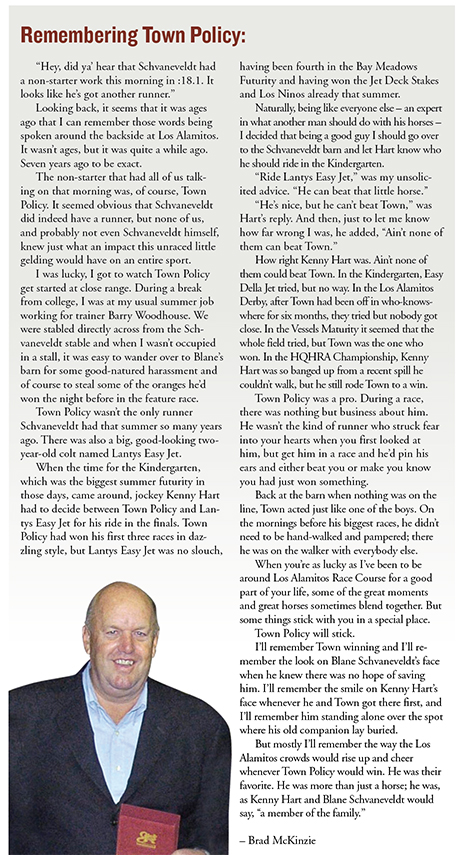 Camptown Girl has produced eight winners from eight foals of racing age, and she really excelled when she was bred to Reb's Policy. Each of her three stakes performers were sired by Reb's Policy.
In addition to Town Policy, Camptown Girl is the dam of Boise Derby third place finisher Rebs Town Policy and Independence Day Handicap runner up Policy Girl. A winner of three races and an earner of over $11,000, Policy Girl sold in the PCQHRA Sale last December for $120,000 in foal to Timeto Thinkrich.
To say that Reb's Policy and Camptown Girl have crossed well is an understatement. Reb's Policy is the sire of the Quarter Horse earners of nearly $2 million and 43% of those earnings were amassed by the produce of Camptown Girl.
Reb's Policy has also sired 19 stakes winners or stakes placed performers and three of them are out of a single mare, Camptown Girl. This is from a total of 169 starters (139 winners).
One word described Reb's Policy during his race career: speed. Reb's Policy was blessed with extreme speed and he showed it on the major southern California tracks.
Reb's Policy showed speed when he posted his first career stakes win at three in the 5 1/2- furlong Hollywood Express Handicap. He stepped off the distance in 1:02 2/5 to equal the Hollywood Park track record.
But the race that showed his blazing speed was the 1971 Meteor Handicap on the Hollywood Park turf course at 5-furlongs.
In that event, the four-year-old Reb's Policy carried 114 pounds over the five panels in an amazing :56 to establish a new track and American record.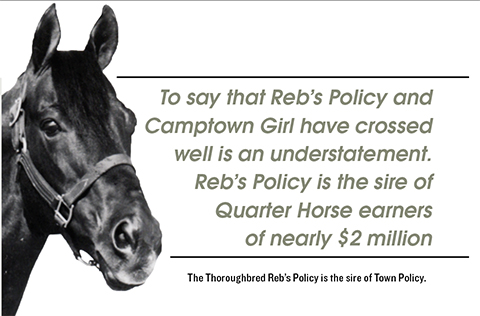 Reb's Policy raced for four years and banked over $83,000 with eight wins from 18 trips to the post. In his five-year-old season, he won a 6-furlong allowance in 1:08 1/5 to equal Santa Anita's track record.
From his first six crops to race, Reb's Policy has become a leading sire of Thoroughbreds in California.
The New Policy son has sired 36 winners from 49 starters, with five stakes winners and four stakes-placed runners.
The four Reb's Policy Thoroughbred stakes winners are headed by a pair of top class runners, Reb's Golden Ale and Little Reb.
Reb's Golden Ale is the leading Thoroughbred money earner sire by Reb's Policy with over $282,000. He has a stakes win in the Bing Crosby Handicap and holds the 5-furlong Hollywood Park track record of :55 4/5.
Little Reb accounted for four stakes events: the Malibu Stakes, Palos Verdes Handicap, El Rio Rey Stakes and Golden Gate Juvenile.
Little Reb's biggest moment came in the Malibu Stakes when he became one of only two horses to defeat Horse of the Year Affirmed in his final year of competition.
Reb's Policy crosses well with Camptown Girl and it appears that the stallion also has a special nick with the Thoroughbred mare Westward Wind as well.
A daughter of Restless Wind, Westward Wind has produced multiple stakes winner Westward Sal and Terlingua Stakes winner Westward Gal from the cover of Reb's Policy. This means that two of Reb's Policy's five Thoroughbred stakes winners are out of Westward Wind.
Reb's Policy is sired by the Gainsborough line stallion New Policy. This line of the Gainsborough clan traces through the leading Gainsborough son Hyperion since New Policy is by the Hyperion son *Khaled.
The *Khaled branch of the Gainsborough line has also produced Swaps and Hillary. The Gainsborough line has also accounted for *Alibhai, Nodouble, *Noholme II, Shecky Greene, *Forli, *Vaguely Noble, and Pass 'Em Up.
New Policy has been an important California stallion after being a multiple stakes winner and earning over $273,000.

Out of the Fair Trial mare *Feu Follet, New Policy is also the sire of $172,000 stakes winner and sire Kfar Tov.
Reb's Policy gets another infusion of speed through his female line, as his dam Yenoh Reb is by the 1955 Champion Sprinter Berseem.
A son of Berborough, Berseem won eight added money events and set or equaled four track records, including equaling the 6-furlong Santa Anita track standard twice.
Berseem is the sire of 10 stakes winners, including $203,000 earner Curious Clover and $124,000 earner Sand Canyon.
Yenoh Reb, the dam of Reb's Policy, is also the dam of Breeders' Sale Stakes winner Binkie's Honey, who is a full sister to Reb's Policy and the dam of stakes-placed Duxie.
Yenoh Reb has shown the ability to throw soundness in her foals, as she is the dam of six performers who have made over 28 starts.
Yenoh Reb is a full sister to Yenoh Ber, the dam of Marian Stakes runner-up Leal's Jewel.
This is the same female family as track record holder Roman Rice, who held the 4 1/2-furlong mark at Las Vegas, and Cinema Handicap runner-up Friar Roach.
Town Policy is probably in the twilight of his career. He didn't receive an invitation to the HQHRA Championship this year for the first time since he was stolen, and six of his last eight starts as of this writing have been against allowance company.
But, he is still the competitor and shows flashes of brilliance like last August's second place finish behind Denim N Diamonds in the Los Alamitos Championship.
In that race, he burst to the lead and forced the 1981 Champion Aged Horse to show her stuff. Sure Denim N Diamonds is younger and faster, a superb race mare at the peak of her career, but the point is that Town Policy made her earn it.
The record will show that Town Policy was defeated, but the people know that Town Policy never beat himself. He never has and never will.
Legendary characters may lose, but they never quit.