The Eternal Gamble - Vernon Pool
Posted by Lyn Jank on 01/21/2021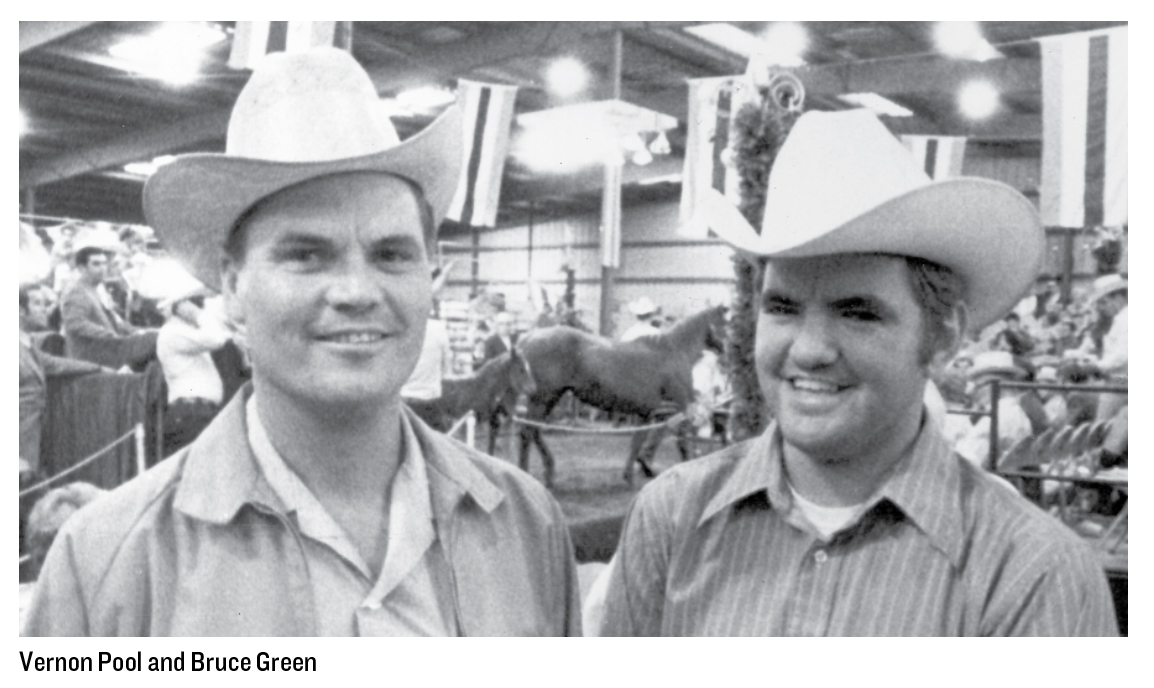 Vernon Pool grew up in Canadian, Texas, where his father owned a hotel and was a railroad contractor "who depended on horses and mules instead of the heavy equipment we have today." Vernon and his brother, Jesse, also became contractors and, by the 1950s, were primarily involved in road and dam construction. The days when horses did the pulling, hauling and scraping were gone, and the only horses Vernon was concerned with were the ones he occasionally bet on when vacationing in Ruidoso.
The decade of the 50s belonged to such running horsemen as J.B. "Johnny" Ferguson, A.B. Green, Gene Hensley and Carl Mercer, men never known for backing off from a match or a wager. Their generation grew up on the cusp of the old and the new. They knew the Quarter Horse as he had been, as he was, and envisioned what they wanted him to become. They advanced, sometimes separately, sometimes together, to shape an industry. Throughout the 1950s, Vernon's contacts with men such as these became closer.
"I don't think anybody has ever done more to promote the industry than Gene Hensley and Carl Mercer, from getting things going in Ruidoso, from bringing on the All American and Rainbow Futurities, and starting the All American Yearling Sale, on down the line.
"Johnny Ferguson and A.B. Green were close friends, but locked horns more than once. Of all the good horses they had, it was Top Deck and Go Man Go that they went all out for, at a time when "powers that be" didn't want anything to do with Top Deck or Go Man Go.
"From the time Johnny bought Top Deck from Ernest Lane until the horse's death, Johnny was his sole owner. But Top Deck spent most of his productive life with A.B., because Purcell, Oklahoma, was more convenient for mare owners than Wharton, Texas, where Johnny lived.
"Johnny got Go Man Go when he bred Lightfoot Sis to Top Deck in '53, raced Go Man Go in '55, then A.B. came in on the ownership, raced Go Man Go in '56, but Johnny had the stallion again in '57 and owned him until Go Man Go was sold to Vessels in 1960 or '61.
"Go Man Go was World Champion in '55, '56 and '57. I've always wondered what would have happened to this industry if Johnny and A.B. had gone along with most everybody else and decided Top Deck and Go Man Go weren't worth the effort.
"Somebody like me, who's never been against enjoying a fast horse and the friendship of good men who're hooked on the same thing – well, it's only a matter of time before you wake up and find yourself in the business.
"I was 39 in 1958 when Carl Mercer said he wanted a track built at his place in Ada, Oklahoma. My brother, Jesse, and I built it. What we got as payment was a package: a Thoroughbred mare, in foal, that Carl had bought from a Ronald Reagan consignment in a California sale; a yearling brother of his Aunt Judy, and a little weanling filly, Three-Fifteen, by Vandy out of Topaz Girl.
"Jesse was upset at first, he didn't care anything about horses. But I was getting a kick out of it, so all Jesse said was he guessed three horses wouldn't hurt anybody.
"In 1959 I went to the AQHA Convention in Amarillo with A.B. and Les Gosselin, and while we were there, we got together with Gene Hensley and Audie Murphy one afternoon at our motel. Audie had an option to buy all of A.B's horses, but couldn't come up with the money. Everything was down on paper, including the time of day when the option ended. It ended while we were in the motel room.
"Audie had asked me to come in with him and put up the money, but I knew Jesse wouldn't go for it. But I sat there, thinking about A.B's horses. I've always been somebody who does things on the spur of the moment, so I asked Audie if he minded if I tried to strike a deal with A.B., and he said he didn't.
"I asked A.B. what he would take for his horses, his ranch, everything, then he put on his hat and walked away. A.B. started pacing the floor, looking at the ceiling with his eyes squinted, everything got quiet, and then A.B. finally said he'd take half a million. I told him that he'd just sold out.
"A.B. wanted to go home and talk things over with his wife, Kathalyn, but I told him to call her, then and there, and he did. Kathalyn let him know in no uncertain terms that he wasn't going to sell Barbara L or Polly Jane and that she didn't want to give up her fishing pond.
"I've always thought a lot of Kathalyn Green, so I told A.B. she could go to the pond any time she wanted to, said she could keep Polly Jane and the other one, too, Barbara L, or whatever her name was. When I said that, every eyebrow in the room lifted, but at the time I didn't know Barbara L from Joe Blow.
"The next thing I had to do was call Jesse and tell him what I'd done. When he got his voice back, he said it was like buying a beer and enjoying it so much you went out and bought the whole brewery.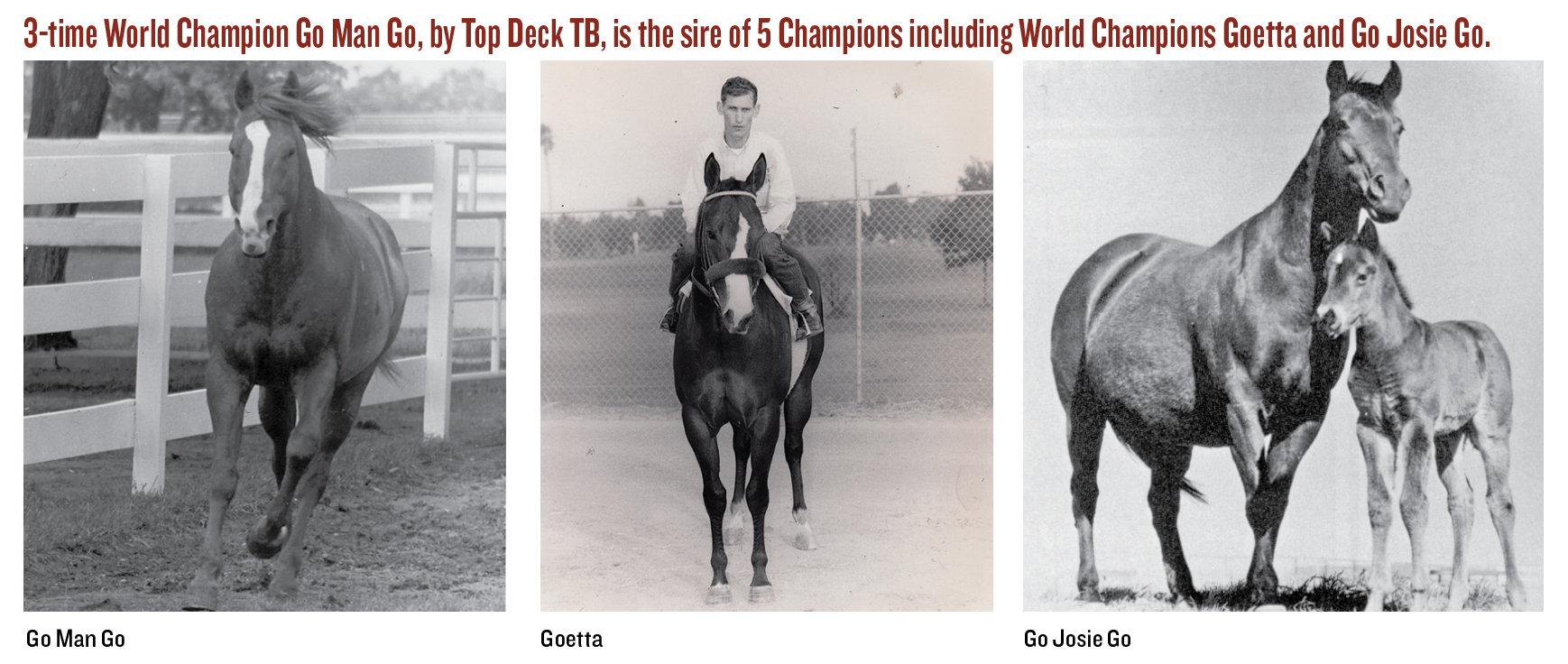 "Once the deal was on with A.B., Les Gosselin wanted to sell me his horses, including Goetta, Josie's Bar – he even threw in Go Man Go. He'd just leased Go Man Go from Johnny Ferguson, with an option to buy, and was planning on standing Go Man Go at his place in Edmond. Les said I could have the whole bunch for $175,000. Then Gene Hensley said he'd sell me Ruidoso Downs for less than that. I felt surrounded by men who were a lot smarter than I was, all of 'em wanting to sell me something, so I backed off. If I'd known then what I know now, I'd have given my brother a heart attack by going all the way.
"When I went to Purcell to close the deal, A.B. offered me fifty thousand to call it off, and I refused. He went out and bought the farm next door, and kept the name Green Pastures. He later sold it, and it became Briarwood Farms.
"Jesse and I called our new place the JV Ranch, and it's lucky for us that we were able to keep A.B.'s manager Dobb York, and his trainer, Jerry Fisher. We'd come a long way from just three horses, but didn't know the first thing about managing a horse farm.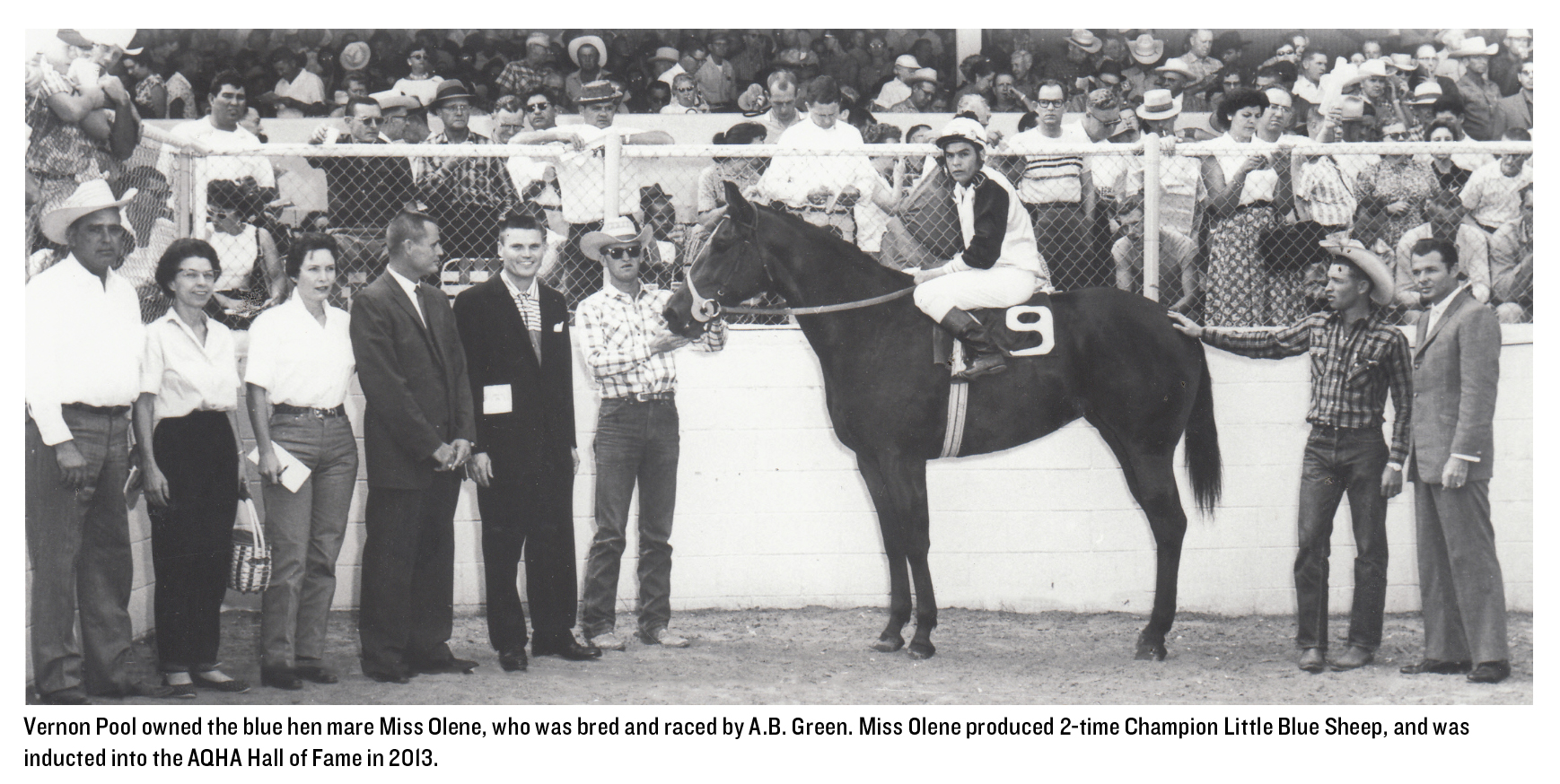 "When I bought A.B.'s horses, a lot were in California with Jerry – like Oh My Oh, Miss Olene, Mr. Meyers, and Angie Miss. It was late fall, and Go Man Go's yearlings from his first crop (1958) were there, too. All his first foals except one, Dynago Miss, owned by Les Gosselin, were in the bunch I bought. Go Man Go still didn't have his number, neither did his foals, so they weren't worth much at the time.
"Three-Fifteen, the filly that was part of the package we got from Carl Mercer, made her first out in '60, went off the board at about 30 to one, nobody thought she could do anything, and I told my friends not to bet on her.
What she did was get the lead on the first jump, and she never lost it.
"Angie Miss, a Go Man Go daughter out of Johnny Angel, also made her first start in '60, with Ronnie Banks aboard. She bucked all the way to the wire and finally did what she wanted to do – unseated Ronnie ten yards short of the wire, so her win didn't count. She came back and redeemed herself more than once, later on.
"When I sold Angie Miss to Hadan Livestock after she was through racing, they bred her to Alamitos Bar and got Kaweah Bar, the goingest gelding that ever has been.
"One by one, Go Man Go's foals made their point in '60. I don' think there's a one that didn't end up AAA. Go Man Go never had to beg for a number again, never again, and neither did his foals. I was up in Frank Vessels' old office at Los Alamitos not long ago, and some of the win pictures of Go Man Go's first crop were still hanging on the wall. Some people were admiring the pictures, and I couldn't help saying I had owned them when they were racing. It was one of the proudest moments of my life."
Throughout the years that Vernon owned the JV Ranch in Purcell, 1959 through 1961, he was at the peak of his professional career in road and dam building, lived in Shawnee, Oklahoma, and most of his participation in JV Ranch operations was on a commuter basis. When an opportunity to purchase a considerable number of acres in Shawnee came along, Vernon decided to sell out in Purcell and begin a new operation in Shawnee.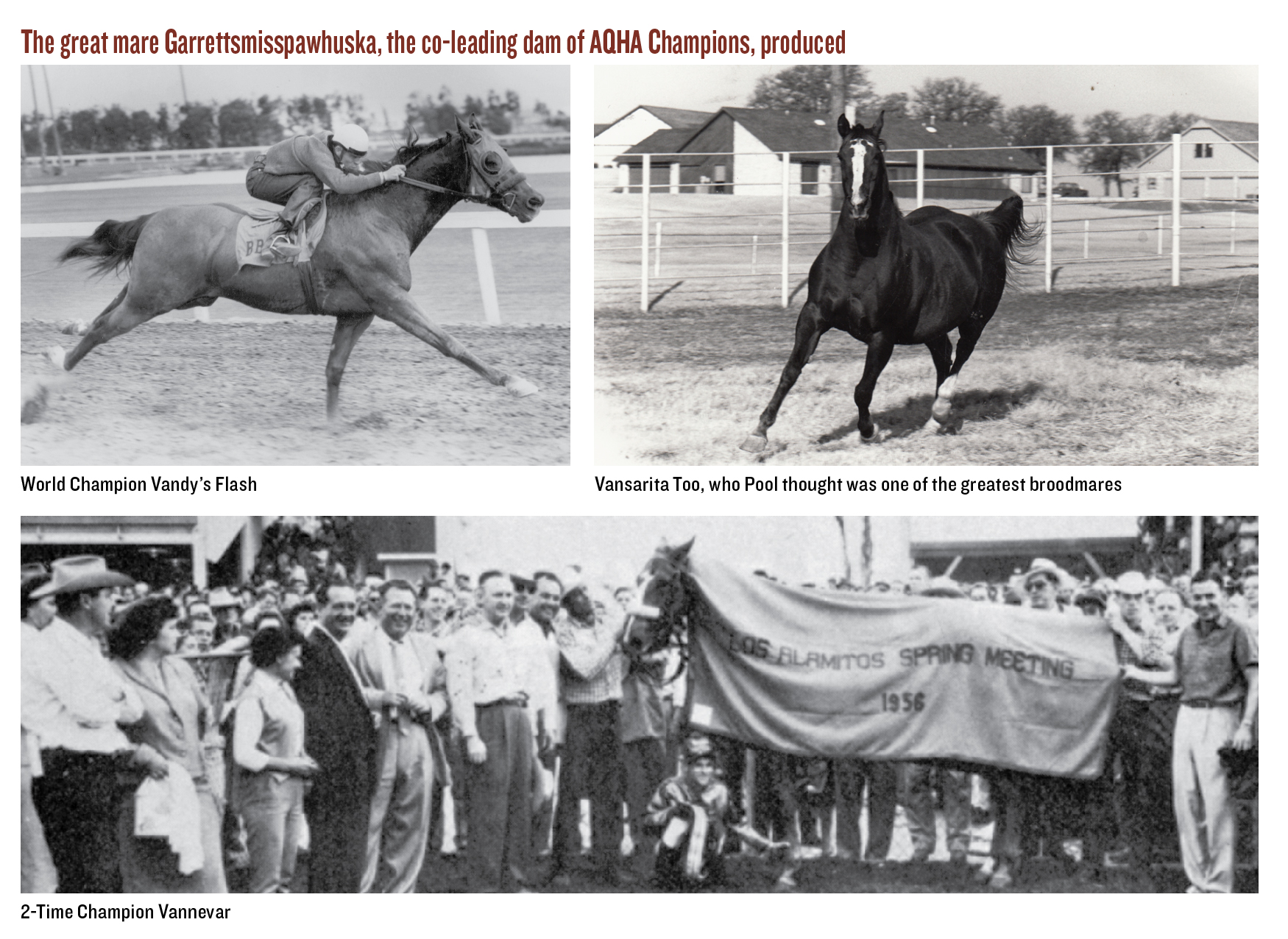 "When A.B. found out, he told me he wanted his farm back, and I sold it to him. I had made plans to have a sale and sell most of the horses, but had second thoughts and took some individuals out of the lineup. I don't know why I went ahead and sold Miss Meyers, but I did. A.B. bought her. Don't know why I sold Mr. Meyers, but I did. Bob Moore picked him up."
During the first years in Shawnee, Vernon stood such stallions as Ridge Butler, Uproar TB, Bar Tonto, Old Pueblo - a AAA home-bred, Pool Bar (Three Bars TB-Miss Olene), and Mr. Bruce, AAA (Three Bars TB-Barbara L). But Vernon eventually knew that stallion management was not his main interest. What he enjoyed most was taking care of his mares and buying and selling good horses. He sold the stallions and has continued forward with his broodmares ever since. One can safely say that Vernon Pool had some notable distaffers with which to begin.
Tom's Lady Gray, AA, foaled in 1941, by Joe Reed II out of Lady Reed, was already a leading producer when A.B. Green included her in the equine package he sold to Vernon in 1959. The mare subsequently earned recognition as an all-time leading producer. Her foals bred under Pool ownership: Chaundell, AAAT, stakes winner, multiple producer, and her full sister by Mr. Bruce, Miss Chaundell, AAA, multiple producer; Gray Butler, AA, by Ridge Butler, and Tomboy Jane, AAA, multiple producer, by Top Deck TB. Vernon's voice always changes when he mentions the name of this grand old mare. Tom's Lady Gray is buried "right here at home."
Miss Olene, foaled in 1957 by Leo out of Barbara L, was AAAT and a stakes winner in her racing days. Before Vernon sold this illustrious multiple stakes producer to Bobby French in 1967, he bred her to Three Bars twice and got Little Bar Olene, AAAT, AQHA Champion, and Pool Bar, AAA. Vernon then bred her to Ridge Butler and Bar Tonto and got, respectively, Topolene, AA, and Prissy Olene, AAA.
Oh My Oh, AAAT, multiple producer by Spotted Bull TB out of Miss Meyers, foaled in 1957, taught Vernon a lot about second thoughts in the world of selling.
"I sold her once to Bobby French and bought her back, then sold her to Joe McDermott and bought her back. It's foregone you're going to have good times and bad times in this business. One of the worst times for me was when I lost Oh My Oh a few years back. She broke her leg when she was playing on frozen ground. She's buried here with Tom's Lady Gray and the rest."
Oh My Oh produced the 1968 All American Futurity winner, Three Oh's by Three Chicks; Texas Longhorn si 91, by St. Bar; and a pair of AAA sisters and multiple producers by Mr. Bruce – Callmecutie and Oh Kathy Oh.
Two of Callmecuties's foals are Callmemyoh si 104, a leading money earner by Go Man Go bred by Vernon, who later sold her to Dr. D.G. Strole; and Justanold Love, winner of the 1981 Juvenile at Los Alamitos. Justanold Love, by Dash For Cash, was bred by B.F. Phillips after his purchase of Callmecutie.
Callmecutie's blood remains in the Pool band through her daughter Ohmycutie si 87 by Old Pueblo. Ohmycutie has a Master Hand yearling filly and is in foal to Easy Jet for an '82 foal.
Callmecutie's sister, Oh Kathy Oh, "outran Go Josie Go first time out in 1964, and ran third in the Rainbow Futurity, even though she was having ankle problems. We blistered her. They had a new technique then, where you blister them and wrap them. Well, they just ruined her, all the hide came off her ankles. I never raced her again. She still doesn't have any hair on her ankles today."
Vernon sold Oh Kathy Oh to Loyd Jones when she was four, "and Loyd raised a couple of colts out of her, including Realm Rogue by a Thoroughbred, Mr. H.Z. Realm Rogue was sixth in the 1972 All American Futurity. I finally went back to Loyd, repurchased Kathy and never sold her again. She's 20 years old, has an Easy Jet yearling and is again in foal to Easy Jet for an '82 foal. I have her daughter, Susie Pool – named after my beautiful, wonderful wife – here at home. Her Tiny's Gay colt, Rock Solid, will start this year. Susie Pool's in foal to Easy Jet for an '82 foal."
Oh Kathy Oh has also produced Captain Kix, AAA, by Bar Raider, and Sonny The Bull si. 89 by Tiny's Gay.
Vansarita Too is out of one of the greatest broodmares that ever lived, Garrettsmisspawhuska, raised by Dee Garrett. Three of Garrettsmisspawhuska's foals were Champions: World Champion Vandy's Flash; Vannevar, Champion Gelding at 3 and 4; and Vanetta Dee, Champion Filly at 3, Champion Mare at 4, 5 and 6.
Vernon purchased Vansarita Too from Dee Garrett's widow, Neva, in 1972, when the mare was in foal to Go Man Go, and had Sinn Fein, by Three Oh's, at her side.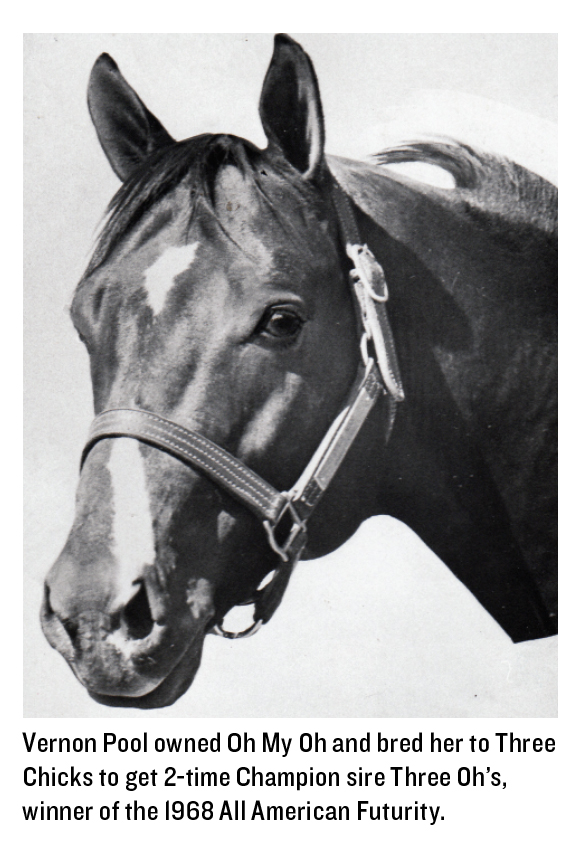 "When I went to pick up the mare, I saw a filly I couldn't take my eyes off of, and Neva told me she was Vansarita's daughter, Gotta Go Too, by He's Gotta Go. Neva and I did a little trading, and I hauled the filly, too. I'd gladly have purchased Sinn Fein, but Dr. Strole had already made a bid on him, and he came after the colt as soon as he was weaned.
"Vansarita Too had a filly in '73, and I named her Granny Garrett, which is what Neva's grandson, Billy Bowers, had always called her. Billy heads up the Val Verde track.
"I eventually sold Granny Garrett to Bobby French, for the same price I bought Vansarita Too, $100,000, and Bobby sold her to B.F. Phillips in 1980.
"Vansarita's filly, Gotta Go Too, qualified for the 1973 finals in the Sun Country, Kansas, Rainbow and All American Futurities. I later sold her to B.F. Phillips. She had an Easy Jet foal, Gotta Go Easy, and one Dash For Cash foal before she died. Her foal went for around $15,000 in the All American sale. Vansarita's foal, Sinn Fein, turned out to be stakes winner and sire. He's standing at Running U Stallions in Hamlin, Texas.
"Vansarita has a two year old and a yearling by Easy Jet. Her 1977 Easy Jet filly, Vansarita Flash, broke her coffin bone in training but turned on the speed before that, outworked everything I had in California. Vets have told me she's on her way to being a hundred percent sound again, and if that happens, I may send her back to the track later this year. As for 1983, there's only one place she's going – to Special Effort. Vansarita Too's in foal to Easy Jet for an '82 foal, and she'll be bred back to him.
"One of my mares is Chick's Fantacia by Three Chicks out of Fantacia. She's about twelve, has a Tiny's Gay two year old, a Mito Paint yearling and is in foal to Rocket Wrangler for an '82 foal. In 1978 we bred the mare to Tiny's Gay and got a filly that we named Pfeffernuse – you pronounce it "feffernoose," and it means Christmas cookie in German. I guess a lot of people at Ruidoso Downs wish we had named her in English, because they tripped all over her name last year.
"Jerry Fisher was my first trainer. When he went to work for Vessels, I had Dave 'Cotton" Newby, then went with Blane Schvaneveldt. So Blane got Pfeffernuse last year. She got a 95 speed index first time out, won her first go-round in the All American Futurity trials real easy, was second the second time around, but didn't qualify. She had fever that day. Blane didn't want to run her, but I told him to do it. He fussed, told me it was the first time he'd ever run a sick horse. Sure enough, she just didn't want to run, and I never should've asked her to. Blane still fusses about it. She's with him now, and we have plans to put her in some big races this year. I get the feeling that we're going forward on the silent understanding that Blane will choose her outs this time. He is an exceptional trainer and person.
Another good thing is that it's Jerry Fisher who breaks most of Blane's colts. This means a lot to me."
A few other mares in the Pool band are Lickety Split si 92 by St. Bar out of Shining Note, full sister to Golden Note, 1961 Champion Two Year Old Filly. Lickety Split has an Easy Jet yearling and is in foal to Raise Your Glass for an '82 foal.
Celebrity Girl, a 1972 foal by Decka Center out of Ima Dial Bailey si 101 track record holder at Eureka Downs (330-:16.98), is in foal to Moon Lark for an '82 foal.
One of the youngest in the band is four-year-old Brace, winner of the 1981 La Primera Del Ano Derby. Brace, by Timeto Thinkrich out of Phoebe's Moon Bug by Lady Bug's Moon, will be bred to Easy Jet this year.
After 24 years in the industry Vernon Pool, who is 62 but looks young enough to be his own son, has no intention of stopping now.
"I sold my highway construction business a long time ago and went full time with horses. I might add that I bought Jesse out along the way. It seemed like the honorable thing to do, since he never did care too much about horses anyway.
"It didn't take long to learn that to make money in this business you've got to breed to popular stallion, it's what the people want. But if I'm breeding with the idea of keeping the foal, the only rule I have is to breed the mare to the stallion I think is best for her.
"I think syndication is a good thing and own a share in Easy Jet, three in Special Effort and would have one in Dash For Cash, only his syndication was closed before I found out about it.
"My only objection to syndication, or any breeding program, is when too many mares are bred to a stallion in one season. We're overdoing that part of it real bad. When you breed two or three hundred mares to a stallion, it just floods the market. It's ridiculous.
"I'd like to see a rule passed where you couldn't breed more than 80 to 100 mares to a stallion in a season. We'd have better colts, and it'd be easier to get your price for them. We ought to take a lesson from the Thoroughbred people. The Quarter Horse industry's only in its infancy. If we don't kill ourselves by overbreeding, we can catch up with the Thoroughbred people, and the day'll come when we'll see a yearling go for a million.
"Considering the interest rates today, plus the cost of everything else, there's no such things as a $5,000 colt anymore, I don't care if they give you the breeding, and you've got a $2,000 mare, you can't raise a colt the right way for $5,000.
"Today, you can see colts go through a sale and not even bring their stud fee. Until the day comes when we put quality before anything else, that will happen, which is why I'm so against overbreeding.
"I've never raised a colt I wouldn't sell – I sold Three Oh's, which proves the point.
"In 1965 Bob Moore kept after me to breed Oh My Oh to Three Chicks, but I didn't want to. She was due to foal late, and I planned on letting her rest a year. But Bob just kept on, and I finally said he could breed her one time on foal heat, then send her right back to me. That's what he did, and the following June, Oh My Oh foaled Three Oh's.
"The colt was goodlooking from the start, and a couple of friends, Chuck Siewert and Bill Lockridge, came out one day to talk about buying him when he was still a weanling. My price was $12,500; theirs was $12,000 flat. Nobody would budge, so it was No Sale. Then Bobby French came along, bought a package from me, including Three Oh's, and later sold the colt to Dr. Strole.
"Chuck Siewart and I were at Ruidoso Downs when Three Oh's won the 1968 All American. Chuck just shook his head. I told him that five hundred bucks was all that had kept him from the win circle that day.
"But how do you know, really, what will happen? If I had kept Three Oh's, would he still have won? If Chuck and Bill had bought him, would he still have won? You never know.
"It's the same way in the breeding part of it. A man can map out bloodline crosses that seem foolproof, only the nick won't show. Then something like John Henry comes along, whose sire's stud fee was only $2,500. The unexpected is simply a factor, in all of it. Horses that aren't supposed to do it, do it. Some of the horses you KNOW can do it, don't. The good ones can some from anywhere if the blood's there, if the nick's there. That's the eternal gamble in this business, any way you view it."
The living room windows of the Pool home overlook the mare pastures, and Vernon's gaze always wanders in that direction when he speaks about his horses.
"There's no way you can help but get attached to some of your horses. It's happened to me a lot of times. My main business is still buying and selling, that won't change. I guess it's true that I'd sell anything except my family. It's also true that a few mares have been part of the family, some are part of it now, and I imagine some more will come along that I'll find a reason for not putting a price tag on. Or, if I do, it'll end up the way it did with Oh My Oh, Oh Kathy Oh, and some others – I'll find a reason for buying them back."