A Common Bond
Posted by Larry Thornton on 08/06/2020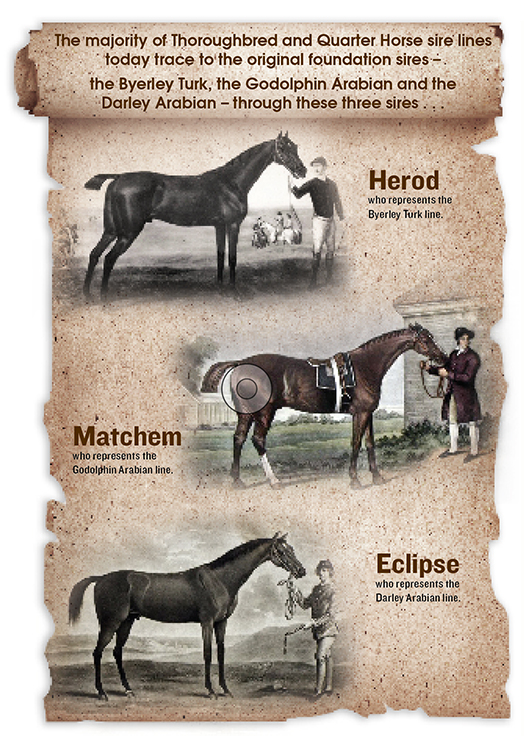 The history of the Thoroughbred and the American Quarter Horse are intertwined in American history from the Colonial days to today. The Thoroughbred was officially recognized as a breed in 1791 with the formation of the General Studbook in England. The American Jockey Club and the American Studbook were formed in 1894. The American Quarter Horse was not recognized as a breed until the formation of the American Quarter Horse Association and their Studbook in 1940. But many of the foundation animals of these two breeds have come down through history, forming two distinct breeds and, as you will see, there are some close ties between the two breeds that gives them a common bond in blood, or shall we say genetics.
The Byerley Turk, the Godolphin Arabian and the Darley Arabian are considered the three most important foundation sires in the development of the Thoroughbred. These three sires made their mark on the development of the Thoroughbred in England by the mid 1700's. The next line of important sires were Herod, representing the Byerley Turk line; Matchem, representing the Godolphin Arabian line; and Eclipse, representing the Darley Arabian line. The majority of Thoroughbred sire lines today trace to the original foundation sires through these three stallion lines. This is also true for our American Quarter Horses.
The first horses from England were imported to the Colonies in 1620. This is 171 years before the General Studbook was published in 1791. The American Quarter Horse also has its beginning with the Celebrated American Quarter Running Horse in the mid 1700's as our country was on its way to independence during the Colonial period of our history. The Colonists loved horse racing. However, there were no racetracks, so they improvised with races that were limited to short distances or clearings. Thus, Quarter Horse racing was born.
The first significant import to the Colonies was Bulle Rock, by the Darley Arabian, in 1730. His dam is a daughter of the Byerley Turk. Another early import was Traveler, who was imported to American in 1748. He is by Croft's Partner and out of a granddaughter of the Darley Arabian. Croft's Partner is the grandsire of Herod.
Janus, also known as Little Janus, was the most important import for the development of the Celebrated American Quarter Running Horse. Imported in 1756, he revolutionized racing in the colonies as a 10 year old. Since Janus was such a great sire of speed, he was bred until the age 34. Janus is by Old Janus, a son of the Darley Arabian. The dam of Old Janus is Amorett, a granddaughter of the Darley Arabian.
Janus was so successful that he sired several sons and grandsons that formed their own families of Celebrated American Quarter Running Horses. These sons include Peacock, Babram, Celer and Twigg. His grandsons that formed their own families were Bacchus, Ariel, Brimmer and Printer. Many of these sons and grandsons were also inbred to Janus. Bacchus, for example, is by Old Babram by Janus and the dam of Old Babram is a daughter of Janus. The dam of Bacchus is by Janus and out of a Janus Mare by Janus.
Whip, born in 1794, was imported to America in 1801 and formed a very famous line of Quarter Horses. By Saltram by Eclipse, Whip is out of Ariel's Dam by Herod. Whip sired Blackburns Whip, who is out of Speckleback by Randolphs Celer by Meades Celer. Speckleback is out of Old Speckleback by Meades Celer, who is out of Brandon by Janus. This gives Speckleback a 2x2 breeding pattern to Meades Celer.
Blackburns Whip is the sire of Short Whip, who is out of a Kentucky Mare whose pedigree is unknown. Short Whip sired Harry Bluff out of Big Nance. Helen Michaelis, the pedigree researcher and early Secretary for AQHA, believed that Big Nance is by Jackson by Timoleon by Sir Archy. Harry Bluff is the sire of Steel Dust, the famous stallion that became a foundation sire for the modern Quarter Horse. The dam of Steel Dust is reported as a Thoroughbred type mare and her pedigree is unknown.
Steel Dust has a lot of folklore associated with his history. Reportedly born in 1843, he allegedly came to Texas from either Kentucky or Illinois in 1844. He was raced for many years and won a race against a horse named Monmouth. His most famous race was with Shiloh that we will cover shortly.
Steel Dust was very popular as a sire and his legend spread throughout Texas and the Southwest. He counts among his foals Tom Driver, who sired Shelby the sire of Eureka who sired Weatherford Joe Bailey, also an important sire.
Steel Dust also sired Old Cold Deck, sire of Printer II who sired Missouri Mike the sire of Missouri Rondo who is the sire of Old Fred, the foundation sire for Coke Roberds of Colorado. The blood of Steel Dust was so coveted that his name was considered by some wanting it to be the official name of the American Quarter Horse when the AQHA was formed.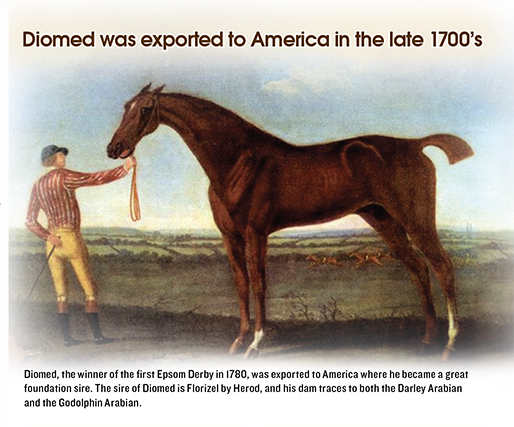 Diomed, the winner of the first Epsom Derby in 1780, will be our next significant Thoroughbred to influence the American Quarter Horse. The success of Diomed on the track didn't go with him to the stud, and he was eventually exported to America as an aged stallion where he became a great foundation sire of the American Thoroughbred and the American Quarter Horse. Diomed is by Florizel by Herod. His dam is Sister To Juno by Spectator. The dam of Sister To Juno was Horatia by Blank. Blank is by the Godolphin Arabian and out of Amorett by Bartlets Childers by the Darley Arabian. Amorett is the dam of Old Janus, making Blank and Old Janus full brothers.
Sir Archy, by Diomed, was born in 1805 and become a key player in the success of his sire. He became an important sire of both Quarter Horses and Thoroughbreds. Sir Archy is out of Castrianira by Rockingham by Highflyer by Herod.
Copperbottom, by Sir Archy, was one of his important Quarter Horse sires. He was out of a mare by Buzzard by Woodpecker by Herod. The dam of Buzzard is Misfortune by Dux by Matchem. The mare by Buzzard is out of a mare sired by Rattle by Shark by Marske. Marske is the sire of Eclipse.
Copperbottom, born in Pennsylvania, was brought to Texas by the legendary Sam Houston. Copperbottom would form the second oldest family of American Quarter Horses in the post-Colonial period. R.L. Underwood was the third President of the AQHA, and he bred many bloodlines and one of those bloodlines was with his stallion Golden Chief, a direct descendant of Copperbottom. We see the Copperbottom blood in the AQHA Hall of Fame stallion and famous cutting horse Cutter Bill, who has a breeding pattern of 3x4x3 to Golden Chief.
Shiloh, a foundation Quarter Horse sire, was foaled in 1844 in Tennessee and brought to Texas in 1849. Shiloh is closely associated with Steel Dust, as they were both racehorses in the early days of Texas. They reportedly raced against each other one time in 1855 - with two versions of the race. One version of the race has Steel Dust winning after he reared in the chute and with the jockey getting it together to pull out a win. Those who tell this version note that the rearing was an attempt by the trainer to get his horse beat. Some say that Steel Dust was blind by this time, as well. The other version has Steel Dust rearing in the chute, injuring his shoulder and forcing him to forfeit the race. This version says Steel Dust went blind as a result of the injury.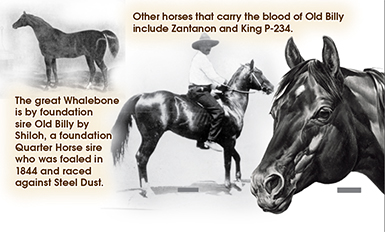 Historians have always told us that Shiloh is by Von Tromp by Thomas' Big Solomon by Sir Solomon by Sir Archy. Shiloa, the dam of Shiloh, is by Union by Arab by Sir Archy. The dam of Union was Rarity by Sir Archy. This gives Shiloh a breeding pattern of 4x4x4 to Sir Archy.
A number of pedigree researchers have reported that they believe the Sir Solomon in the sire line of Shiloh could have been sired by Tickle Toby by Alfred by Matchem. This is interesting because Sir Solomon, sired by Tickle Toby, is found in the American Studbook as Badger's Sir Solomon and he was foaled in 1805, the same year Sir Archy was born. His number is 2316. The #2317 in the American Studbook is Sir Solomon by Imported Citizen and he was foaled in 1808. The American Studbook #2318 is Sir Solomon (Young) foaled in 1823. He is by Badger's Sir Solomon #2316. In the "Pedigrees Not Extended" section it shows another Sir Solomon foaled in 1832 and sired by Trumpator. A Sir Solomon by Peter Teazle was born in England 1796. This tells us that Sir Solomon was a popular name.
The Alexander Mackay Smith book The Colonial Quarter Race Horse stated in his notes for Chapter 11 on page 202 the following: "The only documentation on the ancestry of Shiloh is a manuscript pedigree of the stallion Bell Punch foaled in 1882, written by Tom Martin of Kyle, Texas. His tail male line reads: Whalebone—Billy Boy—Shiloh—Van Tromp—Thomas's Big Solomon—Sir Solomon—Sir Archie." Smith later shows in a pedigree on page 206 both versions of the sire line of Shiloh. He says there was no Sir Solomon by Sir Archy.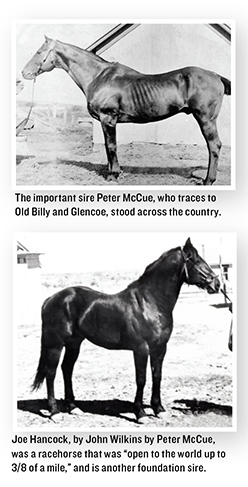 Frank Talmadge Phelps wrote a series of articles for Western Horseman titled "Great Foundation Sires of the American Thoroughbred." The fifth installment of this series came in the February 1953 issue titled "Sir Archy and the Later Diomeds." On page 41, he writes the following: "Not only was Sir Archy a great sire of four milers, he was also a prominent progenitor of Quarter Horses. Quarter Racing was still popular in North Carolina, and Sir Archy's sons Bacchus, Sir Solomon and Copperbottom were among the most famous of the short horses." This tells us Phelps believed that there was a Sir Solomon by Sir Archy.
Dr. Deb Bennett PhD in her ongoing series "Conformation Insights" in EQUUS magazine reported in the August 2017 Issue in "The Stuff of Legends" that the Sir Solomon by Sir Archy and foaled in 1815 was the sire of Thomas' Big Solomon foaled in 1820 and he in turn is the sire of Von Tromp foaled in 1835. Von Tromp sired Shiloh in 1844. Bennett reported that this Sir Solomon was probably not a full blood Thoroughbred. He is out of what she terms a Mountain Mare, or a Thoroughbred mare who was not in the Studbook, so he was not in the Studbook.
When Shiloh was bred to Ram Cat by Steel Dust, they produced Old Billy or Billy Boy as he is listed above. Old Billy teamed with a mare named Paisiana to produce 20 foals, including Anthony, Red Rover, John Crowder, Pancho, Joe Collins and Whalebone. The Old Billy/Paisiana foals became the foundation of the Old Billy Family of South Texas Quarter Horses. Such noted sires as Sykes Rondo, Little Joe, Possum, Zantanon, King P-234, Jim Ned, Joe Bailey P-4, Weatherford Joe Bailey and Yellow Jacket are important Quarter Horse stallions found in the American Quarter Horse that carry the blood of Old Billy.
Old Billy sired a horse we call today Martin's Cold Deck, a horse that can be confused with Old Cold Deck by Steel Dust. Martin's Cold Deck sired Barney Owens and he sired Dan Tucker, the sire of the great foundation sire Peter McCue. Thus, depending on the pedigree you believe, Peter McCue traces to either Sir Archy or Tickle Toby in the sire line – Sir Archy being from the Herod sire line or Tickle Tobey being from the Matchem sire line. Needless to say, he descends from a Thoroughbred sire line.
The dam of Dan Tucker was Lady Bug, or Butt Cut as she was called. She is by Jack Traveler by Steel Dust by Harry Bluff. The dam of Lady Bug is June Bug by Harry Bluff, from the Whip sire line to Eclipse. This gives Lady Bug a breeding pattern of 3x2 to Harry Bluff.
Peter McCue raced on recognized racetracks as a Thoroughbred. His Thoroughbred sire is Duke Of Highlands. It was common for breeders to register horses like Peter McCue as sired by a Thoroughbred when actually sired by a Quarter Horse. Peter McCue had an official race record of 45 starts with nine wins, five seconds and seven thirds. He also had many starts on bush tracks that weren't official.
Peter McCue became an important sire because he stood at various locations around the country. He stood in Illinois, where he sired horses like John Wilkins, Harmon Baker and Hickory Bill – with all three of these stallions going to Texas. John Wilkins would be raced, but the thin walls of his hooves meant he couldn't hold up for racing. John Wilkins sired Joe Hancock, a racehorse that was "open to the world up to 3/8 of a mile." Harmon Baker was a sire for Billy Anson, the English Nobleman who came to America to ranch. It was reported that Harmon Baker was virtually unbeatable in the races he ran, and he was also raced as a Thoroughbred. Hickory Bill, who was used as a sire by George Clegg, is the sire of Old Sorrel, the foundation sire for the King Ranch Quarter Horses. Peter McCue stood in Oklahoma and Texas, where he sired horses like Jack McCue and A D Reed. A D Reed was also raced on Thoroughbred tracks and Jack McCue was raced during his life with no official record available. Peter McCue then went to Colorado, where several of his daughters were born and then bred to Old Fred in the Coke Roberds breeding program. The Roberds breeding program spawned the Warren Shoemaker and Hank Wiescamp breeding program. All three of these men are in the AQHA Hall of Fame for their success as breeders.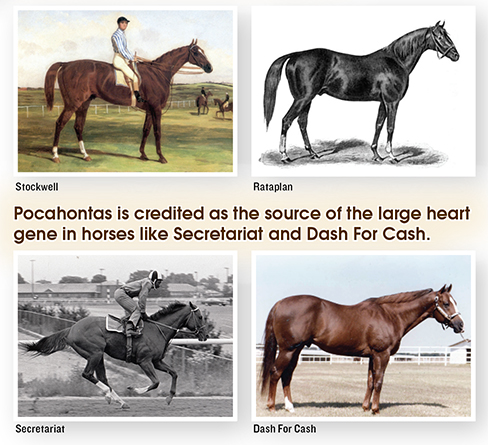 Glencoe was foaled in 1831 in England. He is by Sultan, who is by Selim by Buzzard by Woodpecker, a son of Herod. The dam of Glencoe is Trampoline by Tramp. The dam of Trampoline is Web. Web is by Waxy and out of Penelope by Trumpator. Web is one of the most important mares in the history of the Thoroughbred as well as a full sister to Whalebone, who is a key sire in the modern sire line of the Phalaris branch that has given the industry the all-important sires Nasrullah, Native Dancer and Northern Dancer. This is the sire line that includes Secretariat, Seattle Slew, A P Indy, Storm Cat and Mr Prospector.
Glencoe had a very successful racing career, winning eight of his ten starts from 1834 to 1835. He won such stakes as the Two Thousand Guineas, Goodwood Cup, Ascot Gold Cup and St. James' Palace Stakes. The interesting part of his story is that after his racing career, he was purchased by James Jackson of Alabama and imported to America. Glencoe sired one crop of foals before leaving for America. The most important foal from his short career as a stud in England produced the great mare Pocahontas. This mare became the dam of Stockwell, Rataplan and King Tom who were all important contributors to the modern Thoroughbred and the American Quarter Horse. Pocahontas is credited as the source of the large heart gene in such horses as Secretariat and Dash For Cash.
Up to this point we have focused on how the Thoroughbred has contributed through the sire line to the development of the American Quarter Horse. Glencoe introduces us to a different way the Thoroughbred has influenced the American Quarter Horse and that is through the broodmare side of the pedigree.
The great Peter McCue is out of a Thoroughbred mare named Nora M. She is by Voltigeur by Vandal by Glencoe. The dam of Voltigeur is Duet by Highlander by Glencoe. The dam of Nora M is Kitty Clyde by Star Davis by Glencoe. This gives Nora M a breeding pattern of 3x4x3 to Glencoe. This makes Glencoe a very important sire in the American Quarter Horse as Peter McCue is one of our great foundations sires.
Leamington was foaled in 1853 sired by Faugh-A-Ballagh. He is out of a mare by Pantaloon. Faugh-A-Ballagh is by Sir Hercules by Whalebone, the full brother to Web found in the pedigree of Glencoe. Leamington was a successful racehorse winning such important races as the Goodwood Stakes Cup and the Chester Cup, and he won that one twice. He was imported in 1865 to America, where he became a leading sire.
Leamington sired Enquirer, foaled in 1867, and this takes us to our next Quarter Horse influence. Enquirer was out of Lida by Lexington. Historical reports on Enquirer shows that he was considered the best son of Leamington as a sire and as a racehorse. He was the Champion 3 Year Old of 1870. He won such stakes as the Phoenix Hotel Stakes, the Robbin Stakes and the Continental Hotel Stakes.
The importance of Enquirer as an influence on Quarter Horses is very significant. We will start our look at Enquirer with his son Faustus, foaled in 1877. Lizzie G, by War Dance, is the dam of Faustus. War Dance is by Lexington. The dam of War Dance is Reel by Glencoe. The dam of Lizzie G is a mare known as the Lecomte Mare by Lecomte by Boston and out of Reel by Glencoe. The dam of the Lecomte Mare is Edith by Sovereign. Edith is out of Judith by Glencoe, giving Lizzie G a breeding pattern of 3x4x4 to Glencoe. Glencoe has been an important broodmare sire and Reel is the best of his American bred daughters.
Faustus sired Bonnie Joe, who was foaled in 1894 and who became an important sire that stood in Oklahoma. He sired Joe Blair, the famous racehorse whose race record is overshadowed by a race he lost. He was beaten in the famous race he had with Pan Zareta, a mare that was dominant in her racing career. She had 151 starts with 76 wins, 31 seconds and 21 thirds. She reportedly set or equaled eleven track records. When she ran against and beat Joe Blair, she set a track record at Juarez going five furlongs in :57 1/5. Joe Blair reportedly ran three furlongs at Juarez in the record time of :39 a year later.

Joe Blair then had his sire record overshadowed by one of his foals. When Joe Blair was bred to the Cajun-Bred mare Della Moore, he sired Joe Reed P-3 in 1921. A book titled Foals of 1921 is a listing of mares that shows the foals born in 1921. An appendix registered mare named Myrtle Reed produced a colt by Joe Blair named Joe Reed. This again was common to get horses registered in the appendix to give them the right to race.
Joe Reed P-3 had a race career, but nothing spectacular. Joe Reed P-3 stood at stud in Texas and then later in Oklahoma. He sired Joe Reed II and Little Fanny. Joe Reed II went on to become the 1942 AQHA Champion Stallion. Little Fanny was bred to Joe Reed II producing Leo, giving Leo a 2x2 breeding pattern to Joe Reed P-3.
Leo became a very good racehorse with an official record of 20 wins from 22 starts. He was even more successful as a sire, with his influence branching out to all phases of AQHA events. His racing offspring took home 211 racing ROM with 31 stakes winners and four AQHA Racing Championships. His racing Champions are Miss Meyers, Mona Leta, Bobbie Leo and Palleo Pete. The Leo daughters produced their share of racing Champions, including Jet Charger, Jet Deck Junior, Vandy's Flash, Vanetta Dee, Vannevar, Dariman, Dari Star, Mighty Deck and Ettabo.
An added pedigree note, Vandy is the sire of Champions Vandy's Flash, Vanetta Dee and Vannevar. The broodmare sire of Vandy is Joe Blair. This gives these Champions a breeding pattern of 3x5x5 to Joe Blair.
Bonnie Joe sired the mares Cutthroat and Useeit, who became a great race mare that produced 1924 Kentucky Derby winner Black Gold. Black Gold had a full brother named Beggar Boy, who was bred to both Thoroughbred and Quarter Horse mares. One of his daughters was Beggar's Pokey, who was bred to Vandy, producing Pokey Vandy, the dam of AQHA Racing Champion and 1961 All American Futurity winner Pokey Bar.
The pedigree of Cutthroat has been disputed for years. Her official pedigree shows she is by Gulliver by Missouri Rondo by Missouri Mike. This makes Gulliver a paternal half-brother to Black Ball, the sire of Old Fred tracing back to Old Cold Deck by Steel Dust. Today, Cutthroat is acknowledged as being sired by Bonnie Joe. Cutthroat is the dam of Oklahoma Star P-6. This foundation Quarter Horse stallion became a well-known racehorse and then sire. When Oklahoma Star P-6 was bred to his dam, they produced Grace H, who was bred to Beggar Boy to produce Black Widder. Black Widder was then bred to Vandy to get Beggar Vanet, the fifth dam in the tail female line of FDD Dynasty, a leading sire including 2-time AQHA Racing World Champion Jessies First Down. An added pedigree note: This gives Beggar Vanet a 4x4x5x4 breeding pattern to Bonnie Joe.
Bonnie Joe is out of Bonnie Rose by Bonnie Scotland, who was by Iago by Don John by Waverly by Whalebone. Bonnie Scotland was out of Queen Mary by Gladiator. The dam of Bonnie R
ose is Melrose by Childe Harold. The bringing together of Bonnie Scotland with Enquirer introduces us to the Belle Meade Stud in Nashville, Tennessee. These two stallions stood at Belle Meade. Bonnie Scotland was foaled in 1853 and bred in England and imported to America in 1857. He would stand at several locations until he was purchased to stand at Belle Meade Stud.
The sire line influence of Bonnie Scotland is highlighted by his son Bramble, who was foaled in 1875. Bramble had 50 starts with 31 wins, 16 seconds and 2 thirds. He won stakes races from the age of two to five. One of the stakes wins was in the 1879 Monmouth Cup. This race was then run at 2 1/4 miles. That is 18 furlongs. Bramble stood for a time at Belle Meade Stud.
Ben Brush was foaled in 1893 and is by Bramble and out of Roseville by Reform by Leamington. The dam of Roseville was Albia by Alarm. Ben Brush distinguished himself on the track with 40 starts, 25 wins, 5 seconds and 5 thirds. His most notable win came in the 1896 Kentucky Derby. He was also the 1895 Champion 2-Year-Old Colt, 1896 Champion 3-Year-Old Colt and the 1897 Champion Handicap Male.
When his racing career was over, Ben Brush was purchased by James R. Keene. Some of his top Thoroughbred runners were: Champion Delhi, winner of the Belmont Stakes; and Champion Pebbles, plus stakes winners Von Tromp and Vandergrift, among others.
The Bonnie Scotland sire line through Ben Brush goes to his son Broomstick, foaled in 1901. This horse had 39 starts with 14 wins, 11 seconds and 5 thirds. His biggest win would probably be the Travis Stakes. Broomstick sired 69 stakes winners, including Regret, the first filly to win the Kentucky Derby, and Kentucky Derby winner Meridian.
When we want to look at the influence of Broomstick on Quarter Horse racing, we need go no further than the great Top Deck – the King Ranch-bred Thoroughbred. Top Deck sired horses like Go Man Go, Moon Deck and many others that have made him an AQHA Hall of Fame inductee. Top Deck has a 4x4x5x5 breeding pattern to Broomstick. Equestrian, the sire of Top Deck, is by Equipoise and Equipoise is out of Swinging by Broomstick. Equestrian is out of Frillette, who is out of Frillery by Broomstick. Riverboat, the dam of Top Deck, is by Chicaro who is out of Wendy who is out of Remembrance by Broomstick. The dam of River Boat is Last Boat out of Taps who is out of Shady by Broomstick.
Here are some sire line examples of the influence of Ben Brush on the Quarter Horse. Whisk Broom II, by Broomstick, is the sire of John P. Grier, who is the sire of Jack High. Jack High is the sire of With Regards, the sire of Direct Win, who is the sire of Assured, the second dam of Streakin Six, who is the sire of LaGalla Win, the second dam of Rocket Wrangler, who is the sire of Dash For Cash. Sweep, a son of Ben Brush, is the sire of Eternal, the sire of Ariel, who is the sire of 1943 and 1945 AQHA Racing Champion Stallion Piggin String. Piggin String is the sire of horses like 1953 AQHA Champion 3-Year-Old Colt/Champion Stallion Rukin String.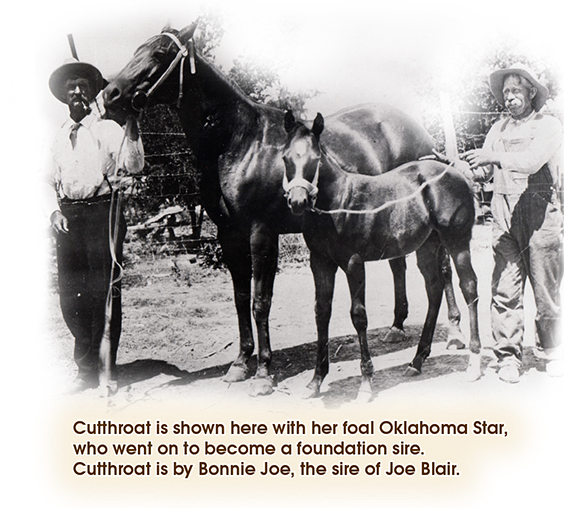 Here are more examples of the influence of Ben Brush on Quarter Horse racing. Civil Maid, the second dam of Three Bars, is by Patriot by Ben Brush. Glyn, the third dam of Direct Win, is by Delhi by Ben Brush. Gold Dream, the dam of Direct Win, is by Time Supply by Time Maker by The Porter by Sweep by Ben Brush.
Himyar is the next stallion we will look into as a Thoroughbred influence on Quarter Horse racing. He was foaled in 1875 by Alarm by Eclipse by Orlando by Touchstone by Camel by Whalebone. Himyar sired three individuals that have been instrumental in Quarter Horse racing. They are Domino, his full sister Correction and Plaudit.
Plaudit won the 1898 Kentucky Derby and sired an Army Remount stallion named King Plaudit, who sired Plaudit the Quarter Horse. Plaudit QH was the sire of Question Mark that had the distinction of being one of the few to beat the great 3-time AQHA World Champion Shue Fly. Scooter W, a son of Plaudit, was the 1948 AQHA Champion Stallion. Scooter W was bred by Hank Wiescamp and Plaudit was a key sire for Warren Shoemaker and Hank Wiescamp
Domino was called the "Black Whirlwind" because of his blazing speed. He lived a short life, but left a lasting impact on the racing Quarter Horse. His blood flows through such great horses as: Three Bars, with a breeding pattern of 5x5x5 to Domino; Top Deck, with a breeding pattern of 4x4 to Peter Pan, a grandson of Domino; Joe Reed II, who is out of Nellene by Fleeting Time by High Time (High Time has a breeding pattern of 3x3x2 to Domino); and Depth Charge, who was double bred to Domino and his full sister Correction.
The dam of Domino is Mannie Gray by Enquirer. Her dam is Lizzy G, the dam of Faustus, making them full brother and sister. You will recall Lizzie G had a breeding pattern of 3x4x4 to Glencoe. When we add Nora M, the dam of Peter McCue, we see that she has a breeding pattern of 3x4x3 to Glencoe. Thus, Domino and Peter McCue, two of our foundation sires were both out of mares linebred to Glencoe.
It has been 289 years since Bulle Rock, a son of the Darley Arabian and a mare by Byerley Turk, landed on the shores of Colonial America. This stallion represents the foundation bloodlines of what has become the Thoroughbred and the American Quarter Horse and how these early horses contributed to both breeds, giving them a common bond that transcends their history.
Author's Note: This has been a summary of how the Thoroughbred and the American Quarter Horse have become the two most recognized breeds and the common bonds they carry in their pedigree history. But, it is not the end of the story as we have left out many others that were significant to the development of these two breeds and we will address many of those horses down the line.