Posted by Speedhorse on 05/04/2022
From the Speedhorse April 2021 edition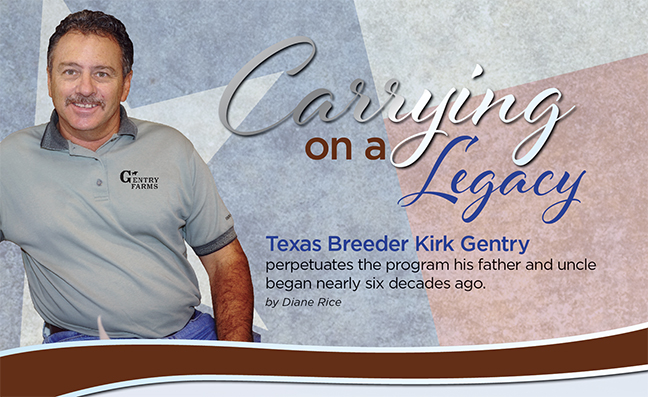 Over his lifetime, Robert Kirk Gentry has observed and learned from two highly successful entrepreneurs and role models — his father, Robert; and uncle, Bruce — how to build and maintain prosperous enterprises. As it has in other family business ventures, the knowledge he's gleaned has served him well in the family's racehorse venture.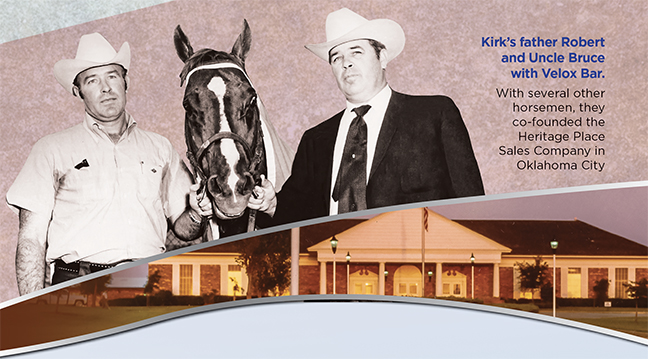 "I've been involved all my life," says Kirk. "I spent a lot of time going to auctions and races with my father growing up and taking care of the horses — doctoring and foaling them out — while I was in high school and college. Back then you hauled them around to be bred, so I was on the highway a lot."
In addition to his working experience, Kirk has absorbed his predecessors' knowledge of pedigrees and successful crosses. "He's very knowledgeable about the bloodlines and very keen on the mare power that goes back to the family of mares they've had throughout the years," says California trainer Juan Aleman, who has trained for the Gentrys for more than a decade.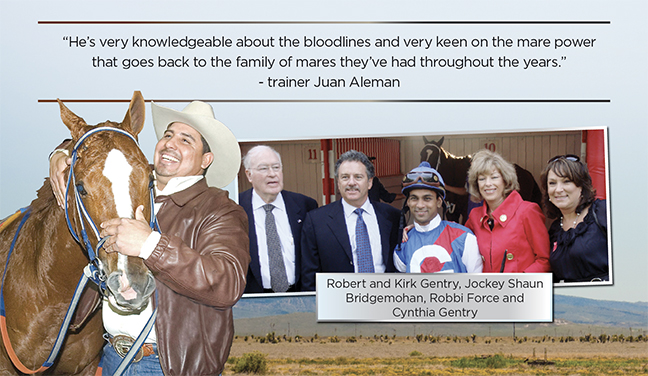 Born in Lubbock in 1956, "Kirk" attended Texas Tech and the University of Texas, graduating with a degree in general business. Not long after that, he entered the family businesses, now the hands-on partner among his two sisters, LaDanna Gentry of Lubbock and Robbi Force, who lives near Austin.
THE FAMILY ROOTS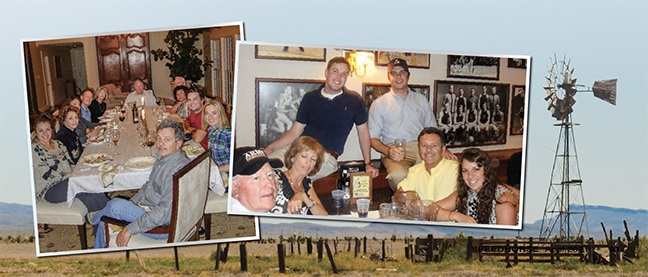 Bruce, born in 1927 in Lubbock, Texas, and Robert, born in 1931 in nearby Slaton, Texas, grew up in the world of agriculture. Robert participated in FFA, showing steers in high school. Later, he got involved in showing halter horses and because he preferred collecting cash to collecting ribbons, that evolved into racehorses.
Both brothers attended Texas Technological College, now Texas Tech University, in Lubbock. Following graduation, they founded their business partnership as the Gentry Brothers. First, they built a ranching and farming operation that now comprises 20,000 acres in Dickens County, Texas, about 70 miles east of Lubbock.
Next, they explored the oil industry. In 1961, they founded Great Plains Distributors, a beverage distributorship in Lubbock that Kirk has grown up in and has run since Bruce and Robert passed away in 2000 and 2013 at ages 72 and 81, respectively.
It wasn't long after the brothers founded Great Plains Distributors that they bought their first racehorse. Since then, they — and since their passing, Kirk — have concentrated their efforts on building a solid bottom side, with broodmares whose blood has powered generations of winning Quarter Horses and Thoroughbreds alike.
But the brothers' interests didn't stop there. With several other horsemen, they co-founded the Heritage Place Sales Company in Oklahoma City, which just held its 43rd annual Winter Mixed Sale and has grown to the world's largest venue for Quarter Horse sales. The Bruce Gentry Family and the Robert Gentry Family continue in the company's ownership along with the Robert Moore Family and Dr. Charles Graham.
FOUNDING BLOODLINES - CUTE KISS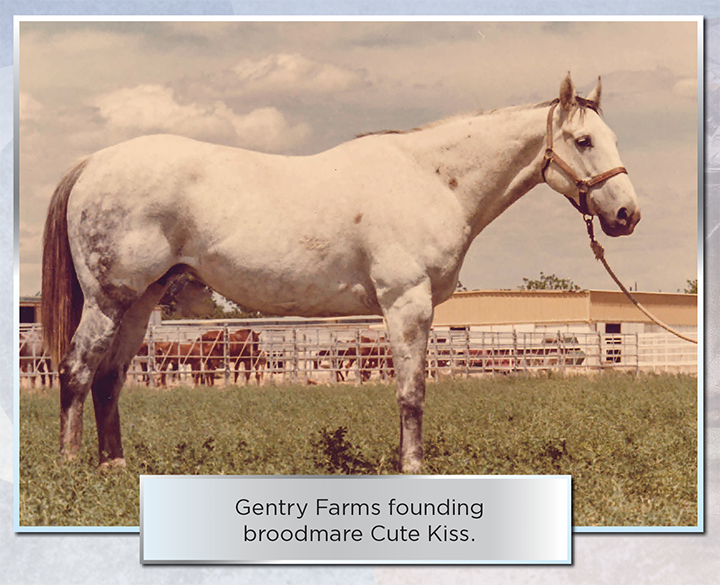 Topping the Gentry brothers' list of horse-racing successes was buying farm-founding broodmare Cute Kiss, a 1967 filly by three-time AQHA World Champion Go Man Go and out of the War Admiral granddaughter Cute Trick, AQHA's 1956 Champion 2-Year-Old Filly. Cute Kiss became stakes placed, qualifying for the All American Futurity and running third in the La Pitahaya
Derby at L.I.F.E. Downs.

The Gentry brothers bought Cute Kiss in 1971 and as a broodmare, she produced Easy Jet daughter Easy Kiss in 1975. Easy Kiss won six of 21 outs, finishing second and third four times each and earning $101,022 in two years — not bad earnings today, and big bucks in the '70s. Her wins included two futurity consolations at Ruidoso.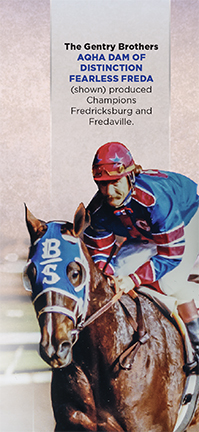 Easy Kiss produced seven foals, including the multiple Graded stakes winner Such An Easy Effort, by Special Effort, in 1985. At two, Such An Easy Effort won the Denim N Diamonds Futurity-G1 at Hollywood Park and ran second in the QHBC Juvenile Classic-G1 at Los Alamitos. At three, she won the La Primera Del Ano Derby-G1 at Bay Meadows, the Heritage Place Derby-G2 at Blue Ribbon Downs, and the Sunland Park Fall Derby-G3. At Sunland Park at age four, she ran second in the West Texas Maturity-G3 and won the QHBC Distaff Classic-G1. Her career comprised 14 wins, six seconds and three thirds from 33 outs, with earnings of $496,127.
The prolific winner was also a prolific producer. As a broodmare, Such An Easy Effort carried on her bloodline's winning legacy as the dam of 18 foals, 17 of whom raced and earned 16 ROM. Notable are 1993 Dash For Cash filly Fearless Freda, an earner of $262,121 who went on to AQHA Dam of Distinction status; and 1996 First Down Dash daughter Deelish, who became a two-time Champion (1998 AQHA Champion 2-Year-Old Filly, 2000 AQHA Champion Aged Mare) and earner of $603,673.
Deelish in turn produced Mr Jess Perry daughter Deeheiress for the Gentrys in 2001, and in 2008 Deeheiress produced Rollickin Red, by the Thoroughbred Roll Hennessy Roll. Rollickin Red earned multiple stakes winner status with $353,002, tallying 10 wins and three seconds from 17 starts and finishing 2012 ranked 14th by wins.
In two years on the track beginning at age three, Fearless Freda tallied a 25-6-5-6 record and multiple Graded stakes-winning status. Her black type includes a third in the La Primera Del Ano Derby-G2 and third in the All American Derby-G1 by 1/2-length against Winalota Cash, who nosed out Heza Ramblin Man. At four, Fearless Freda ran second in the Bardella Handicap and the Vessels Maturity-G1, and third in the California Challenge Championship-G2, the Mildred N. Vessels Memorial Handicap-G1 and the Las Damas Handicap-G2.
Fearless Freda found her nick with Mr Jess Perry, producing 2005 Champion Aged Stallion Fredricksburg in 2001, and California Derby Challenge-G3 winner and AQHA Dam of Distinction Dasha Freda, the dam of World Champion Heza Dasha Fire and Champion Ima Fearless Hero, in 2002. Fearless Freda also produced Fredaville in 2006, who went on to join the Gentrys' broodmare band.
Fredaville won 11 of 35 starts, running second eight times and third seven times. Her earnings totaled $324,696 over four years, finishing 2011 ranked 16th by wins. Her first year out at three, she qualified for the Golden State Derby-G1, and ran third in the AQHA Members Plus Stakes and second in the Las Damas Handicap-G2, both at Los Alamitos. At five, she won the City of Hialeah Stakes, the Sparkling Tip Stakes, the Decketta Stakes-G3 and the Remington Distaff Challenge and ran second in the Hialeah Invitational Championship and the AQHA Distaff Challenge Championship-G1 at Los Alamitos. She ended her final year on the track as AQHA's Champion Aged Mare after winning the Remington Distaff Challenge, the Los Alamitos Distaff Challenge-G3 and the AQHA Distaff Challenge Championship-G1, placing second in the Juno's Request Stakes-G2 at Remington Park, and running third in the Charger Bar Handicap-G2, the Hialeah Invitational Championship and the Mildred N. Vessels Memorial Handicap-G1.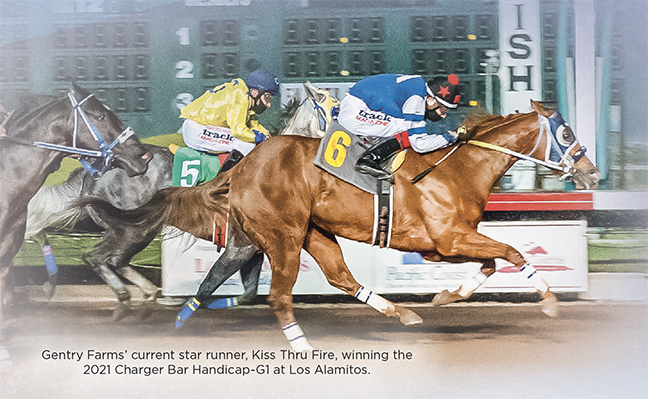 As a broodmare, Fredaville produced Gentry Farms' current star runner, Kiss Thru Fire, in 2017. Now in her third year on the track, the Walk Thru Fire daughter has amassed $457,503 with a 19-7-4-0 record, including recent wins in the Charger Bar Handicap-G1 and the Denim N Diamonds Handicap- G3, both at Los Alamitos. At two, Kiss Thru Fire ran in three G1 races and at three, she qualified for a G1, G2 and G3 race.
FOUNDING BLOODLINES - ZIPP ZORO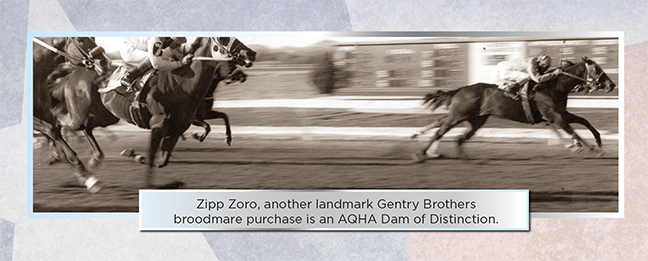 Another landmark Gentry brothers broodmare purchase was Zipp Zoro in 1983. The stakes-winning mare won the West Texas Derby at Sunland Park and ran second in the Blue Ribbon Derby and the Savannah Swinger H. Series #2, also at Sunland Park. She then produced five stakes winners for Gentry Farms: Zoro Jet in 1986, Lazbuddie in 1989, Zip Dash in 1990, Zipuino in 1991, and First Down Dash daughter Fodice in 1996, and is now an AQHA Dam of Distinction.
Zipp Zoro's foal Fodice joined the Gentry Farms broodmare band after a racing career that earned her $119,841 with five wins, four seconds and one third from 17 starts. She qualified for the G1 Rainbow, Dash For Cash and Los Alamitos Million futurities, ran third in the California Derby Challenge-G3, and won the Chicks Beduino Handicap at Los Alamitos at three.
Gentry Farms occasionally infuses their Quarter Horse lines with Thoroughbreds at their Lexington, Kentucky farm and that practice brought about two of Fodice's most noteworthy foals: Fovee, by Cuvee TB in 2007; and Scatmandu, by Scat Daddy — the Thoroughbred industry's 2011 leading freshman sire — in 2010.
On the track, Fovee earned five wins, four seconds and two thirds from 15 starts, and $380,385 in career earnings. She ran third in the G1 Los Alamitos Two Million Futurity, then came back at three to run second in both the Secret Card Handicap and the Vandy's Flash Handicap -G3 at Los Alamitos. At four she won the Los Alamitos Distaff Challenge-G3 and the Mildred N. Vessels Memorial Handicap-G1 and ran third in the AQHA Distaff Challenge Championship-G1. She also qualified for the Champion of Champions-G1.
Scatmandu qualified for the Rainbow Futurity-G1 and Derby-G1 and ran second in the Los Alamitos Super Derby-G1, then ran third in the Los Alamitos Championship Challenge-G3 at four. He also qualified for the Southern California Derby-G1 and the Los Alamitos Winter Championship-G1.
Fovee also produced several of Gentry Farms' current contenders including Communicate, by PYC Paint Your Wagon; College Scandal, by Coronas Leaving You; and Force For Good, by One Famous Eagle, all foaled in 2018.
Also, among Gentry Farms' horses in training are Family Dynasty, by FDD Dynasty, and In My Heart, by Apollitical Jess — both of whom are out of the Fearless Freda daughter Heartbeat, by Tres Seis; and Tempting, by Tempting Dash and out of Fredaville.
FOUNDING BLOODLINES - JODIE ECHOLS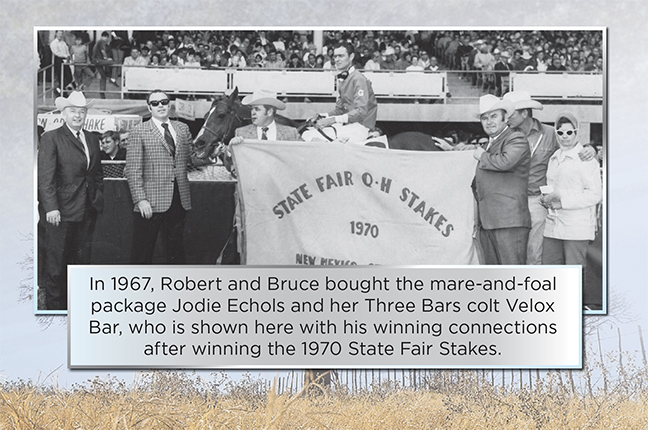 In 1967, Robert and Bruce bought the mare-and-foal package Jodie Echols, by the Zantanon son Ed Echols and out of Miss Ginger S, by Joe Traveler; and her Three Bars colt Velox Bar.
Velox Bar ran two seasons, placing third in the All American Futurity (for which Gentry Farms' Cute Kiss also qualified, placing eighth) against Easy Jet and Miss Three Wars. Velox Bar graduated to stakes-winning status the following year in the New Mexico State Fair Handicap. He finished among the top three in 15 of his 26 races.
Jodie Echols produced two more All American qualifiers: Will I Win in 1960 and Three Cookies in 1964. Both were by Three Bars TB. Will I Win also ran fourth in the PCQHRA Futurity.
Multiple stakes placed filly Three Cookies won six of 32 starts with three seconds and four thirds, and ran fourth in the Shue Fly Stakes at Los Alamitos.
THE THOROUGHBRED INJECTION
Gentry Farms' injection of Thoroughbred bloodlines into their Quarter Horse runners produced Cash Legacy, by Dash for Cash and out of the Secretariat daughter Sweet Legacy. The 1985 colt was a great rival to stablemate Such An Easy Effort. In the West Texas Maturity-G3 at Sunland Park, Cash Legacy won with Such An Easy Effort running second. "We put both in the winner's circle for the win photo," Kirk says. "The two raced against each other three other times, always right there together."
In the Kindergarten Futurity, they ran fifth and sixth. In a derby consolation at Ruidoso Downs, Cash Legacy finished second and Such An Easy Effort fourth. In the All American Gold Cup, Such An Easy Effort finished third behind Cash Legacy's second. Such An Easy Effort qualified for the 1987 Dash For Cash Futurity while Cash Legacy ran in the Futurity Consolation. In 1989 Cash Legacy won the QHBC Championship Classic-G1 the same day Such An Easy Effort won the QHBC Distaff Classic-G1.
MOVING AHEAD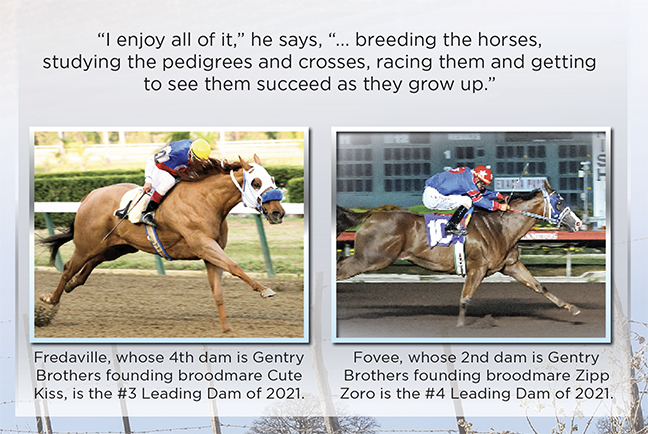 Basically, Kirk says, he's just carrying on what his father started. "It's all his fault," he jokes, adding that he'll continue his family's tradition of breeding eight or nine mares, including both Quarter Horses and Thoroughbreds, keeping a few for the track each year.
He considers the horses a kind of working hobby, adding to the variety that the family businesses provide. "I enjoy all of it," he says, "... breeding the horses, studying the pedigrees and crosses, racing them and getting to see them succeed as they grow up. I try to travel to the farm in Kentucky about six times a year and enjoy going to auctions. And naturally, I enjoy the winner's circle. It's fun qualifying for these big graded stakes races, too; that's an accomplishment in itself.
"I plan to keep on doing what I've been doing and what my father did before me: hopefully raise some more horses that can compete in graded stakes races. And since we own the "factory," it's nice to see the babies out of our mares do well, too. I definitely keep up with them as well."
In his "spare time," Kirk says he hasn't missed skiing at least once in each of the past 60 years, and he also enjoys hunting quail with friends and their dogs on the family's Dickens County ranch.
Spare time is scarce for a man running multiple large operations, yet Kirk remains accessible and admired by those who work with him. "He's a happy-go-lucky kind of guy," says Lubbock trainer Blane Wood, who has known Kirk and trained for the family for over 30 years. "He's a very good person. He's very hands-on, knowledgeable and pleasant to be around, and I enjoy his friendship. And I admire their breeding program that's been a success as long as it has."
"Kirk has followed his father's footsteps, continuing the legacy of the great band of broodmares they have built," adds Juan. "He's very honest and very fair, and I'm very appreciative of the opportunity they've given me to train for them all these years."