The Story of Rocket Bar, Part 1
Posted by Larry Thornton on 06/10/2020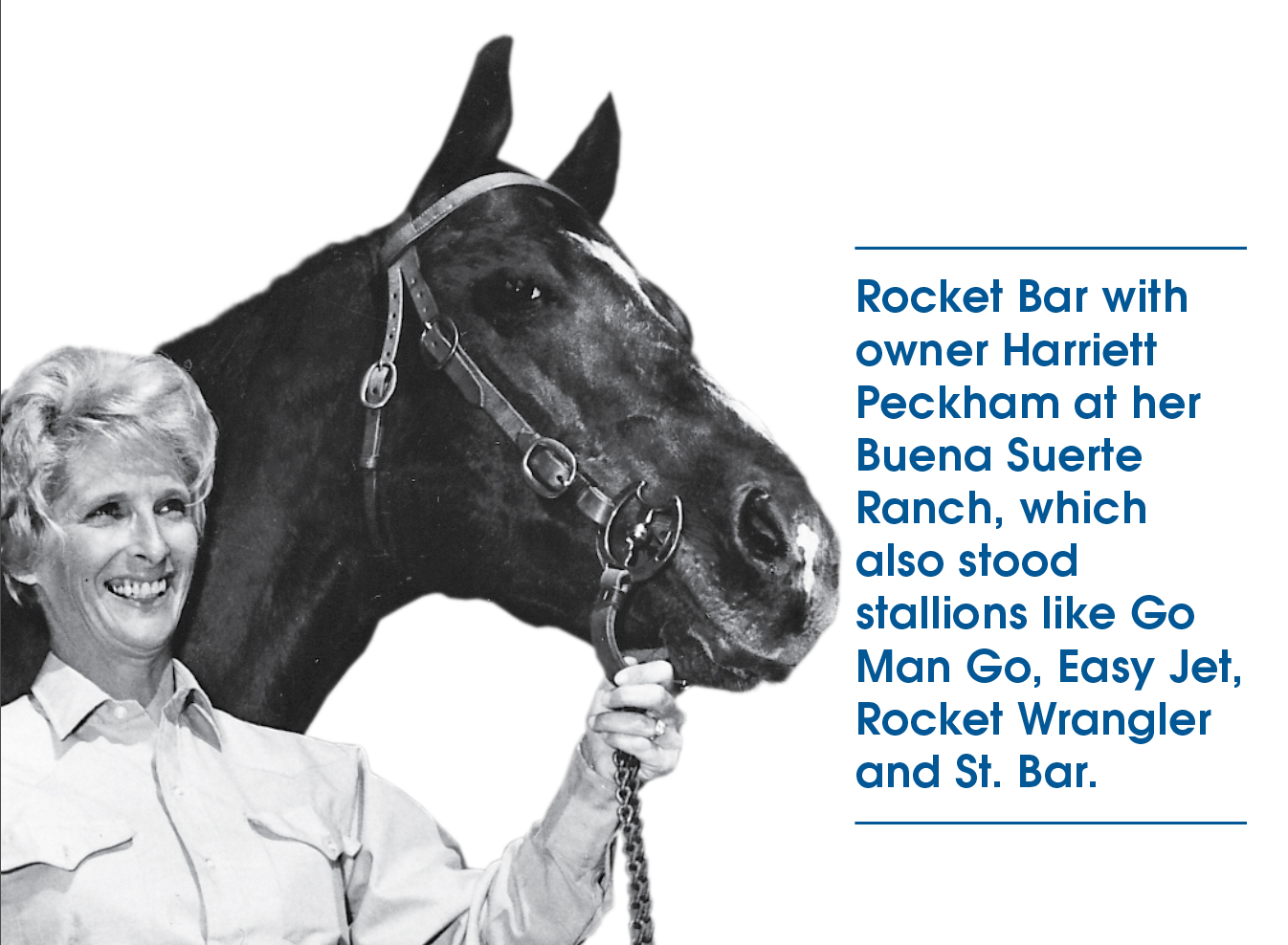 The great Thoroughbred Three Bars became a legend in the industry as the cornerstone of the American Quarter Horse. His blood flows in all facets of this industry. He appears in all parts of the pedigree as an influence second to none by virtue of the stallions and mares that carry his blood. He is especially successful via the racing sire line he spawned through his descendants Dash For Cash and First Down Dash.
The role of Three Bars as a sire of Quarter Horses got off to a slow start the first few years he stood in Arizona. Then in 1952, Walter Merrick leased Three Bars and, as they say, the rest is history. That was when breeders discovered his ability to sire good racehorses. But before Three Bars left Arizona, he sired a key part in his influence through his Thoroughbred son Rocket Bar (the sire of Rocket Wrangler, the sire of Dash For Cash, the sire of First Down Dash).
Walt Wiggins, founder of Speedhorse, once wrote, "If ever a horse was born with the look of eagles, it was Rocket Bar." Rocket Bar not only shows the look of an eagle, but the heart of a lion, racing in pain to become a legend as a very fast race horse and then as a sire of very fast horses.

Rocket Bar was bred by Charles H. Reed. He was purchased as a weanling by Dr. Harold Donovan of Raton, New Mexico. Donovan had started a hospital near La Mesa Park. He paid $5,000 for the colt. He sent the colt to the track in 1953 and raced him until 1958.
The first race for Rocket Bar came at La Mesa Park when he won his first out going four furlongs in 48 seconds, winning the race by 45 lengths. His second start came two weeks later on a muddy track that led to a stumble and an injured left knee. Despite the injury, he regained his footing and stride to win the race by daylight. This performance in itself is a testimony to the heart this horse displayed in his race career.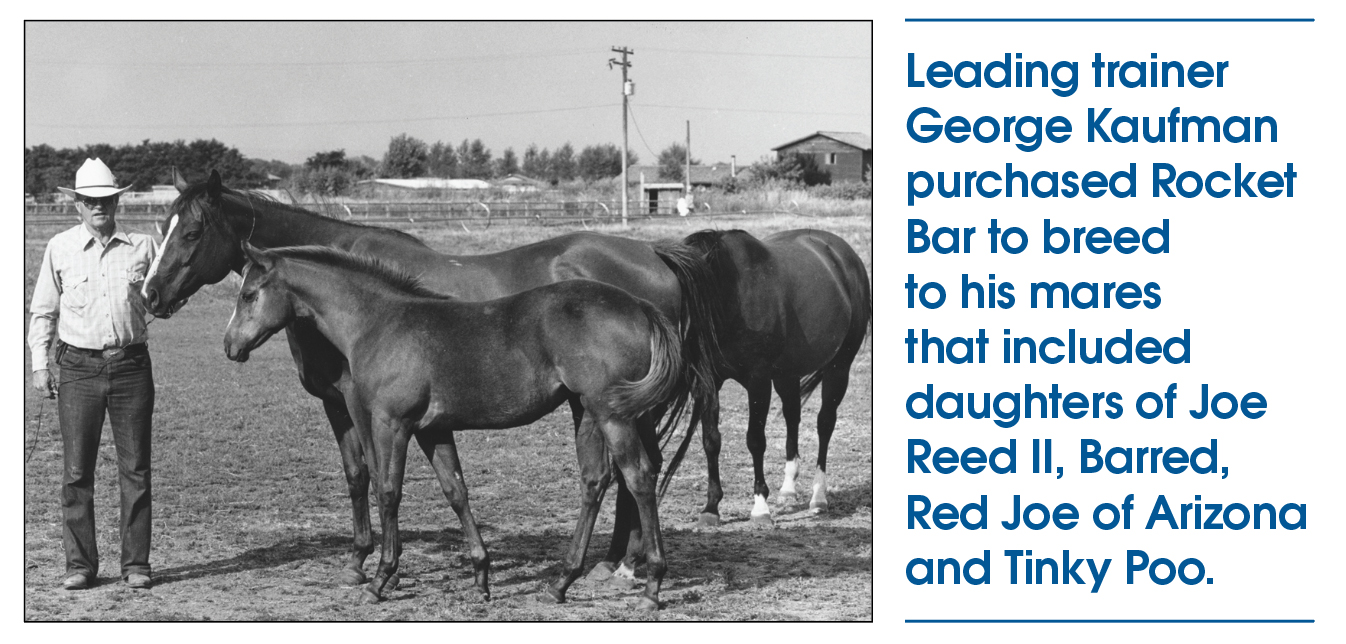 Rocket Bar was rested, and he came back to race against Quarter Horses in the Winner Take All Stakes at Albuquerque. He finished third to Mackay Boy, by Top Deck. This race is where Rocket Bar earned his official ROM in Quarter Horse racing with the old AA rating. It was his only official start against Quarter Horses. He would still favor the injured left knee, and he never fully recovered despite efforts through various treatments to cure the injury.
Rocket Bar came back in 1954 with 11 starts, winning five, placing second three times and third twice. He earned $5,054. He made eight more starts at five, winning four, placing second twice and one third, earning $4,801. The 1956 race record shows that he earned his official Thoroughbred black type when he won the Phoenix Gold Cup Handicap at Turf Paradise, which is now a Grade 3 race. He went the 5 1/2-furlongs in :57.8 and then later lowered that time to :57.6. He made nine starts and won three races, including the Phoenix Gold Cup Handicap. He earned $6,105. He came back in 1957 to win a second Phoenix Gold Cup Handicap. He made just two official starts, with two wins that year to earn $5,815. He was then retired after three races in 1958, with a third as his best finish. He earned $110.
The official race record for Rocket Bar shows that he made 35 starts with 16 wins, six seconds and four thirds, earning $22,904. He may have had starts, however, that do not show up on his official record. These include the Littleton Speed Handicap, a race that he won by 3 1/2-lengths while running on three good legs. This prompted a turf writer to write, "As for Rocket Bar, he ran well enough to impress this observer as perhaps one of the best sprinters of modern times, with his flaw being his pedigree with speed doubled on speed which gives him a safe limit of only five furlongs." The press labeled Rocket Bar the "Rocky Mountain Wonder Horse."
Donovan retired Rocket Bar to stand at stud, opening up the next phase in the life of this great runner with the heart to endure the pain he suffered in his racing career. It was about this time that George Kaufman, who many considered the dean of Quarter Horse trainers on the west coast in this era, decided he needed a stallion. Kaufman had been the leading trainer in the nation in 1957, 1958 and 1959. He was looking for a breeding stallion for his band of mares that included daughters of Joe Reed II, Barred, Red Joe of Arizona and Tinky Poo. The Kaufmans bought Rocket Bar for $36,000. Dr. Donovan retained some breeding rights to Rocket Bar, and that lowered the price to $30,000. Then Kaufman's father-in-law, O. W. Starlin, bought in for a few shares.
Rocket Bar stayed with Kaufman until Mr. and Mrs. W. H. Peckham and Mr. and Mrs. S. F. Henderson bought Kaufman's shares in the stallion for $360,000, with Z. Wayne Griffin buying Dr. Donovan's shares. Rocket Bar then moved to Texas where he was syndicated in 1966 with the shareholders being Z. Wayne Griffin, Leo Winters, Jacob Bunn, Mr. and Mrs. Tom Carter, Dan Urschel, Mr. and Mrs. Bert Hall, Mr. and Mrs. S. F. Henderson and Harriett Peckham. Rocket Bar lived the rest of his life on Peckham's Buena Suerte Ranch that, at that time, was located at Richmond, Texas. Peckham later moved her ranch to Roswell, New Mexico, standing such stallions as Go Man Go, Easy Jet, Rocket Wrangler and St Bar.
The turf writer's statement about the Rocket Bar pedigree being based on "speed on speed" may have been disappointing to the Thoroughbred side of the ledger. But that speed on speed is essentially a good reason he sired Quarter Horse speed.
Rocket Bar is by Three Bars and out of Golden Rocket by Cartago.
Three Bars is by Percentage and out of Myrtle Dee by Luke McLuke. He was born on April 8, 1940, in Kentucky. Myrtle Dee was purchased by Jack Goode, Ned Brent and Bill Talbot while she was carrying Three Bars. The Goode, Brent and Talbot partnership bought three mares for $800 from the widow of breeder Jim Parrish. Myrtle Dee was one of them and she foaled Three Bars shortly after her arrival at Brent's farm.
Three Bars hit the track with a burst of speed, reportedly running the quarter in just over :21. The two-year-old Three Bars had the speed, but his success on the track was not going to be easy. He began to experience problems in one of his hind legs, which would turn ice cold after a workout. Goode reported that the problem was apparently a bloodworm infection that cut the circulation in the leg. So, the colt was sold to Beckham Stivers on the basis he would be paid for when he entered a race and won the purchase price of $300 through his winnings.
Stivers never started Three Bars, as he was unsuccessful in getting the young stallion sound, and so he gave the horse away. Vernon Cloud, a trainer and blacksmith, was the lucky recipient of the gift horse. Cloud's ownership apparently resulted in a cure for Three Bars' hind leg problem. How he cured the leg is not known. So, he started Three Bars in a race at Churchill Downs and he won. This forced Stivers to pay the $300.
Cloud sold Three Bars to Eudell Wyatt, who, in turn, sold Three Bars to Stan Snedigar and his partner, Toad Haggard. Snedigar actually claimed Three Bars in Detroit for $2,000. He took him to the Southwest at a time when modern Quarter Horse racing was being established. Before Snedigar realized any racing success, World War II forced a racing blackout and Three Bars was turned out for a rest. Sid Vail heard about Three Bars and decided to pay him a visit. Three Bars was Vail's ideal horse and, after negotiations, he took Three Bars home. He stood Three Bars at Melville Haskell's Rincon Stock Farm in 1945, and his first crop of 10 foals came in 1946.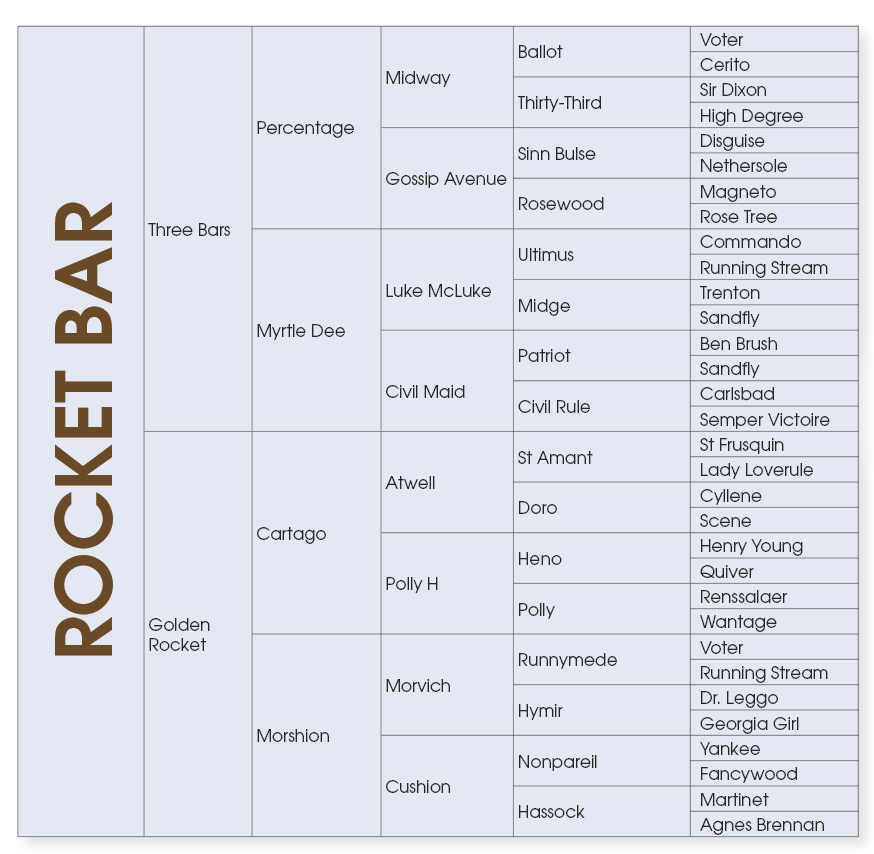 Snedigar got a racing lease from Vail on Three Bars, and he raced him for a time during 1946 and '47. Three Bars' year off must have done him some good as a racehorse as he came back to win the Aqua Caliente Speed Handicap and set a New Track Record at the Arizona Jockey Club Track for 5 furlongs in :57 3/5. He started 17 times in 1946, with eight wins for his best year of racing. Vail permanently retired the horse in 1947 with 12 wins, three seconds and one third from 28 career starts with just over $20,000 in earnings.
Three Bar was bred by Jim Parrish, a banker and race horse breeder from Midway, Kentucky. Parrish is the man who got the late Hall of Fame Thoroughbred trainer Woody Stevens started in the horse business. Stevens is best known for his five consecutive Belmont Stakes winners.
Percentage, the sire of Three Bars, was the winner of 19 races including two stakes wins in the Cincinnati Trophy and the Pontchartrain Handicap. He raced through eight years of age, earning $42,182. His sire record shows 43 foals with 33 starters, 29 winners and three stakes horses. One of his leading runners was Perlette, winner at Washington Park going 5 furlongs in :59 1/5. Foals by Percentage earned $324,878 on the track. Percentage dropped into obscurity after his sale by Mrs. Parrish in the Parrish Farm Dispersal.
Percentage is by Midway, a stakes winning stallion that won such stakes as the Washington Handicap and Clark Handicap. Midway is by Ballot and out of Thirty-Third by Sir Dixon. He was owned by James Parrish, the breeder of Three Bars. Ballot was a multiple stakes winner, including the Suburban Handicap and the Matron Stakes, a six furlong race. His sire is Voter and his dam is Cerito by Lowland Chief. Voter is a grandson of Hermit.
Percentage is out of Gossip Avenue by Bulse by Disguise. Bulse, the winner of the Sanford Memorial Stakes, is out of Nethersole by Tournament. Disguise, a son of the great speed sire Domino, was raced in England where he was third in the Epsom Derby. He was stakes winner in the Jockey Club Stakes in England, and raced there as Disguise II.
Myrtle Dee, the dam of Three Bars, was a sprint specialist that held the track record for 5 ½ furlongs at the Coney Island Track in Cincinnati. Her sire is Luke McLuke, a son of the double bred Domino stallion Ultimus. Ultimus is by Commando by Domino and out of Running Stream by Domino. The Domino breeding in Luke McLuke gave Three Bars his second and third cross of Domino. Thus, Three Bars is 5 X 5 X 5 linebred to Domino.
Myrtle Dee is out of Civil Maid, a daughter of Patriot, a son of Ben Brush. Myrtle Dee's Domino/Ben Brush breeding accounts for her sprinting ability. The Domino/Ben Brush cross is found in such speed producers as the legendary sire Top Deck.
Myrtle Dee was inbred to *Sandfly, who was bred to Trenton to get Midge, the dam of Luke McLuke. *Sandfly was bred to Ben Brush to get Patriot, the sire of Civil Maid, the dam of Myrtle Dee. Thus, Myrtle Dee is 3 X 3 linebred to *Sandfly, who is a link between the Domino and Ben Brush breeding found in Myrtle Dee. She apparently crossed well with both lines.
It has to be noted that Disguise, Voter, Ballot, Ultimus and Luke McLuke were bred by James R. Keene. Domino and Ben Brush were used by James R. Keene for his breeding program at Castleton Stud.
Golden Rocket, the dam of Rocket Bar, is by Cartago and out of Morshion by Morvich. Golden Rocket was foaled in 1940 just like Three Bars. She won the Washington State Futurity at Longacres Racetrack in 1942 in 1:06.20 for the 5 1/2-furlong race. Her official race record shows she had 24 starts with four wins, two seconds and three thirds to earn $3,050.
The produce record for Golden Rocket shows that she had six Thoroughbred foals with five starters, one stakes winner in Rocket Bar, and one stakes placed runner in Spot Rocket by Spotted Bull. Spot Rocket was third in the 1956 Raton Futurity and set two New Track Records at Prescott Downs. The first was for 5 1/2 furlongs in 1:06.20 and the other was in 1:01.8 for 5 furlongs. She made 64 starts with 19 wins, nine seconds and three thirds earning $15,409. Spot Rocket was bred by Charles H. Reed. The next Golden Rocket foal was High Spade by High Quest, a race winner of five of 27 starts with six seconds and five thirds earning $15,560. A third runner, Trey Spot by Spotted Bull, was the winner of $4,512 with three wins, four seconds and 10 thirds from 45 starts.
Cartago, the sire of Golden Rocket, was the winner of $27,852 with a stakes win in the Camden Handicap. He made 180 starts with 28 wins, 27 seconds and 23 thirds. He is the sire of just 63 foals, with 43 starters earning $179,227. Golden Rocket was his stakes winner. The sire of Cartago is Atwell, a son of St Amant. The dam of Cartago is Polly H by Heno. Polly H won $12,815 winning 22 of 108 starts. Polly H is out of Polly by Rensselaer.
Morshion, the dam of Golden Rocket, won three stakes races in the Consolation Claiming Stakes, Rosedale Stakes and Montauk Stakes with earnings of $20,010. She is the dam of mares like Jeff's Moment, unplaced in four starts and the dam of Drumheller Memorial Handicap winner Moments Notice. Miss Jeff is also a daughter of Jeff's Moment and she is the dam of Pataha Prince, winner of the Washington Futurity Stakes and the Sunland Park Thoroughbred Futurity in 1967. Miss Jeff is also the dam of Pataha Pete, winner of the Yakima Mile Handicap where he set a New Track Record of 1:36.00 for the mile. Moments Bet is another daughter Jeff's Moment, and she is the dam of Late Moment, who is the dam of Jan's Grey Pop, winner of the Labor Day Handicap and Renton Handicap, and Ideal Moment, winner of the Pleasanton Handicap.
Dusty Bid is another daughter of Morshion. Dusty Bid is the dam of Suzy's Shadow, winner of the Seafair Queen Stakes. The produce of Suzy's Shadow include Lyon's Shadow, winner of the Washington Championship Handicap, and Canadian Shadow, winner of the Yakima Debutante Marathon and Washington Lassie Stakes.
Morvich, the sire of Morshion, was a Kentucky Derby winner with an unusual race record. This 1919 stallion won all of his starts at two, including nine stakes races from 11 starts. He was the 1921 Champion Two-Year-Old Colt. He came back at three with his first start in the 1922 Kentucky Derby. He became an undefeated winner of this great race. He never won another race. He ran second in the Carlton Stakes and third in the Kentucky Special. Reports show that he was retired because of his knees and osselets in a fetlock. He retired to stand at stud where he sired the earners of $947,985. His stakes horses include Old Union, winner of the Governor's Handicap in 1945, and Gen'l Manager, winner of the San Carlos Handicap in 1941 and the Drexel Handicap in 1942.
The sire of Morvich is Runnymede, who was bred by James R. Keene, an Englishman that at times sent horses to England to race. This is where Runnymede ran, earning a third in the Great Eastern Railway Handicap, a six furlong race at Newmarket. He has no race record in the United States. Equibase shows that he sired 123 foals with 106 starters and six black type winners with earnings of $523,596. His leading money earner appears to be Morvich, with earnings of $172,909.
Voter is the sire of Runnymede and he was a stakes winner of races like the Toboggan Handicap, a six furlong race in 1:12.25. He also ran six furlongs in 1:10 flat at Morris Park in 1896. He set a New World Record for one mile at Brighton Beach in 1:38, and was the Champion Handicap horse in 1899. He was second in the Fall Handicap at Sheepshead Bay when he carried 140 pounds, and that was 21 pounds heavier than the winner. The runners sired by Voter include Hilarious, winner of the United States Hotel Stakes, a 6 furlong race, and the Travers Stakes at 10 furlongs. Voter also sired Electioneer, winner of the Belmont Futurity Stakes at 6 furlongs.
The dam of Runnymede is Running Stream by Domino and out of Dancing Water by Isonomy. She is another Keene runner to race in England, winning the July Cup at six furlongs in 1900. Running Stream is best known as the dam of Ultimus, the sire of Luke McLuke. Ultimus is by Commando by Domino. She is also the dam of Pebbles, who was the Champion Two-Year-Old Colt of 1914. He was second to Regret in the 1915 Kentucky Derby.
The appearance of Voter and Running Stream in the pedigree of Rocket Bar gives us a breeding pattern of 5 X 5 to Voter and a 5 X 5 breeding pattern to Running Stream – Voter being the sire of Ballot and Runnymede, with Running Stream being the dam of Ultimus and Runnymede.
Cushion, an unraced mare, is the dam of Morshion. She is the dam of 12 foals, with 11 starters and 10 winners. Her winners include Downy Pillow, a stakes winner including the Debutante Stakes and the Senorita Stakes. Cushion is also the dam of Rude Awakening, a stakes place runner in races like the Hawthorne Speed Handicap. Rude Awakening, in turn, is the dam of Roused, the dam of Rough' N Tumble who is the sire of the Champion Two-Year-Old Filly My Dear Lady, the dam of the noted Thoroughbred sire In Reality.
Cushion is by Nonpareil by Yankee, who is by Hanover and out of Correction, a full sister to Domino. This gives the pedigree of Golden Rocket a link to the speed produced by Himyar and Mannie Gray. The dam of Cushion is Hassock by Martinet and out of Agnes Brennan by Dr MacBride and out of Annul by Himyar, the sire of Domino and Correction. This gives Cushion a 4 X 4 breeding pattern to Himyar.
The sire record for Rocket Bar shows that he sired the Quarter Horse earners of $4,215,596, with 454 foals, 368 starters, 287 ROM, 45 stakes winners, 45 stakes placed runners and five racing Champions. Rocket Bar is the sire of seven AQHA Champions, with three of those being Supreme Champions. The success of Rocket Bar as a sire was notable from the beginning, unlike his sire Three Bars, despite the fact that his first stakes winner came in his third crop.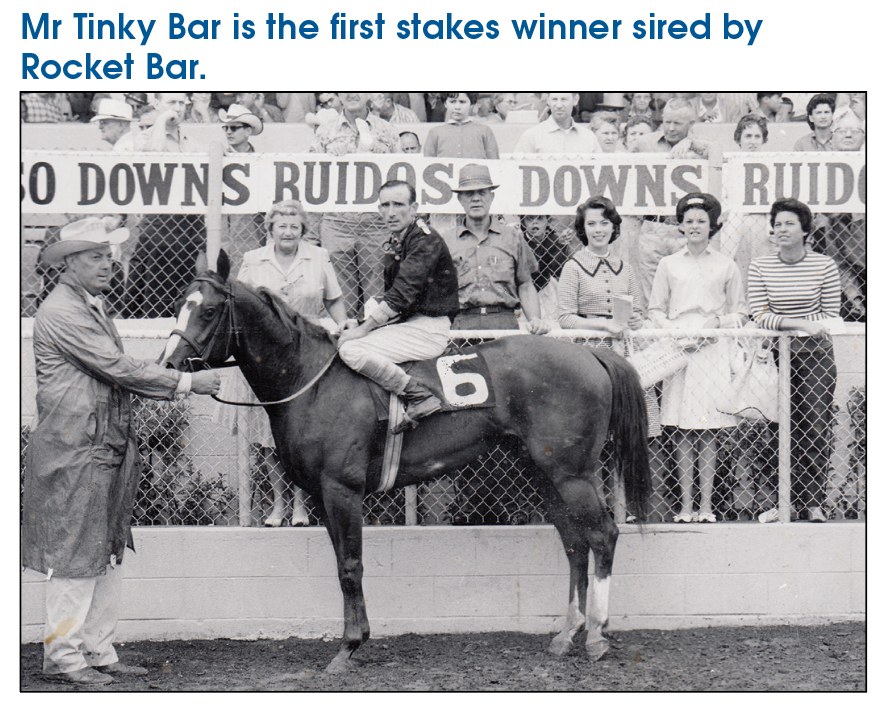 Mr Tinky Bar, foaled in 1961 is the first stakes winner sired by Rocket Bar. He is out of Kaufmans mare Tinky's Lady by Tinky Poo, an AQHA Champion. Tinky Poo is by Wayward Irving and out of Little Peach by Beggar Boy. Little Peach is out of Peaches by Oklahoma Star P-6.
Mr Tinky Bar won the 1963 Kansas Futurity and then finished second in the All American Futurity to the great Goetta. He was named the AQHA Racing Champion Two-Year-Old Colt. The Rocket Bar/Tinky's Lady cross also produced Mr Rocket Bar, a multiple stakes winner of races like the Fresno Futurity and a two-time winner of the Clabbertown G Handicap. Stakes placed runners by Rocket Bar include Rocket Poo, second in the Juvenile Handicap, and Mrs Rocket Bar, second in the Bay Meadows Futurity.
The Rocket Bar/Tiny Poo mares produced 12 stakes winners and stakes placed runners. These runners include four out of Tinky's Lady. Tinky's Inky by Tinky Poo is the dam of Inky's Rocket, a stakes winner by Rocket Bar and a full brother to stakes placed Bombin Rocket. Then, we will add Sky Way Rocket, by Rocket Bar, that is a stakes winner out of Tinky Chumina. Tinky's Lady, Tinky's Inky and Tinky Chumina are full sisters by Tinky Poo and out of Clabber's Image by 1940 World Champion Clabber. Susie Poo, by Tinky Poo, is the dam of stakes winner Kittie Rocket and stakes placed Classy Rocket. The dam of Susie Poo is Suleo by Leo. Tinky Ann, also by Tinky Poo, was the dam of stakes winner La Ree Bar and stakes placed Shadow Rocket. Tinky Ann is out of the Thoroughbred Annahi by High Step. Then we find Rockets Mist, a stakes winner out of Tinky Berry out of Granberry by Jimmy Gray. Tinky Berry is also the dam of Fire Rocket, an AQHA Champion and AQHA Supreme Champion. The last one on this list is 1964 Champion 2-Year-Old Gelding Nug Rock by Rocket Bar. Nug Rock is out of Tinky's Nugget by Tinky Poo and out of Dream's Gold Bar by Barred.

Smooth Move is another stakes winner by Rocket Bar. He won four stakes including the Yakima Meadows Derby in 1968. His dam is Lady Wayward by Wayward Irving the sire of Tinky Poo. Smooth Move is the broodmare sire of Tolltac the 1983 Champion Two Year Old and Champion Two-Year-Old Colt and the 1984 AQHA Racing Champion Three-Year-Old Colt, as well as a leading sire.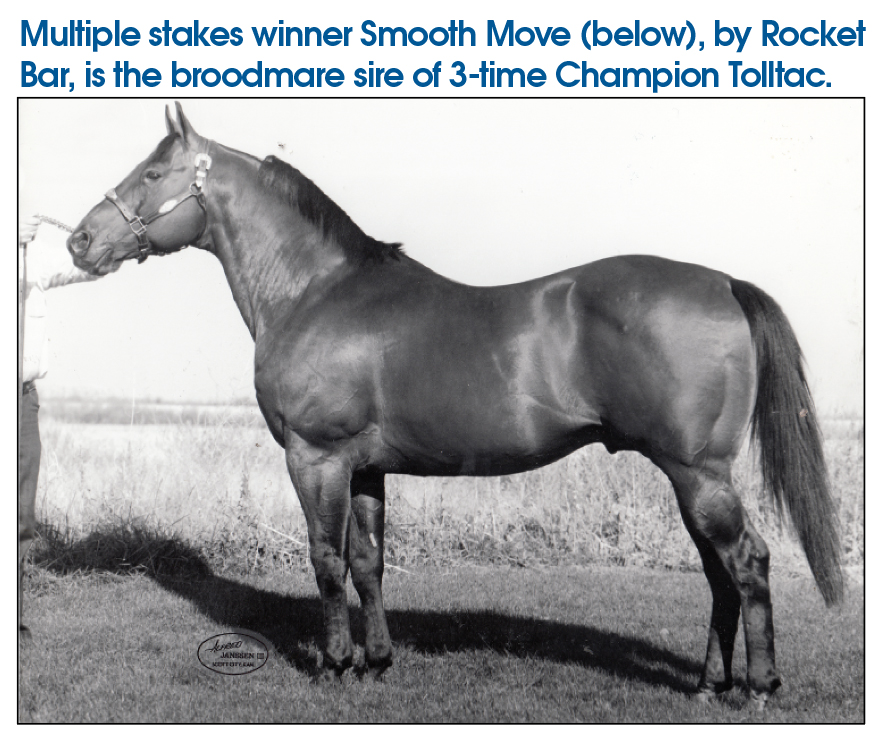 The next significant year for the sire record of Rocket Bar came in the 1965 PCQHRA Futurity at Fairgrounds at Sacramento. He had five qualifiers for this event, and they were the first five finishers across the finish line. They were Suleo's Rocket, Cape Canaveral, Rocket Vandy, Rocket's Glare and Clabber's Rocket. The winner, Suleo's Rocket, is out of Suleo by Leo and bred by O. M. Starlin. Z. Wayne Griffin was the owner of Rocket Vandy and Clabber's Rocket.
The Rocket Bar/Suleo cross was a very good one. This mare produced four stakes winners from five foals sired by Rocket Bar. In addition to Suleo's Rocket, the other three were: Princess Rozella, a multiple stakes winner including the PCQHRA Futurity; El Charro Rocket, winner Jefferson QHA Futurity; and Barleo Rocket, another multiple stakes winner in the 1967 Thanksgiving Stakes and 1968 Barbra B Handicap. Suleo is by Leo and out of Sue Wood by Kingwood, a son of the King Ranch stallion Macanudo.
Quincy Rocket is an example of the Rocket Bar/Leo cross. This mare is a multiple stakes winner in races like the 1968 Casa Blanca Futurity, 1969 Buttons And Bows Stakes and 1969 C. L. Madden's Bright Eyes Stakes. She is out of Leocita by Leo and Leocita is out of Oncita by Band Play.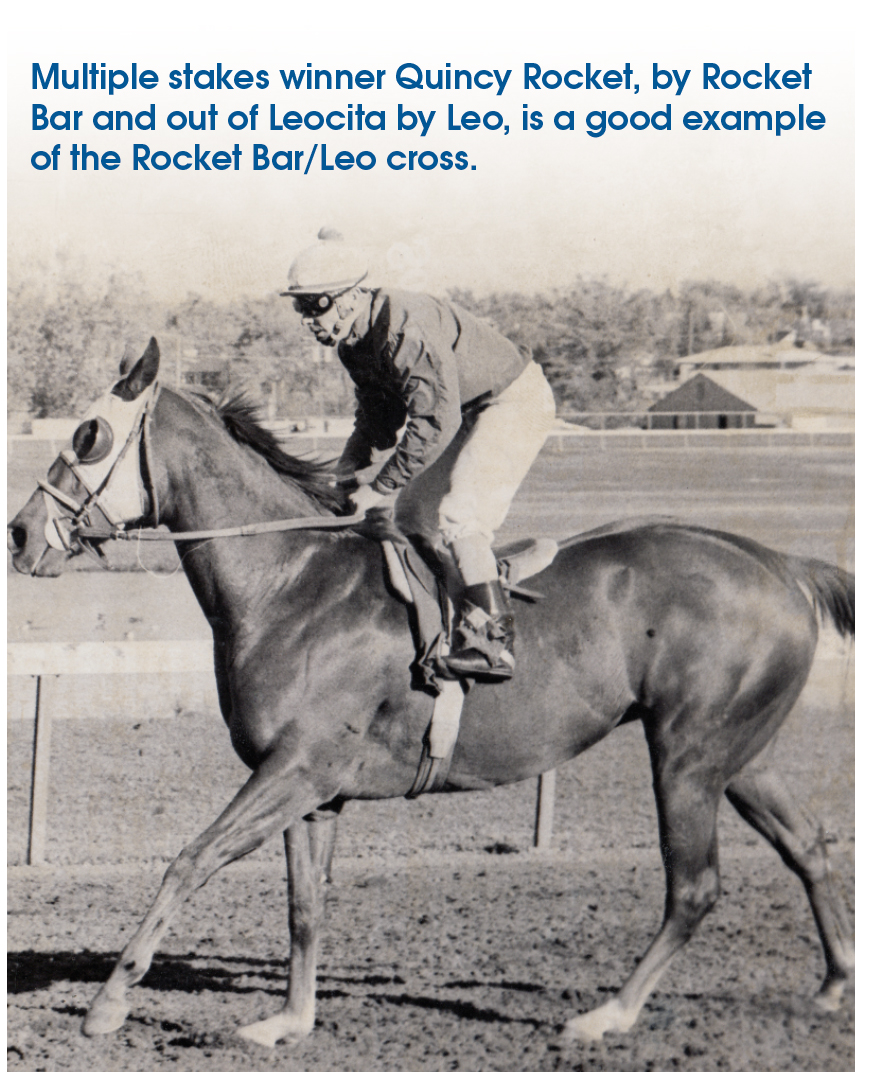 Quincy Rocket was bred by Quincy Farms and they bred another Rocket Bar/Leo cross in Sugar Rocket. Sugar Rocket was an AQHA Supreme Champion by Rocket Bar. He was a AAA rated runner, Superior halter horse and AQHA Champion. His dam was Sugar Mayday by Leo and she was out of Frontera Sugar, the dam of Sugar Bars by Three Bars.
Osage Rocket serves as a different example of Rocket Bar and mares from the Leo line. She was the winner of eight stakes races, including the 1971 Portland Meadows Futurity, Kindergarten Futurity, and Lassie Stakes. Her success on the track in 1971 earned her the title of the AQHA Racing Champion Two-Year-Old Filly. She came back to add such wins as the 1972 Golden State Derby and 1973 Vessels Maturity. This mare banked $266,645, making her the leading money earner by Rocket Bar. She is out of Osage Lamb by Palleo Pete by Leo. Osage Lamb is out of Barbara Lam by Little Request.
Rocket Bar and Joe Reed II mares also produced some pretty good runners. Joe Reed II is the sire of Leo. Lady Me by Joe Reed II is the dam of Joada Bar, winner of the 1963 PCQHRA Futurity. Joada Bar is the second stakes winner sired by Rocket Bar. Lady Me is also the dam of Rockabars, winner of the 1967 Chamizal Futurity, 1968 Lafayette Derby and a finalist in the 1967 Rainbow Futurity. A third Rocket Bar foal out of Lady Me is He Rocket, a AAA rated runner that was an AQHA Champion and an AQHA Supreme Champion. Jody B Reed is another Joe Reed II daughter. She is the dam of Rocket Joleen, a second place finisher in the 1963 Intermountain Futurity. This filly also came from the 1961 foal crop of Rocket Bar.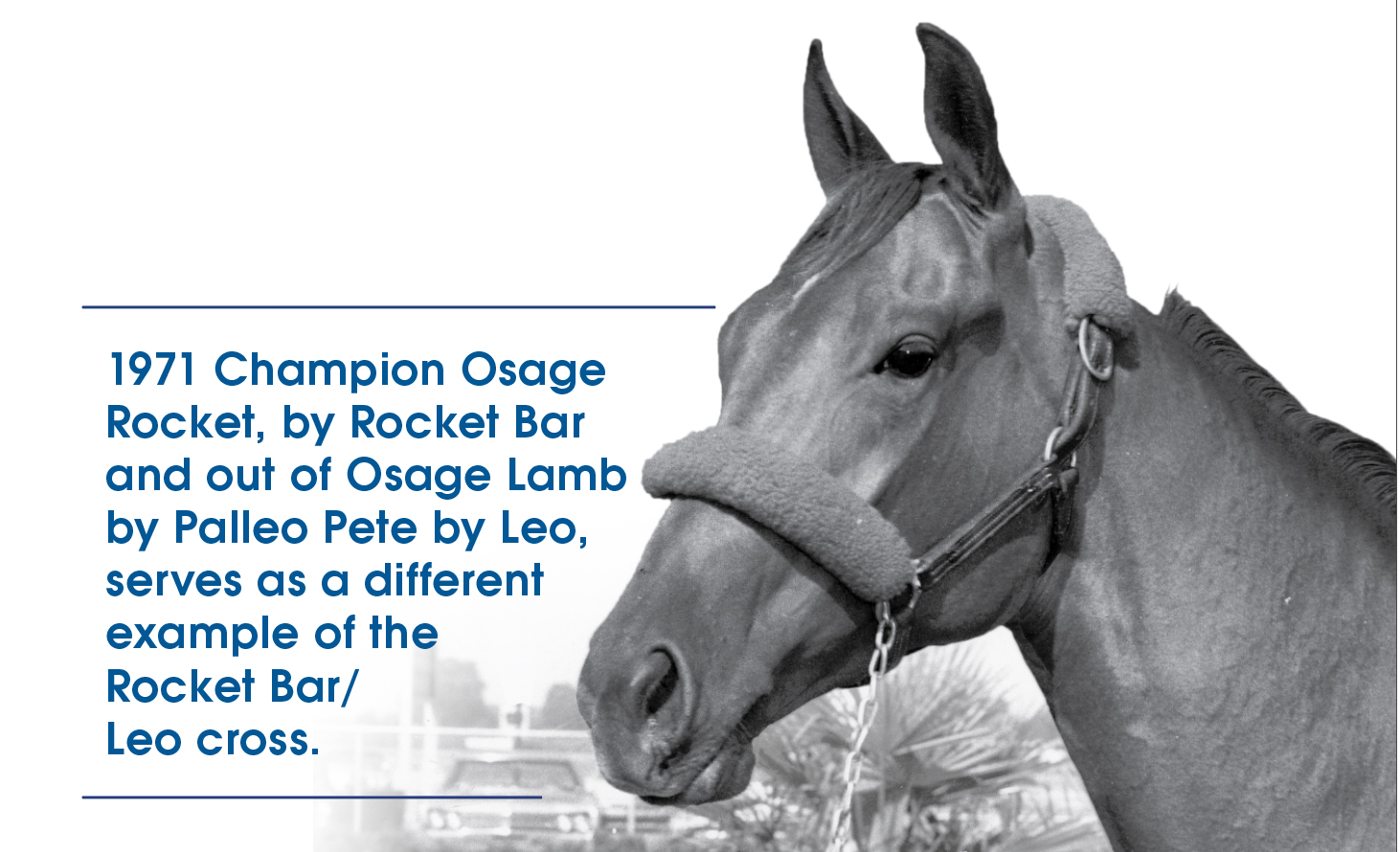 The 1964 crop of Rocket Bar runners made a splash in 1966. He sired 15 starters and 14 ROM, with 13 of them qualifying for a stakes race and five of them being stakes winners. The stakes winners are El Charro Rocket, Mr Rocket Bar, Inky's Rocket, Dream Rocket and Kitty Rocket. Inky's Rocket was a two-time stakes winner, including the Yakima Meadows Futurity. Dream Rocket was a finalist in the 1966 All American Futurity and a two-time stakes winner, including the 1966 Columbus Futurity. Kitty Rocket won the 1966 PCQHRA California Bred Futurity. Ceres Rocket was the 15th starter and did not earn an ROM from two starts, but she was a finalist in the Jefferson QHA Futurity.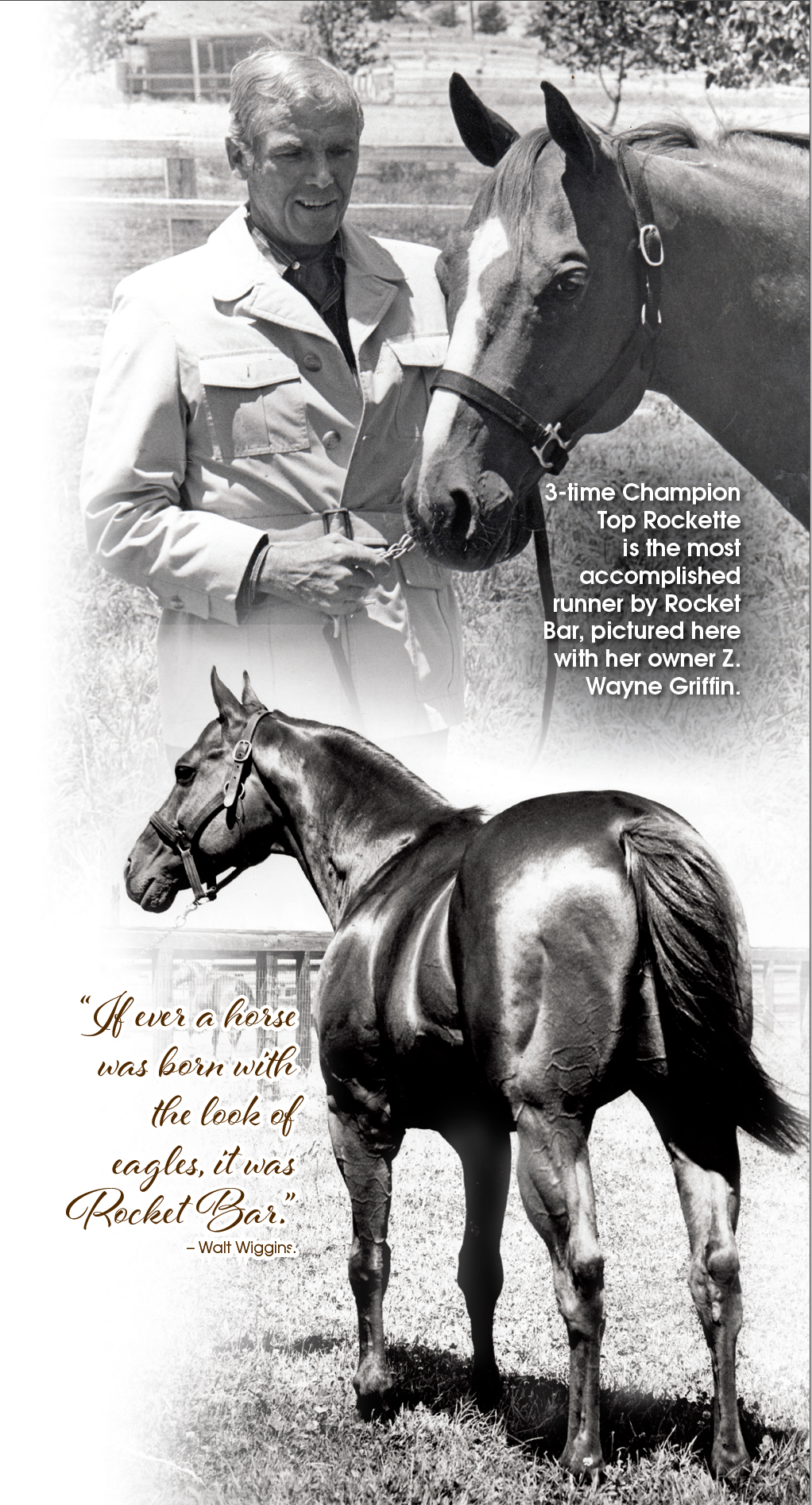 Top Rockette is the most decorated and accomplished runner sired by Rocket Bar. She raced 68 times, winning 25 races including 17 stakes victories. She raced from 1967 to 1971, winning the 1968 Kindergarten Futurity, 1968 Los Alamitos Invitational Championship, 1969 Barbra B Handicap and 1970 Autumn Invitational Championship. She failed to win a stakes in 1971, but finished second in the Shue Fly Stakes and third in the Go Josie Go – counting those among her 20 second and third place finishes. The AQHA awarded her the 1968 Racing Champion Mare and the 1968 AQHA Racing Champion Three-Year-Old Filly titles. She came back in 1970 to be named the AQHA Racing Champion Aged Mare. Top Rockette is out of Kay Deck by Top Deck.
This brings us to a close for this time, leaving us with the influence of Rocket Bar through some of his other runners, including Rocket Wrangler, and as a broodmare sire for another time.