The Prototype of Things To Come
Posted by Duane MacKendrick on 06/10/2020

Today, as anyone even remotely associated with Quarter Horse racing knows, Los Alamitos Race Course stands alone. Its story is the story of modern Quarter racing. Its success is Quarter racing's success. And its future may well be the industry's future.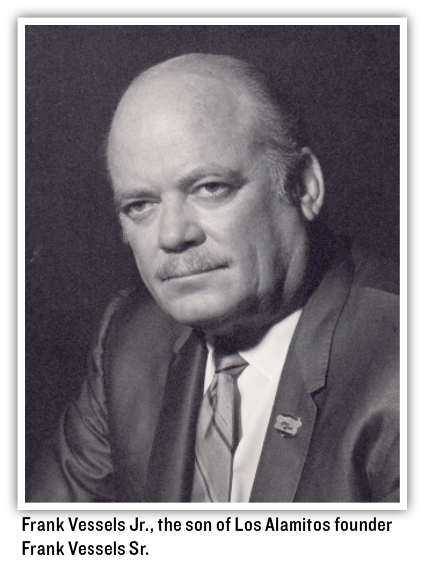 In a comparatively brief span of time, the California track has risen from obscurity to become a giant. It has proven to the world that an all-Quarter Horse meeting can not only survive, it can prosper.
When new groups - or states - contemplate joining the ever-expanding Quarter Horse scene, they can look to Los Alamitos and know with certainty that success is attainable. And having a prototype to showcase can be vital for an industry in need of more racing.
On Wednesday, June 9, Los Alamitos will begin its 25th year of operation with a 79-night meeting. To some people, it means only another place to get some "action." But to others, and their numbers are increasing, it means an opportunity to enjoy some of the best Quarter Horse racing in the world.
But to Frank Vessels Jr., President of Los Alamitos, it means far more. It has to. Frank is the son of the track's founder, the late Frank Vessels Sr., and he knows far better than most that the "little track" in Orange County is the direct result of his father's dream . . . and a dream come true is no small matter.
It began on August 3, 1947. On that afternoon, a Sunday, Frank Sr. presented six non-betting races for a crowd generously estimated at 2,000, who sat on makeshift bleachers in what was actually the backyard of the Vessels ranch.
An auspicious beginning? Hardly. But then, how many of those at Kitty Hawk in 1903 imagined that they were witnessing a step toward the moon?
For the next three years, the betless Sunday programs were continued, and then in 1951 after considerable lobbying in the California Legislature, permission was finally granted for an official 11-day race meeting.
It wasn't much, but it was a start . . . the foot was in the door.
Complete with pari-mutuel wagering, the meeting opened on Dec. 4 and, needless to say, the Vessels family was all but overcome with enthusiasm. But the smiles turned to frowns soon enough when Mother Nature supplied weather better suited for water skiing than for horse racing, and that first sanctioned meeting went into the record books with a dash of color . . . all red.
Had a dream become a nightmare?
Lesser men might have thought so, and might have thrown in the towel right then. But Frank Sr., moving with the determination only a man of faith can muster, began planning for the next meeting, and the one after that.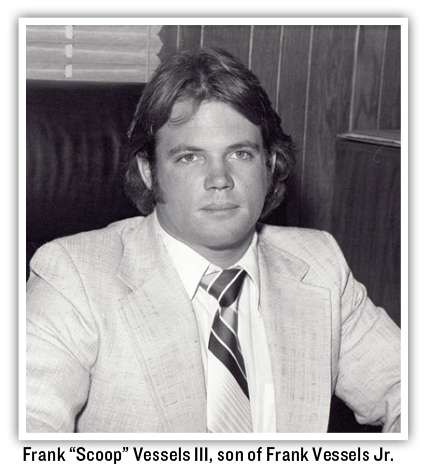 Old Sol smiled the next year. Business picked up – it could hardly have gone down after the inaugural – and the color of the ledgers changed noticeably. Los Alamitos was off and running.
And the following year, after nearly 10,000 "fans" showed up for the opening program of the 1953 season, Frank Sr. decided that it was time to make a move . . . and a "real" racetrack was built forthwith on its present site.
Second-guessers, vocal from the very beginning, again predicted that the project was premature. But then, others of that ilk had told the Wright brothers their machine "would never get off the ground."
Improvements on the newly-constructed track followed, including an addition to the clubhouse in 1955. Then in 1958, the track's founder made another bold move, deciding to sell stock - $2,400,000 worth - in order to build a new grandstand. The little track in Orange County had indeed gone "big time."
The ensuing years were good ones. Business was brisk, and more important, the future was bright. The track entered the 60's with 55 days of sport, split into spring and fall sessions. Attendance was averaging better than 6,000 daily, and the mutuel handle per day was around half a million dollars . . . and growing.
Suddenly, in a hotel suite in Tulsa, Oklahoma, while attending a meeting designed to further the scope of the American Quarter Horse Association, Frank Vessels Sr. passed away. It was February of 1963, and Frank Jr. had a very large pair of shoes to fill, but he was prepared.
His father had always believed that "doing was the best way to learn," and he applied that formula to his son. And Frank Jr. had learned; the small jobs as well as the big ones, and the dirty ones right along with the choice. It may not have been all fun, but it worked, and as Frank Sr. probably would have said, "That's what counts."
The business trend at Los Alamitos continued upward. The average for 58 "split" days in 1967 had reached 7,880 (attendance) and $656,391 (handle).
Then, after passage of California Assembly Bill 1082, the decision was made to take another big step . . . night racing. One of the finest lighting systems in the country was installed, and on Tuesday, July 23, 1968, Los Alamitos introduced night racing to Southern California.
The second-guessers? Oh, they were still around, wagging their fingers and predicting doom, but their numbers had shrunk considerably. Perhaps the "cowboy operation" on Katella Avenue had fooled them too many times before.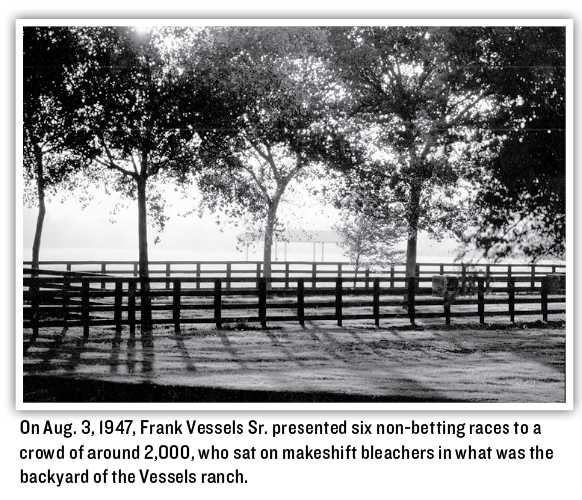 A then-record crowd of 16,414 showed up for that inaugural card under the lights, and when the first four Saturdays of the meeting attracted 16,632, 18,183 (all-time record), 16,580, and 15,371, the consensus of opinion was that Los Alamitos had really arrived.
But by September, it became obvious that something had gone amiss when the attendance figures began to fall off.
The downward trend in patronage worsened in October, and by November the bottom fell out completely. You could toss your losing ticket out of the Press Box without hitting anything but empty seats.
In July, you had the feeling you were a part of the Mardi Gras in New Orleans, but by the final week of the meet, you felt more like you were at a duck hunt in Alaska.
What caused the depression? Many things. For starters, the season had been lengthened from 58 days, split equally between spring and fall, to 78 nights stretching from July 23 through November 11. Then, too, there was a disastrous three-week dark period in September to escape an overlap with the Los Angeles County Fair meeting at Pomona. The season peaked too early, mainly because of curiosity seekers who had never viewed racing under the lights; the cool weather and fog in October and November kept people away, and the three-week break hurt the meeting's momentum.
Still, in spite of the problems, the average attendance for that inaugural night session was 8,568, failing by a mere 30 people per program of equaling the record spring stand of 1967, which, of course, was considerably shorter.
It was apparent, though, that changes were needed, and they were made.
The opening date for the 1969 meeting was moved up a month (June 24) and the brief break in scheduling was eliminated. The season would run 13 weeks – consecutively – and close on September 22. It was a solution to two problems, but it created another . . . the earlier start meant that Los Alamitos would overlap with the daytime Thoroughbred meet at Hollywood Park for four-and-a-half weeks.
It was thus that Los Alamitos kicked off its second season of night racing on a note of cautious optimism.
But the battle for fans wasn't fatal, far from it. The Quarter Horses more than held their own.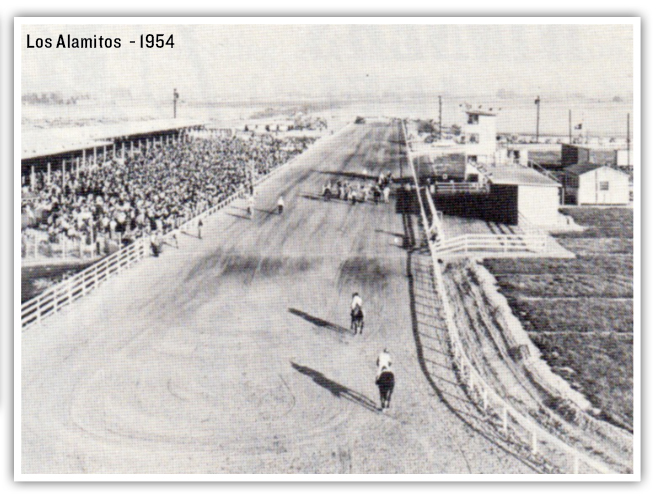 The '69 meeting didn't have the frenzied beginning of the first night stand, but fortunately, neither did it match that inaugural meet's sudden death in the fall. When the 78th night was history, Los Alamitos had a new record for average attendance – 9,025. And along the way they had introduced two more "firsts" to Southern California – 870-yard races and quinella wagering.
The second-guessers were silent.
With the success of the year before, the stage was set for a banner meeting in 1970, or so it seemed. But unable to solve its labor difficulties, Los Alamitos was to open 12 days (nights) later than scheduled because of a strike.
However, in spite of the tardy start, last year's 66-night meet set new highs in average attendance – 9,492, and average mutuel handle - $760,349. And no matter what some of the die-hard doubters might say, that's big business.
In fact, such established Thoroughbred meetings as Bay Meadows, Delaware Park, Fairmount Park, Keeneland, Lincoln Downs, Narragansett, Tropical Park, and others would have been overjoyed to have matched Los Alamitos' 1970 attendance.
From a local standpoint, of the three running-horse meetings in the Los Angeles area, Los Alamitos showed the highest percentage increase in patronage last year – 4.9. The session at Santa Anita showed a gain of 4.4 percent, while the Thoroughbreds at Hollywood Park were up but 0.1 percent. And the Los Angeles County Fair meet at Pomona, which offered eight Thoroughbred, two Harness, and two Quarter Horse races per day, saw its attendance fall off by 8.6 percent.