The Journey of Big Train, An Excerpt from July 1980
Posted by Lyn Jank on 06/09/2020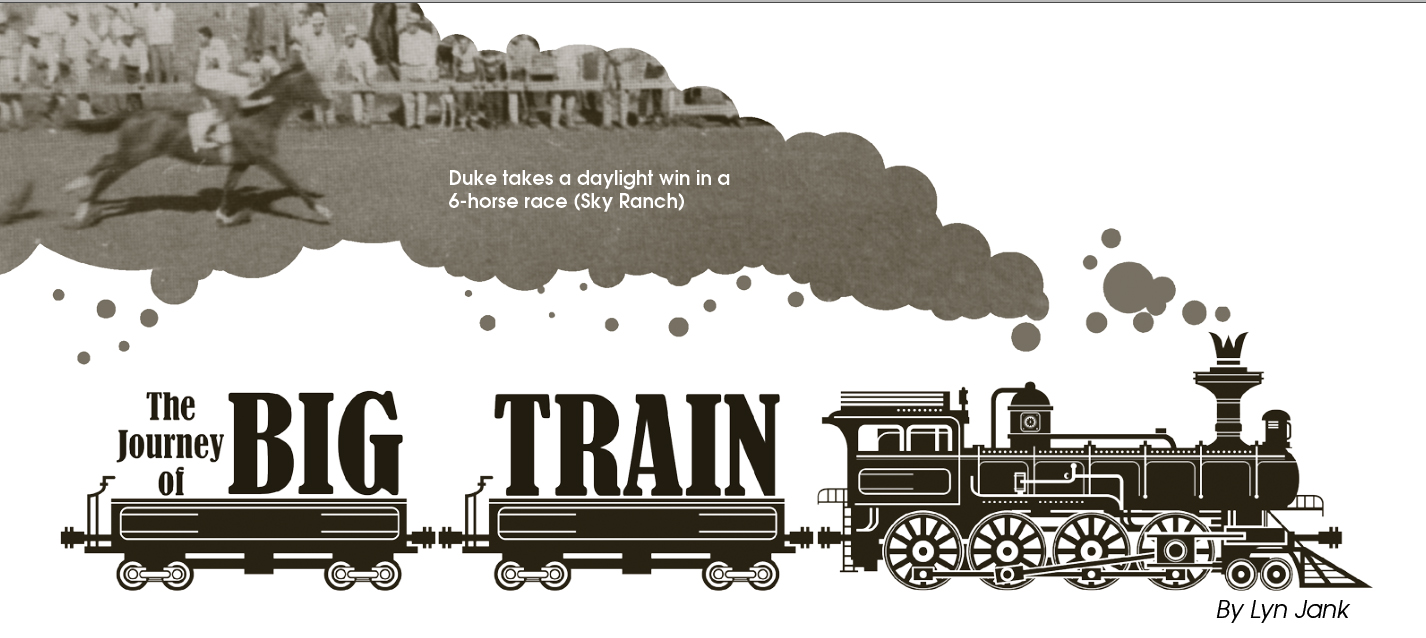 Jack Nelson was born on a farm near Blossom, Texas, in 1899. His father, in addition to farming, was a bookkeeper in the Blossom Bank and later bought a mercantile general store where "everything from can openers to tractors" was sold.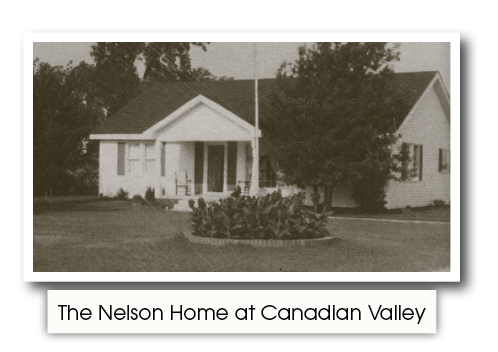 1907, the same year that Oklahoma joined the Union, the Nelsons phased out their affairs in Blossom and traveled north by wagon train to the windswept prairies of Oklahoma to establish a ranch. They settled near the small town of Stecker. Jack's grandfather, George Hyler, an ex-captain in the Confederate Army, had built the first store in Stecker.
"I rode horseback to and from a one room schoolhouse on the side of a hill. They almost had to burn the schoolhouse down to get me out of the eighth grade, and once I made it, I never went back and never regrettedit."
In 1919, at the age of twenty, Jack went to work for Otis Elevator Company in Oklahoma City and remained with the company for eighteen years before establishing his own company, Elevator Sales and Service. Four years later, 1941, Jack's company was firmly established, yielding a modest profit. Jack wanted to expand operations: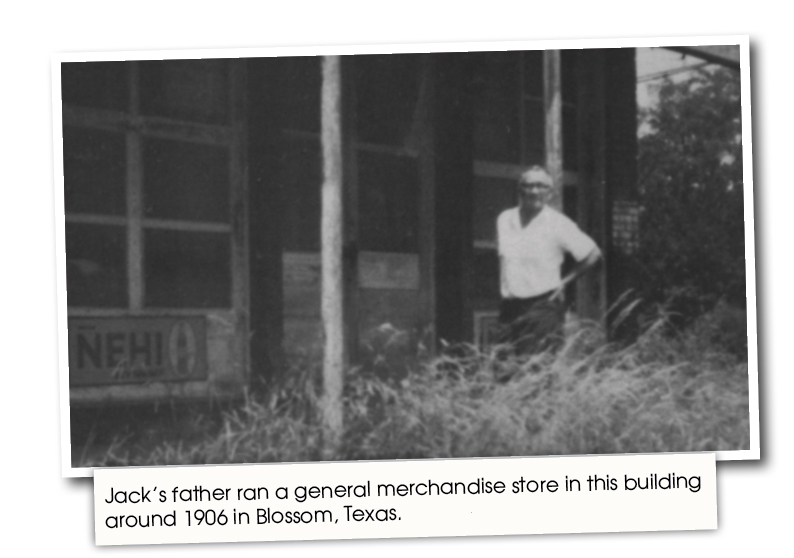 "I took the step that made me – enrolled in a Dale Carnegie course on Salesmanship and Letter Writing. I wrote a letter to the Chairman of the Board of Affairs in Oklahoma and ended up with the maintenance contracts for almost every elevator in the state."
Elevators were Jack's business, but what he loved was a fast horse.
"I would run a match race at any distance, for a pocket knife or anything else a man had in
his pocket. One of the best match horses I ever had was a bay called Duke – a registered Quarter Horse. He didn't have a last name or middle name or anything. He was just plain Duke, in life and on record. It's been a long time ago, and I can't remember his bloodlines. Whatever they were, they nicked."
AQHA records list a bay named Duke, foaled in 1945, by Colonel Clyde out of Lena (TB) by Walkaway. AA, Duke raced for nine years.
"When it comes to horses, it's always been my rule to sell when the price is right. Sometimes – lots of times – it tears my heart out to do it, because I tend to love my horses, especially the ones I raise. But the rule still stands. You can buy anything I've got except my wife and my dog.
"Anyway, I sold Duke to Ewell Watson in Arizona while Duke was still young, but while the bay and I were together, we had ourselves some fun. The best day we ever had was around 1948, when I hauled him to Anadarko, Oklahoma. They had a match track there frequented by Kiowa and Comanche.
"When I was unloading Duke I said to anybody who was listening that I was there to match the bay against anything for any amount, I was real cocky about it. An old Indian came up to me and looked hard into my eyes, and then sort of grinned and said, 'Mmmm…Big Train has arrived. From then on that's what they called me at Anadarko, Big Train.
"That day I stuck Duke in an eight-horse gate for a 3/8 mile. He was in the seventh hole, took command a few jumps out of the gate and won like a thief in the night. That's the way it always was with Duke. I did everything I could to get him outrun, but he had other ideas and refused to be beat. It makes you proud to say you owned a horse like that.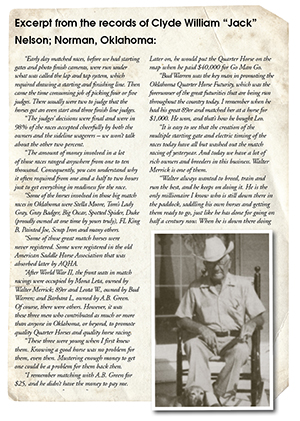 "Another horse I admired in the 1940s but never owned was the great Ed Echols by Zantanon. I was there when he ran his last race at the age of nine, and he got a standing ovation for it.
"A little 1950 model came along that I was fortunate enough to own for a while. I was co-owner of the horse with Elmer Moody. He was Little Hot Shot, AAA, by Hot Shot R out of a mare called Babe. Little Hot Shot raced for eleven years. He made 196 starts, had 21 wins, 26 seconds and 30 thirds. The best day Little Hot Shot, Elmer and I had together was when we ran second to Moon Deck in a 549-yard race in California.
"A real pretty little thing came along in 1951. She was Little Bay Lady, a charmer by Hank H out of the famous old match mare, Tom's Lady Gray. I owned Lady for a while, and matched her against some good ones. They knew they had been in a horse race."
Jack leased Sky Ranch, not far from Oklahoma City, in the early 1950s. The wheat farm came equipped with a 5/8 mile track.
"Needless to say, it was match time every Sunday. By then, Quarter Horse racing was getting a lot more sophisticated, and I was getting downright serious about the whole thing. Discovered Los Alamitos and took a few contenders out there. Elk City Jane was one. Another was Long's Buster Brown, this buckskin gelding. He was by Scar Joe out of Dark Victory. There was Beetle Bomb by Nowata Star out of Sure Traveler, and just lots more.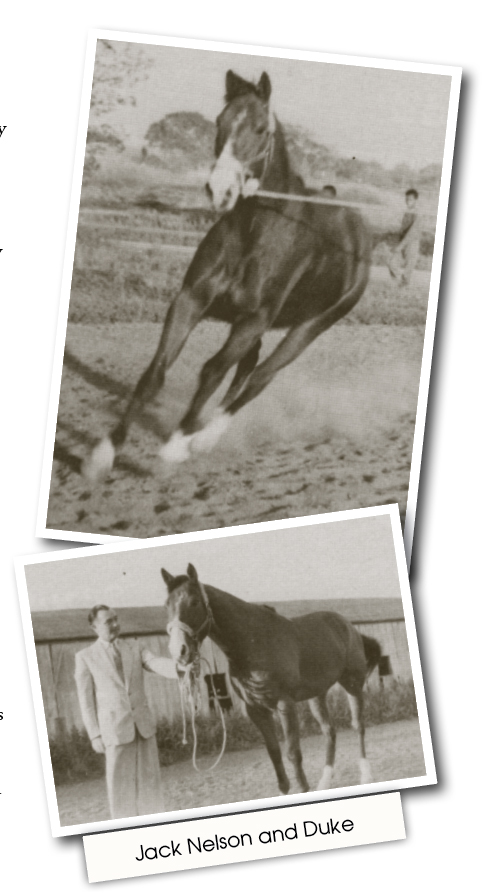 "Ed Burke was Racing Secretary at Los Alamitos then, a real good friend of mine and one of the greatest handicappers that ever lived. But we had a little set-to in 1950, in regard to Apple Sauce.
"Apple Sauce was my little brown filly, foaled in 1948. She was by a real fast horse, Can Do, and out of Pla Mor's Lady. My trainer was Elmer Moody. Elmer hauled Long's Buster Brown, Elk City Jane and a few others, including Apple Sauce, to Los Alamitos. Stalls were a big problem, but Elmer got space for all the horses – save my Apple Sauce.
"Ed Burke said nobody had ever heard of Apple Sauce, and that he didn't want to have anything to do with her. Ed and I had a talk about that. Apple Sauce finally got a stall for herself, and Ed finally gave her a race to run in. She won it and a few more before she left Los Alamitos and came on back home to Oklahoma.
"I sold Apple Sauce for around a thousand dollars. She had several owners during her lifetime, and I know she did them all proud. She was always well cared for and lived a long life – died in her late twenties."
During her lifetime, Apple Sauce foaled Apple Leo, AA, by Buddy Leo; Spanish Cavalier, AAA and stakes winner, by Spanish Fort; Miss Round Rebel, AAA, by Rebel Cause; Captain Top Deck, AA, by Top Deck (TB); Go Three Chicks, si 82, by Three Chicks; and Ranch Sauce, si 82, by Boy's Ranch.
"The 1950s were just a special decade, any way you look at it, and the year that was special for me was 1955. I owned a very pretty, dainty little thing called La Galla Win. I had purchased her from Frank Vessels at Los Alamitos. She only weighed about 850 pounds. She was by the Thoroughbred, Direct Win, out of La Gallina V by Peppy.
"Ed Burke wrote a maiden race at Los Alamitos, and I put my filly in it. She ran third to a lanky roan called Go Man Go. It was his first out. If he had been broke, he had forgotten most of his lessons. He ran every way except backwards to take the win in AAA time.
"Somebody called a foul on him, maybe more than one foul was called, I don't know. All I know is that I was quizzed about it, and I said that I had run closer to him than most, and he sure hadn't fouled me.
"So many people who feel like Go Man Go is their hero like to tell stories about him and his independent way of going, but most of the people are too young to remember his first out. He turned himself into a legend in the few seconds it took him to win it. It was announced over the loudspeaker that Go Man Go would receive a schooling lesson after that last race. I'd wager that half the people in the grandstands stayed to watch him.
"Throughout all his years of championship racing, that horse used whatever schooling he got only when he wanted to. Nobody bossed him unless he wanted to be bossed. Of all the horses I have loved and known, he is first."
La Galla Win, "that pretty little thing," would also have a turn at Jack Nelson's emotions. After her stint at Los Alamitos, she was hauled back to Oklahoma, where Jack entered her in a race soon enough.
"It was at Enid, and Vandevar, a son of Vandy, was the favorite. That was back there when the law didn't bother us, and I gave a hundred dollars to the bookie at the track and said to put it on my filly's nose. He took my money eagerly, since he felt the same as everybody else, that she didn't have a chance. But she won and nearly broke everybody present in the process.
"I sold the filly to Wandel Cox, manager of Pontiac Motor Company, in Oklahoma City. She didn't accomplish too much for him during her second campaign at Los Alamitos, so I bought her back. When I thought she was ready, I sent her to Bay Meadows, where she won a couple of races. A songwriter fell in love with her, and I sold her to him.
"Well, the filly didn't win for the songwriter, and he went in debt trying to keep her on the track. So I went out there, bailed him out and repurchased my filly and brought her home. She won a lot of good races in Oklahoma, and then I took her to Les Gosselin, with a dream in mind. I wanted to see La Galla Win bred to Go Man Go. Les had him at the time. Instead, Les offered me $4,000 for the mare. That was good money in those days, and I took it.
"Les didn't breed La Galla Win to Go Man Go that year, he bred her to another horse. Then the next year, 1961, he bred her to Go Man Go, and she came with a filly called Go Galla Go, AAA, a stakes winner, a multiple producer – just everything."
La Galla Win's daughter by Go Man Go, Go Galla Go, is the dam of Go Galla's Lady (si 95, $19,814), Go Galla's Man (AAA), Go L'il Galla (AAA), Rings And Things (si 93), and Speed Scene (si 94).
Go Galla Go is also the dam of Rocket Wrangler, si 97, 1970 Champion Two-Year-Old Colt, a Leading Money Earner, Stakes Winner, and the sire of, among others, Dash For Cash.
The same year that La Galla Win was bred to Go Man Go, 1961, Jack "Big Train" Nelson "got a yearning." It was to establish his own horse farm.

"I was sitting in my office in Oklahoma City
one day, wishing I had me a horse farm. I saw an ad in the paper that said they were auctioning off a quarter section in the valley flats that begin due west of Norman, Oklahoma, and stretch north for about ten miles. I went to the auction and was high bidder on the land, paid $40,000 for it. I sold my elevator company, moved to the valley and called my spread Canadian Valley Farm."

The decade of the 1960s marked tremendous growth in the running horse world, and Oklahoma emerged as the hotbed of the breeding industry. One by one, elegant breeding farms were established near Canadian Valley, until the entire ten-mile strip was populated, and known as stallion country. The first to join "Big Train" in the valley was Carroll Boyington, who brought in Scooper Chick and established Golden Valley. He later sold the spread to Paul Travis, who stood Three Chicks. Boyington transferred Golden Valley operations to another location in the valley.
"They just kept on coming in – Charlie Jenson with his Thoroughbred, Wandering Boy, to start up First Call Farm – then Dr. Bill Fosster's Cottonwood Farms – Reeve Ranch – Wingate Farms – and so many others. The valley had really come alive. We even had a match track – Cockleburr Downs. The powder room was wherever the tallest cockleburs grew, and the races were wild on Sundays, I can tell you that.
"B.J. Trimmel officed in my barn and took care of my breeding right after he got out of school. I was his first customer. He went on to become great. Rick McLin came to work for me when he was still practically a kid, I loved him like a son. Today Rick's managing Frank Merrill's Winward Stud, and B.J. Trimmel's the attending veterinarian.
"Rick stands Scooter Bug G, a great Appaloosa stud, and he talked me into breeding my mare, Miss Kiss Me, to Scooter Bug. The mare's by Bull Bar out of a My Texas Dandy Jr. daughter. She came with Mister Clyde in 1977. I sold him when he was about 15 months old, for $10,000. Thought I was the smartest man in the valley. Then the horse ran out about $80,000, and now they're going to syndicate him for who knows how much more money."
Although Jack had owned, known and loved many good running horses before he established Canadian Valley in 1961, the time he could spend with them was always limited. At the age of 62, Big Train Nelson had changed all that. His business became horses, 24 hours a day.
"I've always had a particular idea about training horses and have had some good trainers like Elmer Moody to depend on. And down the line I've seen a few trainers that I think ought to have been branding cattle instead of training horses. They're the kind of trainers that will beat a colt over the head with a rope or something, give him hell in the gate and then wonder why he won't run.
"To my way of thinking it's easy to break a colt as long as you're gentle but firm. I love fooling with them. The finest thing in the world is to get a colt used to you when he's a baby. Handle him, teach him you're not going to hurt him. But don't make a pet out of him, else he'll be inclined to get lazy. Gentle but firm. Then, when the time comes, you can spend anywhere from three to four months getting him ready for his first out.
"He'll take it from there, as best he can, depending on his breeding and conformation. It's good breeding that makes the most trips to the Win Circle, and that old mamma that's involved has a lot of say-so in how many trips are made. That's why I'm so proud of that pretty little thing, La Galla Win. All I did was own her for a while and take care of her. But in her I saw something that deserved to be passed on. I was proved right when she became the mamma of Go Galla Go, and the grandmamma of Rocket Wrangler and the great-grandmamma of Dash For Cash."
Some of the foundation stallions at Canadian Valley were Go Man Go Jr., Go Badger Go, Flash Deck and Scooper Parr. Go Man Go Jr. (Go Man Go-Mexhome TB), was co-owned by Jack and his good friend, Glen Dickinson, the architect who designed the Myriad Convention Center in Oklahoma City.
By the mid 1970s, Jack had about forty good mares.
"Good help was getting harder and harder to find, so I started phasing out. I was 76, and figured it was about time. My wife, Bernice, and I sold the farm to some nice people who have turned it into a Hunting/Jumping center, and we moved into a house here in Norman in wintertime, 1979. I came down with the flu on Valentine's Day. I think I've still got it – I advise anybody who lives on a ranch to stay there.
"When I look back on the years I've been in the horse business and try to figure out just where the biggest steps have been taken for improvement in the industry, it's mighty hard to settle on just one area which you think is best. But, for me, I think it's in the area of artificial insemination. Sanitation wasn't always at its best. Today, though, breeding labs, big or little, can be as sterile and as efficient as a people hospital. That's what's great to me."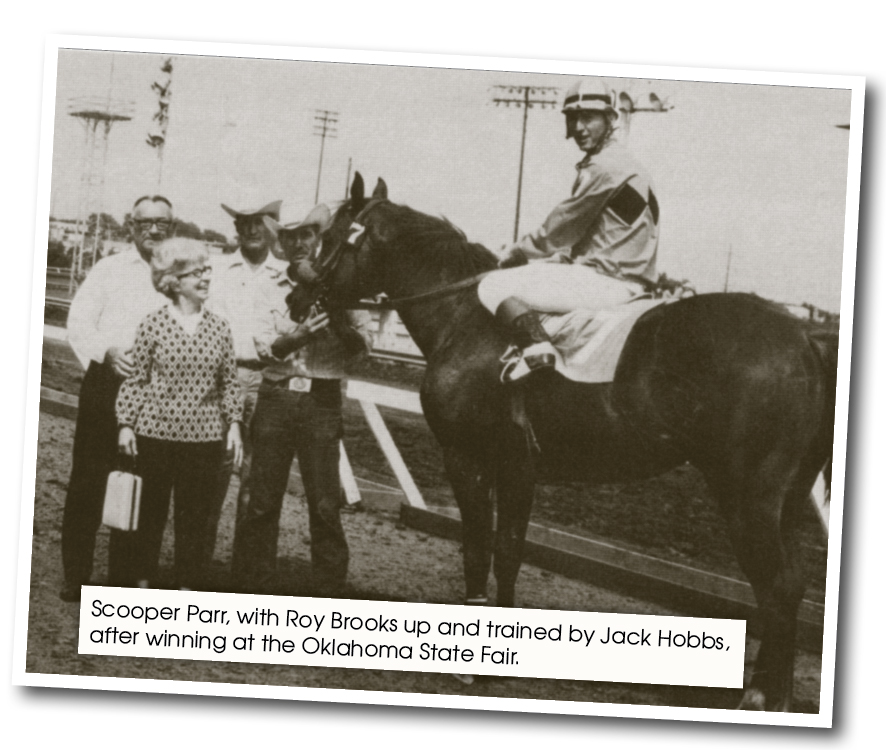 Although the Nelsons have converted to "city living," they still own one mare that is stalled in the valley. The mare is Kracker Lou.
"Lou ran an unofficial AA before hurting her ankle. She's by Lou Go, a Go Man Go son out of Leo Lou, AAA, by Leo. Kracker Lou's dam is a Thoroughbred, Ocean Crest by Faila. Lou has a Mr. Big Wheel foal at her side, that I'm planning on naming Magic Wheels or Wheel And Deal or Wheelin' Man. I hope to run him in the Black Gold Futurity. Lou is now in foal to Sky Steak, si 94 and a stakes winner, by Sky Way Rocket by Rocket Bar (TB) and out of Small Steak by Levan.
"When we were phasing out at Canadian Valley, I thought about getting away from horses completely but just couldn't do it. It wouldn't be right, after all this time. I'm not saying I couldn't be happy without them – just as long as I've got my wife, Bernice. She's so tiny. My nickname for her is 'Little Bit.' From the start, our marriage has been a fairy tale. I'll never stop being in love with her. She's just a baby, you know, only sixty-four."
Big Train and Little Bit have always contributed time, worry and money to the cause of bringing pari-mutuel to Oklahoma.
"If you think we're discouraged because of the long time it's taking, rest easy, because we're not discouraged. And we'll go on doing what we can to help the cause in any possible way that we can."
Clyde William "Jack" (Big Train) Nelson, the man with many names, is also a man with many friends. One of his favorite times to share with friends is near sundown. Conversations begin with many subjects, but one subject will always overtake the rest – Horse.
Jack occasionally enjoys a nip of Jack Daniels. A toast that he offers before taking the first sip defines his own feelings about life.
"I've always been a man who tried to say it the way he felt it and do it the way he thought it ought to be done, without ever hurting anyone else."
The toast that Jack favors is:
"Here's to those that do as we do
And here's to those that don't.
To hell with those that do as we do
And go around saying they don't."