The Joiners: A Special Eye
Posted by Jennifer Pitts on 04/27/2023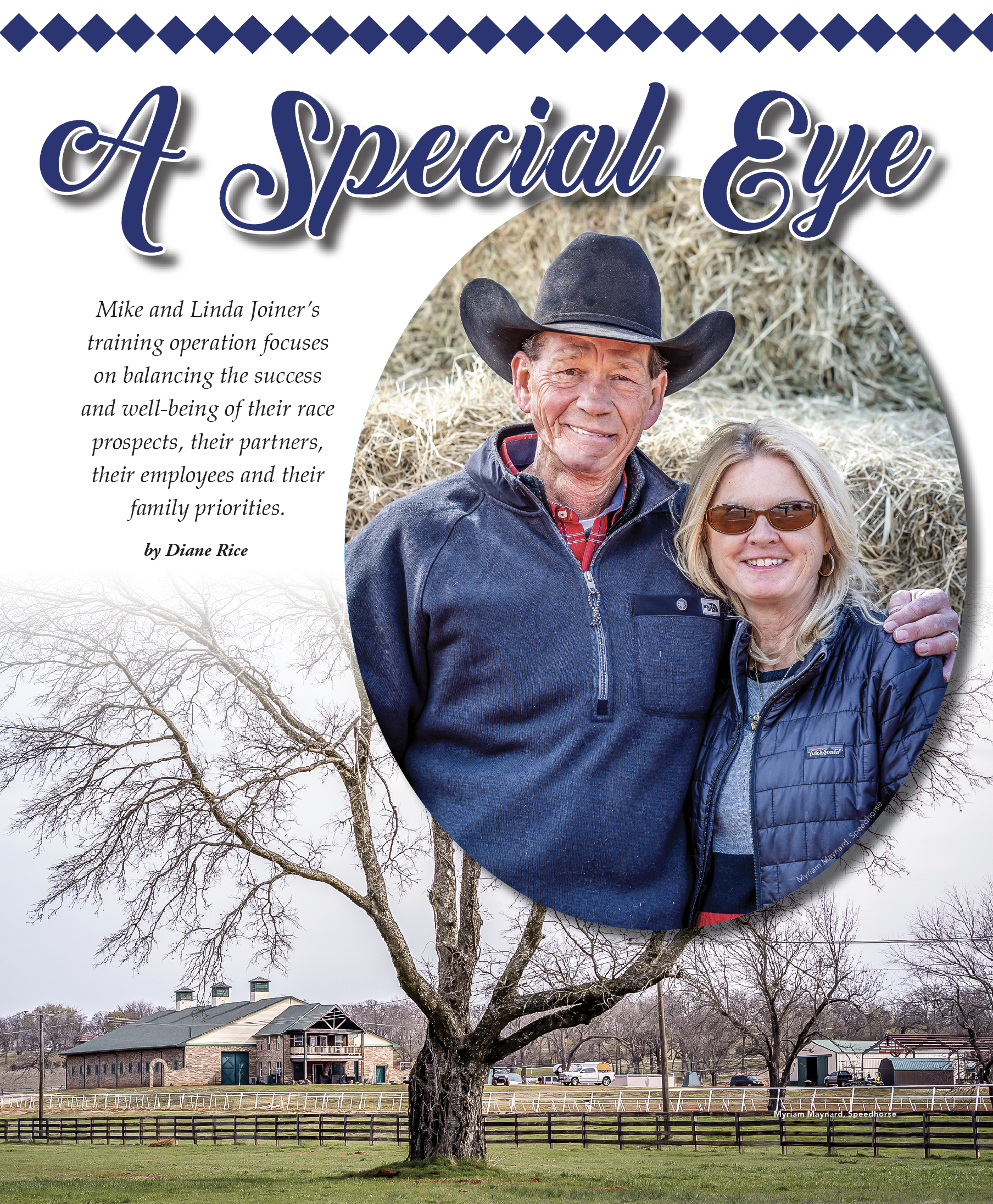 When seeking a racehorse trainer, every owner looks for that special blend of an exceptional eye for outstanding prospects; top-level training abilities and proven results; superior horsemanship; and great people skills.
But not all owners also include a strong commitment to family priorities on their short list of requirements. Yet that's what they'll get with the Joiner family, headed by Mike and his wife Linda, of Joiner Racing Stables LLC and their full-service offshoot Trinity Farm and Ranch in Asher, Oklahoma.
Although Mike has been a successful trainer since he went out on his own in 1978, he took about a 10-year sabbatical of sorts—shoeing instead of training—from 1990 to 1999 to spend more time with his sons Cody and Justin while they were pursuing high school sports and rodeo careers.
Both sons have worked in the family training operation, which, since it moved last fall from New Mexico to 125 acres with a half-mile race track in Oklahoma, has been able to expand the family's capacity for breeding their own mares plus providing mare and foal care, layups and training for the public, and also running a few cattle. Cody, 43, now serves as president of New Mexico Gaming LLC while staying active in racing as an owner, and Justin, 42, manages the farm while Mike and Linda travel the race circuit.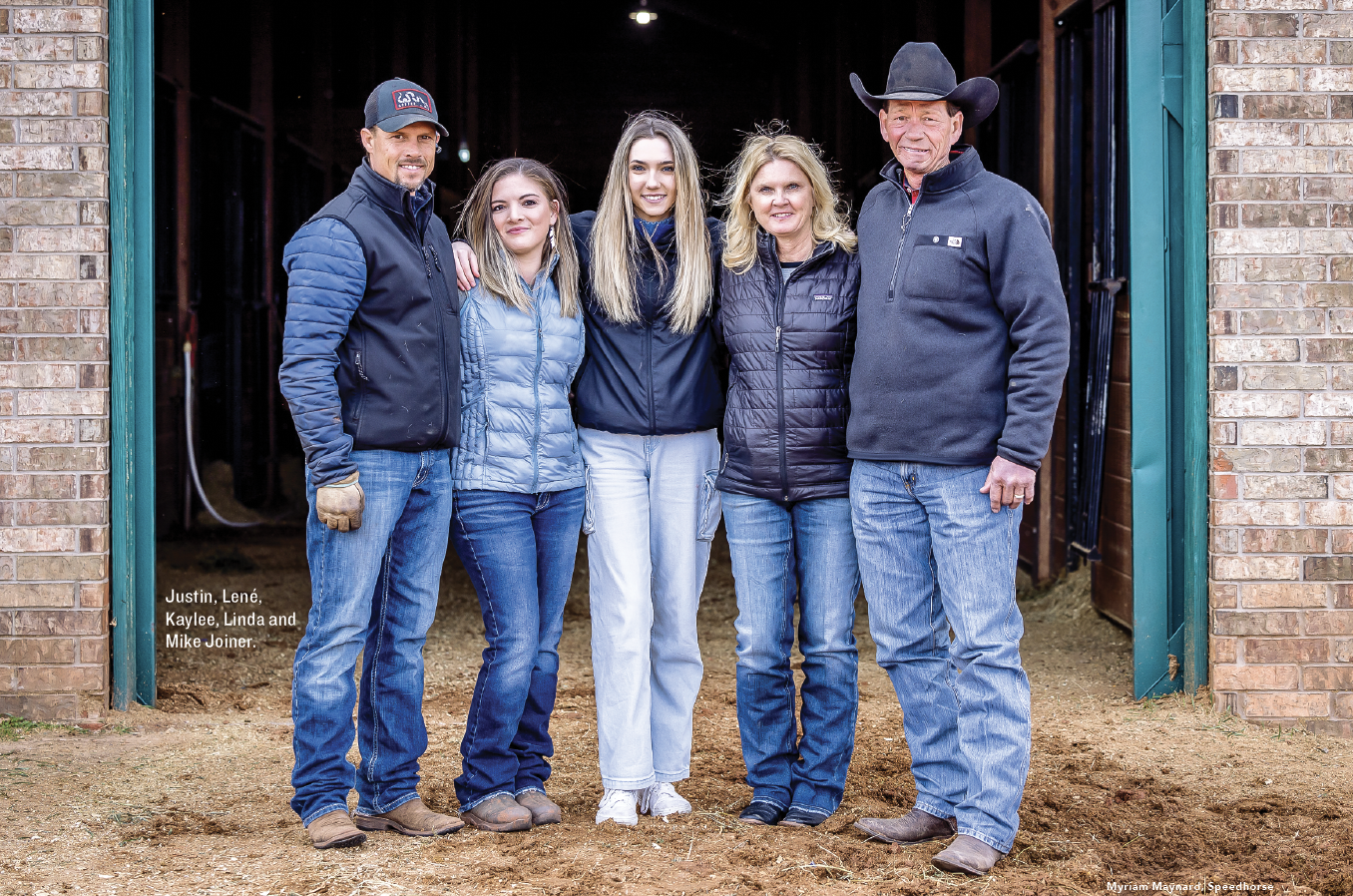 Their Roots in Racing
Mike's interest in racing grew from his maternal grandfather's passion. B.C. Lawrence, who had a match-race track at his home in Seymour, Texas, took Mike along when he attended races. "I rode my first match race at age 11," Mike says. "When I graduated from high school, I was living with him and my grandmother, and a year later I went to work for Leo Wood, Blane's dad, in Lubbock, Texas."
Linda's grandfather, Jim Smith, nurtured his family's horse passion by keeping a horse at his place in Clovis, New Mexico, for his grandkids to ride. "I always had a love for horses, although I never dreamed I'd meet and marry a man who was training racehorses," she says. "I'd been to the races at Lubbock Downs one time around 1967 and that's really the extent of my racing background."
During and after high school, Linda worked for several ophthalmologists in Lubbock and in 1977 she met Mike at Cold Water Country, a country and western dance bar there. "That next spring, Mike started training horses on his own at Raton, New Mexico," she says. "I visited him there occasionally; we had a short little courtship and married in August 1978."
The Couple's Goals
Early on, like most Quarter Horse trainers in the racing industry, Mike wanted to win the All American Futurity. "I still haven't done that," he says, although it seems to be the only race he hasn't won.
And although Linda's intention was to carry on where she started in the ophthalmology field, she realized that to keep her family functioning, she needed to support Mike's career instead.
"The racehorse industry guides you in particular directions, and our sons were only 13 months apart in age," she says. So, she found her niche as operations manager of their family business.
"I work wherever I'm needed," she says. "I fill in, make phone calls, get things done, show up to the races and try to have a great time."
"My mom is kind of the glue that binds things together," says the couple's oldest son, Cody. "She's probably one of the most supportive people I've ever met in my life, for me and for Justin and for my dad. She's really a big part of the success of the business."
"She's probably the biggest supporter to the family," agrees Justin. "She makes sure everybody has what they need and does everything that nobody else wants to or has time to do, and I think she sees her role as making everybody feel a little more special."
Along with Linda's support roles in their business, Mike credits Leo Wood with much of his success. "He really did a lot for me, and I highly respect him," he says. Mike also looks up to industry icons like Jack Brooks and Sleepy Gilbreath, among others. "I look at what they accomplished, and I strive to be in the same plane as they were. Those are pretty lofty goals, and you have to work pretty hard to get close to that.
"It seems like it's a lot harder these days to come up with that really big-time horse, just because there are so many good-bred colts and good individuals out there," he adds.
In addition to Mike's charges' good breeding and natural abilities, Cody and Justin credit the horses' successes to their father's work ethic, his attention to detail and what they call Mike's brutal honesty.
"He's an extremely hard worker," Justin says. "He has so much to teach and we've worked together my whole adult life, but someone could take an entire lifetime to learn what he knows and still probably not absorb it all."
"I trained on a professional level myself for a long time [so I know that] if you're going to compete and win these big races, you have to pay attention to every small detail," Cody says. "It's so incredibly hard to make sure the horses are at their absolute best within a two- to three-week span."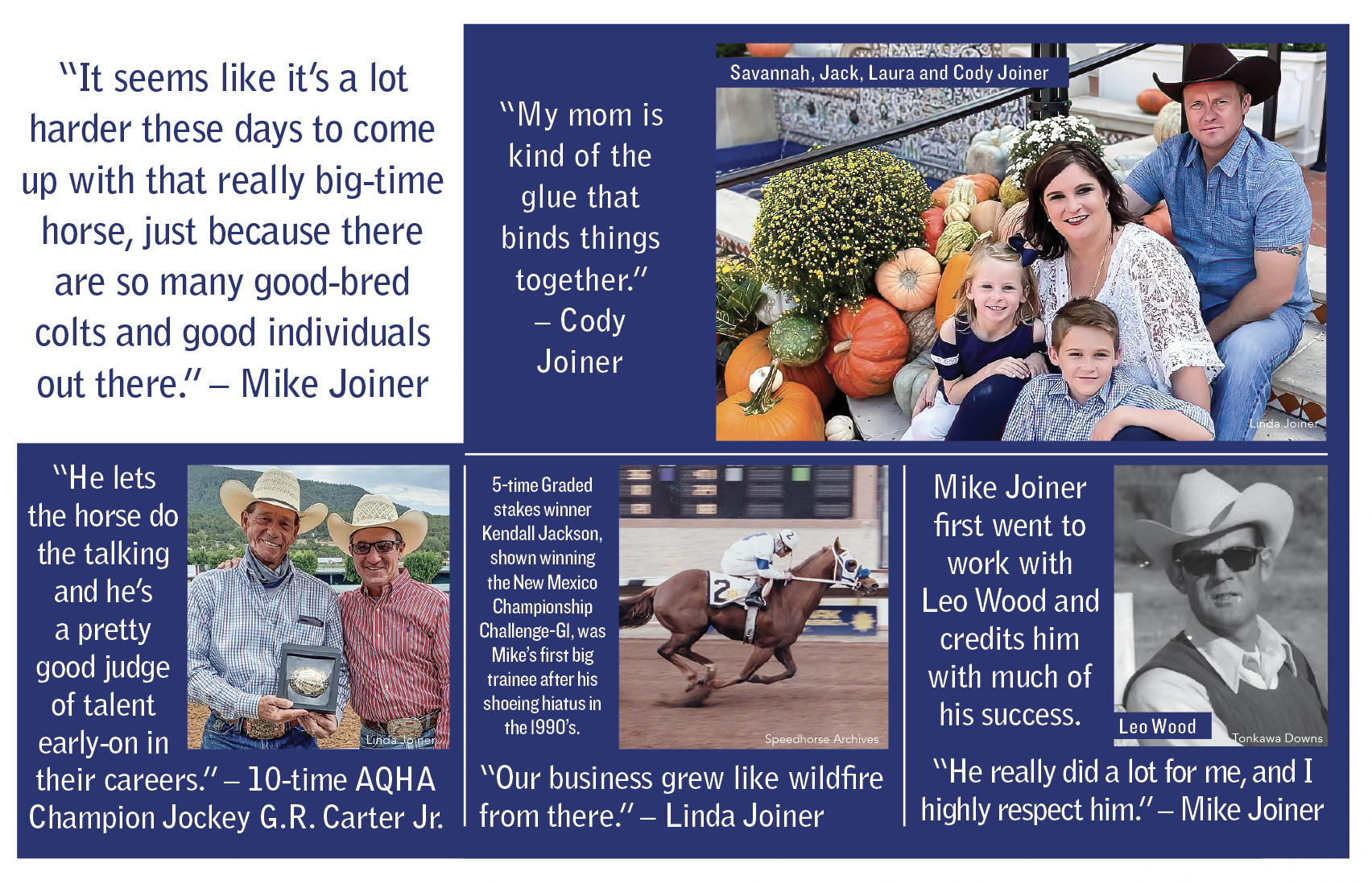 "And he's probably a bit of a perfectionist … in a good way." Justin adds. "He has high expectations for everyone and everything, whether it be the horses or the employees. I'd call it a strength but it's a little hard on the help sometimes to live up to those expectations even though they make them better hands, whether they know it or not."
Ten-time AQHA Champion Jockey G.R. Carter Jr. explains Mike's "brutally honest" quality. "He's pretty laid back, and a realist," G.R. says. "He breaks these horses by what he actually feels they're capable of, not what his heart or an owner's heart wants. He's not one to brag on those early babies until they've actually shown what they are. A lot of owners like that but a few don't; they want to be told that their horse is a runner before it's proved itself. That's not Mike's style. He lets the horse do the talking and he's a pretty good judge of talent early-on in their careers."
Joiner-Trained All-Stars
Mike's first "big-time" horse following his shoeing hiatus in the '90s was Kendall Jackson, who kick-started Mike's sizable resume of successful trainees.
Kendall Jackson won the West Texas Derby-G3 and ran second in the Ruidoso Derby-G2 in 2001. He then won the Sunland Express Handicap-G3 and ran second in the West Texas Maturity-G3 in 2002 and came back to win the New Mexico Championship Challenge in 2002 and 2003 as well. The 1998 Dash Ta Fame gelding, out of Lanes Leinster daughter Champagne Lane, tallied $377,549 under Mike's tutelage, accumulating a 40-14-4-9 career record. "Our business grew like wildfire from there," Linda says.
In addition to Kendall Jackson, Mike's top achievers include:
FDD Dynasty (First Down Dash-Dinastia Toll Brz, Tolltac). The 2004 colt earned $1,173,001 during his two-year race career. His eight wins from 11 starts include the Ed Burke Million Futurity-G1, his Golden State Million Futurity trial (running third in the G1 final), and his trial for the Los Alamitos Two Million Futurity (crossing the wire second in the G1 final). His second year, he won the Governor's Cup Derby-G2 and the Go Man Handicap-G1, then finished his career with a third-place finish in the Champion of Champions-G1. His impressive performance earned him Champion 2-Year-Old-Colt and Champion 3-Year-Old Colt titles in 2006 and 2007, and a sire career that produced such talented runners as Danjer with $2,269,068 and Whizkey Glasses with $935,219 in earnings.
First Valiant Sign (Valiant Hero-First Painted Sign, PYC Paint Your Wagon). The 2013 gelding started his career by running second in his Ruidoso Futurity trial, then winning the G1 final. He followed that with a second in the Rainbow Futurity-G1 and a win in his All American Futurity trial, running fourth in the G1 final. As a sophomore, he ran second in his Ruidoso Derby trial and won his Rainbow Derby trial, running fourth in the G1 final. He then qualified for the All American Derby-G1 and won the Texas Classic Derby-G1. His career earnings total $1,053,844.
Ongoing Ta Fame (Dash Ta Fame-Pyro Power, Pyromaniac). The 2001 gelding won 12 of 26 starts with five seconds and two thirds and earnings of $644,746. At 2, he won his New Mexico State Fair Señor Futurity trial and the G3 final at Albuquerque and the Shue Fly Stakes-G1 at Sunland Park. He came back at 3 to win the New Mexico Horse Breeders Association Stakes-G3, the Zia Quarter Horse Derby-G3, the New Mexico Breeders' Handicap-G3 and the Jess Burner Memorial Handicap-G1. His fourth year, he won the Mesilla Valley Speed Handicap-G2 at Sunland Park and the New Mexico Cup Championship at Zia Park, running second in the New Mexico Handicap-G3 and third in the Zia Handicap-G3.
A Revenant (Mr Jess Perry-Thewayouwantmetoo, Mr Eye Opener). The 2014 colt earned $604,800 in just four races, crossing the wire first three times (his trial for the Ruidoso Futurity and his trial and the final for the Rainbow Futurity-G1) and second once (the Ruidoso Futurity-G1). For his efforts, he earned the 2016 Champion 2-Year-Old Colt title, then retired to the breeding shed.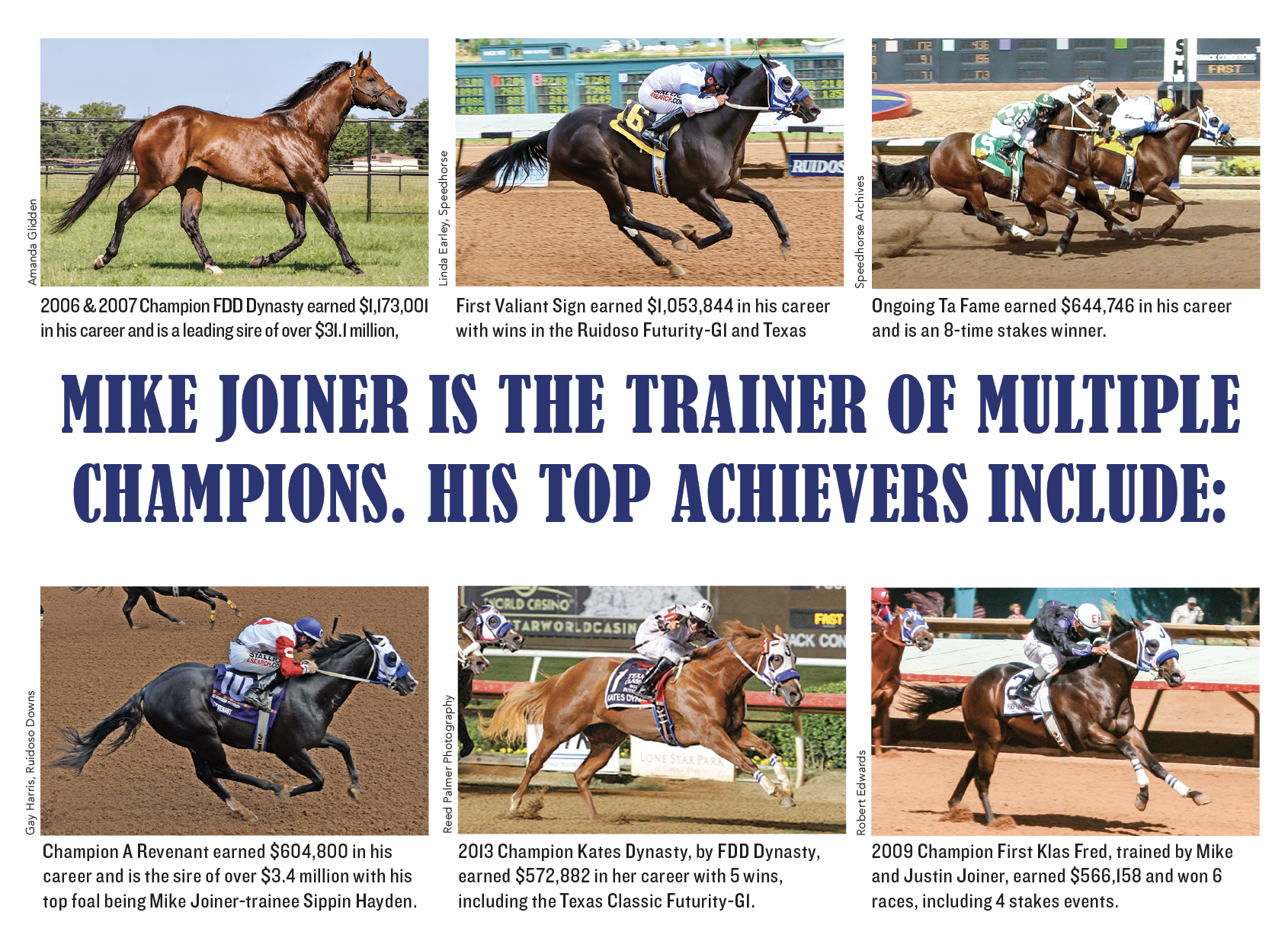 Kates Dynasty (FDD Dynasty-Jennifer Kate, Vital Sign). The 2011 mare won five of 11 starts including her trial for the All American Futurity-G1, the Texas Classic Futurity-G1 and her trial for the All American Derby-G1. Her career accomplishments include $572,882 in earnings and the 2013 Champion 2-Year-Old Filly title. "That was pretty neat, to train the dad and then train her and have her turn out to be a Champion also," Linda says.
First Klas Fred (Fredricksburg-She Flies First Klas, Strawfly Special). The 2007 gelding earned $566,158 in five years. His notable wins include the Ruidoso Futurity-G1, the Hobbs America Futurity-G3 at Zia Park, and the Classic Chevrolet Heartbeat of America Handicap-G3 at Lone Star Park twice. He was named Champion 2-Year-Old Gelding in 2009.
Chicks Goes Steppin (Chicks A Blazin-Maggie Goes Steppin, Go Step). This 1999 gelding earned $496,198 with a record of 39-10-12-7 over six years. His first year out, he ran second in the Zia Futurity-G2, then won the New Mexico State Fair Señor Futurity-G3 and ran third in the Shue Fly Stakes-G2. At 3, he won his trial and the final for the Zia Quarter Horse Derby-G3, the New Mexico State Fair Breeders' Derby-G3 and the New Mexico Handicap-G3, and ran third in the Jess Burner Memorial Stakes-G2. His third year out, he upped his finish to first in the Jess Burner Memorial Stakes-G1 and ran second in the Championship At Sunland Park Stakes-G1.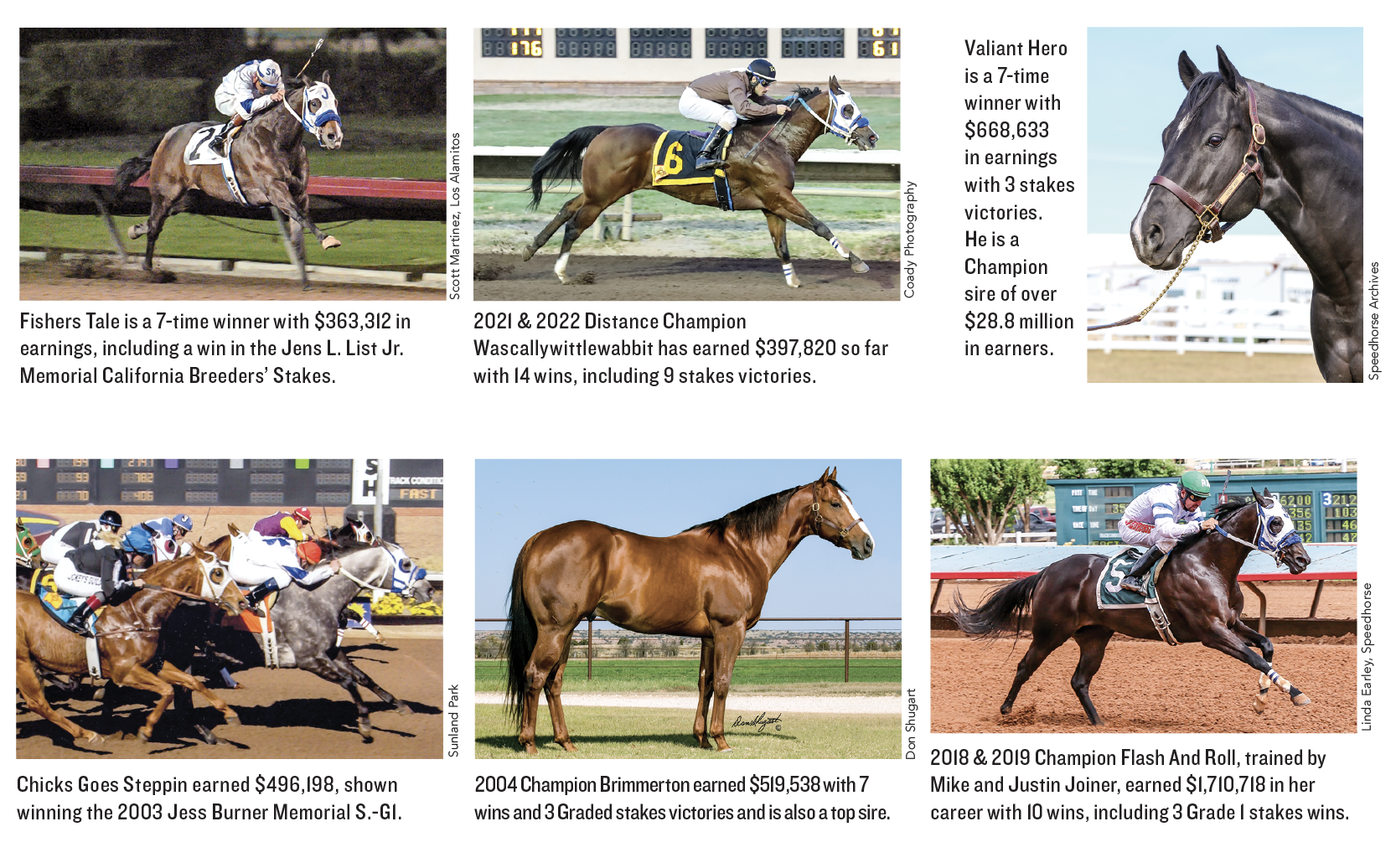 Brimmerton (First Down Dash-Fitting Celebration, Ronas Ryon). The 2001 colt earned $519,538 with seven firsts, two seconds and one third from 12 starts. His wins include the Texas Derby Challenge-G3, the Rainbow Derby-G1 and the All American Derby-G1, after which he earned the 2004 Champion 3-Year-Old Colt title and went on to sire runners such as Graded-stakes-placed Count De Monet.
Fishers Tale (Fishers Dash-Simply Groovy, Groovy). The 2003 gelding earned a 15-7-3-1 record with $363,312 in earnings. He won his trial for the Ed Burke Memorial Futurity, then ran second in the G1 final. He then ran fourth in the Golden State Million Futurity-G1. His second year out, he ran fourth in the California Derby Challenge-G3, then won the Jens L. List Jr. Memorial California Breeders' Stakes and qualified for the Los Alamitos Super Derby-G1 and the Southern California Derby-G1.
Wascallywittlewabbit (Heza Motor Scooter-Rabbits N Diamonds, Rabbits Rainbow). The 2015 gelding began his race career in earnest at 5 by winning the Zia 870 Championship Stakes and the Bill Reed Memorial Stakes, both at Ruidoso. At 6 he won the Pauls Valley Stakes-G2, the Remington Park Distance Championship Stakes-G1, the Zia 870 Championship Stakes and the AQHA Distance Challenge Championship Stakes-G1 and ran second in the Downs at Albuquerque Distance Challenge Stakes-G2. At 7 he won the Pauls Valley Stakes-G2 and the Remington Park Distance Championship Stakes-G1 at Remington Park, and the Zia 870 Championship Stakes. He finished his final race, the SLM Big Daddy Stakes-G3 at Remington Park, second across the wire and along the way, earned the Champion Aged Gelding title in both 2021 and 2022.
Valiant Hero (First Down Dash-Corona Chick, Chicks Beduino). Joiner-trained as a 3 year old, this 2004 colt earned $668,633 with stats of 14-7-3-2 in two years. His wins at 3 include the Heritage Place Derby-G2 followed by a second-place bid for the Rainbow Derby-G1 and an All American Derby-G1 qualification. He then went on to sire High Flying Hero and Valiant Charm, among others.
Flash And Roll (First Moonflash-Stylish Jess BR, Feature Mr Jess). This 2016 filly won 10 of 14 races and earned $1,710,718 in two years. At 2 she won her Ruidoso and All American futurity trials, her trial and the final for the Golden State Million Futurity-G1, and her trial and final for the Los Alamitos 2 Million Futurity-G1. At 3 she won her trial for the Ruidoso Derby and the All American Derby and won the Los Alamitos Super Derby-G1. She earned AQHA Championships in 2018 as 2-Year-Old Filly and overall 2 Year Old, and in 2019 as Champion 3-Year-Old Filly.
His Special Eye

Along with his special knack for producing winning runners, Mike is known for his special eye for selecting winners-to-be. "Most of the owners ask his opinion on their potential purchases or actually ask him to choose their next year's crop for them at the sales," Linda says. "He's always been really good at it. He has picked out horses like FDD Dynasty and lots of others that cost quite a bit and won a lot, and horses that didn't cost a lot but still won a lot."
He picked out DM Streakn Thru Fire, who cost just $5,000 and ran out $658,763 between 2010 and 2015 with 31-8-4-7. The 2008 gelding (Walk Thru Fire-Sashay N Six, Sixarun) qualified for the All American Futurity-G1 and ran third in the Texas Classic Futurity-G1, then at 3 finished third in the Rainbow Derby-G1 and qualified for the All American Derby-G1. At 4 he ran third in the All American Gold Cup-G3 and won the Lovington Stakes-G2 at Zia Park, running second in the Zia Park Championship-G1. At 5 he ran third in the Remington Park Distance Challenge-G3, first in the Zia Park Championship-G1 and third in the Championship At Sunland Park Stakes-G1. At 6, he won the All American Gold Cup-G1.
Mike's excellent picks also include his sister Cindy Cochran, who has handled the operation's bookkeeping duties for the last 20 years and keeps things computerized and running smoothly. "She's such a vital person in our business; she's our go-to person and we don't know what we'd do without her," Linda says.
Another of Mike's outstanding selections was G.R. Carter Jr. as his lead jockey. "I got to know Mike mainly around Ruidoso when he started back to training in 1999," G.R. says. "I rode a handful there for him then, and then in fall 2002 he asked me if I'd come to El Paso and ride the winter for him. That's when I went on that big run where I won six Championship Jockey titles in a row.
"What changed where I had the opportunity to dominate like that was that Mike gave me the opportunity to ride year-round: El Paso in the winter, Remington in the spring, Ruidoso in the summer and then Lone Star and Los Alamitos in the fall. So, I was able to cover all the big races.
"I won my 2000th race and my 3000th race and also broke the wins record on horses of his. I rode the last official race of my career for him," G.R. continues. "My plan was to retire—the second time—at the end of 2018. I got to the end of the year and Flash And Roll was the fastest qualifier and the favorite in the Los Alamitos 2 Million, and she jumped up and won it pretty handy for us. I had a couple other races to run the next weekend at Sunland for Mike and it was a horse that we knew probably didn't have much chance to win. Mike knew I wouldn't ask him to not ride that other horse, so he called and asked if I wanted the 2 Million to be my last official race. How many jockeys can say that their last race and their last win was the Los Alamitos 2 Million Futurity? Mike made that possible and it's pretty special to me."
Perhaps even more valuable to their family than his training and selection abilities with horses and employees is Mike's special eye for the needs of each member of their family. "Justin was a high school State Champion Bull Rider and also rode some PBR and NFR, and both he and Cody played a lot of school sports," Linda says. "Mike was very athletic growing up. He was quarterback of his football team and ran track and played basketball, and he always encouraged our sons to do the same; he wanted to be a part of that with them."
Cody and Justin value those years in the '90s when Mike suspended his training operation to shoe, and when Linda had long before given up her ophthalmology goal, and they were able to spend more time together as a family. "The training business is very hard on families," Cody says. "I think we switched schools three times my freshman year of high school. Mom and Dad wanted to give us more stability and I'm eternally grateful for that; things could have turned out very differently for me."
"I think for a while, we didn't really have any idea what was going on but then realized how much sacrifice there was in stopping doing something that you love and have always done to raise us in sports and childhood," adds Justin.
"Truthfully, I consider my biggest success to be having a really great family," Mike says. "We raised two really good boys and in turn, they're raising four really good grandchildren for us."
Mike and Linda manage to spend time with those grandkids in their "off time." Linda takes them on a summer beach vacation in Florida each year, but lounging on the beach isn't something Mike particularly enjoys. "He doesn't do well with spare time," Linda says with a smile. "He's never going to retire; he's got to be doing something!"
Along with the time she spends with Cody and Justin and their families, Linda also participates in various partnerships with other ladies, including the Lucky Ladies and the Lucky Six. "Mike buys two or three horses for each group each year at the sales and the nice thing about it is it takes all the pressure off of us; Mike makes the decisions regarding the horses, and we've had a lot of success and followers," she says.
Among Mike's "doing something" activities is team roping, which he took up following his good friend's advice after his December 2015 stage-four throat cancer diagnosis. "When I got done with my treatments, I had lost so much weight and so much strength that I was as weak as a kitten," he says. "One day, G.R. Carter told me to get on a horse he had tied to his trailer and rope a few. It was such good exercise and I thought, 'This would be good to help build my strength back up.' I've really enjoyed it, so I've been roping ever since and have met a lot of really good people at the ropings."
Along with continuing in their racing endeavors and hobbies, Mike and Linda have a list of improvements they want to make at their new place in the not-too-distant future. "It's just a never-ending deal," Mike says. "You always find something else to renovate."
And they recently acquired a group of broodmares and brought their first baby home from the breeding farm. "We named him Asher after our new farm in our new hometown of Asher," Linda says. "He's pretty special around here!"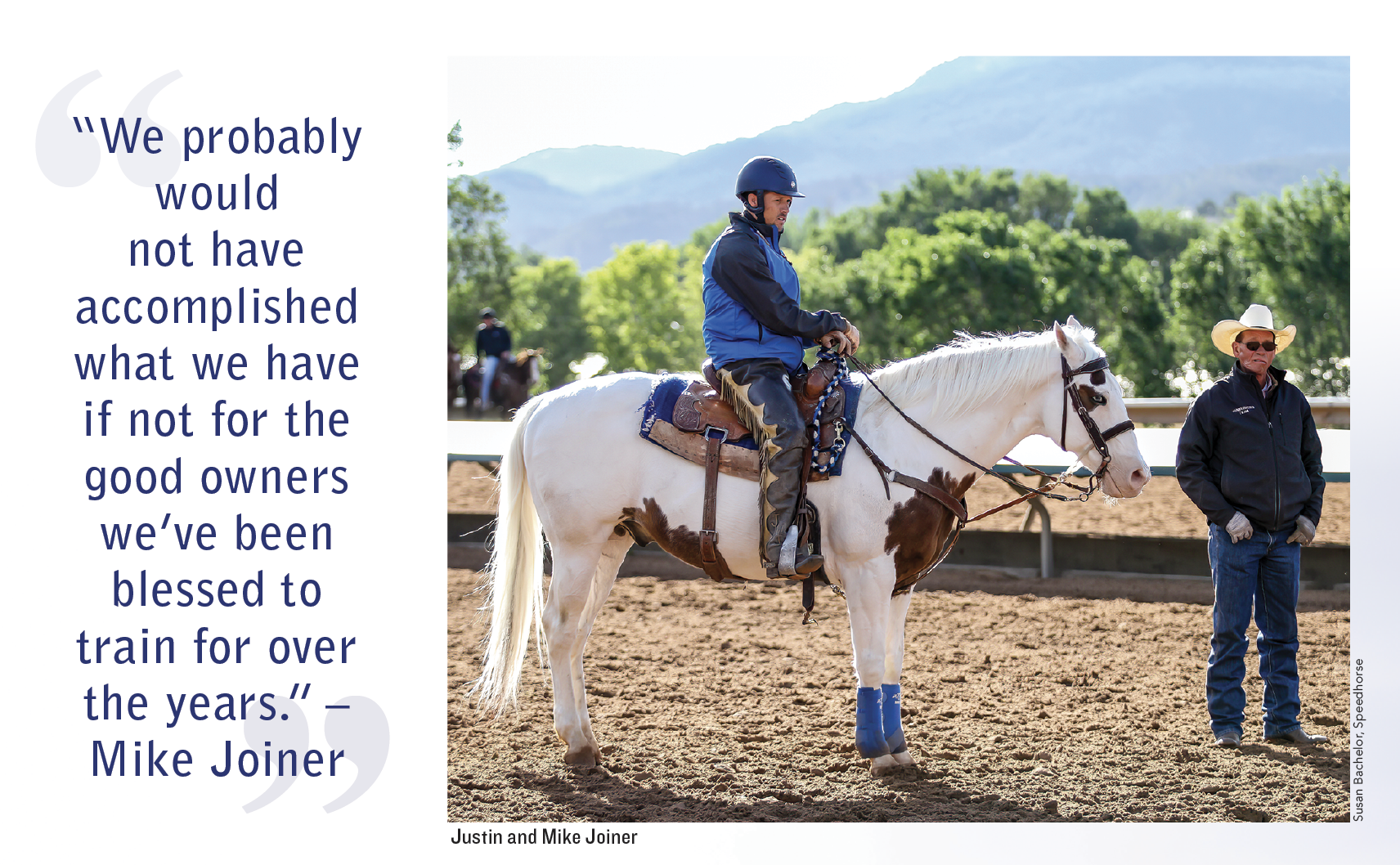 Outlook for the Future
In addition to their family life, their hobbies, their new ventures and Mike's achievements in racing, the couple values the friendships they've woven into their lives through the years. "I've met a lot of really, really good people through the horse industry and we've been very fortunate to know them," Mike says. "We probably would not have accomplished what we have if not for the good owners we've been blessed to train for over the years. They're the ones who supply these good horses.
"I really love going to the sales and I love breaking the babies and the yearlings and getting them ready for their 2-year-old campaign," Mike adds. "It's a lot of fun to watch them progress and see which one looks like they'll be able to compete at that Grade 1 level, and you just never know when that next World Champion might be there!"