Articles
2 posts tagged with "thoroughbred"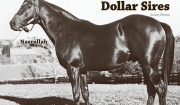 The Thoroughbred influence on the American Quarter Horse is evident in the million-dollar sire lists we have profiled in this annual Million Dollar Sire issue. The Thoroughbreds Three Bars and Top Deck represent the dominant sire lines in the Quarter Horse today.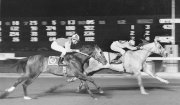 Five years ago, a big gray Thoroughbred stallion arrived at the Vessels Ranch from deep in the heart of Mexico. He was big – muscular for a Thoroughbred – but well-balanced fore and aft. He stood with a commanding presence, a calm, almost arrogant air. His name was Beduino and probably because he was a mystery horse from Mexico, rumors began to fly around the Los Alamitos Race Track stable area that this was an unbeatable horse.