Randy & Sandy Coleman Built a Band of Proven Producers
Posted by Diane Rice on 06/16/2020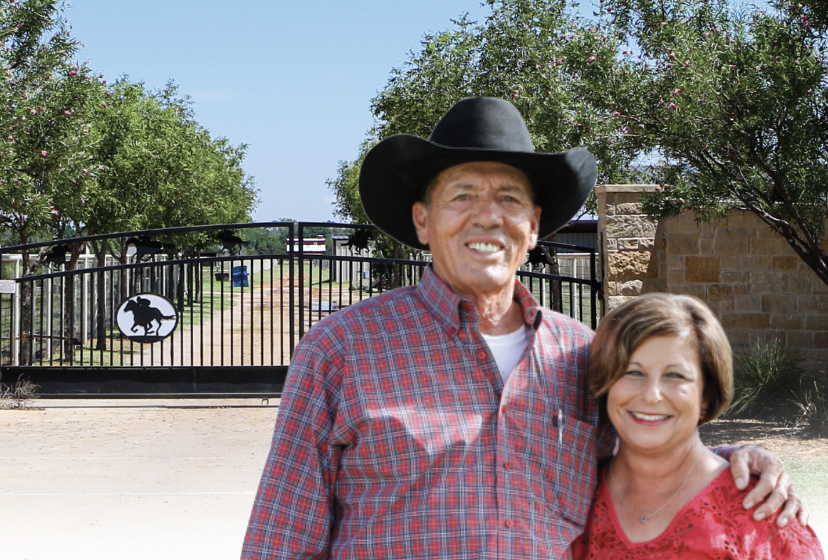 Lots of years, factors and decisions go into building a successful breeding program: goals, bloodlines, purchases, care and feeding regimens, trainers, health care professionals — the list goes on. Each one can have far-reaching downstream effects.
Lubbock, Texas breeders Randy and Sandy Coleman have carefully considered each factor as they've built their operation, resulting in a band of 10 proven broodmares that they consistently evaluate and upgrade to produce babies that are not only well-bred, but that perform on the racetrack.
"Part of our goal when we first started having babies out of our mares was keeping and racing the babies ourselves, trying to prove our mares," says Randy.
"Now we're at the point where we can sell our babies (based on the performance of their dams and siblings)," adds Sandy.
THEIR BEGINNINGS
Although Randy was born in Lubbock, he grew up about 60 miles west in Morton, Texas. His parents, Ronald and Judy Coleman, farmed. Randy followed the traditional farm-kid path of 4-H and high school rodeo, then team roped and roped calves on the Texas Tech rodeo team.
Sandy was born in Denver, Colorado, to the late Mel and Gwen Mandel. Mel bred and trained cutting horses, which led to Sandy and her sister Lori showing in AQHA including the AQHA Youth World Championships. At Texas Tech, she competed on the horse judging and horse show teams.
Randy and Sandy knew of each other, but they didn't officially meet until Sandy drafted Randy as her "boyfriend" to divert an older gentleman's attentions at a bar. "The rest is history," Sandy says. They started dating in February 1981, and married in September that same year.
The couple started their married life in Morton, then moved to Levelland when son Ryan and daughter Kyla started school. Then Sandy took a banking job in ag lending, and about 10 years ago, they moved to Lubbock, closer to her work. "At first, we lived across the road (from where they live now), then one day while driving to work, I saw this land for sale and we grabbed it," Sandy says. "Since then, we've added the 10 acres east of us and 16 acres west of us to the 16 original acres. It's just perfect for our horse operation." With drip irrigation, they're able to keep grass growing pretty much year round.
Randy continued to rope, riding horses provided by Sandy's dad. "After I got those great horses, my roping soared," Randy says. "I was good enough to go professional, but I was just good enough to starve to death!" So he roped on weekends, and to pay the bills, he farmed in Morton, where he still grows 4,300 acres of mainly cotton and some peanuts, and has a large custom peanut harvest business. "That money first went to educating our kids, for college, and after that, we decided we wanted to play with the racehorses," he says.
ESTABLISHING THEIR OPERATION

Randy and Sandy started out on their racehorse odyssey in 2005 when they approached Randy's college friend, Blane Wood, about finding them a runner. Although Blane tried to discourage them at first, a few months later he found them 5-year-old 870-yard claimer Strawfly Saga. "We had more fun running that old claimer," Randy says. "We never won with him, but he could run second to a good horse.
"We ran him for a year and I noticed, after watching Blane's training operation, that the owners who were consistently winning were those who had bred their own horses. I told Blane that's what we wanted to do, but we didn't have the world's largest budget. So, we went to the New Mexico-Bred Sale at Ruidoso with the intention of finding a mare we could buy with the money Strawfly Saga sold for."
They bought one that they thought was pretty nice, and toward the end of the sale, Blane liked another one that was selling for nearly nothing so they bought her, too. The one they bought first didn't end up doing much, and the other one qualified for the sale futurity. That same year at the Ruidoso Select Sale, Randy bought Runaway Romance (Special Leader–Runaway Flair, Runaway Winner) for Sandy as a birthday present, and she placed second in the West Texas Futurity-G1 in 2007.
"I've loved dearly four horses in my lifetime, and Runaway Romance was a true romance for me," Sandy says. "She did really well for us; she was our first black-type mare, she ran out a good amount of money and also produced good babies: Run With The Eagle (by One Famous Eagle), who qualified for the Rainbow Derby; and Runaway Renata (by Carters Cartel), who qualified for the Oklahoma Bred Futurity. One mare did not run. Both of her fillies have produced winners."
The next year they bought Lake View Dreams (Granite Lake–Runatac, Sixarun), their first and only — so far — stakes winner in the 2009 Kool Kue Baby Handicap at Lone Star Park and the mare they consider their all-time best. "She qualified for so many big races and she's such a good producer," Sandy says. "All of her babies have tried to run. We haven't had a Grade 1 winner out of her, but we've had a lot of qualifiers from her. She's the queen here. She throws a lot of size and a lot of heart in her babies."
In 2014, Lake View Dreams produced Ms Maggie May (by One Famous Eagle), who was the fastest qualifier for the 2016 Ruidoso Futurity out of 300-plus horses.
In 2015, the mare produced Cartel Cupid (by Corona Cartel). The gelding earned $212,795, winning his trials for the Rainbow, All American and Texas Classic futurities and the Ruidoso and Dash For Cash derbies. He finished fifth in the Grade 1 Texas Classic Futurity and second in the Grade 1 Ruidoso Derby, and this year, was a finalist in the Grade 1 Remington Park Invitational Championship. "He was the sweetest, kindest horse, but it came time to sell him," Sandy says. "That's the hard part of this business: You love them, but you have to let them go some time. That's the business and you've got to keep your eye on that eight-ball to keep it all going."
Their broodmare band includes Folly Del Rey (PYC Paint Your Wagon–Disco Del Rey, Disco Jerry), a multiple stakes placed mare who earned $160,319 with two wins, three seconds and one third in 10 starts over two years. "She's our biggest money earner in terms of being a broodmare," Sandy says.
Also, Ms Athenas Dividend (Brimmerton–Athena Raquel, Mr Jess Perry) had multiple futurity and derby winners, and Runaway Brooke (Brookstone Bay–Runaway Dee Dee, Runaway Winner) has a Grade 1 winner with Apollitical Brook, by Apollitical Jess.
"All these mares have done pretty well on the producing side," Sandy says. "We give all the credit for finding our good mares to Blane. He's put together a nice group of mares for us, and he and Trey also help us with stallion choices. Because they train so many horses, they know the studs they like and help us make the hard decisions on whom to breed to. Trey really studies it hard and, for such a young trainer, has great input; we value his opinion."

KEEPING IT ALL GOING
Deciding which youngsters to keep and run, which mares to keep for broodmare replacements, and which to send to the sales is always hard. "Blane told me the other day that we have an outstanding group of yearlings going to the sale, but our babies are so much better than the yearlings," Randy says. "I said, 'That's our goal: to keep improving them each year.'"
This year, they sold all their 2 year olds except for LouieLouieLouI (The Louisiana Cartel–Runaway Brooke, Brookstone Bay). The gelding sustained an injury, but will be back to race in the Texas Classic.
"We try to keep just one or two a year and sell the rest," says Sandy, "but you never know if you're selling the good one or the other good one! The end goal is to prove our mares."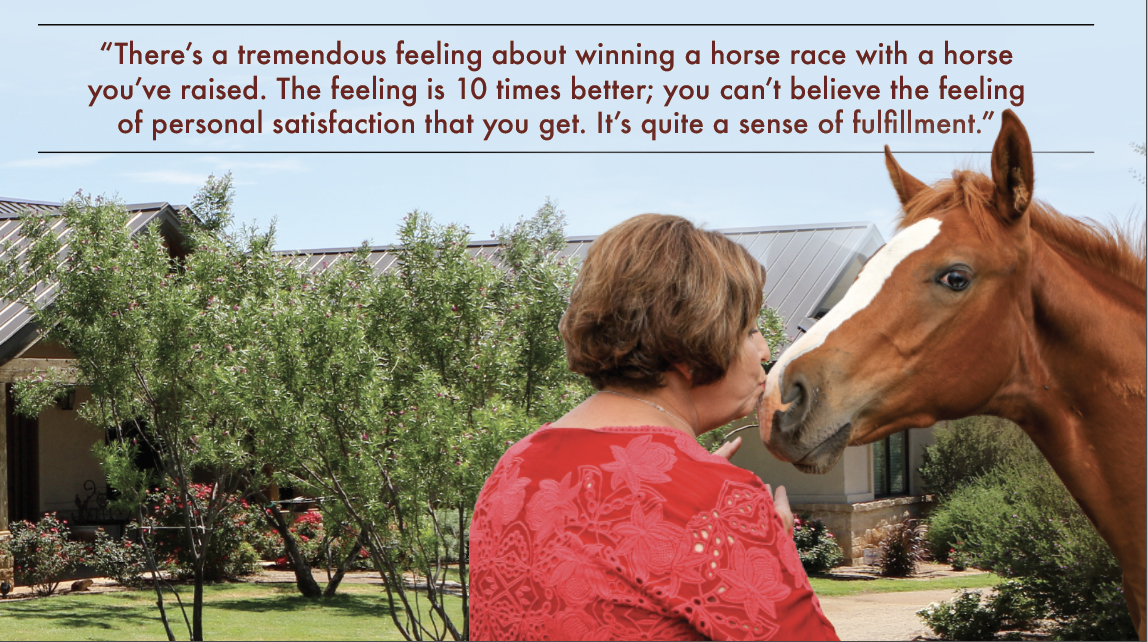 They're also racing two horses in partnership this year: Mr Tres Points (Mr Jess Perry–Tres Of Linda, Tres Seis) and Brommance (FDD Dynasty–Little Affection, Jodys Money Pop). Although they haven't qualified for anything yet, both are young, promising horses and will be running at the All American trials.
Although the Colemans used to do all their breeding and foaling at home, when their veterinarian took a teaching position in England last year, they turned to veterinarians Glenn Blodgett and Nathan Canaday at the 6666, about 90 miles from Lubbock. "They handle all our foaling now and all the breeding that's not New Mexico-bred," Sandy says. "The New Mexico horses go to Mac and Janice Murray at MJ Farms. I didn't know what it was like to have a full night's sleep in foaling season! But then, they always call us anyway when we get a baby."
Their breeding program consists of putting the mares under lights beginning Thanksgiving Day to get them ready to cycle. Then, Dr. Canaday checks them and sets them up on a schedule to get them ovulating for breeding season. He has Randy and Sandy bring them to the 6666 according to their schedule to be bred. In terms of foaling out mares, Dr. Canaday has the Colemans bring them to the ranch about 10 days out from their due dates.
"This last year, both 6666 and MJ Farms got all of our mares bred on the first try," Randy says.
Sandy says Dr. Blodgett has taken the Colemans' breeding program to heart and advises the couple on potential sires, and went above and beyond by taking in the mares when Randy was recovering from surgery and Sandy was struggling with the flu.
The couple works hard to keep their feeding program consistent, both in content and schedule. They do nearly all the horse work themselves, with help from a student intern who assists with feeding and general operations. "We're not really big enough to hire somebody full time, but we're big enough to work ourselves pretty hard," Sandy says.
"We study these horses; we know their habits and we don't spare any expense in terms of their care here at home," Sandy adds. "I was raised knowing the right way to take care of a horse, and Dr. Michelle Bessire from Brock's Vet Clinic in Lamesa comes here every week or two; she's done a magnificent job helping us along with all the issues that come up. She ultrasounds lungs and even if there's nothing wrong, we'll walk through the horses and the babies to make sure everything's right."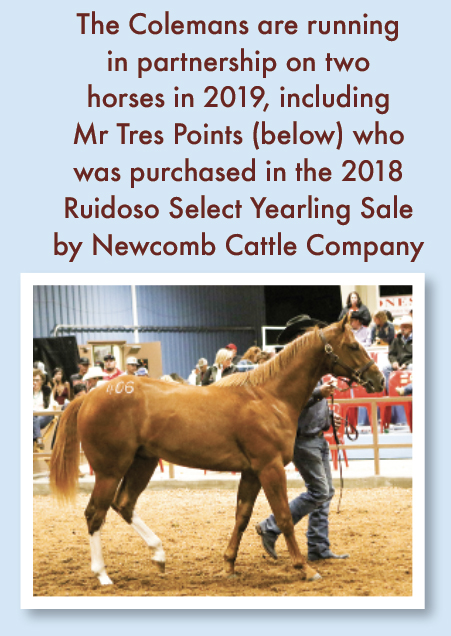 Sandy adds that they start trimming feet at four weeks old, and they never miss a vaccination. "Everything is geared to growing as much bone in these babies as we can so they'll hold up as well as possible at the track. We're just all about the horse, and we always have been."
In addition to caring for the horses, Randy says he's made the comment that God created more than a full-time job at the house, and then he also has to go take care of the farming operation. "We're blessed with good employees at the farm and whenever we get in a bind here, they come help us," he said.
The work is worth the reward. While at the TQHA Sale recently, a trainer bought one of their horses for a client, who then asked about the Colemans' operation. The trainer responded that every horse at Coleman Racing has never missed a meal and has had the best of care.
"I've had a lot of people tell me that if they believed in reincarnation, they'd want to come back and live here because the horses are so well taken care of," Sandy says. "We are the definition of homebreds here. The mares may go to foal out at the 6666, but we bring them and the babies home within two or three days, as soon as the babies' legs are ready to travel and Dr. Canaday gives them the okay. Then, they leave when it's time to go to Blane's to either be sale prepped or go to boot camp to become a racehorse. Other than that, they're home."
GIVING BACK
While Sandy finds her heart at home with the mares and babies — especially since she retired from banking about a year and a half ago — you're more apt to find Randy at the track supporting their homebreds. "I make a lot of trips to Oklahoma City and Ruidoso, and even Lone Star Park, although that comes at harvest, but I go as much as I can," he says. "There's a tremendous feeling about winning a horse race with a horse you've raised. The feeling is 10 times better; you can't believe the feeling of personal satisfaction that you get. It's quite a sense of fulfillment."
Both Randy and Sandy also remain very active Texas Tech supporters: Sandy helps with horse judging, working closely with Michael Orth, Ph.D., department chair and professor of animal sciences, and Kelly Riccitelli, Ph.D., associate professor of practice: equine. Sandy and Randy both serve on the advisory board at the equestrian center, as well.
They also employ a Texas Tech intern, usually studying horse production, and the Texas Tech horse production class visits regularly to get ideas about how to design training and breeding facilities.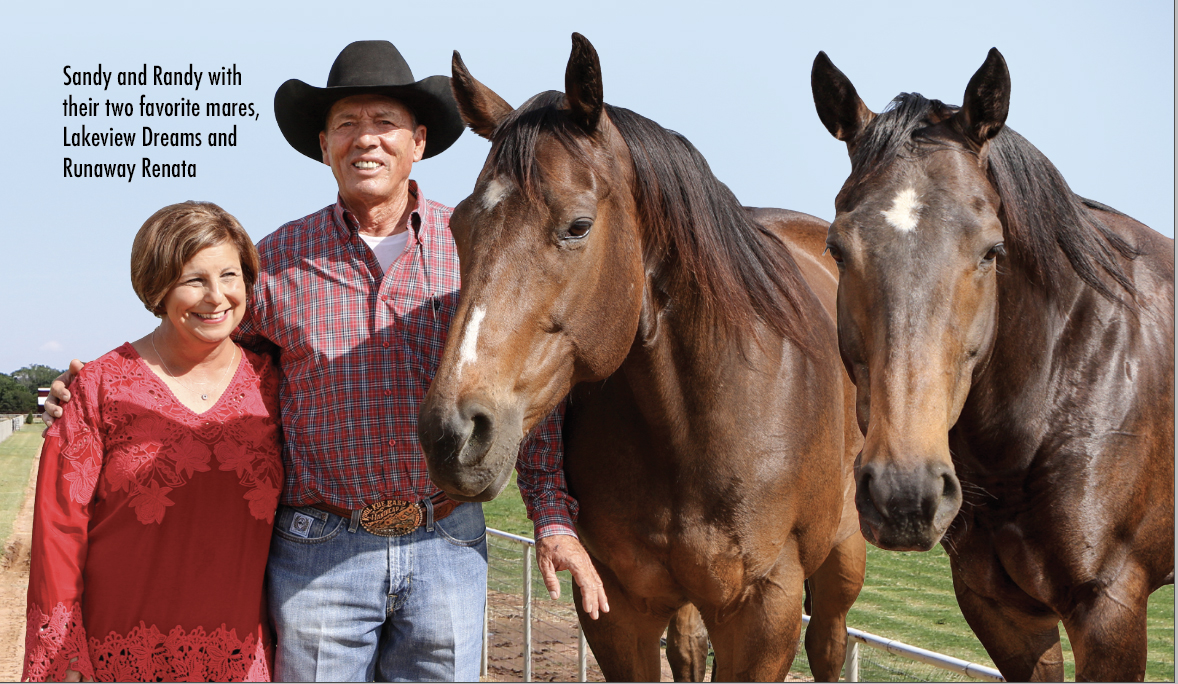 "I admire the set-up they have," Dr. Blodgett says. "It's well designed and well thought out and a good, safe environment to raise horses in. I admire anybody who tries to be almost a perfectionist in the way they go about making their breeding decisions and raising and taking care of their horses. From my standpoint, it's a joy to see that happening."
Randy and Sandy consider their marriage, their children and grandchildren, their horses and their farming to be their greatest successes. "Our success has come through hard work and togetherness," Sandy says. "We have a lot of strength in each other and strength in God and in family. We enjoy our grandchildren. But, we don't take big vacations; we're married to this place. Most of our hobbies involve being around our friends, our family and our horses.
"We've made such wonderful friends through the industry," she adds. "You hear the term 'salt of the earth' and it's true. People who care for animals and understand what that entails are really good people, and we have a true love for agricultural people."
The feeling is reciprocated by those who know the Colemans. "They're like family to us," Blane says. "They're just good, honest people who want to raise the best horses they can. They love their horses and they love what they do."