Master Of The Horse
Posted by Ray Sanchez on 07/08/2020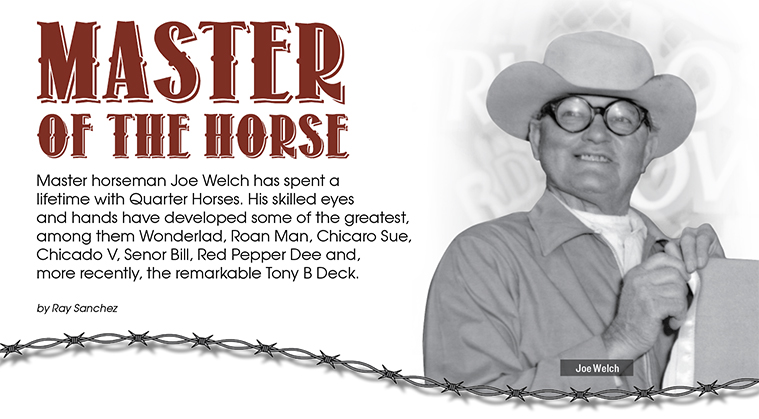 There are some people who say training horses doesn't make for a very glamorous life. They should meet "Tuffy" Joe Welch.
He has performed before the King and Queen of England, has hobnobbed with many celebrities and his son married the most glamourous star of our day, Raquel Welch. Not that you'd ever be able to tell Welch's sparkling background by talking to him. He's a big, pleasant homebody who seems perfectly happy to be doing just what he's doing – training horses. And he trains 'em well. He's one of the few men living who went through tortuous throat surgery and learned to talk near normal again. "Tuffy" Joe has the heart of a giant, claims one of his closest friends.
Welch's life started rather quietly. He was born on July 6, 1907, on a ranch in Eddy County, New Mexico. He punched cows until he was 16. But such a lively spirit couldn't be content to stay home. He left at 16 to ride in rodeos. He was a natural. He began to win and in a couple of years he had won more than his share of prizes.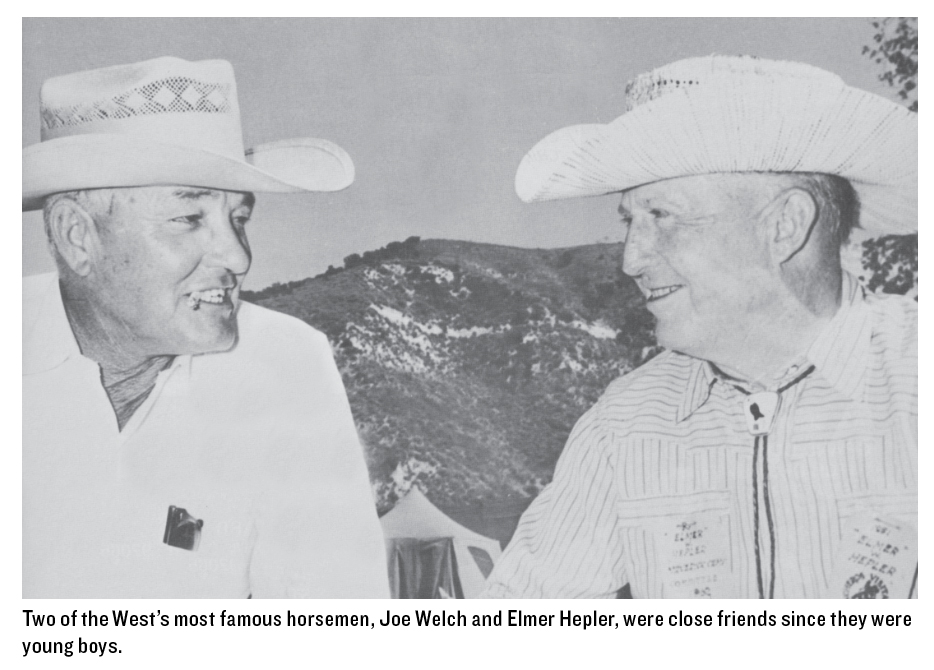 At age 18, he joined a wild west show, "The 101" as it was known then. He rode broncs and did trick riding such as vaulting the horse, standing on the horse's shoulders and riding under its neck and belly. In 1934, there was an international contest at Wembly, England. Some of the top rodeo hands in the world were invited to compete for the fabulous sum of $120,000. That kind of money is good even now. Then, it was a fortune.
Welch was among those invited. He didn't waste any time packing his gear. The competition was fierce. Great riders came from such places as Russia, South America, Mexico, Australia and, of course, England. The contest was held in White City Stadium in London. King George V and Queen Mary were among the throng of 105,000 who attended.
Welch performed superbly. He rode bareback, bulldogged, trick roped, performing aboard both horses and bulls. He picked up $1,430, which was far from peanuts in that day and age. But the highlight of his journey was an introduction to the King and Queen in front of the royal box.
"I'll never forget that moment," Welch says.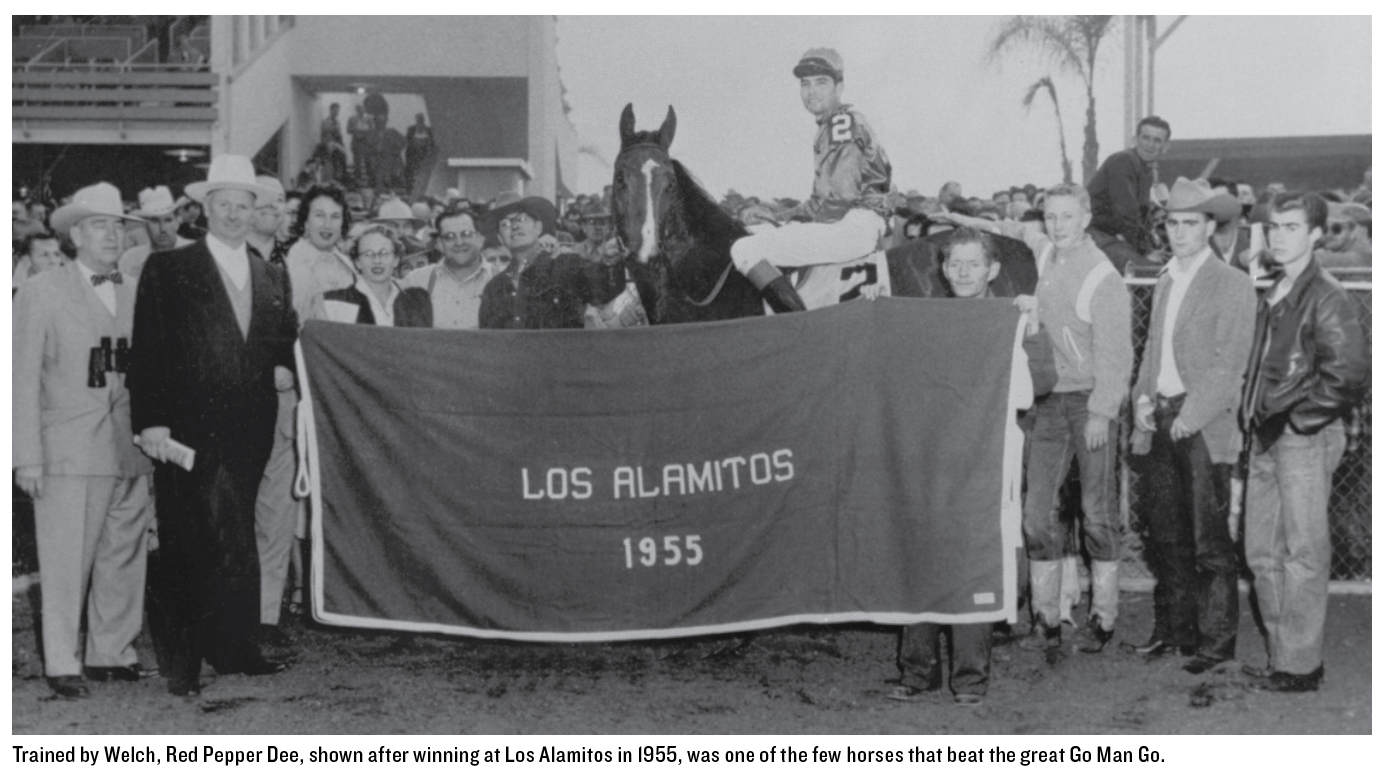 All of which set a good foundation for his present career of training horses.
"Actually, the best training I had was catching wild horses on our ranch," he said. "I learned a lot about them then. To catch wild horses, you have to think like one. One of our best tricks was to wait at a water hole. This was in the spring. We would wait until the horses filled up. They were a lot easier to catch with a full stomach."
His father, Joe Welch Sr., raised horses and "Tuffy" Joe got to know them instinctively. His first experience with training came in match races. He and some of his buddies would get together and race against each other. That was in the early 1940s.
Ruidoso Downs opened in 1946 and Welch started training horses there in 1949. He raised - and raced - his own horses, and then began to take on others' charges. Among those he trained horses for in the early days were Elmer Hepler, Jim Derrick and Dale Robertson. One of his outstanding charges was Roan Man, owned by Derrick. Roan Man (Worryman-Miss Pinkie, Blob TB) won the New Mexico Futurity at Albuquerque in 1958. Later, Roan Man was sent to California along with Red Pepper Dee, by Vandy out of Suzie by Tommy Clegg. Red Pepper Dee, also trained by Welch, beat the great Go Man Go at Los Alamitos.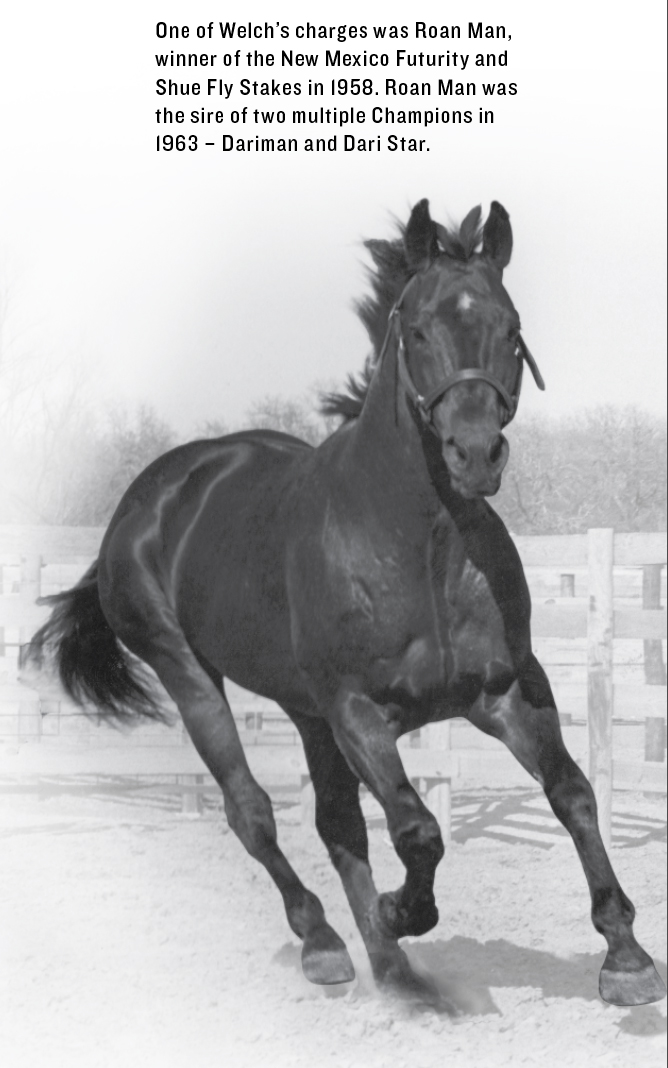 "There were no excuses in that race," Welch says. "It was a well-run race. Red Pepper Dee won by a nose going the 350 yards in :17.8, which then equaled the world record. It was faster than Go Man Go had ever run up to that time, so it was no fluke."
Roper is another Quarter Horse of which Welch speaks fondly. Roper won quite a few races for Welch at Rillito Race Track in Arizona. And then there was Senor Bill, a full brother to the great mare Chicado V.
"He beat all the good ones around 1943, '44 and '45," Welch recalls. "In 1945, Senor Bill beat Miss Banks. Later, Senor Bill was sold for $5,000."
Welch trained horses for Frank Vessels, who built and owns Los Alamitos. Among the charges he handled for Vessels were Scoop Bam, Kit Cat Bam and Clabber Bam. All were by War Bam. Kit Cat Bam won the California Futurity at Bay Meadows in 1954.
It was Joe Welch who sold the great mares Do Good and Flossie to Frank Vessels Sr.
Welch recalls those early days. "Mr. Vessels had given me an order for some mares to cross on Clabber, which he had recently purchased. This was in the early 40's. I had bought Do Good and Flossie from Jim Dublin and took them to Arizona to breed to Chicaro Bill. Wort Bowman of Nogales bought Do Good from me, but when I started getting the mares together for Mr. Vessels, I gave Wort $200 profit on Do Good and he let me have her back. She went on to become a great mare."
"I think Chicado V was the best foal she ever produced. I trained her and Senor Bill, full brother and sister, until Eddie Moreno took Chicado V to Bay Meadows after winning the Bardello and settin' a new track record at Pomona."
Welch wistfully added, "Yeah, Do Good was a nice kind of a mare."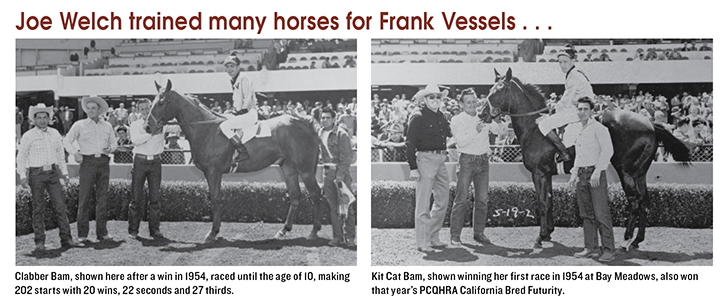 Of course, he didn't just concentrate on Quarter Horses. He had some good Thoroughbreds, including Comic Turn. He bought Comic Turn from a vet at Santa Anita for $3,500. Comic Turn had been bred in Ireland and had been imported to the United States. He had been priced at $25,000. However, he bowed and his career was believed through. Welch took Comic Turn and, in as fine a bit of training as could be asked, nursed him into a fine runner. Comic Turn won for Welch at Sunland Park, Ruidoso Downs and the New Mexico Fair in Albuquerque. Previously, Comic Turn had won in England, Ireland and Africa. Cliff Lambert, who had ridden many fine horses, called Comic Turn "the greatest Thoroughbred I ever rode." Another fine Thoroughbred under Welch's care was King's Kid, who won the New Mexico Futurity at Ruidoso Downs in 1966. It was worth $41,000.
This year, he has Canestep, a fine three year old by Watch Your Step. Welch not only trains Canestep, but owns him. But, his biggest prize at the moment is Tony B Deck, owned by Anthony Buford of St. Louis. Tony B Deck finished ahead of mighty Rocket Wrangler in the Sunland Futurity. Rocket Wrangler had won the All American Futurity with Tony B Deck third, a head behind. In the Sunland Futurity, Talented Lady was first, Tony B Deck second and Rocket Wrangler third.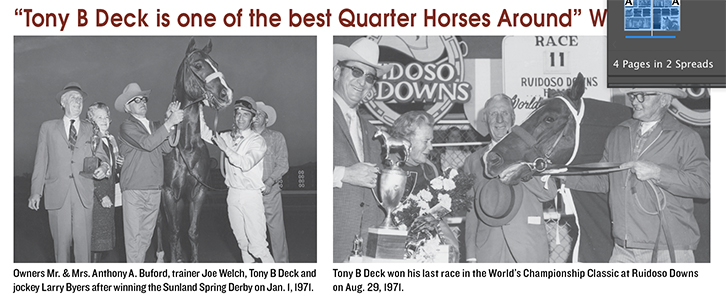 Tony B Deck lived up to Welch's expectations in the Sunland Park Spring Quarter Horse Derby on Jan. 31. The Jet Deck-Annie B Bar colt beat a powerful field in easy fashion. California invader Kipty's Moose was second, a half-length behind. Tony B Deck raced the 400 yards in :19.79 and returned $4.40 to win. Larry Byers, veteran Southwest riding star, was aboard. After the race, Welch was asked if he'd like another crack at the All American Futurity. "Sure, I would," he said, "and I've got another young horse coming up which we hope will do the job. He's a half-brother to Tony B Deck. He just turned two." The youth's name, appropriately, is Tonys Rebel, out of Annie B Bar and by Connie Reb.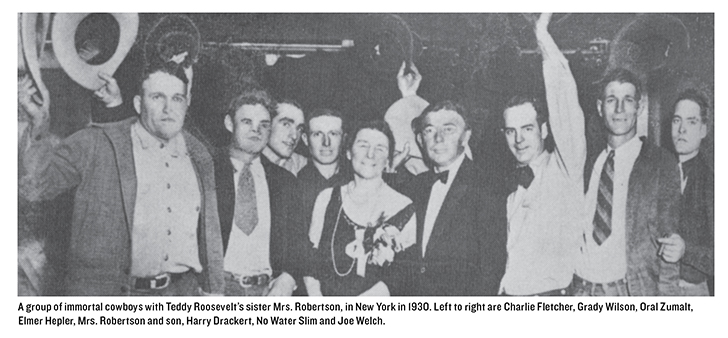 Welch's day begins at 5:30 a.m. and ends somewhere around dark. On non-race days, that is. He takes a two or three hour break for lunch, usually lunching at his comfortable home in Coronado Hills in El Paso. His wife, Louise, is a lively, hospitable lady who no doubt helps make Welch's life happier. They have been married 25 years and have raised five children: their two sons (Jim, 31 and Mike, 24) and three daughters (Merle, 30; Jan, 29; Karen, 27; Sharon, 27). Karen and Sharon are twins. Jim is the son who married Raquel Welch. "They were sweethearts since they were in the ninth grade," the elder Welch recalls. "They remained sweethearts through high school in Los Angeles and eventually married. Raquel was always a beautiful girl. She got her start in show business by doing a weather report on a television station in Los Angeles. They broke up later. It was just one of those things."
Welch's philosophy of training is simple but effective. "I feed all my horses the same," he says. "That includes Quarter Horses and Thoroughbreds. However, that's about all I do the same. I treat each horse individually. Some need a lot of work, others don't. Some are the nervous type, others aren't. You can't make a flat statement and say that all horses should work out so much, or be treated a certain way."
Welch presently has 12 head at Sunland Park. He's got great hopes for some of the derbies around the Southwest with Tony B Deck. "He's one of the best Quarter Horses around," Welch says. "You can bet he'll do alright."
Welch, incidentally, was once a deputy sheriff in New Mexico. It was only one of many colorful times in his life. But, he never brags about his accomplishments. Well, hardly ever.
"I make a darn good dry martini,"
he claims.