Jim Walker: Small-Size Breeder, Big Time Runners
Posted by Diane Rice on 06/09/2020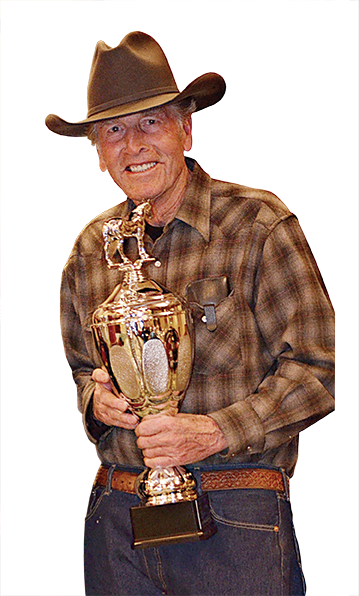 If you're looking to get into the racehorse breeding business, don't be scared off by big names with pastures full of high-dollar horses. In his lifetime raising and racing homebreds, Jim Walker, 87, has run his fair share of highly talented and accomplished horseflesh.
"Jim's is the Cinderella story of Quarter Horse racing," says Monty Arrossa, Jim's trainer of about 10 years who moved a division of his training operation from Jerome, Idaho, to Los Alamitos, California, a few years ago. "Jim has been able to compete at the highest level with just two mares. He is proof that a little guy from Bellevue, Idaho, can actually produce a champion."
That Champion — 2016 AQHA Champion 3-Year-Old Gelding, ranked sixth by wins for that year — is Zoomin For Spuds, by Zoomin For Bux and out of the Corona Cocktail mare A Perfect Cocktail. The 7 year old also earned Pacific Coast Quarter Horse Racing Association's (PCQHRA) Horse of the Year title in 2017 and a Supreme Race Horse title in 2018, awarded for earnings in excess of $500,000 plus 10 or more race wins, two of those being open Grade 1 stakes races. And, he's one of only a handful of horses who has qualified for the Grade 1 Champion of Champions four times, including 2019's Dec. 14 event, winning it in 2016.
Spudsie, as Jim calls him, has earned $815,171 in his career thus far, with 14 wins, 11 seconds and nine thirds from 42 starts, 34 of those at Los Alamitos.
"It took him clear until October of his maiden year to break his maiden." Monty says. "A lot of people would have run him three or four times and said he hasn't performed like they thought he would, and moved on, but Jim knew that horse was special and he told me all along, 'He's going to mature; we're just going to give him plenty of opportunities.' He believed in that horse and look at him now!"
WHERE IT ALL BEGAN
Jim was born in 1932 to Willard and Jewel Walker in Casa Grande, Arizona, and the family later moved to Esparto in north-central California.
Growing up, Jim's family had horses, but he wasn't satisfied to ride everyone else's horse; he wanted his very own. So, he says, "I worked and saved every penny and nickel and dime in the world until I had enough where I could buy my very first horse." That was at age 8 while living about 90 miles northeast of Sacramento in Grass Valley, and the horse's name was Captain.
Jim attended grammar and high school in Grass Valley, near Nevada City, a well-known mining area up through World War II. It was there that he met JoAn, two years his junior, who would later become his wife and his greatest supporter.
After high school, Jim served in the Army, then studied business at Sacramento State University.
After they married, Jim and JoAn had three children: sons Jim Jr. and Jerry, and daughter Jeana, in the '50s and '60s, during which time Jim founded Walker Sand and Gravel. "Jim started several major businesses from the ground and built them up into multi-million-dollar companies," Monty says.
In the early '70s, the family moved to Ketchum, Idaho, near the Sun Valley ski area, then in the mid-70s, to their present location, Walker Farms in Bellevue, in Idaho's Wood River Valley.
Although Jim and JoAn have experienced some great highs in horse racing, they've also experienced unimaginable personal tragedy when their son Jerry died in a skiing accident in 2014 leaving behind his son, Kyle; and their daughter, Jeana, died in a car accident three years later, leaving behind her son, Christopher.
In 2017, Jim retired and passed the materials business on to his son, Jim Jr., who along with his wife, Kathy, had one son, Bradley, who blessed the elder Walkers with two great-grandsons within the past few years. "They're the cutest kids in the world," Jim says with pride.
A GLIMPSE AT JIM
Jim's racehorse breeding business came as a natural offshoot of his highly competitive nature, as did his career as a contractor vying for contracts to build dams, roads, airports and other large-scale projects.
Although he loves the thrill of racing, he's equally enamored with raising the babies, seeing them grow up, and then evaluating his breeding selections. "I got a beautiful colt out of the horse I'm breeding to this year, Moonin The Eagle [bred by Vessels Stallion Farm]," he says.
"Jim was onto Moonin The Eagle before I even paid much attention to him," Monty says. "He was telling me all about the horse: 'Do you know this horse and his breeding and what he's done and his conformation?' he asked me. Jim breeds to him and then, Boom!, he goes to the sale and the horse sells for $2.1 million. I called him up and asked if he was going to say, 'I told you so,' but he said, 'No, I'm not going to tell you that. I just can't wait to see what he produces.'"
Jim's response is typical. "He's very supportive to me emotionally," Monty continues. "If I've had a bad weekend at the races, he'll call me up and tell me, 'Hang in there; it's okay, you had a rough night at trials last night, but tomorrow's going to be better.' Then he'll ask me, 'What did you learn, what could you do better, and what do you have to do to improve?' He's been that way as long as I've known him."
Monty, 47, has known Jim his entire life and sees him as a mentor and the older brother he never had. Monty's father, Pete Arrossa, drove chariot horses for Jim. In fact, Jim was responsible for Monty's first stint as a chariot racer – which resulted in a win for the teenaged newbie driver embarking on his dream journey to training the teams that won not one, but two Chariot Racing World Championships, in 2000 and 2001.
"Jim's always looking ahead," Monty adds. "He's the most positive person I know. He doesn't dwell on the past; he asks what he can learn from any setback and moves forward. Like all of us in the business, he doesn't like to lose, but he'll say, 'Well, that didn't work, let's make a change and go forward and do better the next time. We're not going to get anywhere looking backwards.'"
SOME STANDOUT STEEDS
Jim's forward-thinking approach has led to many successes over the years. Among his most notable homebreds, in addition to Zoomin For Spuds, are:
BUX FOR COCKTAIL
— A full sister to Zoomin For Spuds, the 2009 mare achieved multiple stakes winning status with seven wins, one second and one third from 10 starts. She earned $50,258 in two years on the track, ranking 57th by wins in 2011. Her wins included the Intermountain Futurity at Elko in 2011 followed in 2012 by the Jerome [Idaho] Tell Him Twice Derby Trial and the Les Bois Derby Challenge in Boise. Unfortunately, she got an abscess that turned into laminitis and had to be put down.
TIME FOR JESSE LEE
— By Mr Jesse Lee and out of Time For Noble, by Mescallero Chick, the 2011 graded stakes placed gelding won 21 of 50 starts, with 12 seconds and four thirds. He earned $219,154, ranking fifth by wins in 2013 and 12th by wins in 2014. His 2013 wins included the Gem County Futurity in Emmett, Idaho, and the Les Bois Juvenile Challenge in Boise. He also placed second that year in the Los Alamitos Juvenile Challenge, the Wild West Futurity and the AQHA Juvenile Challenge Championship G2, all at Los Alamitos. In 2014, he won the Uncas Handicap at Los Alamitos, qualified to the Sam Houston Derby Challenge at Sam Houston, and won the Bitterroot Derby — the Northwest's version of the All American. In his 4-year-old year, he took second in the Les Bois Championship Challenge.
With sadness, Jim recently sold the talented gelding. "I just hated it," he says. "He was one of my absolute best but at my age, I wanted to sell him to some people I know really well, who would take good care of him. He made me somewhat famous in this area; he was also a World Champion Chariot Horse. In the end, tears are just tears."
JESSES PERFECT ONE
— A half-brother to both Spudsie and Time For Jesse Lee, the 2011 gelding by Mr Jesse Lee and out of A Perfect Cocktail won four of seven starts, ranking 57th by wins and earning $28,462 in 2013. In his lone year on the track, he won the Dutch Masters III Futurity at the Jerome Fairgrounds, then the Knight Transportation Futurity at Les Bois Park in Boise. He went on to place third in the Golden State Juvenile Invitational at Los Alamitos.
Jims's current broodmare "band" consists of A Perfect Cocktail (dam of Zoomin For Spuds, Bux For Cocktail and Jesses Perfect One) and her daughter, stakes placed Doing Trix, by One Sweet Jess.
LOOKING AHEAD
Jim says that since retiring from his construction business, he just rides herd on his bird dog and his horses. He thinks this will be his last year to breed. "I'm outrunning the devil by a half step," he jokes.
He depends on his hired man, Bruce Buchanan, to do the heavy lifting while he pursues hunting and fishing. "I've been a lucky guy in a lot of ways," he concludes. "The horses I have here now are the best I've ever had."