Jessie Hanson, Equine Industry Go-to Pro
Posted by Diane Rice on 01/21/2021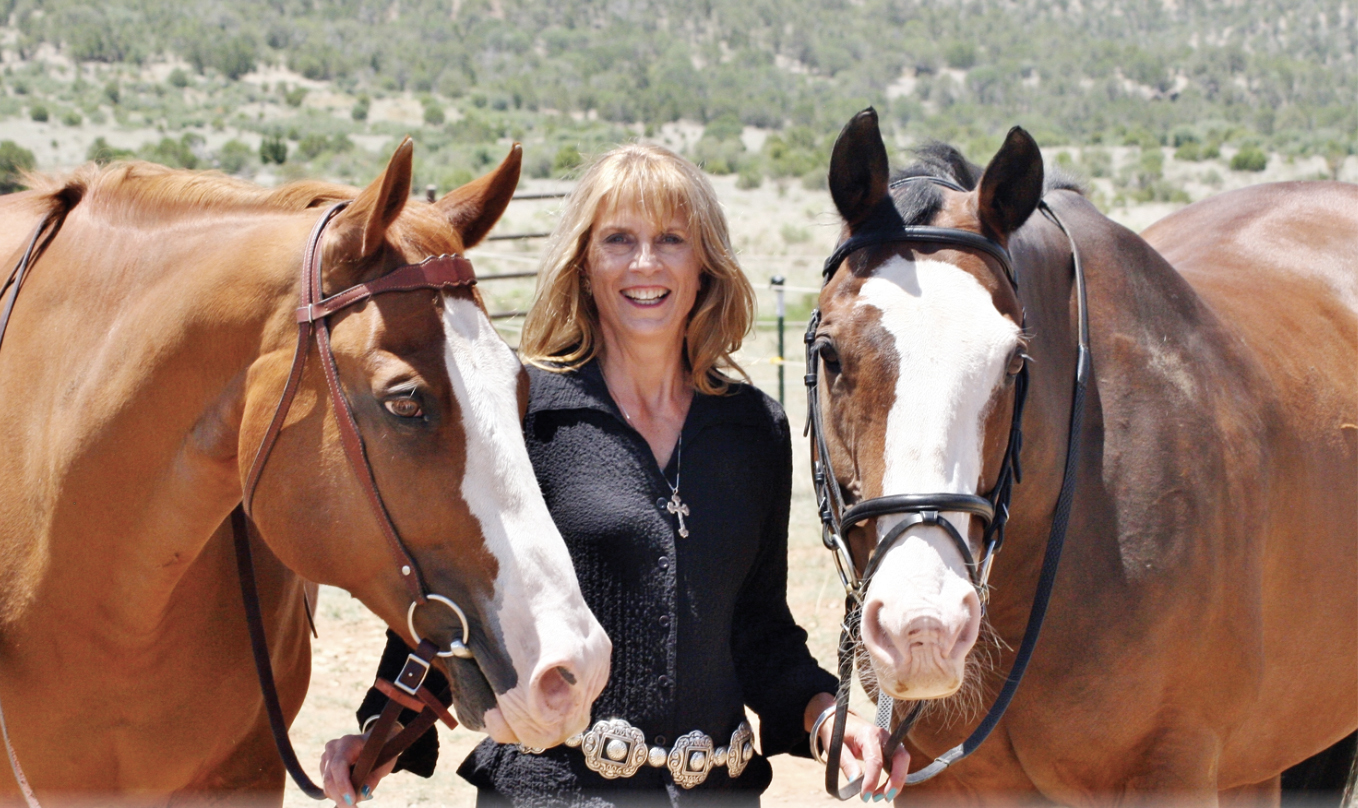 Need an advertising or business marketing consultant? Call Jessie Hanson. How about an equine sciences and/or breeding expert? Yes, call Jessie. A horse trainer and youth/adult amateur coach? Again, call Jessie Hanson. Trying to organize a continuing education program for veterinarians or facilitate some other special project or event? She can help you there, too. How about someone to organize the business aspects of a racetrack purchase? Yup. You guessed it. Jessie.
During her lifetime in the horse world, Wisconsin native Jessie Hanson has exercised her creative-solutions talent to promote the health and welfare of horses in a wide variety of aspects. "That's my life's passion," she says. "— aligning people to share their expertise and open up new avenues to enrich the horse's health and wellness, and the industry as a whole."
Recently, her business and marketing expertise led her to provide corporate organizational services during the 2017 purchase of Ruidoso Downs by the All American Ruidoso Downs LLC partnership and the establishing of the All American Ruidoso Downs Foundation.
"I respect her judgment and her organizational skills," says Stan Sigman of the Ruidoso Downs partnership, whom she met while working at the Jockey Club in Ruidoso. "She has a high energy level and a high drive to succeed."
EVOLVING PASSION
Unlike many horse professionals who grew up in the industry, Jessie has forged her way as the only equine enthusiast in her family. Born in the Milwaukee area, she got involved in 4-H, then attended the University of Wisconsin at River Falls the inaugural year of the nation's first equine sciences program there.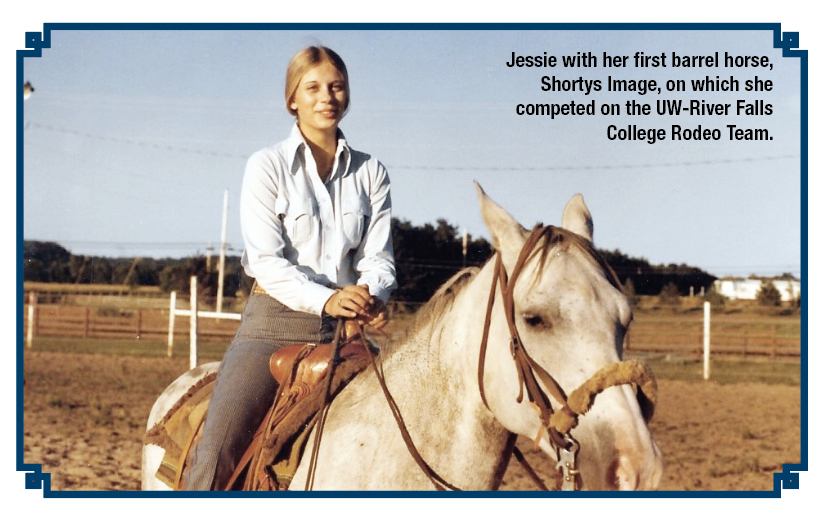 After competing on the UW-River Falls rodeo team in the mid-1970s, she earned degrees in equine sciences and business marketing. In the years since, Jessie has remained closely aligned with her educational areas of concentration.
After a short stint training horses on a South Dakota ranch after graduation, she moved to Great Falls, Montana, around 1976, where she trained Quarter Horses and managed broodmares. But, she says, "You can't eat the scenery," so around 1980 she moved to the Puget Sound area of Washington state.
"I was fortunate and blessed enough to be there when the horse industry exploded," she says. "The area was ranked fourth or fifth in the U.S. for horses per capita. It was a fabulous environment; you could ride and compete in every discipline available without traveling far.
"There were lots of opportunities, not only for breeding and training, but for ancillary industries — equine nutrition, veterinary medicine, farrier work, trailer and truck sales — it was a heyday!" she adds.
While there — serendipitously near the now-defunct Longacres racetrack in Renton southeast of Seattle and later at Emerald Downs in Auburn — she operated a Quarter Horse and Paint breeding and training facility where she also trained show horses and coached youths and adult amateurs, and provided layups for racehorses. That expanded into offering racehorse rehabilitation, retraining and rehoming. "It was a very, very rewarding experience," she says.
NETWORKING PERSONIFIED
While Jessie ran her horse facility, she also did quite a bit of marketing consulting in the equine industry. "I've never been someone who does only one thing at a time," she says. "Life is way too short!"
In the early '80s, she worked on charter membership development for the Washington State Horse Council, which initiated the horse negligence law that other states subsequently adopted to limit liability for injury while engaging in equine activities.
She also worked with the Washington State Thoroughbred Breeders Association and organized the International Imported Falabella Miniature Horse Auction.
And, she worked as an equine nutrition consultant for Purina Animal Nutrition for several years. "We set up distribution for Purina's horse feeds in Washington and Oregon, and that gave me the opportunity to work closely with veterinarians and some of the Thoroughbred breeders in the area on their nutrition programs," she says.
She worked diligently to bring together people from the research and the experience aspects of the industry. "I was able to bring Purina's commercial-sector clients to its research farm in Grays Summit, Missouri, where both veterinarians and horse owners could increase their understanding of horse physiology and the impact of good nutrition," she adds.
During that time, she also organized an annual continuing education program for equine veterinarians in Washington state. "They didn't have to pay anything," she says, "— just cover their clinics and their hotel and get there, to Emerald Downs. I'd have five different speakers representing the various equine pharmaceutical companies — not employees of the company, necessarily, but heavy hitters in the industry." For example, Dr. Rob Holland, a world-renowned equine infectious disease specialist who built horse vaccines for one company, came to talk about when and how to use a particular vaccine, its benefits, and how it reacted with the horse's physiology.
"We had speakers on various topics from parasitology to orthopedics and so on," Jessie adds. "The veterinarians could ask questions and interact, plus get their required CE credits. I loved being able to provide that level of education for these veterinarians who are out in the field every single day doing everything they can to help the horse, from racehorses to backyard recreational horses — to help the veterinarians keep up to date and develop relationships with people they wouldn't otherwise have the opportunity to interact with."
Her passion for facilitating education branched out into contributing a monthly wellness column for Northwest Horse Source magazine. "My passion for wellness is comprehensive in terms of nutrition, veterinary medicine, farrier work, training — anything to do with horses has to do with wellness," she says.
She also served multiple times as a keynote speaker at Equine Affaire in California, at the Northwest Horse Expo in Puyallup, Washington, and at Purina Horse Owner workshops.

THE LAND OF ENCHANTMENT
Jessie operated Jessie R Hanson Advertising and Marketing from 1982 to 2009, when she moved to the Ruidoso, New Mexico area. She now works from her 30-acre horse facility at the base of the Capitan Mountains. "It's pretty darn nice," she says. "I wake up every morning and look at Sierra Blanca Mountain and my horses grazing out in the pasture. It's serene and comforting, and it's hard to imagine ever leaving here. But, I'm continually looking for opportunities to stay involved and contribute to the horse industry in whatever way, shape or form I can."
In Ruidoso, she spends her "off time" at the barn with her two horses, a 21-year-old stock seat horse and a 20-year-old Dash For Cash gelding that she rides in dressage. "I love to do more advanced training," she says. "When I was back in Washington, I bought a little filly by Destiny Drummer [(Tet Bare-Waitsburg Gal, Pokey Pat), who won 30 of 65 races, placed in 18, and showed in four between 1977-1982]. I trained her for a hunt seat horse. There are a lot of opportunities for race-bred horses as well as ex-racehorses to cross over into other areas.
"I also still like to help youth and adult amateurs learn about the show world — how to be a good competitor, how to be responsible and how to be a good sportsman," she says. "I think the horse is instrumental in being able to help — youth especially — learn all those things. The horse industry, and the show world, are a family. You see it in the race industry, too. It's a horse community. It's just a wonderful lifestyle. I'm passionate about people being able to gain an appreciation, understanding and enjoyment from owning and experiencing horses."
From that passion came a 35-year friendship with Jodie Sharp, a city planner turned real estate agent from Battle Ground, Washington. "Jessie responded to an ad I had for a sale horse when I was expecting my first child," Jodie says. "Not only did she purchase the horse, but we became best friends from that moment on.
"I'd had horses and did some breeding but never any showing," Jodie adds. "Jessie mentored and taught us. She really helped my daughter grow up in the AQHA show world and would find the right horses as she advanced. In fact, Jessie bought three horses for us during those years and I didn't see any of them before she delivered them to me. That's how much I trust her and her professional expertise.
"There was an event she facilitated and I remember being so impressed," Jodie continues. "It was the Falabella Miniature Horse sale at Longacres racetrack. She wasn't familiar with the breed, so she educated herself on it and the horses to be sold. She did the marketing and also coordinated the entire event, from the black-tie party the evening before through the sale itself. It was a fabulous success. Everyone had a great time and enjoyed working with her.
"Jessie truly has a deep passion for the horse industry and the people involved in it regardless of the breed or discipline," Jodie concludes. "She's just a wealth of knowledge and she enjoys opportunities to share that knowledge because she likes keeping the horse community together. She's an amazing person."
COMING FULL CIRCLE
"I was raised pretty much stock seat, doing 4-H and college rodeo until I moved from Montana to Puget Sound and became hooked on hunter-jumpers," Jessie says. "I rode with a hunter-jumper trainer for a few years, but then he died and I didn't have the heart to continue in that discipline. I switched to dressage, and I just love it. It's very rewarding and I love that its history traces back to the Greek military and then the Spanish conquistadores. There's a real purpose to dressage. So, I've kind of come full circle and I've really enjoyed several different disciplines."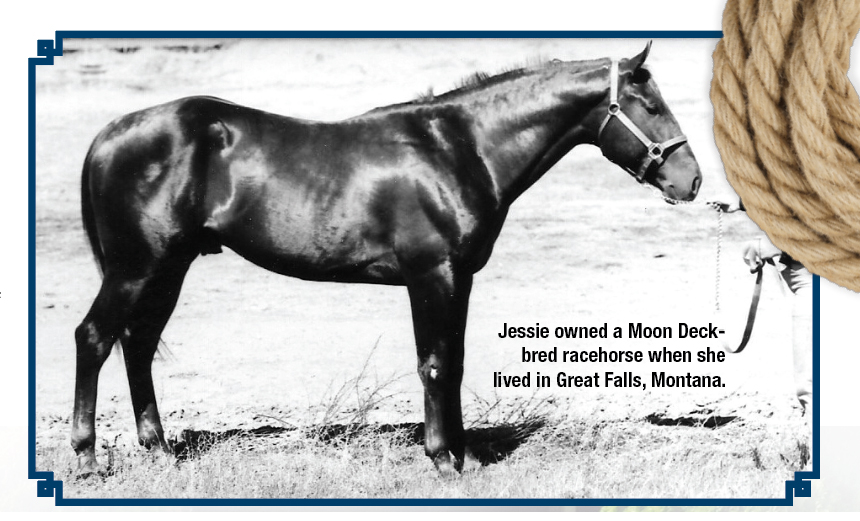 She actually even owned a racehorse at one time. "When I lived in Great Falls, I bought this Moon Deck horse," she says. "He wasn't good enough to pay the bills, so I decided owning a racehorse wasn't what my purpose was to be in life."
Whatever the discipline, Jessie says her happy place is with horses, in any capacity. "I don't think there's any better therapy than picking up a brush and brushing a horse and just being around and enjoying horses," she says. And while she's brushing that horse, she's undoubtedly thinking of ways to help other people enjoy their horses as well.