Dedication, Discipline & Determination
Posted by Speedhorse on 03/10/2022
by Diane Rice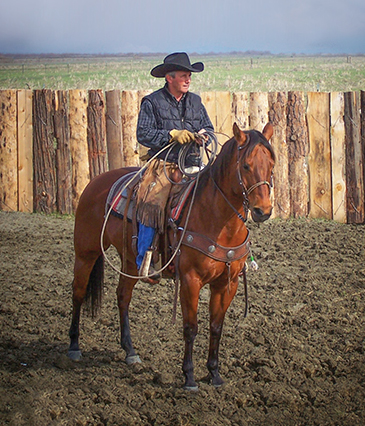 From his early days in racing, John Creager demonstrated Thomas Jefferson's quote, "I'm a great believer in luck, and I find the harder I work, the more I have of it."
His talent and work ethic as a jockey earned him the 1994 AQHA Champion Jockey title, Los Alamitos' 4th All-Time Leading Jockey ranking with 2,018 wins, and Los Alamitos' 12th All-Time Leading Stakes-Winning Jockey with 86 stakes wins. His career stats total 4,565-605-561-605 with $6,638,382 earned from the mid- to late-70s until he retired from riding in late 2002.
"John would come into Los Alamitos and work his tail off every day," says trainer Russell Harris, for whom John later won hundreds of races. "His agent talked me into riding him, so I put John on a colt and the first one he rode for me, he just did a terrible job. I told his agent, 'Don't you ever try to talk me into doing that again!'
"Well, John just kept on coming to the barn and coming to the barn and working his tail off, and finally he just embarrassed me into having to put him on some horses," Russell continues. "He kept on working his tail off down there and first thing you know, he was one of the leading riders there!"
John's work ethic and dedication weren't lost on those who witnessed them, including Dr. Ed Allred, AQHA's All-Time Leading Breeder and Owner as of year-end 2021 and owner of both Los Alamitos Race Course and Rolling A Ranch in Atascadero, California. When John retired from riding, Doc Allred snapped him up to manage the Rolling A, and he's been there ever since.
Bush Tracks to the Big Time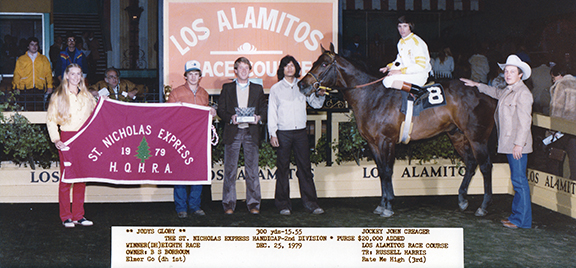 John grew up in the '50s and '60s with a brother and two sisters on a ranch in Morgan, Utah. "My family and my aunt and uncle had horses, so I was always around horses and riding," he says. "My neighbors had a horse they wanted to try to run, so since I was little, I started riding a little bit beginning when I was still in school."
He got his first jockey license in Idaho at age 16. "Growing up, we always ran chariot races, and before you ran, you had to help out around the barn breaking colts and training," he says. "It was just part of being a jockey."
He graduated from Morgan High School, then attended fall and winter quarters at Weber State University in Ogden, Utah. "Then I went off to be a jockey and never went back to school," he says.
He rode in Utah, Idaho and Colorado, before setting his sights on Los Alamitos. "When I came to California, I was pretty young," he says. "Guys like Bobby Adair, Kenny Hart and Danny Cardoza were already here and established. It was a great colony of riders; there were 20 guys in the jocks' room that were all good riders.
"Gary Waite, who trained in Utah, had helped me get started and then when I came out here to California, I rode a lot for Russell Harris, and for Connie Hall who had Chicks Beduino," John says. "I also rode a lot of good horses for Blane Schvaneveldt, Charlie Bloomquist and Judd Morse, and for
Mike Robbins."
He attributes his success to the many jockeys and trainers who taught him along the way, including Mark Skeen and Darren Charlton as well as his brother Greg, his father, his uncle, and his good friend and former brother-in-law Bill Holbrook.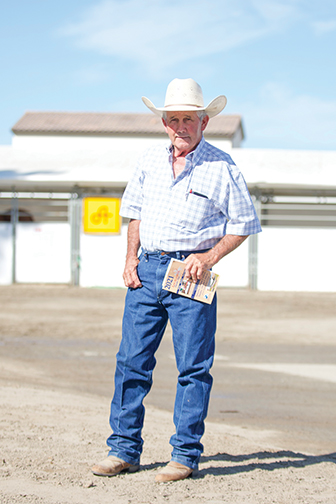 "Good horses are what make a good rider," John says. "I guess I was pretty good, but I had to work hard. You have to be able to take success with a little bit of disappointment and try to keep yourself from getting too far down. As a jockey, it was always a challenge, and I was able to make a pretty good living at it while doing something I enjoyed. For someone to go to work and have fun is pretty good luck."
His Meticulous Manner
In addition to hard work and good horses, John added to his "luck" by keeping scrupulous schedules and work habits. "The whole time he rode for me, he was meticulous about being on time, and he had the same little sugar donuts and the same type of coffee for 20-something years," Russell says. "We used to have seasons at Los Alamitos where we had breaks, and from around Christmas to spring we were all breaking colts at the ranch. He'd come out every day and be riding and working colts."
John also kept meticulous records. "Whether he was riding in a race or not, after a race was finished, he'd take his program and he'd watch the reruns over and over in the jocks' room," Russell says. "He'd write notes about every horse that was in the race — what post position it was in, whether it was antsy in the gates, whether it tried to lug in or lug out and some of its habits. Then, later on, he might pick up that mount and he could tell you everything that horse was doing. He had ringed binders filled up with it; it was just unbelievable. I'd venture to say he's still got
all of that."
He was also meticulous about his riding style, which earned him the nickname 'Sit-Still Johnny Creager.' "When he rode, he could sit still on a horse better than any other rider," Russell says. "He could sit on one and win, and win by a nose, and never uncock his stick. He just knew what his horse was, and he'd keep their head picked up and let them run. He's one of the best riders who ever rode for me. And he never raised his voice; he was just calm and listened and picked things up; he's a very sharp guy."
Mike Robbins adds that although John followed trainers' directions to a T, he wouldn't hesitate to tell a trainer if he thought there was something about a horse's style that the trainer needed to know, and then work with him to overcome the issue. "He was just really good to work with," Mike says. "He could get a lot of run out of a horse."
"Whenever John told you something, that's the way it was and people got to know that and they trusted him," Russell adds. "He picked up horses all the time from people who knew they'd get a first-class effort out of him and that he was there to do business, not to goof off."
His Most Recent Years
For the past 20 years, John's first-class efforts at the Rolling A Ranch have seen him breaking colts and keeping track of the health, training and racing needs of 80 to 120 yearlings each year, about half of which are headed for the sale barn. "I enjoy getting them ready to run," he says.
He also enjoys helping people out with cattle branding, penning, and roping, and spending time with his wife, June, who trains and rides barrel horses. And his kids from his first marriage (Joanie, Dusty, John Wayne, and Brooke) and his grandkids enjoy riding and going to the races when they go to the ranch to visit.
For John, the past 20 years has been a natural progression in his Quarter Horse racing career. "Running Doc Allred's outfit says a lot," Russell says. "I can't tell you enough about what a good hand and what a good person he is. He's just an absolute super, superhuman being."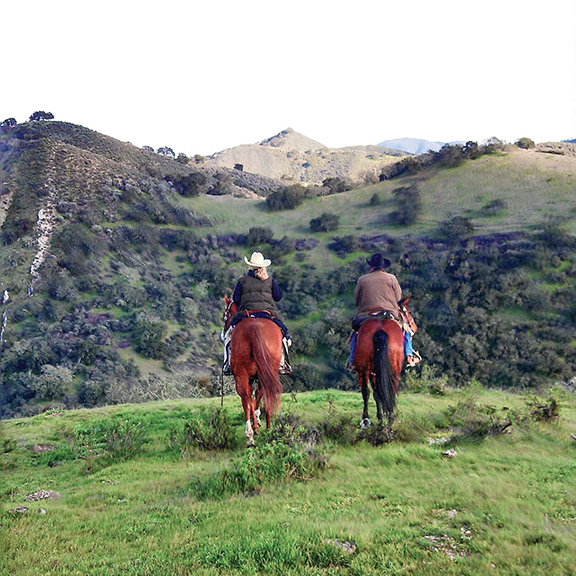 John's Top Mounts Include These Hallmark Horses
Ah Sigh
(First Down Dash-Cindio, Jonny Apollo). Ridden by John, she was named the 1994 Champion 2-Year-Old Filly, 1995 Champion 3 Year Old and 1995 Champion Filly. She won the Miss Kindergarten Futurity-G2, the Ed Burke Memorial Futurity-G1, and the Golden State Futurity-G1; then, as a sophomore, she won the La Primera Del Ano Derby-G2, the Los Alamitos Derby-G1 and the Golden State Derby-G1. At 4, she ran second in the Mildred N. Vessels Memorial Handicap-G1 and the Los Alamitos Invitational Championship-G1 and third in the Grade 1 Champion of Champions. Her career earnings totaled $496,721.
Down With Debt
(First Down Dash-I Owe You Me, Merridoc). With John in the irons starting at age 4, she was named 1994 AQHA World Champion, Aged Champion and Champion Aged Mare, and won the Las Damas Handicap-G2, the Go Man Go Handicap-G1, the Vessels Maturity-G1, the California Challenge Championship-G3 and the AQHA Challenge Championship-G1. At 5, her final year on the track, she won the Spencer L. Childers California Breeders' Championship-G1 and the California Challenge Championship-G3, and ran third in the Vessels Maturity-G1. The filly's career earnings totaled $404,381.
Easily A Rogue
(Calyx-Easily A Doll, Easy Jet) John rode her to a third in the All American Futurity Consolation at Ruidoso and the Kindergarten Futurity-G1 at Los Alamitos. At 3, she won the La Primera Del Ano Derby-G1 and the California Sires' Cup Derby-G3 and ran third in the Golden State Derby-G1. She earned $302,968.
Chicks Beduino
(Beduino-A Classy Chick, Chick's Deck). John piloted him to wins in the Bay Meadows Futurity-G1 and the Governor's Cup Futurity-G3, and a second-place finish in the Dash For Cash Futurity-G1. At 3, the colt ran third in the Laddie Handicap-G2 and fourth in the Golden State Derby-G1. He earned $412,099 and went on to sire outstanding get including Separatist, Whosleavingwho, Country Chicks Man, Jumpn Beduino and Ima Chicks Dream.
Dash For Kay
(First Down Dash-Growing Regard, Merridoc). With John in the irons for all of her first year and all but four sophomore races, the filly ran third in the Governor's Cup Futurity-G1, qualified for the Grade 1 PCQHRA Breeders' Futurity, ran fifth in the Golden State Futurity-G1 and fourth in the Los Alamitos Million Futurity-G1. At 4, she ran second in the Grade 3 Miss Princess Handicap and finished her four-year race career with $185,246.
Prissy Fein
(Sinn Fein-Miss Squaw Bird, Good Bird Bars). As a freshman, Prissy Fein won six of 10 races, then came back at 3 to win the TQHA Texas Derby-G3, the Los Alamitos Derby-G1, the Rainbow Derby-G1, the Sophomore Handicap-G2, the Pocahontas Handicap-G3 and the Las Damas Handicap-G1. At 4, she ran third in the Grade 1 Horsemen's QHRA Championship, second in the Vessels Maturity-G1, then won the Dashingly Handicap, the Anne Burnett Invitational Handicap-G1 and the HQHRA Inaugural Handicap-G3. She also ran second in the Las Damas Handicap-G1 and third in the Champion of Champions-G1. By the end of her 5-year-old season, she'd banked $718,996 and held the 1985 Three-Year-Old Filly and Three Year Old Champion titles.
Sgt Pepper Feature
(Truckle Feature-Marketina, Corner The Market). The 1978 foal won $900,240 in seven years on the track, winning 20 of 62 starts with 11 seconds and eight thirds. He was named AQHA's 1981 Three-Year-Old Gelding and Three Year Old Champion titles and 1982 Aged Champion, Aged Gelding and World Champion titles. "We won about everything you can win in California," says the gelding's trainer, Mike Robbins of Reliance Ranches in Guthrie, Oklahoma. "John rode him most of his career."
Jodys Glory
(Jody Chick-Lassie Be Good, Glory Be Good). One of John's favorite mounts, the 1975 colt earned multiple stakes winner status along with being named the AQHA 1979 Champion Aged Stallion. He won 16 of 56 starts including the Shue Fly Handicap, the St. Nicholas Express Handicap's second division and the Alameda Handicap. His career earnings totaled $120,776.