Baxter Andruss: A Founding Father of QH Racing in the Northwest
Posted by Diane Rice on 06/09/2020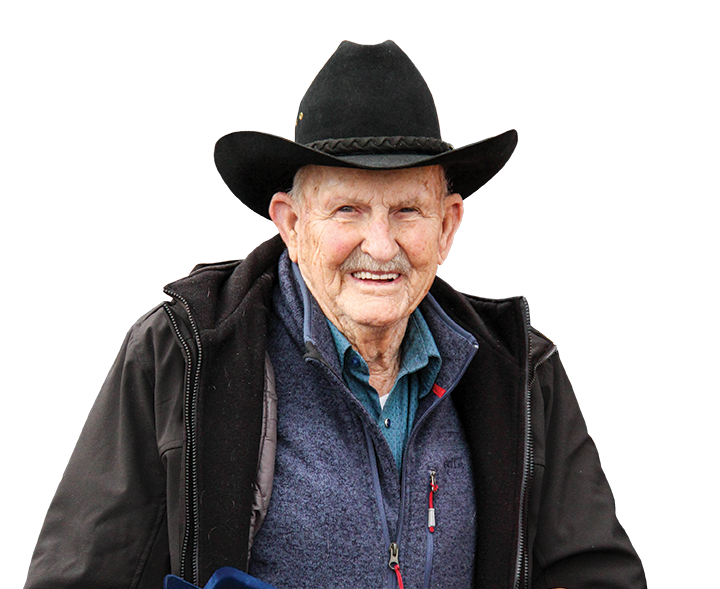 How does a person turn a childhood pastime into a well-established industry? Though the character traits required may sound simple, they comprise a complex mix of strength and determination that doesn't take no for an answer: passion, persistence, dedication, eagerness to learn and share knowledge, strict attention to detail, tireless work, and yes — a super-sized spoonful of stubborn.
Baxter Andruss rallied his resume of traits to promote his childhood love of match racing into an established industry, convincing track secretaries throughout his region to approve Quarter Horse races.
"Andy is probably one of the most instrumental people in getting Quarter Horse racing accepted by the management at Portland Meadows and many other tracks around the Northwest," says Dave Nelson, his friend of 50 years and a 23-year chairman (1973–1996) of the Oregon Quarter Horse Racing Association (OQHRA). "At Portland Meadows [for which Dave was the contract lobbyist from 1976–2006], Andy was one of the leading trainers. I consider him one of the dominant three trainers in the region; he probably won every stakes race around the Northwest.
"If you go back in time," adds Dave, "there were a lot of little bush tracks around, particularly in Washington: Rimrock near Yakima, Waitsburg, Dayton, Kennewick, Spokane and others. Baxter would always be there advocating for more Quarter Horse races, and always had a trailer load of horses to run there. And in the old days, after Portland Meadows' season closed, what used to be Long Acres and is now Emerald Downs season started, then fair season started in Oregon: Union, Grants Pass, Klamath Falls, Lakeview, Burns, Prineville, and so on. Half those meets have disappeared now, but nonetheless, Andy was always there working to make sure we had Quarter Horse racing on the program."
At 94, Andy has been a lifelong proponent of not only Northwest Quarter Horse racing, but also of the OQHRA Oregon-Bred program. In recognition of his efforts, in April 2007 the OQHRA named its Oregon-Bred Juvenile after him: the Baxter Andruss Oregon-Bred Futurity.
HIS FORMATIVE YEARS
Baxter, now also known both as Andy (to the old-timers) and Bax (mostly to family members), was born to Ephraim and Oral Andruss in Melbourne, Arkansas, in 1925. He attended Melbourne public school along with his two sisters, Lois and Della, and a brother, Lowell Dean "Diz."
His uncle had a big farm with horses and mules, and Baxter would spend summers there riding Jake, the white pony his uncle gave him, and later, a mule named Jim. On Saturdays, the farmers would go to town "to buy groceries, they said, but we all know better than that!" says Baxter's wife, Chris.
"The farmers would unsaddle their horses and leave them tied up, and Baxter and his friends would 'borrow' a couple and go down to the river and match race them, then give them a bath, cool them out, take them back and tie them up," she continues. "The farmers probably knew, but didn't seem to care."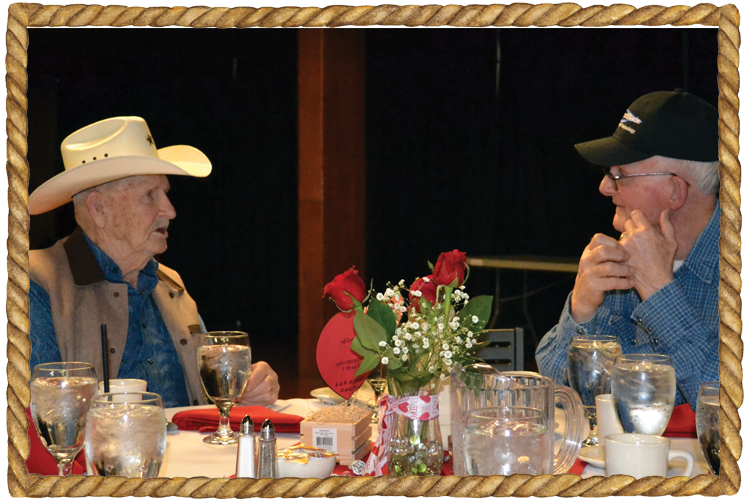 During World War II, the Andruss family moved from Arkansas to Vancouver, Washington, to work in the ship yards, where Baxter also got a job when he was around 18. He worked as a cook, for the paper mill, and other jobs, and ended up driving an oil truck for a man named Charlie Work who had horses — including a really good Quarter Horse stud, Mister Terrific (Ricky Taylor-Legal Tender B, Hard Twist). "No one ever showed Baxter how to get a horse fit and trained; it was just something he figured out on his own and he got really good at it," Chris relates.
Through that experience, Baxter met others with racehorses. "In the '70s, I didn't know anyone who didn't have a racehorse," Chris says. "It was kind of a household thing. When they opened Quarter Horse racing at Portland Meadows, you'd look at the program and they were all your friends — and Baxter was training most of them!"
BUILDING A FOLLOWING
Along the way, Baxter helped found the Northern Racing Quarter Horse Association. Anywhere there was a racetrack, Baxter raced. "When they first opened at Salem, Oregon, at the state fairgrounds, they had a racetrack there," Chris says. "I think the first day they had Quarter Horse racing, he won all the races.
"Things were kind of rough way back then," she adds. "In the win pictures, you can see the stadium and there were only half a dozen people up there. I think they were all so involved with their horses, they'd hang on the rail and watch the race and then go back to the barn and get their horse ready. It took a while for the audience — the betters — to show up.
"Baxter had such a following that all wanted to run horses, so wherever they talked about opening a track or starting a Quarter Horse meet, they were all glad to see him come because he had so many horses. I think one time at Yakima, he had 40 head!" she adds.
BUILDING A FAMILY
Baxter and his first wife, Betty, had two daughters: Terri, who now lives near Baxter and Chris (his second wife) in Vancouver, Washington; and Susie, who lives with her husband, Will "Billy" Vincent in Libby, Montana.
Billy started working for Baxter in 1970 when he traveled to Coeur d'Alene, Idaho, with some people from Libby who had Thoroughbred racehorses. "Coeur d'Alene was running hot and heavy in those days and I liked Quarter Horses," Billy says. "That winter, Baxter had a fellow there breaking colts for him who broke his leg. Baxter saw me down there galloping horses and called my folks to ask if I could come work for him. I was just a junior in high school at the time, so the Andrusses said they'd make sure I went to school. I wanted to go so badly, so my folks let me and I stayed working for Baxter until I stole his daughter [Susie] away from him and came back home. I took away his best help!"
"Andy was notorious for firing his help," Chris confides. "Because he expected perfection from himself, he also expected it from his help and if anybody slacked off, they got fired. It got to be kind of a joke; I think he fired Billy more than any person, but Billy would just go away for a day and then come back like nothing had ever happened."
Chris met Andy around 1971 through her father, who belonged to the Clark County Saddle Club Posse with Andy. "One of Andy's breeders that he trained for, Ben Weiler, had brought his yearlings over for Andy. Dad and his friend Don wanted to buy a racehorse and they bought Ben Weiler's gelding, Cats Gold Bar (Catawambus Bars-Golden Catch, Catch Bar). I would go over to Andy's and to the track to see the horse.
"We actually got together years later," she continues. "Dad passed away in July 1996 and he'd had horses with Baxter all that time. Baxter's wife passed away in December the same year. My mom wanted me to help her sell the horses, and I ended up keeping some of them. Andy was training them and pretty soon I was going to the track with him. Instead of being a spectator, I was helping him get the horses to the paddock and one thing led to another. We were married in August 2002.
RACETRACK SUCCESSES
Andy's dedication sowed the seeds of his success. "They went on vacation just one time in his life," Billy says. "I think it was around 1964. They took the kids to Disneyland and Mexico, but on the way they stopped and saw Three Bars and Go Man Go. All he did was horses; that's all he lived and breathed, and still does. His enjoyment is the horses."
Although not all the horses Andy trained were futurity horses, Billy says, Andy was dedicated to every one of them. "He could read them. He'd know when one was off or needed a rest.
"One time we turned this old guy out. It was one of Chris' horses we called Phil," Billy continues. "He'd been out on pasture for about a month and a half. Baxter was reading the condition book and he said, 'Here's a race for Phil!' I said, 'Phil?! He's been out in the pasture!' He said, 'Oh, he'll be all right.' We called the farrier and gave Phil a bath, nailed a pair of shoes on him and he won by so far going 350 yards — he'd just needed a little rest."
One of Andy's most gratifying years came in 1994 when Check This Reb (Check The Charts-Reb Hot, Ima Easy Reb) came within one horse of qualifying for the All American Futurity. Earlier that year, the gelding won the Portland Meadows Futurity, then crossed the wire first in three of four races at Grants Pass. He then claimed the winner's circle for the Malibu Beach Handicap at Los Alamitos. At Ruidoso, he ran second in the All American trials and second in the first consolation, then hauled back to the Evergreen Futurity-G3 at Sun Downs in Kennewick, Washington, and won that. He won three more races that year as well. "I think he was the winningest horse in the nation that year," Andy says. He finished his two-year racing career with a 26-14-4-2 record and $117,551 in earnings.
Check This Reb's half-brother, Ima Reb Hot (Beda Cheng-Reb Hot, Ima Easy Reb), had outstanding seasons in 1993 and 1994 as well, winning the Pot O'Gold Futurity, the Far West Futurity Div. 1, the Evergreen, the Oregon-Bred Juvenile Championship (forerunner to Baxter's namesake race) and the Far West Futurity Div. 2.
In 1994, Ima Reb Hot took the winner's circle for the Northwest Championship Challenge-G3 at Portland Meadows and the Northwest Derby Challenge at Les Bois Park. In three years on the track, he built a 25-17-1-2 record and earned $121,166.
Also on Andy's list of top horses is Fabulous Form (Rare Form-Venice, Easy Jet), who became an AQHA World Champion. "Andy ran her here at Portland a few times, and she was good enough that we sent her to Los Alamitos with Kevin Gould," Chris says. The mare won 12 of 40 starts, including the Mildred N Vessels Memorial Handicap-G1 and the Z Wayne Griffin Director's Stakes Division 1-G3, tallying $206,334 from 1996 to 1999.
Through all the years, Andy has followed his heart and spoken his mind. "If it hadn't been for him, Northwest racing wouldn't have been what it was," Billy says. "He had people get mad at him, but they respected him and he and others got things done. And kept the racing going.
"Very few people get to spend their life doing what they love and are successful with it. It's been his passion and he was able to do it his whole life; that's a pretty rare thing."