AQHA Update: Second Careers
Posted by Jennifer Pitts on 05/15/2023
May 2023
by Janet VanBebber, AQHA Chief Racing Officer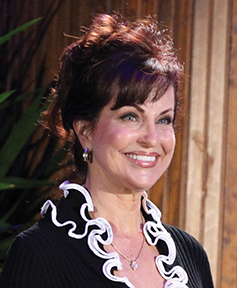 This is indeed a fun and exciting time to be speaking to you about the crossover talent of our great racehorses! In my humble opinion, our breed's propensity for a horse to navigate different disciplines throughout its competitive career is what makes the American Quarter Horse most endearing. I have seen the same horse navigate racing, halter, and even all-around youth events in different chapters of his life. I even have some equine alumni of VanBebber Racing Stables who have enjoyed such opportunities.
A prominent story of such success is that of Mitey Phantom, AQHA's 2022 High Point Barrel Horse. Andrea Caudill wrote about the mare in a feature in AQHA's Second Career Stars series, and it's a good story:
"….Mitey Phantom has taken her equine family's fast history and transferred it to the glamor and challenge of the barrel pattern. She is a 2016 foal bred and owned by Bobby and Catherine Simmons of Midland, Texas. The flashy mare wears a God-given white mask on her face, and Catherine named her in honor of 'Phantom of the Opera,' who wears a similar mask.
'Phantom of the Opera' is one of the most successful entertainment events in history – and 'Phantom' too, is pedigreed for success.
Her sire, First Moonflash, is a Champion who still holds the American Quarter Horse quarter-mile world record. He earned $969,828 in his racing career, and as a sire has gotten the earners of more than $23.2 million, including the likes of Champion Flash And Roll ($1,710,718), All American Futurity-G1 winner Handsome Jack Flash ($1,517,491) and All American Derby-G1 winner Too Flash For You ($1,065,692).
Phantom is out of Neons Miracle, a 2003 winning daughter of Yawls Rabbit who has produced nine starters, four of which have returned winners.
The most significant of those are Phantom's full siblings, the stakes winners Mitey Man ($183,222) and Mitey Moon ($179,118).
But, unlike her brother and sister, the racetrack proved to be the wrong stage production for Phantom. She would make two career starts before they retired her.
'It just didn't seem like that's what she wanted to do,' Catherine said.
But there was another production available to the heroine of our story – barrel racing. Her older brother, Mitey Man, had retired from racing and had shown promise as a barrel horse before his untimely passing, indicating there might be a latent talent in Phantom.
'I convinced my husband to let her have a chance at this,' Catherine said. 'You don't know, when you give a horse a second career, if it's going to come together. Her first career, it wasn't like her siblings. They were stellar, they were somebody. And she wasn't somebody on the track, but the fact that my husband allowed me to put her into barrel training is a big credit to him. He let me do it, and I just feel blessed that she has put it together.'
Phantom had to learn a whole new game and overcome some injuries, but this year has blossomed into a fierce competitor. Under the guidance of World Champion barrel racer Lance Graves, the mare has captured victories at major events such as the 2022 Dixie National in Jackson, Mississippi; the Circle G in Texarkana, Texas; and the Robbie Phillips Lance Graves International AQHA Open in Guthrie, Oklahoma; as well as a placing at the 2022 National Western Stock Show in Denver.
'Barrel racing is not a hobby for Phantom; it is her second career,' Catherine said. 'She has the mind and the soundness to do so, and she was bred to be an aggressive, competitive racing athlete. She had to make the change from a straightaway runner to a short sprinter and turning machine for barrel racing. Both of these sports are extremely specialized and are timed down to the thousandths of a second.'
The training and retraining of a horse always takes a team, and a number of good horsemen handled Phantom on her way to success, including race trainer Renee Wilson, who helped make sure the mare was in top physical condition and helped partner her with Graves. 'When she first started on the barrels, turning was not her forte,' Catherine remembers of Phantom's start. 'She just wanted to run, to take off. But even with some wide turns she was still clocking, which speaks to her speed. She has finally put it together, and holy moly she has got it. She has realized "I can do this." She's very, very smart, and she absolutely loves to run,' Catherine said. 'That's a thing that a lot of people who don't own horses, or specifically racehorses, they don't understand how much the racehorse blood gives the want to run. When they have that want, you can't teach that. You can't put it in them, they either have it in them or they don't. And she has that.'" (AC) (Find other similar stories at: www.AQHA.com/Horseman Info/Second-Career Stars)