Apocalyptical Jess Wins The All American Dream
Posted by Larry Thornton on 06/11/2020
Our look at the win by Apocalyptical Jess in the 2018 All American Futurity-G1 might bring to mind the old saying "good things come to those who wait." His win truly shows how horsemen with patience and persistence can achieve this most allusive goal. Our look at the win by Apocalyptical Jess will also show that it isn't just patience and persistence that can get you to the winner's circle, but also how a dedicate breeding program plays a role in the scheme of things.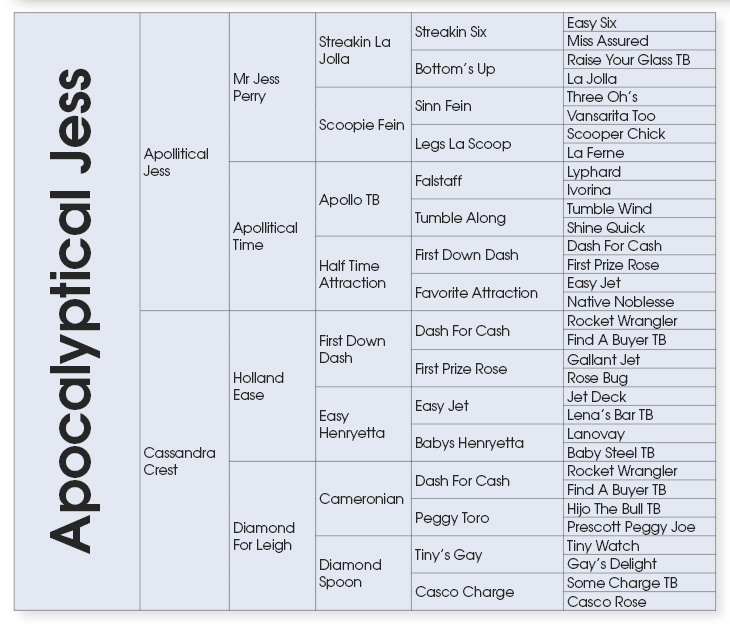 Apocalyptical Jess started his quest for the All American with an eighth place in his Ruidoso Futurity trial. He came back in the Rainbow Futurity trials with a second in that race.
Both non-qualifying runs. He broke his maiden in his All American Futurity trial. Ricky Ramirez rode the gelding to the fastest qualifying time of :21.349 on the first day of the trials. He came into the All American finals with earnings of $6,400 and a record of one win and one second in the three starts.
Apocalyptical Jess came to post for the finals as the 5-2 second choice in the wagering. He won the race by 1/2-length in :21.393 for the 440 yards. His jockey was Raul Ramirez Jr., who picked the mount up from qualifying jockey Ricky Ramirez.
The rest of the racing team for Apocalyptical Jess includes owner Bill T. Robbins, trainer Blane Wood and breeder Danny Joe Miller. Bill T. Robbins is the son-in-law of Danny Joe Miller. Robbins has been involved with racing since becoming a member of the Miller family. He reported to Ride TV host Tom Dawson that he was an overnight success after 27 years of trying to win the race. His runners had previously won $105,897.
Blane Wood, whose father won the 1979 All American Futurity with Pie In The Sky, has been pursuing his own All American dream having won his first Grade 1 stakes in 1995. His runners had earned over $17 million, but never before had he won the All American Futurity. Wood went into the 2018 All American with three qualifiers, including 2018 Rainbow Futurity-G1 winner MM Fourinthemorning and Badhabit Jess.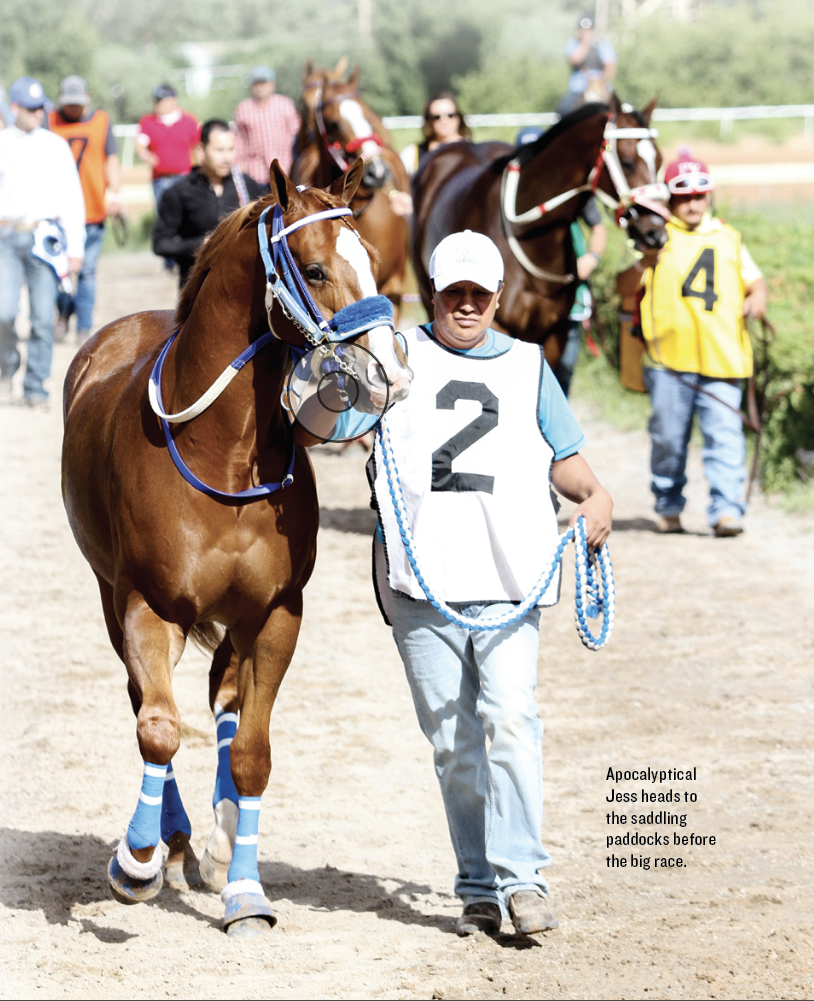 Danny Joe Miller has been involved with racehorses since 1978, having bred the earners of over $1.5 million. His involvement with the All American includes Have A Coronary, a 2004 All American qualifier who was 7th in the finals, and Takin On Spoon Man, the 11th fastest qualifier in 1999 who won the All American Consolation.
The racing history of these three men shows the patience and persistence needed to win the All American. A look at the Miller breeding program gives us the opportunity to see how one breeder's persistence, patience and planning has paid off to achieve the All American dream.
"I am an electrical contractor and in about 1978, a gentleman owed me some money for a job and asked me if I would like to have a horse," said Miller. "It wasn't as bad as I thought it might be, but I figured out right away if I didn't take the horse, I wasn't going to get anything. So, I took the horse.
"At the time, I didn't even know there were Quarter Horse racehorses," he continued about the horse he got in the deal. "But that is what he was, and he was a double-bred Depth Charge. He was by a son of Johnny Dial (by Depth Charge) and out of a Depth Charge bred mare. Sadly, we lost him in a stall accident, but by then I had the fever."
He then tells us what came next. "I traded for one and he was a three year old that Jacky Martin had broke. He was a Lady Bug's Moon stud out of a Johnny Dial mare. His name was Moon Beau.
"I took him to Florida and we raced him at Pompano Beach. The reason the guy traded him to me is he had quit running. But he didn't tell me that before we took him to Florida. He broke out in front and was running away with the race and then he quit. Everybody passed him. Then came a big track inquiry on why the horse quit running. So, we took him to a vet clinic and they found about six things wrong with him. One of them was a ruptured flapper. So we fixed everything, took him back, put him in another race and he won by such a distance they had another track inquiry. Why did my horse run so good?"
The horse came through the inquiry and then it was back to the races. "We took him to Louisville, Kentucky, where he set a Track Record. He was a black stallion and I never bred him. But that is how I got into racing."
The racing fever had hit. Then the breeding fever came. He explains what happened next. "When I got interested in breeding, I bought mares that local horsemen said were good mares. I bought about 10 or 15 mares and I had babies. I was so proud of them. The first sale I took them to was the old Haymaker Sale. I was watching horses back then in the late 70's and early 80's that were bringing $20,000, $25,000, even for AA horses. I found that my $500 to $600 babies were telling me I didn't have any mares. So, I bought a six-horse trailer, hauled the mares to Oklahoma, sold them, and bought me one good mare. Then, I settled in to the idea that all I needed was about four or five mares if they were good ones, and that is what I have today."
The fortunes of the Miller breeding program improved after a trip to Texas. "I went to Wes Mickles' place in Weatherford, Texas. Wes had horses like Rebel Cause and his dam. He had a stallion there named Cameronian and I flew down there to see him before I bred to him."
Miller was puzzled by one thing. "I couldn't figure out why the purchase price on the babies was so high compared to the stud fee. I thought they must be good, so I wanted to see some of his babies. Mickles sent me to the owner's ranch to see the babies.
"When I got there, I found out they were in bankruptcy, so I was able to buy three mares from him and one of those mares was Diamond Spoon by Tiny's Gay and out of Casco Charge. That mare was a blue hen mare. She was in the top one hundred as a producer until people started using embryos. She had one baby a year and had 13 starters with nine AAA or AAAT runners and three AA."
The pedigree of Diamond Spoon gives us a genetic foundation for her title as a "blue hen." She was by Tiny's Gay, the 1974 World Champion, Champion Racing 2 Year Old and Champion 2-Year-Old Colt. Tiny's Gay won the 1974 Kansas Futurity, 1974 Rainbow Futurity and was second in the 1974 All American Futurity before we graded our stakes. He also won the 1974 Tumbleweed Futurity to put a record of 12 wins in 13 starts, earning $444,721. He didn't race at three.
Tiny's Gay had a successful but limited career as a sire. He sired six crops of 392 foals with 328 starters with 239 ROM, 16 stakes winners and 31 stakes placed runners. His foals earned over $3.4 million. His leading money earner was Merridoc, winner the 1979 Bay Meadows Futurity and 1979 Golden State Futurity. His earnings stood at $249,736.
Tiny's Gay became the broodmare sire of 1,026 foals, with 631 starters, 448 ROM, 39 stakes winners and 39 stakes placed runners. He is the Broodmare Sire of 1988 World Champion Merganser, winner of the 1998 All American Futurity, and 1990 Champion 3 Year Old Special Project, winner of the 1990 All American Derby-G1. Merganser is his leading money earner at $1,373,704.
Tiny's Gay is by 1965 Champion Stallion, 1966 Co-Champion Stallion and Aged Stallion Tiny Watch, who had 38 starts with sixteen wins, twelve seconds and three thirds. Tiny Watch is by Anchor Watch TB and out of Clabber Tiny by Clabber.
Casco Charge, winner of the 1968 Keystone State QHRA Derby with earnings of $3,560, had 26 starts, four wins, seven seconds and four thirds. She was also second in the 1967 George Washington Futurity and third in the 1967 Midway Downs Premier Futurity.
The produce record for Casco Charge shows that she produced 14 racing ROM, including 1976 Champion Aged Stallion Heza Charger, winner of the 1974 Texas Futurity and 1975 El Primero Del Ano Derby. He also won the Pomona Championship and was second or third including a second in the 1976 Go Josie Go Stakes and third in the 1976 Go Man Go Handicap. He was also a finalist in 1976 Champion of Champions.
Some Charge TB, the sire of Casco Charge, had 36 starts with eight wins, four seconds and five thirds earning $9,650. He sired 75 Quarter Horse starters with 23 racing ROM, including two stakes winners and one stakes placed runner. His foals earned $57,967. His leading money earner is Copan Buck, winner of the 1961 Inaugural Handicap at Centennial Race Course who had earnings of $19,067.
The daughters of Some Charge produced runners that earned $571,734 from 62 starters, with 34 ROM, two stakes winners and four stakes placed runners. His leading money earner is Heza Charger with $301,289.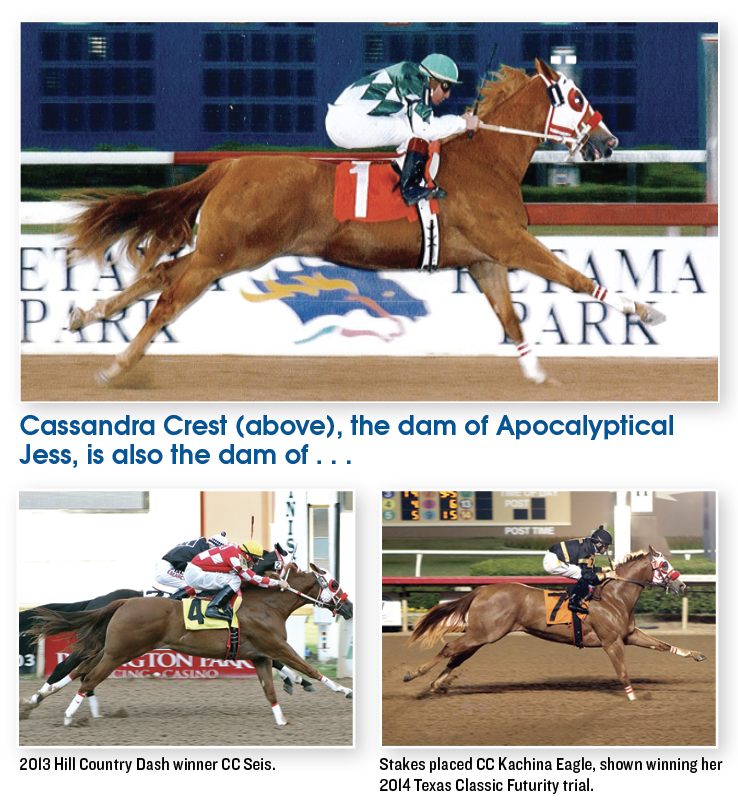 Some Charge is by Depth Charge, a son of Kentucky Derby winner Bold Venture. The dam of Depth Charge is Quickly by Haste. Some Charge is out of Miss Somebody, a daughter of Chance Shot. The dam of Miss Somebody is Ruth Landolt by Midway, who is the sire of Percentage, the sire of the legendary Three Bars.
Casco Rose is the dam of Casco Charge. Casco Rose was a race mare with no official record. She was considered a match race horse. Casco Rose produced 8 foals/starters with four ROM and two stakes winners. Her runners earned $71,891. Her other stakes winner beside Casco Charge is Lady Afton 2, winner of the 1968 Keystone State QHRA Futurity.
The 1971 foal out of Casco Rose was Rose Bug by Lady Bug's Moon. Rose Bug is the dam of First Prize Rose by Gallant Jet. First Prize Rose earned $22,754 with a second in the Three Bars Handicap 1st Division and a third in the 1979 Sunland Park Fall Derby.
First Prize Rose is the dam of World Champion First Down Dash, the all-time leading sire of money earners with over $88 million. His full sister is First Prize Dash, dam of 30 ROM runners with six stakes winners including First Prize Leesa winner of the 2009 Remington Park Futurity-G1; First Carolina, winner of the 2006 Heritage Place Futurity-G1; First Prize Robin, winner of the 2006 Remington Park Futurity-G1; and Fast First Prize, winner of the 2002 Heritage Place Futurity-G1. First Prize Dash was named the 2006 AQHA Broodmare of the Year.
When Rose Bug was bred to Dash For Cash, she produced a race winning mare named Dashin Rosie. This mare was the dam of Run The Dash, the dam of 2007 World Champion Blues Girl Too. Thus, Diamond Spoon came from one of the great female families to become Danny Joe Miller's blue hen mare.
Diamond Spoon was bred by John Collville, the owner of Tiny's Gay. She earned an 84 speed index with eight starts, one second and one third earning $850. She was purchased in 1990 by Miller for $5,000 on the stipulation that she was bred back to Cameronian.
The produce record for Diamond Spoon shows that she had 16 foals with 13 starters, 12 winners/ROM with four stakes winners and one stakes placed runner with earners of $353,802. Her first stakes winner, Diamond Cam by Cameronian, won the 1991 Austin Futurity and was a finalist in the 1991 Bandera Downs Futurity-G2 and 1991 Longhorn Futurity-G3. He earned $24,853 on the track.
Diamond Spoon produced a total of four foals by Cameronian and they all earned their ROM. The first was Just Add Oats, who not only earned his ROM, but became a Superior race horse. He had five wins and earnings of $26,953. Diamond Spoon's next foal was born in 1989 - stakes winner Diamond Cam.
Dashing Cameo, the filly at her side when Miller bought Diamond Spoon in 1990, was a 3-time race winner. She was sold in 1993 and went on to produce Ok Jodys Dasher, a 4-time stakes winner including the 2002 Manor Downs Maturity-G3 and who had a bankroll of $88,998.
The fourth foal from the cross of Diamond Spoon and Cameronian was Diamond For Leigh, a stakes placed runner who was third in the 1994 Gulf Coast Stakes and a finalist in the 1993 Manor Downs Futurity-G2.
Cameronian is a 3-time race winner of 16 races and $21,366. He sired six foal crops with 157 foals and 97 starters that have earned 61 ROM, including two stakes winners and six stakes placed runners with combined earnings of $640,875. His stakes winners were Diamond Cam and DD Pass Em, winner of the 1995 Space City Stakes. Leading money earner, Cam Goes Native, is a stakes placed runner with three seconds including the Head Pin Handicap in 2001 and 2002. He earned $87,429.
The daughters of Cameronian produced 236 foals with 85 starters, 61 ROM, six stakes winners, three stakes placed runners and earnings of $1,233,796. The leading money earner, Sassys Tuffy, a winner of $255,930, made the finals of 16 stakes races with two stakes wins and four thirds. His big win was the 2008 Texas Championship Challenge-G1.
The sire of Cameronian is Dash For Cash, who allows us to recall an interesting observation about why Miller used Cameronian. "I felt I was doing the right thing when I went to Cameronian and he was what I wanted." He stated. "Everybody has their favorite bloodlines. There are bloodlines that some guys love and have had success with, but I didn't. I put First Down Dash and Dash For Cash in my babies. They are so smart. They are intelligent athletes that will do just about anything. I have had Dash For Cash geldings here that I rode. I have taken them off the track and sent them to a roping trainer and in thirty days they are roping on them. The trainer said they are the smartest horses they have ever ridden."
The other two stakes winners produced by Diamond Spoon include 1999 All American Futurity Consolation winner Takin On Spoon Man. This 1997 son of Takin On The Cash earned $219,508 and qualified for 13 stakes races, with three wins, three seconds and three thirds. He won the 2003 Go Man Go Handicap-G1 and the 2003 Laguna Hills Handicap and was second or third in four more 2003 stakes including a third in the Los Alamitos Invitational Championship-G1. His 2003 racing season netted him the California Hi-Point Aged Stallion title.
Diamond Spoon's other stakes winner was her 1999 foal Spoon Crest by Holland Ease. This gelding had 26 starts, with five wins, eight seconds and five thirds, earning $24,164. He won the 2002 Santa Cruz County Derby, was second in the Robert Heubeck Memorial Handicap, fifth in the AQRA Turf Paradise Derby-G3, and was the 2002 AQHA Racing West/Southwest High Point 3-Year-Old Gelding.
The path to continued development of the Miller breeding program came through mares that he retained for the broodmare band. He concentrated on good mares developing the next generation of mares from Diamond Spoon. One of those mares out of Diamond Spoon was Diamond For Leigh. Diamond For Leigh produced only six foals before her untimely death due to illness that included three ROM runners and one stakes placed runner. Her progeny earned $110,726.
Diamond For Leigh is the dam of stakes placed runner Cassandra Crest (by Holland Ease), the dam of Apocalyptical Jess. This makes Diamond For Leigh a 3/4-sister to stakes winner Spoon Crest. Cassandra Crest was second in the 2003 Retama Park Futurity-G1, third in the 2004 Greenspoint Stakes and 2004 Minnesota Quarter Horse Association Stakes, and was a finalist in three more stakes including the 2004 Lazy E Derby-RG2. She earned $75,671.
Holland Ease, the sire of Cassandra Crest, is a stakes winner in the 1992 Golden State Derby-G1 with seconds in such races as the 1991 Kindergarten Futurity-G1 and 1992 Primero Del Ano Derby-G1. He earned $361,2127 with six total wins. Holland Ease sired horses that have won over $12 million with 627 starters, 471 ROM and 43 stakes winners. His leading money earner is Planet Holland, winner of the 2006 James Isaac Hobbs Stakes-G2 and 2006 Higheasterjet Handicap-G3 with total earnings of $798,885. Holland Ease is also the sire of Corona Cartel, the #1 leading living sire of money earners with progeny earnings of over $57 million.
Miller explained why he used Holland Ease as a sire. "I went up to the Lazy E and saw him. I looked at his body because I was trying to match the body, but I also wanted to get First Down Dash in there and I also wanted to pull the Thoroughbred in his background a little bit forward in my program. I believe you can't go wrong with the right Thoroughbred blood like Raise A Secret, Beduino, Depth Charge and Hempen if you have them in your bloodlines."
Holland Ease is by First Down Dash. The dam of Holland Ease is Easy Henryetta by Easy Jet, who is out of the Thoroughbred Lena's Bar by Three Bars. Easy Henryetta is out of Babys Henryetta by Lanovay, who is by Lanolark TB. Baby Henryetta is out of Baby Steel TB by Leadsteeler.
Cassandra Crest, the dam of All American winner Apocalyptical Jess, is now the dam of 11 foals with nine starters, seven ROM, two stakes winners and one stakes placed runner. Her foals have earned $1,821,098. Her first stakes winner, CC Seis by Tres Seis by Sixarun, won the 2013 Hill Country Dash, and was sixth in the 2012 Heritage Place Futurity-G1 and 2013 Sam Houston Derby-G3. She was also a finalist in the 2013 Juno's Request Stakes-G2 and the Lubbock Stakes-G3 and earned $87,196.
Cassandra Crest's stakes placed runner is CC Kachina Eagle by One Famous Eagle by Mr Jess Perry. She was third in the 2014 Texas Classic Futurity-G1, fifth in the 2014 West Texas Futurity-G2 and was a finalist in the 2014 Ruidoso Juvenile Challenge-G3. CC Kachina Eagle earned $128,215 with three wins in eleven starts on the track.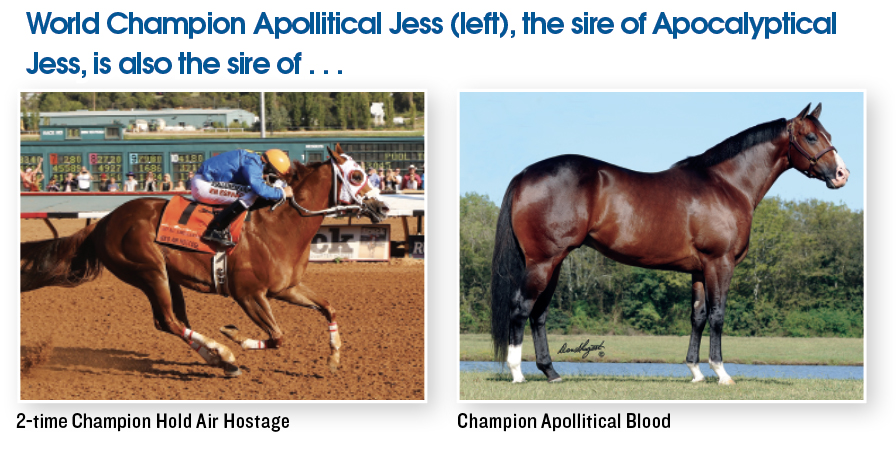 Apollitical Jess is the sire of Cassandra Crest's second stakes winner, Apocalyptical Jess. Apollitical Jess is the 2010 World Champion, Champion 3 Year Old and Champion 3-Year-Old Colt. He started his racing career in 2009 when he had six starts, two wins and three seconds, including a second in Los Alamitos Two Million Futurity-G1. His championship year shows that he had eight starts with six wins, including the Los Alamitos Super Derby where he set New Track Record for 400 yards in :19.133. His Super Derby win qualified him for the Champion of Champions-G1, where he won in a New Track Record time of :20.939 for 440 yards. Apollitical Jess was second in the All American Derby-G1 and earned $1,399,831.
The sire record for Apollitical Jess shows that he is the sire of horses that have earned over $21 million since his first runners hit the track in 2014. He started out as the 2014 AQHA Leading Freshman Sire of Money Earners with over $1.4 million. In 2015, he was the #4 AQHA Leading Sire of Money Earners list and the #1 Leading Second Crop Sire of Money Earners with earnings of over $3.6 million. In 2016, he was the #2 AQHA Leading Sire of Money Earners and the AQHA Leading Third Crop Sire of Money Earners with over $5.2 million. He was the #1 AQHA Leading Sire of Money Earners in 2017, with earnings of over $5.6 million. He is currently the AQHA Leading Sire of Money Earners for 2018 with earnings of over $6 million.
Apollitical Jess is by Champion Mr Jess Perry, winner of $687,184 and the sire of over $54 million. His 2018 runners include 2018 Rainbow Futurity-G1 winner MM Fourinthemorning. Mr Jess Perry is by Streakin La Jolla, a son of Streakin Six. The dam of Streakin La Jolla is Bottom's Up by Raise Your Glass TB. The dam of Mr Jess Perry is Scoopie Fein by Sinn Fein by Three Oh's. The dam of Scoopie Fein is Legs La Scoop by Scooper Chick.
When we take a closer look at Streakin Six, we see that he is by 1974 Sun Country Futurity and 1975 Kansas Derby winner Easy Six, who is by Easy Jet. The dam of Easy Six is Peggy Toro by Hijo The Bull TB by Spotted Bull. The dam of Peggy Toro is Prescott Peggy Joe by Double Joe H. The dam of Prescott Peggy Joe is Peggy N by Clabber.
What makes the pedigree of Easy Six so interesting comes into focus when we look at the pedigree of Diamond For Leigh. Her sire, Cameronian, is out of Peggy Toro. This makes Cameronian a half-brother to Easy Six. This also gives the pedigree of Apocalyptical Jess a breeding pattern of 5x3 to these half-brothers as well as a breeding pattern of 6x4 to Peggy Toro.
When you discuss pedigrees and pedigree patterns with Miller, you get a sense that a lot goes into his evaluation of the pedigree and how he observes such things as the nicks that he is seeing. When he discusses Cassandra Crest, he sees how she has crossed with Mr Jess Perry sons and grandsons to form a nick that produces good runners and quality individuals.

Apocalyptical Jess serves as the prime example of the nick between sons of Mr Jess Perry and Cassandra Crest. Miller reinforces how he sees this nick with Apollitical Crest, a 2016 full brother Apocalyptical Jess. This colt was sold last year at the Heritage Place Yearling Sale for $105,000, making him the fourth highest seller for the sale. The sale price for this colt shows the quality from this cross. Sadly he died before he was able to contribute to the nick as a racehorse.
We can also look at CC Kachina Eagle, the stakes placed daughter out of Cassandra Crest and by One Famous Eagle by Mr Jess Perry. Cassandra Crest has also produced the ROM runners CC La Blue by Jess Louisiana Blue by Mr Jess Perry, and CC Spittin Image by Spit Curl by Jess Mr Jess Perry. CC La Blue was a finalist in the Manuel Lujan Stakes, giving Cassandra Crest five race age foals from this cross with four starters/ROM, one stakes winner and one stakes placed runner-all sired by sons of Mr Jess Perry.
When we add Cassandra Crest's stakes winning daughter CC Seis to the list, we see her sire Tres Seis. This allows us to make an interesting observation. Tres Seis is by Sixarun by Streakin Six by Easy Six. This reinforces how Peggy Toro provides Easy Six and Cameronian with a blood affinity and how we see blood affinities in many of the good nicks.
The dam of Apollitical Jess is 2005 Champion 3-Year-Old Filly, 2006 Champion Aged Mare and 2006 Champion Aged Horse Apollitical Time. She had 35 starts, winning 14 races, including 10 stakes events and racked up earnings of $904,242. Her wins include the 2005 Los Alamitos Super Derby-G1, 2005 Governor's Cup Derby-RG1, 2006 Mildred N Vessels Memorial Handicap-G1 and the 2006 Los Alamitos Invitational Championship-G1.
2010 AQHA Broodmare of the Year Apollitical Time has produced nine foals with eight starters and six ROM with three having a speed index above 90 and three with a speed index above 100. Her foals have earned over $1.5 million and include stakes placed runner Rock And Roll, who has seconds in the 2015 Quarter Racing Journal Stakes and 2016 Tallahassee Stakes, and who was a finalist in the 2015 West Texas Maturity-G3 and the Sam Houston Championship Challenge-G2. He earned $50,886 on the track.
The sire of Apollitical Time is Apollo TB. Winner of the 1990 San Miguel Stakes, and the 1991 California Breeders' Champion Stakes and the Baffle Stakes, Apollo had 23 starts with five wins, four seconds and four thirds earning $354,475. Apollo is by Falstaff and out of Tumble Along by Tumble Wind.
Apollo is the sire of Quarter Horses that have won approximately $8 million, including 1999 Champion 3 Year Old and Champion 3-Year-Old Gelding Old Habits, who won the 1999 All American Derby-G1 and Los Alamitos Derby-G1 and earned $680,966.
Half Time Attraction is the dam of Apollitical Time. She placed in the 1999 The Classics Futurity and the California Juvenile Challenge-G3, earning $14,734. She is the dam of 11 ROM, including In His Dream, a stakes placed runner in the Denim N Diamonds Handicap.
Half Time Attraction is by First Down Dash and out of Favorite Attraction by Easy Jet. This makes Half Time Attraction and Holland Ease 3/4-siblings, representing a collateral linebreeding pattern to First Down Dash and an Easy Jet mare in the pedigree of Apocalyptical Jess.
This then takes us to the breeding pattern "returning of the blood" we find so common in our horses today, where the linebreeding pattern comes together with common ancestors coming to the foal through his dam and the dam of his sire. This increases the influence of the sire's dam and her pedigree on the foal because of the linebreeding. In this case, we see the linebreeding with the First Down Dash/Easy Jet cross.
It is interesting that Danny Joe Miller didn't even know that Quarter Horses were racehorses when he started out. But once he got the fever, he tells how he set out to build a breeding program. His breeding program has developed good racehorses and his patience and persistence has paid off to win the All American Futurity.