Kristen Moore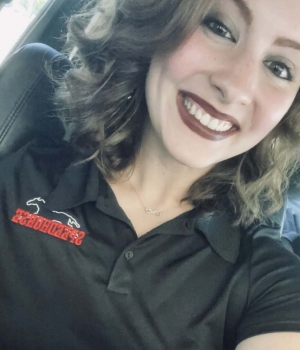 Kristen Moore
Graphic Designer, 2021 - Present
Kristen is Oklahoma-born and raised. She has been passionate about horses from a young age and started riding horses competitively in drill team at the age of 12. Kristen started riding with the Canadian Valley Rangerettes, an all-women's non-profit drill team established in 1969, in the fall of 2015. The Rangerettes is the group that introduced Kristen to the Quarter Horse Racing world, and ultimately, Speedhorse, by working the Heritage Place horse sales in Oklahoma City.

Kristen attended the graphic design program at Canadian Valley Technology Center in El Reno, Oklahoma, and although she never planned to pursue graphic design, this program set her up to be commissioned by the technology center for many projects and follow that path into her working life.
Outside of horses and design, Kristen enjoys spending time with her fiance, Levi, and their three dogs.