Where Are They Now? PJ Chick In Black
Posted by Martha Claussen on 06/24/2020
PURCELL, OK—JUNE 23, 2020—Racing neophytes might hear the word filly and think of a diminutive, maybe dainty female horse. Some fillies might fit that description, but definitely not PJ Chick In Black.
Striking in appearance, but imposing at 16.3 hands, she was one of top 2-year-olds in 2012 and continued her excellence in the breeding shed following her retirement from racing.
PJ Chick In Black was sired by Desirio out of the Corona Cocktail mare Eddie Jym. Bred by Fredda Draper, she was born on January 26, 2010. Owned by Mrs. Draper and Dennis Bowen, the late Carl Draper trained the brown filly through her first four starts. She racked up four consecutive victories, including the final of the New Mexico Spring Futurity (G2) at Sunland Park on April 8, 2012 and the Ruidoso Futurity (G1) two months later.
Following the Ruidoso Futurity, she was sold to Jack Smith Farms, Susan Taylor and Bowen. Jack Smith was a successful farmer in Ontario, Canada, but had never owned a racehorse! His daughter "Susie" knew her way around horses and ponied on the racetrack. Bowen had a solid reputation as both a hands-on horseman and a farrier.
Pj Chick In Black winning the2012 New Mexican Spring Futurity(RG2) at Sunland Park. © Coady Photography
Veteran horseman John Stinebaugh took over the training duties from Draper.
"PJ was my dad's first racehorse and it was an amazing experience for our family," said Taylor. "She was a beautiful filly and got quite a bit of attention that summer."
Pj Chick In Black winning the $600,000
Ruidoso Futurity(G1) on June 9, 2012.
© Ruidoso Downs
Taylor will never forget her trial for the All American Futurity on August 17. She had ponied the filly and remained behind the starting gate when the race got underway.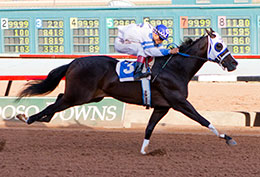 Pj Chick In Black setting the fastest qualifying time for the All American Futurity(G1) after a 5-¾ length trial win.
© Janie Stoody / StallioneSearch
"She could get a little wild in her stall; we had to pad it pretty well with mats as she would unleash some powerful kicks," recalled Taylor. "But on the racetrack, she was very good. I couldn't see the race but knew very quickly afterwards how fast she had run!"
Stinebaugh knew the undefeated filly was talented and fast, but even he was blown away by her performance. She won her trial by a margin of 5 ¾ lengths in :21.081. It was the fastest clocking of the day and of all 26 trials heading into the most prestigious race in the Quarter Horse racing industry.
"It was like a sonic boom," stated Stinebaugh. "She had this crazy thing with speed and was the fastest 2-year-old I have ever seen."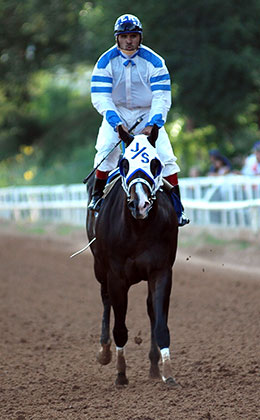 Pj Chick In Black, under jockey Esgar Ramirez, returns after setting the fastest qualifying time in the All American Futurity trials at Ruidoso Downs. © Janie Stoody / StallioneSearch
Esgar Ramirez is probably one of the most underrated jockeys on the New Mexico/ Texas circuit. Prior to his career in the saddle, in which he won two editions of the All American Futurity, he groomed for Stinebaugh. Ramirez was aboard for PJ Chick N Black's eye-popping trial victory.
"She was a very special filly with a lot of heart," said Ramirez. "When owners believe in me and allow me to ride these great horses, it means so much!"
Her five-race win streak was halted in the final of the $2.64 million All American Futurity when she finished sixth to One Dashing Eagle.
"There was so much pressure as she was the fastest qualifier," stated Taylor. "It was a tough day for us."
Tragedy Avoided in Her Derby Season
PJ Chick In Black was given the rest of the year off and returned to action at Sunland Park on March 8, 2013, winning her trial for the $203,148 West Texas Derby. She prevailed as the favorite in the final three weeks later.
As with every great racehorse, there are challenges and bleeding was an ongoing issue for PJ Chick In Black.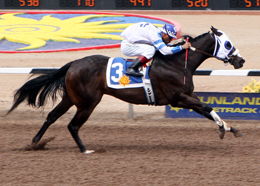 Pj Chick In Black winning the West Texas Derby at Sunland Park. © Coady Photography
"In her Ruidoso Derby trial, she bled horribly," said Stinebaugh. "The industry continues to take away meds that will help and protect horses, so I worked with a compound pharmacy. We put her on an all-natural medication to move away the blood from her lungs and heart. It worked and she didn't bleed, but a bad test almost cost me my career."
After she qualified for the Rainbow Derby, her connections began sending her to Weatherford, Texas for therapy in a hyperbaric chamber. It is a treatment that delivers increased amounts of oxygen to diseased or injured tissues by placing horses in an oxygen rich environment under increased barometric pressure.
While shipping between Texas and Ruidoso, New Mexico, the unthinkable happened. In the midst of a heavy thunderstorm and slick conditions on I-20, an accident occurred and the trailer with PJ Chick In Black and another horse flipped over. Both horses were upside down before help arrived.
"I remember getting the call from my groom and he could barely speak," said Stinebaugh. "He thought that she might not survive, and I could not believe what he was telling me about the accident. All the floor mats and shavings had somehow protected her and unbelievably, she just had minor injuries. Thankfully, the other horse was okay as well."
"God was with our horse," added Stinebaugh.
She ran in trials for the All American Derby that August but did not qualify.
"We paid her into the Super Derby (at Los Alamitos) and tried three more races," said Taylor. "Even though she was fine after the accident, she was never the same racehorse."
Her racing career ended on December 7, 2013 at Sunland Park where she ran in Jess Burner Memorial Handicap (G1). PJ Chick In Black retired with a record of eight wins from 14 starts and earnings of $652,081.
Broodmare Success
PJ Chick In Black began her career as a broodmare in the same commanding fashion as her 2-year-old racing season. In 2015, four offspring arrived, most notably Hes Limitless by Corona Cartel, a Grade 1 winner, who ran fourth in the 2017 All American Futurity.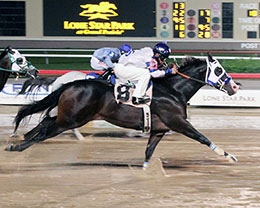 Grade 1 winner Hes Limitless is Pj Chick In Black's top money earning offspring. © Dustin Orona Photography
The 5-year-old gelding won the Sooner State Stakes(RG1) at Remington Park was second in the same race as well Rainbow Juvenile and third in the Texas Classic Derby(G1), Championship at Sunland Park(G1), All American Gold Cup(G1) and Eastex Stakes(G2). He is still competing and has earned $468,562 to date.
Several of her fillies are showing the flash and brilliance of their mama.
Also from that first crop was the multiple stakes-placed filly Aj Chick In 15, a daughter of leading sire Apollitical Jess who recorded a high speed index of 102 and finished second in the Alex Picov Memorial Futurity and third in the Picov Derby at Ajax Downs. She has earned $62,557.
A 2018 filly, Senorita Sweetness by One Famous Eagle, was a solid Allowance runner compiling a (10) 3-2-0 record in two seasons while earning $33,357.
One this year, Flashing My Pjs, sired by All American Futurity siring champion First Moonflash, dazzled in her only start this year, a trial to the Heritage Place Futurity at Remington Park on May 9.
"She looks just like PJ," stated Stinebaugh. "Just super smart and flawless in her conformation. In her trial, the horse next to her reared up and our filly was knocked sideways. (Jockey) Benito Baca swings her out and she rallies from last to win. It sent chills downs my spine and my phone began ringing with buyers."
The 2019 crop includes two colts by AQHA Champion 2-Year-old Colt Kiss My Hocks, a filly by Volcom and a colt by Corona Cartel.
Taylor's dad Jack Smith passed away in 2018, but her mom, Lynne, shares in the breeding discussions. PJ Chick In Black holds court on Denis Bowen and Susie Taylor's farm in Purcell, Oklahoma.
"I love seeing PJ every day," said Taylor. "She is a very sweet mare; loves people and other horses. As a racehorse, we experienced the highest of highs with her All American trial and the lowest of lows with her accident coming back from Weatherford."
Stinebaugh has high regard for his owners and looks forward each year to training the offspring of such a special filly.
"Susie and Denny are great people," acknowledged Stinebaugh. "We don't let our egos get involved; we all want to do what's best for the horse. It's exciting to train the offspring of PJ Chick In Black; there is always something special in each of them."
* * * * * * * * * *
This is the third feature of StallioneSearch's series profiling legendary Quarter Horse champions, who have provided their connections and Quarter Horse racing fans with amazing thrills and memories of a lifetime. Entitled Where Are They Now? and written by regional racing publicist and writer, Martha Claussen, the series began with Ochoa, and continued with Stolis Winner. In the months to come, Claussen will profile Heza Dasha Fire and Blues Girl Too.
* * * * * * * * * *
Martha Claussen served as publicity director at Sam Houston Race Park for ten years. She continues to be active in writing, fan education and Quarter Horse racing publicity in Texas, Louisiana and other regions in North America.