'We Are Diehards': How Racing Thrives In Utah With No Gambling
Posted by Ron Flatter/Special to Horseracingnation.com on 06/18/2020
OGDEN, UT—JUNE 17, 2020—It has been said to the point of debate that if not for gambling, the sport of horse racing would wither away.
And it has been said that because of the coronavirus, crowds shall not attend horse races.
So explain this. On a beautiful afternoon with snow-capped mountains providing a breathtaking backdrop, how was it that about 300 people showed up for a day at the races even though no bets were ever going to be taken? And even as tracks around the rest of the world were mostly closed to spectators?
It happened this month as a reopening continued in Utah. Yes, Utah, where it has been said that legal gambling will never happen. Yet horse racing has survived there for close to 90 years.
"We have no pari-mutuel betting," said Jordan Hadley, 29, a former jockey who is now a trainer based in his hometown Ogden. "We have no historic racing. We have no external revenue coming in other than what we can generate ourselves. Utah has always done what it can to make races. We are the diehards."
A third-generation horseman, Hadley, with his wife, Jessica, 30, manage a stable of as many as 54 quarter horses and barrel racers – not to mention their 5-month-old daughter LouKacie. This time of year, Hadley makes his living on the interstate quarter-horse circuit.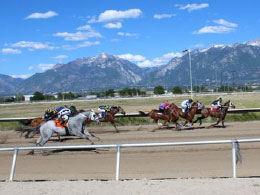 © Brody Hatt
Delayed by the coronavirus, the season began last month at Weber Downs in Ogden. It ends this fall in Southern California at Los Alamitos. In between, the traveling quarter-horse community stops at county fairs and small racetracks in Wyoming, Colorado, Idaho, Washington and Nevada.
For Utah, the season ends Saturday, when the $95,000 Beehive Futurity highlights the climactic card at Laurel Brown Racetrack in South Jordan, about 20 miles south of downtown Salt Lake City.
Think about that. A $95,000 race that is funded without any takeout whatsoever from pari-mutuel betting that does not exist.
"With Utah, there's enough people that want to run horses that they are able to go around and get sponsorships," said leading trainer Riley Moosman, 27, who works with his father, Ron, and whose grandfather was also a horseman when he was not driving cabs and cutting hair. "It isn't just the money. People are saying, 'Hey, I've lived here my whole life and never won it. I want to win that race.' So more and more they go out and buy very, very good horses."
Moosman and Hadley are typical of Utahns who raise and race quarter horses. In a state that is steeped in the culture of family, it is fitting that its horse industry has been passed down through generations. Together they have maintained a racing pursuit that has survived from the Depression to the pandemic.
"They built the racetrack here in Fillmore in 1933," said Jere Brinkerhoff, 70, the Utah Quarter Horse Association racing secretary. He spoke by phone from his horse farm 130 miles south of Salt Lake City in central Utah. Brinkerhoff may have outlasted the racetrack there, but the family industry seems eternal.
"I've been training horses here since 1954, when my dad started," Brinkerhoff said. "I was 5. Salt Lake has been running races there so long as I can remember. We used to go there when I was a kid and run at Laurel Brown."
By that name the track is now part of the Salt Lake County Equestrian Park and Event Center in South Jordan. Three miles west of I-15 in a middle-income, residential neighborhood, it shares real estate with soccer fields, softball diamonds and a boxing gym run by the family of the late middleweight champion Gene Fullmer, himself a quarter-horse owner.
"I used to know Gene," Brinkerhoff said. "I had been to his house a couple of times. He really was into horse racing. He owned horses, he trained them there in Salt Lake, and he'd run in Boise."
Now, five years after Fullmer died, a new generation has come to know his hometown because of a quirky race this month at Laurel Brown. The quirk was that it was named in facetious honor of the pandemic. The same pandemic that forced the start of the Utah racing season to be delayed from mid-April to early May.
"It was actually the sponsor's idea," said Savana Canales, the UQHRA secretary who is married to jockey Jesús Canales. "The sponsor owns the stud Eye On Corona. We wrote an overnight futurity, and it was going to be small. But they wanted to put more money into it, and that got everyone talking. So it became the Eye On Corona Virus Futurity."
What sounded like a before-and-after puzzle on "Wheel of Fortune" turned into a believe-it-or-not item that was featured on newscasts and social media around the world.
"We thought it would be funny to put the virus in the name," Canales said. "We really did it to help the horsemen who couldn't run because of the coronavirus. So it all made sense."
With a total purse of $31,000, a maiden filly named Political Bedlam won. In barely 17 seconds for the 330-yard race she earned $12,400 and the Eye On Corona Virus trophy – yes, it exists. She also got revenge on Jr Prissys Kiss, the filly that won their trial two weeks before at Weber Downs.
The vanquished favorite – if there is such a thing when there is no betting – is looked after by Moosman, whose 16 wins from 44 starts in four race days are far and away the most among Utah's trainers this spring. It is no coincidence that his full-time rider, Jesús Valenzuela, is the top jockey with 19 wins in 63 starts.
"A lot of it is just good horses," said Moosman, whose family property is about 25 miles from Ogden in the town of Morgan. "But our show could not go on without Jesús. He's probably one of the most talented riders that there's been in this area for a long time. He lives in Ogden and works for us year-round. He helps start our colts and break them. He gallops them. He does all the dirty work, and then come race time he wins a lot."
One of a growing number of international jockeys who race on the intermountain quarter-horse circuit, Valenzuela is the regular rider on Moosman's best horse, KP Dillon, an undefeated gelding that won last month's $88,268 Hadley-Giles Futurity at Weber Downs. KP Dillon will probably be regarded as the horse to beat Saturday in the Beehive Futurity. And why not? As Moosman put it, "It's tough to fault a horse that's 3-for-3."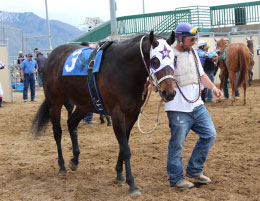 © Brody Hatt
Without betting, purse money comes not only from sponsors but also the Utah state government. The Department of Agriculture and Food chips in $90,000 for overnights and, with $100 entry fees, most races are worth $1,500 each. So no one is getting rich.
"The horsemen banded together to keep the tracks going," Hadley said. "It is a struggle, because this is where we make our living. And in our hometown we struggle to run races here, because there's no money. That's why we're drawn to other states (that have betting). We have to go where we can make a living."
As their caravan works its way through one town after another this summer, the men and women who look after the horses in the mornings and compete with them in the afternoons will live modest lives, cutting corners where they must.
"When we're in Evanston, Wyoming, it's only an hour from our ranch," Hadley said. "So we can take our house trailer, and it's very comfortable. They have an RV park at the racetrack, and it's very accommodating. But in Gillette, Wyoming, it would be eight hours from our home base. It's just not financially feasible to take the house trailer there. So we stay in the tack room in the horse trailer and get a hotel room one or two days a week."
It is a tightly knit community that will almost literally barnstorm from town to town. But at the same time, each state takes care of its own. Not just men and women. Horses, too. Condition books are written to encourage state-breds to stay home and race.
"In your open races you mostly run with the same horses," Moosman said. "But we are about 50 minutes away from the Wyoming border, and a lot of the horses in our barn now are Wyoming-breds. Their breeding program has gotten to be a big deal the way it was a while back in New Mexico. We go to Wyoming and run mostly Wyoming-breds. But then we go up to Idaho and run our open-bred horses."
Like so many who are involved with quarter horses, a title does not limit anyone to a particular job. Someone like Hadley may introduce himself as a trainer, but he is also an exercise rider, a hot walker, a farrier, even a member of the gate crew at the start of races.
"I am very proud to say that I consider myself an all-around horseman," he said. When asked if he thought of himself a cowboy, he laughed and said, "I don't like the term cowboy tossed around lightly. But I do consider myself a cowboy. I grew up pushing cows with both my grandfathers."
Moosman is not just a trainer but also a breeder and a bloodstock buyer. Brinkerhoff has done just about everything there is to do in racing both indoors and out. And Canales, 25, who grew up in Idaho, is getting there herself.
"I was going to college at Boise State, and I needed a job over the summertime to pay for my next year," she said. "My mom worked in the office at Les Bois Park in Boise. She said, 'Hey, there's a trainer that needs someone to clean stalls. You should do it.' I'm like, 'OK, I can do that.' I had never been around horses ever. So I did it, and I fell in love with it. And then I married a jockey."
While it seems the spirit of the business is healthy, the perpetuation of quarter-horse racing in Utah might need a bigger shot in the arm than usual. Although modest crowds are allowed now at Laurel Brown, they were not allowed at Weber Downs.
"The gate entrance is where we make all our money association-wise to pay for costs," Canales said. "We weren't able to make money off of admissions. Usually in Ogden that opening weekend is huge."
"It was like 2,500 people last year," Brinkerhoff said.
Like other states facing budget hardships because of the pandemic, Utah's legislature may be urged to consider some form of legalized wagering. But in a state where more than 60 percent of the population is Mormon, it seems to be a non-starter since the church discourages gambling. Yet there have been attempts to move the mountain.
A year ago there was a proposal to let individual counties decide for themselves if they wanted pari-mutuel betting at racetracks. But the bill was put on the shelf the month after it was introduced in the state Senate. Eight years ago, Utah voters had a chance to say yes to a similar proposal, but 60 percent voted it down.
This does not mean, however, that there is absolutely no betting on races in Utah. Quite the opposite. There is an old-fashioned way that it does happen. Just don't tell anyone.
"People bet with each other and make pretty big bets," said one insider who did not want his name used. "There are no bookmakers. It's literally just a couple guys who might bet $1,000 and say, 'My horse would beat your horse.' Or 'I bet you $1,000 my horse can beat the fastest time in all the trials.' Then there may be 10 people with a thousand bucks, and whoever had the fastest time out of the trials wins the pot."
What's more, there is zero takeout.
"I'm sure behind the scenes there's some stuff that goes on that we don't know about," Hadley said. "As horsemen it's sad that we can't get a piece of that. That's where the pari-mutuel betting benefits tracks. Whatever handle they have, we as horsemen get a percentage of that. Here in Utah we miss out."
Church standards are observed. State laws are obeyed. A vicious disease is respected. Generally. And a sport that has been part of the cultural fabric of Utah goes on.
Against the backdrop of the Wasatch Mountains lie green farms that host a ragtag racing and breeding industry maintained by families who know no other way. That includes expressions of hospitality for which Utah has a well-deserved reputation.
"There was a gentleman last year in his 80s who was passing away, and his wish was to see a horse race for the first time in his whole life," Canales said. "His family called and said, 'What can we do to have him watch a race?' The county was able to get a little golf cart and pick him up from his car and take him to the grandstand, and he was able to go and see the horses in the paddock. We made sure it wouldn't be such a hardship on him. He and his family spent the entire day watching horse racing. That was the last thing on his bucket list."
So while there is pari-mutuel money to be made and shared in neighboring states, Utah holds its own without it – and does so in its own way. From a smack-in-the-pandemic name for a horse race to granting a dying man's last wish.
"We really try to promote horse racing, because that's our whole industry," Hadley said. "There's times that it feels like it's dying. It needs all the help it can get. We just do our very best to make the sport the best it can be."
Published courtesy: HORSERACINGNATION.COM.