Ruidoso Hall of Fame Inducted July 12
Posted by Press Release on 07/10/2019
RUIDOSO DOWNS, NM—JULY 10, 2019—The 2019 class of the Ruidoso Downs Racehorse Hall of Fame will be inducted on Friday night at Ruidoso Downs.
The inductions begin at 6:30 p.m. There will be refreshments in the Hall of Fame and followed by dinner and the induction ceremony in the All American Turf Club. Tickets may be obtained by calling (575) 378-7350 or email [email protected] Tickets are $100 each.
The inductees are owner/breeder Harriett Peckham, trainer Leo Wood, jockey Johnny Cox and the thoroughbred Mine That Bird.
The iconic Peckham established and owned Buena Suerte Ranch east of Roswell, New Mexico. She is one of 12 women in the American Quarter Horse Hall of Fame and owned or co-owned three horses who are in the Ruidoso Downs Racehorse Hall of Fame and the American Quarter Horse Hall of Fame — Easy Jet, Go Man Go and Rocket Bar (TB). Those three influential sires stood at Buena Suerte Ranch. She also owned and stood Brazos Bar, Real Easy Jet, Rocket Wrangler, Sparkling Native (TB) and St Bar.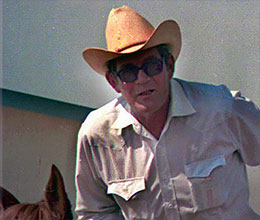 Trainer Leo Wood saddled 1979 All American Futurity winner Pie In The Sky. © Courtesy Texas Horse Racing Hall of Fame
Peckham was known for her blue-hen broodmare band. They included world champion Goetta, All American Futurity winner Decketta, Miss Jelly Roll (dam of All American Futurity winner Pie In The Sky), Miss Assured (dam of leading sire Streakin Six), Miss Olene (dam of champion Little Blue Sheep) and Go Together (produced family of All American Futurity winners Fly Baby Fly and Winalota Cash). She was a strong proponent of improved care of broodmares.
The trailblazing woman died in April, 1995 at 64.
Wood trained All American Futurity winner Pie In The Sky, Rainbow Futurity winner Flying Rockette and Rainbow Futurity winner Mighty Deck Three, who was also the fastest qualifier to the All American Futurity and finished second as the favorite.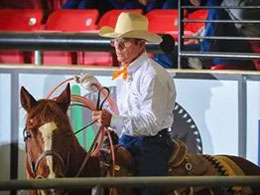 Johnny Cox, who won the 1971 All American Futurity aboard Mr Kid Charge, always had a love for team roping. © Courtesy The Team Roping Journal
The trainer mentored multiple Grade 1-winning trainer Mike Joiner, his son Blane Wood (trainer of All American Futurity winner Apocalyptical Jess) and Gregg Sanders (trainer of All American Futurity winner Winalota Cash).
Cox's career was headlined by his record-setting victory in the All American Futurity aboard Mr Kid Charge, who set the then All American Futurity stakes record for 400 yards at :19.65. He also won the Rainbow Futurity on Mr Kid Charge and Talent Bar. He won on Talent Bar when he was 18-years-old. He won numerous other stakes races including the Golden State Futurity and the El Primero Del Ano Derby.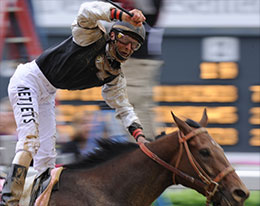 Calvin Borel wins the Kentucky Derby on Mine That Bird. © Churchill Downs
Mine That Bird, owned by Roswell residents Dr. Leonard Blach and Mark Allen, brought tremendous attention to New Mexico racing after finishing third in the Sunland Derby and then going on to win the Kentucky Derby, finish second in the Preakness Stakes and third in the Belmont Stakes.
The gelding won three consecutive stakes as a two-year-old in Canada and was honored as the Canadian champion two-year-old and horse of the year. He has been inducted into the Canadian Horse Racing Hall of Fame.
The gelding earned $2,228,637 with five wins, two seconds and two third-place finishes.
Since his retirement, Mine That Bird has become an equine philanthropist. He has helped raise money for Wounded Warriors, the Permanently Disabled Jockeys Fund along with cancer charities and children's charities.
* * * * * * * * * * * * * * * *
For the latest Ruidoso Downs information, go to www.raceruidoso.com, visit the Ruidoso Downs Race Track and Casino Facebook page and follow Ruidoso Downs on Twitter @RuidosoDowns and on Instagram.
For Ruidoso Downs racing news CLICK HERE.