Had To Be Ivory Named QROOA 2019 Horse of the Year
Posted by Press Release on 01/27/2020
AJAX, ONT—JANUARY 26, 2020—Ontario-bred Had To Be Ivory was named the 2019 Horse of the Year at Ajax Downs by the Quarter Racing Owners of Ontario, January 25 at its annual awards banquet.
Owned and bred by Carol and Jaime Robertson of Hillsburgh, ON and trained by Bryn Robertson, Had to Be Ivory won three of five starts as a 4-year-old in 2019 including the Picov Maturity and the Ontario Bred Maturity.
The son of Ivory James from the Robertson's stakes winning Ajax Downs mare Had To Be Fandango, Had To Be Ivory defeated three-time reigning Horse of the Country Boy 123 (2016, 2017, 2018) twice on the track last season before that rival defeated him in the Alex Picov Memorial Championship in October.
Also named the AQHA Racing's Canadian Champion for the second straight year, Had To Be Ivory earned over $66,000 in 2019 and has won 11 of 14 career races with earnings of $209,834.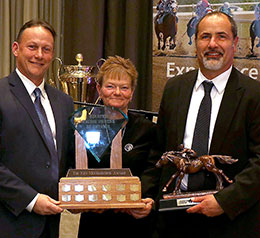 Emilio Trotta (at right) received the Ken Muckleston Award from Bob Broadstock, President of the QROOI and Cathy Mucklestone. © Clive Cohen
Tony Phillips, the regular rider of Had To Be Ivory, won High Point Jockey of the 2019, based on the QROOI point system, and his 36 winning rides were the most in one season in his career.
"It's been a blast, I'm on top of the moon right now," said Phillips. "It wasn't that real until I received the award tonight, I'm feeling quite blessed right now."
Jason Pascoe from Pontypool won his first High Point Trainer award and sent out the winners of 35 races.
James Bogar, of Cameron, won his first High Point Owner award just four years after starting his first Quarter Horse. Bogar has quickly expanded his Quarter Horse stable and won 16 races in 2019.
The QROOI also recognized Ajax Downs' General Manager Emilio Trotta with the Ken Mucklestone Award, presented to a person who represents, promotes and upholds the integrity of Quarter horse Racing. Dave Brown, supervisor and property manager, received the George Egerton Memorial Award, given to an individual who goes above and beyond the call to help all people at the track.
Other winners were: Carol McIntyre, High Point Owner/Trainer; Christine Tavares, High Point Ontario Breeder; Eazy Street, 2-year-old colt; Silken Siri, 2-year-old filly; Quick Bolls Jangle, 3-year-old colt/gelding; Five Bar Fandango, 3-year-old filly; Fiesty Icon, Aged Male and Ghost Pines and The Lady Is a Winner who tied in points for Aged Female horse.
* * * * * * * * * * *
News, photos, events and race picks can be found on: Ajax Downs' website at ajaxdowns.com, Twitter (@AjaxDowns), Instagram and Facebook. If you want to learn more about owning a Quarter Horse or a share in a Quarter Horse, contact Quarter Racing Owners of Ontario, Inc.