2019 Sunland Park Meet Leaders
Posted by Press Release on 05/06/2019
SUNLAND PARK, NM—MAY 5, 2019—Manuel Gutierrez and Cynthia Gonzalez were honored Sunday on Sunland Park 2018-2019 live racing season closing day with the leading Quarter Horse jockey and training titles for the meet.
Gutierrez picked up his second consecutive riding title at Sunland Park have riding 22 winners from 123 starters this season. He mounts earned $550,201 and won 18% of the time.
Alonso Rivers finished second with 17 wins and Adrian Ramos had 14 wins for third.
In the training division Cynthia Gonzalez won her first Sunland Park trainer title after with 14 wins in 91 starts and earnings of $420,853. She has a win clip of 15% and her stable finished in the top three 39% of the time for the just closed meet.
Jose Muela was second with 13 winners followed by last season's leading Quarter Horse trainer Wesley Giles who had 11 winners this meet.
Also announced was the Sunland Park Leading Quarter Horse Owner title that went to Noberto Morales Perez with five winner from 29 starts. His stable earned $79,529 and were in the winner's circle 17% of the time.
Diamond Racing Stables had four winner to take second and U S Alliance Logistic had three winners from only four starters for a 75% win clip.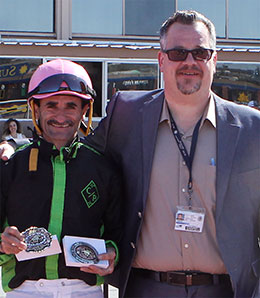 Manuel Gutierrez pickup up his second consecutive Quarter Horse riding title for the 2018-2019 Sunland Park race meet on Sunday. © Coady Photography