The News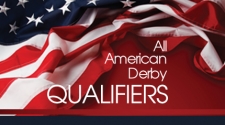 A total of 12 trials to the Grade 1 All American Derby were held on Aug. 23 at Ruidoso Downs. The three year olds with the 10 fastest times earned a starting spot in the $2,378,383 All American Derby on Sept. 6.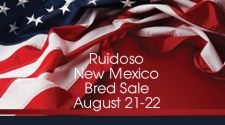 The New Mexico-Bred Sale, which was held Aug. 21-22 at the Ruidoso Downs Sales Pavilion, was split into two sessions. Quarter Horse yearlings sold Friday and Thoroughbreds sold Saturday. There were, however, several Quarter Horse mares that sold on Saturday as well.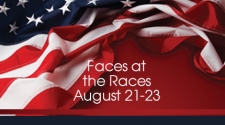 The Village of Ruidoso welcomed some of Quarter Horse Racing's most avid fans the weekend of August 21-23, 2015. Families of up to four and five generations met at Ruidoso Downs Racetrack as spectators and participants in the qualifying heats for the richest races of the summer.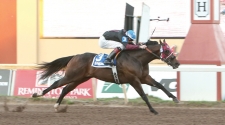 The Speedhorse Paint & Appaloosa Triple Crown awards two Champions - The Triple Crown Champion and The High Point Champion. 2015 marks the fourth year of the Speedhorse Paint & Appaloosa Triple Crown.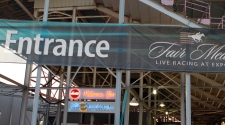 Butch Parsons of Nocona, Texas, has fun racing one or two horses a year, something the 72-year-old has done since the late 1960s. It doesn't get more enjoyable than the evening he spent recently at Fair Meadows in Tulsa, Oklahoma, when his Fast N Fancy captured the Speedhorse Futurity-G3 in dramatic fashion.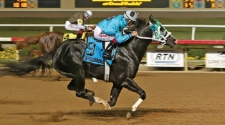 Remington Park in Oklahoma City, Oklahoma, set record statistics for the 2015 Quarter Horse season, the longest Quarter Horse meet at 51 race days.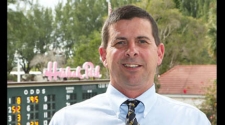 Canterbury Park Racetrack has hired Matt Crawford to be its director of racing and racing secretary.
Los Alamitos' 2018 leading horsemen Paul Jones, Jesus Rios Ayala, Kellie McDaid and Jesus Nunez were honored on Oct. 16. ©Scott Martinez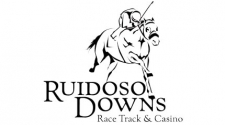 Ruidoso Downs will offer an option race for 3-year-old fillies named the Rainbow Oaks in 2020
<< Prev 1 2 3 4 5 6 7 8 9 10 11 12 13 14 15 16 17 18 19 20 21 22 23 24 25