The News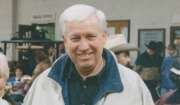 Services are set Wednesday for longtime Quarter Horse owner Jim Pitts, 82, of Wichita Falls. He passed away Sunday, June 9.
Read More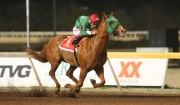 Political Attraction won three stakes races in three starts during the 2019 Remington Park American Quarter Horse, Paint and Appaloosa Season, culminating in a victory over a multiple AQHA World Champion in the Remington Park Championship, thus being named Horse of the Meeting. Photo by Dustin Orona
Read More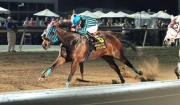 The end of the 2019 breeding and foaling season leaves Indiana Quarter Horse breeders already thinking about the 2020 foaling season with the mare registration deadline looming on July 1. Any mare that has been bred for an Indiana-bred foal in 2020 must be residing in the state of Indiana and registered with the Indiana Quarter Horse Breed Development Program by July 1, 2019. The mare must remain in the state from July 1 through foaling. © Coady Photography
Read More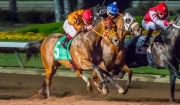 Now that the calendar page has turned to the month of June, let's recognize the horsemen that set the pace in the standings during the month of May at Los Alamitos Race Course. - © Los Alamitos
Read More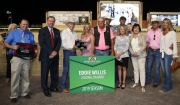 Trainer Eddie Willis was dominant in the early part of this decade, winning five consecutive training titles at Remington Park from 2010-2014. - Photo by Dustin Orona Photography
Read More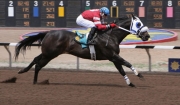 Champion and champion sire First Moonflash SI 122 was euthanized today (May 29) due to complications from laminitis. The young sire had been battling laminitis and he was humanely put down. © Coady Photography
Read More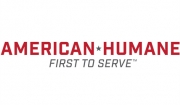 The American Humane Rescue team, first to serve in saving and sheltering animals for more than 100 years, has deployed with a veterinarian, trained swift and floodwater responders, rescue boats, critical medical and sheltering supplies, and one of its giant 50-foot animal rescue vehicles to save animals caught in the deadly Oklahoma floods.
Read More
Four of the six winners of a John Andreini Scholarship from the All American Ruidoso Downs Foundation (AARDF) were present for a presentation at Ruidoso Downs on Monday. © Jake Rogers/Ruidoso Downs
Read More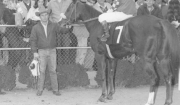 Horseman Robert "Bob" F. Pulse of Yakima, Washington, died May 7, 2019, a day before his 93rd birthday.
Read More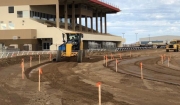 Year-round horse racing returns to Arizona on Memorial Day weekend when the newly renovated Arizona Downs racetrack kicks off its inaugural summer racing season.
Read More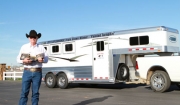 Longtime Oklahoma horseman Nolan D. Pevehouse, 87, of Webbers Falls, Oklahoma passed away on Monday (May 20). A celebration of Nolan's life will be held 10:00 am Friday (May 24) at Muskogee First Assembly of God Church with Chaplain Justin Haywood officiating. Interment will follow at Greenlawn Cemetery in Checotah, Oklahoma.
Read More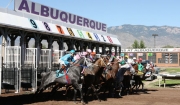 Albuquerque Downs has released its track-record 34-race, $3.647-million stakes schedule for its 2019 Thoroughbred and Quarter Horse meet, which opens Friday, June 28.
Read More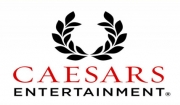 Caesars Entertainment Corporation (NASDAQ: CZR), today announced the launch of Empire of Hope, a new program designed to help raise awareness and funding for the care of horses after their racing careers are over. Developed with support from accredited racehorse aftercare programs, Empire of Hope will directly assist efforts to relocate, rehabilitate and repurpose retired horses.
Read More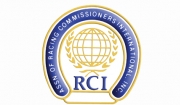 The Drug Testing Standards and Practices (DTSP) Committee of the Association of Racing Commissions International (ARCI) has released for industry and public comment Proposed Revised Penalty Guidelines for violations of the antidoping or medication rules in horse racing.
Read More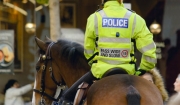 Los Alamitos Race Course will host its inaugural Salute to First Responders on Saturday, June 8 from 6-9 p.m. during the evening's Quarter Horse and Thoroughbred racing program. The inaugural event will also feature fun and interactive events and displays in a family-friendly setting.
Read More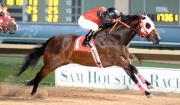 Jockey Joseph Gordon Jr. won his first race back after an 18-year hiatus from the saddle, as the rider piloted Shake Em Rocks to victory in Friday's 110-yard, $15,000 Texas Twister Stakes (see related story) at Sam Houston Race Park. © Coady Photo
Read More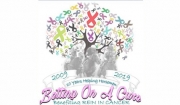 The Oklahoma Quarter Horse Racing Association (OQHRA) is gearing up for the 10th Anniversary of Betting On A Cure at Remington Park on Saturday, June 1st. The annual event benefits Rein In Cancer a 501c3 charity that provides support for cancer patients.
Read More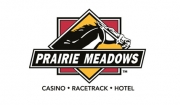 Opening day of the 2019 Quarter Horse season at Prairie Meadows is marked on the racing calendar for Saturday, August 17. Even though that date is 13 weeks away, the racetrack has already released the first condition book for the 2019 meet.
Read More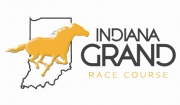 For the third straight year, the Indiana Horsemen's Benevolent and Protective Association (HBPA) is hosting its popular event at Indiana Grand Racing & Casino in Shelbyville, Indiana. The event will follow a slightly altered program from past years and will include some afternoon and evening sessions, tagged with a new name "Grand Experience" in 2019.
Read More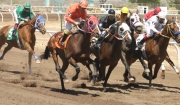 According to Dominique Valenzuela, General Manager at the Cochise County Fairgrounds (CCF) in Douglas, Arizona, racing facilities at the fairgrounds have passed inspection from the Arizona Department of Gaming and horses will be racing Saturday and Sunday, May 18-19.
Read More
<< Prev 1 2 3 4 5 6 7 8 9 10 11 12 13 14 15 16 17 18 19 20 21 22 23 24 25 26 27 28 29 30 31 32 33 34 35 36 37 38 39 Next >>