Posted by Press Release on 06/08/2021
ALTOONA, IA—JUNE 7, 2021—A pair of longtime leaders in the Iowa horse racing industry, Tom Lepic and Deb Leech, and the accomplished Iowa-bred stakes champion Mywomanfromtokyo, will be inducted into the Prairie Meadows Hall of Fame in a ceremony at Prairie Meadows on Friday, July 2.
Lepic and Leech will be recognized for their years of contributions to the growth of horse racing in Iowa and at Prairie Meadows. Lepic has been involved in the racing industry for nearly 50 years and is currently President of the Iowa Quarter Horse Racing Association.
Leech served as a board member for the Iowa Thoroughbred Breeders and Owners Association from 2009 – 2016 and was President of the association from 2011 – 2016.
Former Thoroughbred Breeders and Owners Association Board Member Deb Leech will be inducted into the Prairie Meadows Hall of Fame. © Courtesy Prairie Meadows
All-time leading money winner among Iowa-bred distaffer, Mywomanfromtokyo, will be honored as well. The mare is trained by Prairie Meadows Hall of Famer Kelly Von Hemel and owned by Crimson King Farm of Scott Pope and Christine Rhiner.
"Being inducted into the Hall of Fame is a very big honor for me," said Lepic "and I have to give credit to all those who have been with me over the years. The trainers, jockeys, officials, the staff and board of IQHRA, and the staff at Prairie Meadows. Without their support, this honor would not have been possible."
Leech remembers being in attendance for the inaugural day of racing at Prairie Meadows on March 1, 1989. When asked about her induction, she said "I was taken aback when I received word that I would be inducted into the Prairie Meadows Hall of Fame. The possibility of receiving this honor had never entered my mind!"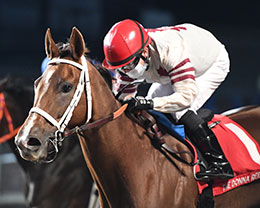 All-time leading Iowa-bred money winner mare Mywomanfromtokyo, will be will be inducted into the Prairie Meadows Hall of Fame. © Coady Photography
Mywomanfromtokyo, the only offspring of Plumlake Lady (Carson City) by Neko Bay (Giant's Causeway) was foaled in Iowa in 2013 by Scott Pope after he purchased her dam at a Keeneland sale in November 2012.
"We're honored," exclaimed Pope. "It's a great accomplishment for Mywomanfromtokyo in recognition of her many successes over the years on the track at Prairie Meadows."
About Prairie Meadows
Prairie Meadows began operations as a nonprofit organization in 1989 with the goal of promoting economic development, jobs, agriculture, and tourism in the state of Iowa. Through taxes, grants, and charitable donations, Prairie Meadows has given $1.9 billion to the state of Iowa. Prairie Meadows offers nearly 1,100 slot machines, table games, live and simulcast racing, sports wagering, hotel accommodations, entertainment, and more.