The Squire of Haw Creek
Posted by Vaughn Vandergriff on 06/09/2020

Although Little Dick Priest is gone, and with him a part of Raymon F. Tucker's heart, the famous horse-man duo pumped enough blue ribbon blood into the Quarter Horse racing industry to sustain a championship caliber of life for decades to come.
One of Little Dick Priest's more notable accomplishments was to sire the 1966 All American Futurity Champion Go Dick Go…and since Raymon Tucker has always exhibited All American qualities, the two made a highly compatible and very remarkable team.
Tucker is tabbed as a "gentleman rancher" – gentleman because that's what he is, and rancher because that's what he does for living. He also is one of Florida's biggest non-corporate timber producers.
A believer in old American values like patriotism, the dignity of work, and the sanctity of the family, Tucker is a devotee of the Mormon tenet that you earn your bread "by the sweat of your brow." He loves his country, state, family and church…and ranked high up amidst all of these is his great love for Quarter Horses. In fact, many tab Raymon F. Tucker as the father of Quarter Horse industry in Florida…and Little Dick Priest was one of the prime factors behind that industry's consequent growth and glowing success.
Tucker operates a 13,000 acre ranch near Bunnell, Florida (8,000 owned and 5,000 leased) which carries the monicker of Haw Creek Ranch. The pasture grasses literally spring to the step. The cattle are healthy and well-fed. The calves look as if they own the place, and with Brahman, Angus, Brangus and others, the run looks like a veritable Who's Who of cattledom.
"It wasn't always that way, though," remarked Tucker. "When Blanche (the former Blanche Tilden) and I were married more than 25 years ago, we had only a few acres. Now we have the big acreage, six lovely daughters, three grandsons and one granddaughter, about 125 registered Quarter Horses, and 1,000 brood cows, plus the timberland.
"Blanche and I are 'Florida Crackers'," said Tucker. "Our grandchildren are sixth generation Floridians on my side, and Blanche's people came here in the 16th century. Her mother's ancestors are reportedly the first non-Indian family to live on United States soil, and they settled here in Florida."
A hard businessman, Tucker is always a conservationist as he works in his timberland. He insists on leaving nature's beauty as good or better than he found it, so more trees are grown than cut, and no timber is stripped. Tucker likes to have his livestock close to the timber, so they can go into the woods during winter for food, or in summer for shade.
Two Haw Creeks, sometimes river-deep, pass through his forests and pastures, and the waters are clear and cool. "No pollution here, ever," said Tucker. "Let's hope we can keep it that way."
The sturdy Floridian is ranked as one of the most knowledgeable Quarter Horse men in the United States, if not the world. And he began assembling his knowledge at an early age when he trained colts for his father.
"Quarter Horses, who are the country cousin to the American Thoroughbred, descended from the Spanish-Barb mares taken by the Chickasaw Indians from the Spaniards' Florida settlement in the 1600's," Tucker remarked. "The mares were taken north and traded to the colonists who bred them to English Thoroughbred stallions. The ones who could run distances made up the foundation for the American Thoroughbred.
"The 'short' offspring moved west with the settlers," he added, pointing out that the Western ranches and conditions provided the perfect milieu for combining the talents of the Quarter Horse with the tasks of the pioneers. "This is strictly an American breed," said Tucker, "and it is the cowboy's best friend and working partner."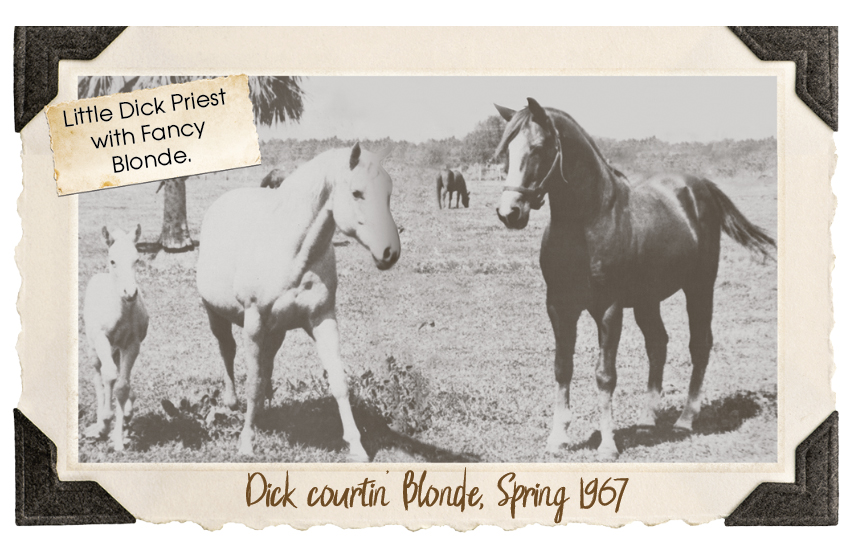 According to Tucker, the original Spanish horse made a great contribution to the modern day Quarter Horse because of his stamina and intelligence. Most of the horses were small but, like the old Florida Spanish cow, they were a product of the "survival of the fittest." Since they were born and raised under unfavorable range conditions, they died off if they were not tough.
"These were the horses that I worked cattle on as a boy," said Tucker. We used McClellan tree-saddles and since we had no trucks and my daddy had cattle on both sides of the St. John's River for three counties, we would pack up enough rations for two weeks, along with some grain for the horses, load all this on a 600-pound pony, mount up and ride 30 or 40 miles before we made camp the first night."
"These ponies that were raised along the marshy St. John's River could negotiate a boy by stepping from tussic to tussic," Tucker continued. "He could literally go where a cow couldn't. Also, if you could push him off into the river and take him by the tail, he would swim you across the river at any point where the bank was not too steep or mucky for him to get out. These ponies were not particularly fast, but their main contribution was their cow sense and their endurance."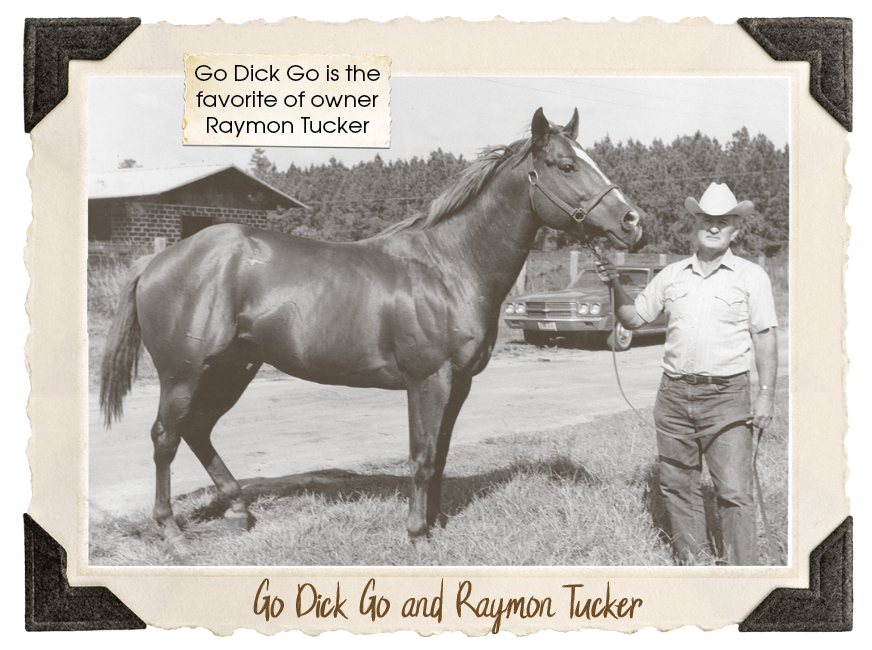 Tucker noted further the original Mustangs (which escaped from Cortez in Mexico) were a Western descendant of Spanish horses. These were mated with the American Quarter Horses. The resulting horse had speed, stamina, and an "inborn cow sense." Thus, through selective breeding, the Quarter Horse evolved.
"The Quarter Horse is easy to spot," remarked Tucker. "He has a distinctive and easily recognizable head which reflects alert intelligence. It is not the tallest horse there is, but is broad of brow between the eyes, and has small, sensitive ears. He has a short muzzle, large nostrils, and a firm mouth. His jaws show granite-like strength. He has a clean throat latch and a medium, slightly-arched neck with strong, sloping shoulders. His back is short but full, and he is powerful across the kidneys.
"This horse is great in strength, start, stop and maneuverability," Tucker added. "He has broad, deep, heavy-muscled rear quarters, full at the thigh."
Tucker can talk for hours about his experiences with Quarter Horses, in general. But a certain twinkle comes to his eyes when mention is made of Little Dick Priest and of the history which surrounds this "special horse."
It was on January 28, 1942, scarcely a year after Wimpy became the first animal recorded in the registry launched by the American Quarter Horse Association, when Henry O. Partin and Sons of Kissimmee, Florida, registered Kip, a chestnut stallion that had been bred by W. T. Wright of Alice, Texas, deep in the heart of the Lone Star State's running horse country.
"Kip was raised by Will Wright," said Tucker, "and Mr. Wright was the next door neighbor to Ott Adams. Walter Hudgins acquired Kip for Geech Partin and sent him to Florida in a load of registered Brahman calves. According to Geech, the calves ate all the hair off Kip's tail en route to Florida."
The advent of Kip into the Peninsula State brought a strong bloodline. Kip was by Pal O Mine and out of Sorrel Mare. His sire carried the genes of Billy Sunday, Dora Du Mar, Horace H., Little Joe III, Traveler, John Crowder, Peter McCue. From his dam came the lineage of Ace of Hearts II, Hickory Bill, Sorrel Stallion, Little Joe and Crowder Mare, among others of early prominence.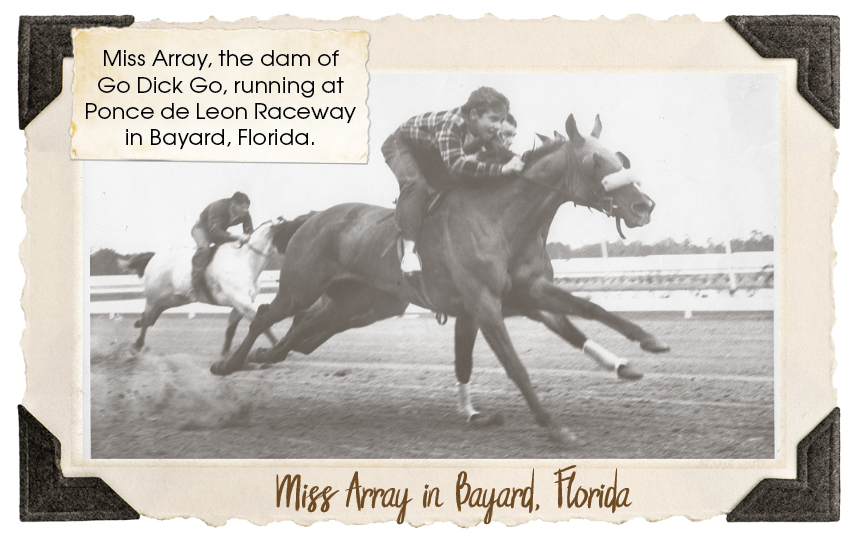 Raymon Tucker bought Kip from Geech in 1945 and used the aging horse primarily for working cattle. Although Kip stood for a number of years, Tucker says he didn't know of the horse's ability as a stallion until after the horse died in 1953.
While still owned by Geech Partin, Kip was bred to a big sorrel mare called Wally. From this mating came a chestnut sorrel colt named Adios Kip, later sold to Joe Priest of Tallahassee, Forida, who used him for the multiple purposes of working cattle, match racing and breeding. Adios Kip later went to a breeder in Louisiana.
Among mares bred to Adios Kip was one called Dixie Britt, owned by Mark Britt of Winter Garden, Florida. Dixie Britt was out of the Thoroughbred mare Singing Girl, a campaigner of some repute, who was by a sorrel running stallion called the Massaro Brothers Steel Dust. There are some who say that Dixie Britt closely resembled the noted Maddon's Bright Eyes, one of the four steeds clocked going 220 yards in :12.1.
It was from the mating of Adios Kip and Dixie Britt that Little Dick Priest arrived on the equine scene in 1945.
Little Dick Priest sold as a two year old at a sale in Orlando in about 1946 to a horseman from south Florida, and a little later the once world champion barrel racer, Jane Mayo, went to Florida and offered to trade a Cadillac for him.
In those days racing records were skimpy and not all of his campaigning was recorded, but many of the older horsemen still recall the flying hoofs of Little Dick in action.
In time, Little Dick Priest was purchased by Joe Priest of Tallahassee.
According to records in the Performance Department of the AQHA, Little Dick Priest is rated AAA with an ROM in racing. He started a dozen times, won five races, was second once and twice came in to show. He is credited with earning $1,337.93.
Among Little Dick Priest's most impressive wins was the one for the Del Rio, Texas, Sweepstakes, April 28, 1949, when he beat Stella Moore, Streak W., Jim Bob, Blondy L. and Lucky Sloan, going 350 yards in :18.6.
Little Dick Priest was retired from the track in 1948 when Joe Priest found it difficult to match him in a race. He was sent to New Mexico where he stood for the next five years, although only a few of the get he produced in this period were registered.
Raymon Tucker, looking for a stallion following the death of Kip, leased Little Dick Priest in 1955 and returned him to Florida. He later purchased the animal and moved him to his Haw Creek Ranch.
"You could breed Little Dick to anything and the offspring would be hard to outrun," said Tucker. He produced a dozen or more AAA and TAAA colts and a host of others that were hard to outrun, especially at short distances. In 1963, Little Dick Priest was ranked 21st in the nation in total track winners, but on a percentage basis he was highest in the country for a straight bred Quarter Horse.
According to Tucker, Little Dick did not get the quality mares that many of the other top horses serviced, but his get literally paved the way for organized Quarter Horses racing in Florida. His offspring won six Florida futurities in a row although many good competitors were brought in to try to outrun the Dick Priest colts.
Among some of the get of Little Dick Priest have been Captain Dick, out of Kay Twist by Hard Twist; Doll Up, out of Carry B. by Misty B. by Balmy L.; Mr. Sambo, Misty Priest, Miss Charro, Carry Me, Susie Priest, Misty Kip and Johnny Priest.
Doll Up, a 1953 foal, won 11 firsts, nine seconds and four thirds in 42 outings to earn $9,790.15.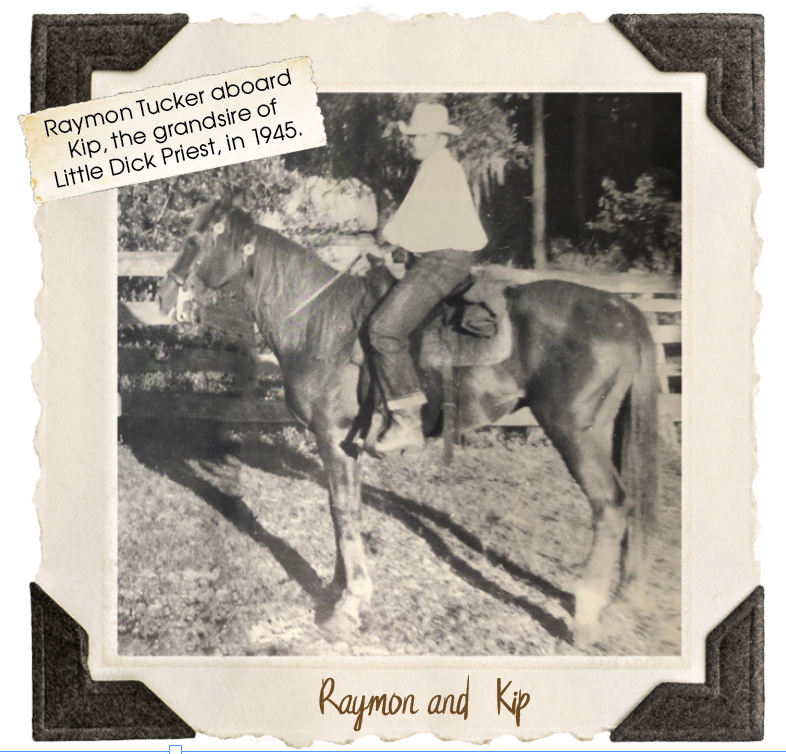 Mr. Sambo, a 1959 foal, won the Florida Championship in 1962 at Gulfstream Park. He later campaigned in the West and earned a AAA ROM rating.
Misty Priest, bred by Geech Partin, and out of Balmy Josie, took the Florida Quarter Horse Futurity in 1962 at Tropical Park, and established a career record of 11 wins, seven seconds and 11 thirds, including the crown of the Sunland Park Quarter Horse Championship run in 1964.
Susie Priest, another Dick Priest offspring, won the Florida Quarter Horse Futurity trials in 1963, and in the same year took the Illinois State Quarter Horse Futurity. She also won the Abe Lincoln Downs Derby in 1964.
Misty Kip, foaled in 1962, was out of Lady Priest. The racing record of Misty Kip consists of eight starts in which he was in the money six times, having won twice, second three times and third once. His first win was the 1964 Florida Quarter Horse Futurity, and later that year ran second in the Southeastern Quarter Horse Association Futurity at Seminole Park Raceway.
But when anyone talks about the champions produced by Little Dick Priest, the mention of the name Go Dick Go will bring a healthy gust of verbiage from Raymon Tucker, and rightly so, for Go Dick Go brought the 1966 All American banner to Haw Creek Ranch.
"Go Dick Go's dam was Miss Array, who was a race horse in her own right," said Tucker. "In her first 11 starts at Ruidoso and Raton in New Mexico, she ran first seven times, second twice and showed once. We claimed her at Ruidoso and brought her to Florida where, after some severe setbacks, she won three in a row at Ponce de Leon track south of Jacksonville, now known as Gator Downs."
Of 14 sanctioned racing starts, Go Dick Go won 11, placed twice and showed once. Tucker paid the $13,000 penalty to put Go Dick Go in the All American Futurity and when the speedster won he shared the $198,600 winner's pot on a 50-50 basis with Joe Leitner of Brandon, Florida, the trainer Clarence Jay, and the jockey Buddy Nesmith. Go Dick Go was voted World Champion 2-Year-Old Stallion of 1966.
Today, Tucker's breeding program is going forward by using such first-rate studs as Go Dick Go, Skipdeck (an old horse who sired the World Champion Gelding Cee Bar Deck), and Go Dick Go's half-brother, Stingaree Dick II.
"Many of the old timers in the West remember Little Dick Priest and his conquests out there but most of the younger Westerners never heard of him," said Tucker. "My good friend, Elmer Helper of Carlsbad, New Mexico, stated that after Go Dick Go won the All American, someone asked, 'Who is Little Dick Priest?' Some learned gentleman answered, 'He is some old renegade from off down there in Florida.'"
Pari-mutuel Quarter Horse racing in Florida has not come easy. Of course, the man behind the effort was the irrepressible Raymon Tucker. He is a one-man-gang in the lobbying world, again, a volunteer, but effective because he believes in his cause.
He helped convince legislators of the advantage of permitting Quarter Horse racing in Florida. The bills passed, and Tucker says it's good for every county in the State (since they all share State race horse monies). In 1972 Florida had 60 days of pari-mutuel Quarter Horse racing at Pompano Park (Pompano Beach) and Gator Downs (Jacksonville). Tucker is still working on Seminole Park. The 'take' for Floridians will be figured from a 'handle' of about $7 million for the 60 days. The 1973 projection is for 100 to 120 days of racing.
"We have had a lot of tough going here in Florida," said Tucker, "because of the competition from other interests who are already established; and partly because there has to be a limit to the ability of cowboys when they are not on the ranch. We have walked out every blind trail, made every mistake, but our one redeeming feature is that we don't know when to quit."
"Things are finally breaking in our favor here in Florida, thanks to Woody Lawlis and the Van Lennep associates, the AQHA, the Quarter Horse Racing Owners of America, and our local organizations. We now have prospects for some of the best Quarter Horse racing in America."
Tucker briefly gazed off into the distance and then said, "My old friend, Geech Partin, and I were talking recently, and we decided between us that if we didn't get our racing straightened out soon, we wouldn't be able to get out to the track to see them run!"
Like Abou Ben Adhem, Raymon Tucker is one who 'loves his fellowmen' and works actively for his Mormon church, which owns the Mormon Deseret Ranches of Florida. Tucker gives his time, talent, energy, and money to this cause. The Mormons, he says, pay full income and property taxes on their possessions, refusing tax exemption for church property.
The Haw Creek squire finds time to devote as much time as necessary for "the Lord's work," helping run Deseret Ranches. Its 300,000 Central Florida acres do not faze Tucker, nor does their head of 36,000 brood cows, or the large-scale timber operation. He says its operation is "just like my ranch, only bigger."
Although the Quarter Horse is the native American of horse aristocracy, going back over the centuries to the Virginia and Carolina bred, the American Quarter Horse Association is a relative newcomer.
In 1939, at the Southwestern Exposition and Fat Stock Show in Fort Worth, Texas, Raymon Tucker and a few other dedicated Quarter Horse breeders decided to establish a national association. In March of 1940, the group – principally from several southwestern states and Mexico – met in Fort Worth, again, and organized the American Quarter Horse Association.
Today, there are more than 15,000 registered Quarter Horse in Florida, alone. Raymon Tucker has 125 of them, producing about 25 foals a year.
This loyal American believes not only in good government and good communities but in getting involved. He does, and with a vengeance.
Tucker is now in his third term as president of the Eastern Brahman Cattle Association (they won't let him out of office); immediate past president of the Flagler County Farm Bureau; a former director of the Tri-County North Florida Growers Exchange; perennial president of the Flagler County Cattleman's Association; member (for the past 20 years) of the Flagler County School Board; a State director of the Florida Cattlemen's Association, and chairman of the Feeder Calf Sale Committee of the Florida Farm Bureau.
It was Raymon Tucker who brought the Extension Agency and the Soil Conservation Service to Flagler County. He and his wife furnished the leadership to get electricity and the telephone to their community, and Tucker helped to clear the right-of-way some 25 years ago.
Recently, he helped organize the Flagler County Rough Riders, and he and his daughter, Brenda, lead the Quadrille at the different rodeo events. This group, with the cattlemen and the Farm Bureau, established a public recreation park north of the town of Bunnell, complete with barbecue pits, rodeo arena and race track. They sponsor an annual "Cracker Day," where more than 2,000 participants enjoy horse races and games, a barbecue, and a social get-together. This self-help effort, assisted by the county agent, resulted in the county and State also participating to make the show and recreation park a perpetual county-owned project.
Tucker is a long-time advisor, constructive critic, admirer and friend of Florida's Commissioner of Agriculture, Doyle Conner, and is a member of the Commissioner's Quarter Horse Breeders Advisory Council. As a member of the Council, the University of Florida-educated Tucker was responsible for the Florida Department of Agriculture administering the Florida-bred Quarter Horse Breeders' Award (it will pay about $10,000 to Quarter Horse breeders during its first year of operation).
At the urging and counsel of Tucker, Commissioner Conner was the first State officer to appoint a full-time horse marketing specialist (now some 15 states have them).
"Conner likes to run horse races with us, too," said Tucker, "and he recently came up with a good one in Go 8 Sugar, who won three or four in a row at our recent meet at Pompano Park."
Tucker is very proud of his family. He was just "bustin-out-all-over" because his No. 5 daughter, 15-year-old Eve, won the "Best-All-Around" at the recent Flagler Stampede. Using one of their Quarter Horses, she made points in calf roping, goat tying, pole bending, and cattle cutting. Her prize was a beautiful hand-tooled, silver-trimmed Billy Cook saddle, with two colorful Seminole Indian blankets.
Daughter Denise, now a college freshman, also shows the Tucker spunk. Two years ago, on Skeeter Hawk (son of Little Dick Priest) she won the Quarter Horse division of the grueling 100-mile Umatilla drive through the Ocala National Forest. Despite a rainy day and the effects of having being thrown 10 days before the trials, the spirited equestrienne and her horse turned in a performance of championship calibre.
"This is the kind of life I love," said Tucker. "However, I only wish I had more time to run Quarter Horses."
Like Agriculture Commissioner Doyle Conner says, "the squire of Haw Creek Ranch, Raymon Tucker, is truly a horseman's legend in his own time!"