Pulchritudinous Bunny's Bar Maid
Posted by Nelson C. Nye on 06/10/2020
Foaled May 27, 1959, at Lone Jack, Missouri, Spencer Childers' great Bunny's Bar Maid carved a $72,288.96 niche for herself in the annals of straightaway racing. By Three Bars TB, she was out of Walt Culbertson's Black Easter Bunny which had 109 races behind her, had never been in a sprint graded lower than AAA, and co-held for some while the world's mare record at 300 yards - :15.7.
When the rest of the youngsters on Childers' ranch would be running and playing around in the pasture, Bunny's Bar Maid, still as a rock, would eye them disdainfully. After they'd finished, she would take off herself and put on a show that was something to see. Trained by R.L. and Barbara Rufus, she came along like a zephyr and was running in world record time at Los Alamitos at 22 months and only 90 days after starting her conditioning. She was co-holder of the two-year-old filly record at :17.9 for 350 yards. In 1961, she ran off with the Juvenile Championship at Los Alamitos and the Kansas Quarter Horse Futurity at Ruidoso. Said Barbara Rufus: "She was the greatest racehorse we ever had anything to do with. She had a great deal of pride and knew dang well she was somebody important."
This opinion was shared by a considerable portion of the betting public. She shared top honors as Co-Champion Two-Year-Old Filly that year with Golden Note and the Casement's filly She Kitty. When she went into the trials of the All American, the chalk players and punters emptied their piggy banks to bet her into the ground - and you would have, too, had you been there to see her.
She had a rep for always doing everything right; she had great heart and a competitive spirit. Four heats were ripped off to see which eligibles got running room in the 1961 All American Futurity over a course of 400 yards. It had been raining that day and the track was slow - to describe it mildly. Golden Note (by Palleo Pete), with seven wins from eight starts, took the first division by a length and a quarter in :20.7; Hugh Huntley's Pokey Bar increased his winning streak to four out of six by a comfortable margin in the second heat, clocked at :20.8; the photogenic Bunny's Bar Maid came up for the lion's share of the national publicity by a remarkable two and a half lengths victory in the third division timed at :20.6 after being badly left at the gate; Ruidoso Futurity winner Faila Tabu's tragic death reduced the fourth heat to an eight-horse field, from which Art Bar (by Lightning Bar) emerged with a :20.9 win.
Scarcely anyone figured the Bar Maid - unless she broke a leg - for anything less than a narrow win in the main event when they went to the post. Her fans were on tap in multitudinous numbers to shout their encouragements and chant her in. Through six previous starts, no horse had even been lapped on her and if ever a race was in the bag, it was that 1961 All American. All the speculation and arguments revolved around who would reach the wire next and how near they'd come to catching Childers' color bearer.
Bunny's Bar Maid was as consistent a sprinter as you'd find in a coon's age. The track was fast, she had everything going for her and went to the post odds-on favorite at 2-5 in the then richest race in Quarter Horse history. This was also the first nationally televised sprint for short horses; some 20,000,000 viewers watched those bangtails pound over Ruidoso's strip. Quite a few headlined events came off the press at about this time, but that renewal of the All American capped them all for plain-out shock.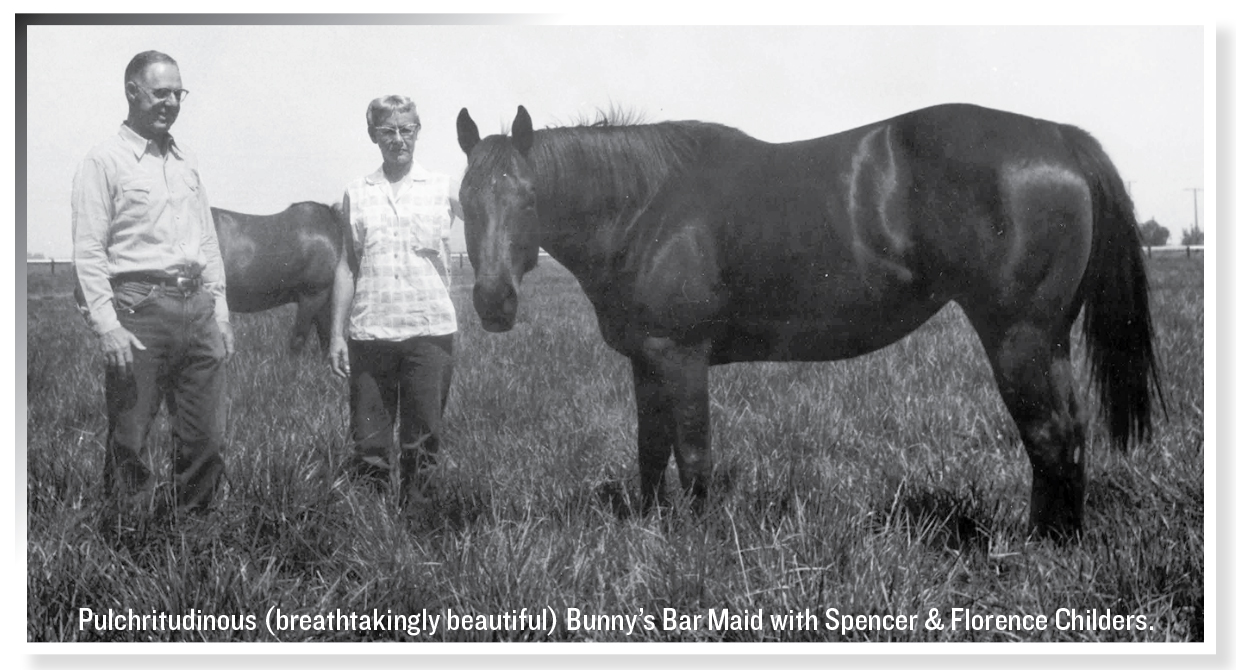 All eyes sought and clung to the pulchritudinous Bar Maid as the 10 two year olds - as fine a crop as ever was foaled - came from the paddock in the parade to the post. But when the gates were sprung, it was longshot Mr. Three Bars which sped to the front, breaking from the outside to zip up a half-length lead which he determinedly maintained to the sixteenth pole though closely pressed by Golden Note, Leona Dee, Pokey Bar and - your favorite and mine - the delectable Bar Maid.
Driving hard, Pokey Bar in the silks of Hugh Huntley passed them all in the stretch by a half a length, Mr. Three Bars and Golden Note lapped on him with flattened ears. At this point, Leona Dee was running fourth by a head over Bunny's Bar Maid - but her fans hadn't yet lost their confident grins. No West Coast upstart was going to whip her!
As the hard-driving pack swept down on the wire with Childers' Bar Maid gaining ground, Pokey Bar like the tail of a comet zoomed away from them all to a stunning length and a half victory that left that crowd nearly speechless with shock. Time - :20.1! The fabulous Bunny's Bar Maid, though a sure-enough second, had been soundly trounced.